M2 Pro Mac mini Performance Testing Results for Apple Final Cut Pro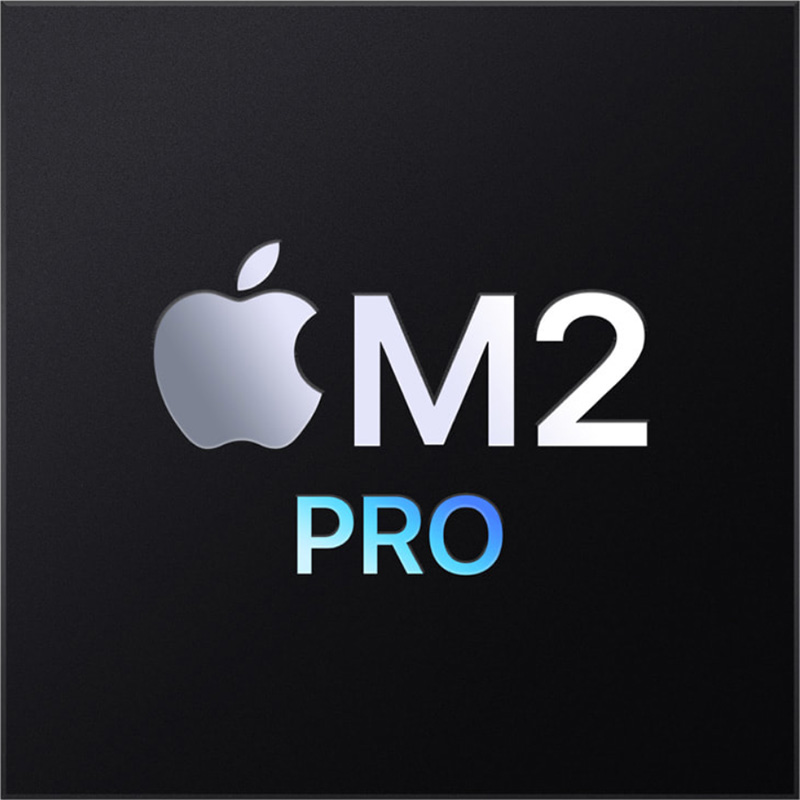 Apple generously loaned me an M2 Mac mini with an M2 Pro SoC for a few weeks so I could review it with an eye toward video editing. This overview is the first of several reports over the next few weeks.
This review specifically looks at performance using Apple Final Cut Pro.
NOTES:
Here's my performance testing results using the M2 Pro Mac mini with Adobe Premiere Pro.
This compares the speed differences between Final Cut Pro and Premiere Pro
At the end of this review is a table with all my test results.
EXECUTIVE SUMMARY
In January, 2023, Apple released a significantly updated Mac mini featuring their latest SoCs (System on a Chip) – the M2 and the M2 Pro. While both systems are easily capable of video editing, the high-end Mac mini is optimized for it.
NOTE: In this article, I use the term "SoC" (System on a Chip)  because this one chip contains the CPUs, GPUs, RAM and Media Engine.
Depending upon which benchmarks are important to you, the new Mac mini is 2-4 TIMES faster than either the 2017 27″ iMac or 2018 Mac mini. The media engine in the M2 Pro shaves renders and exports in Final Cut Pro from minutes down to seconds and, when coupled with fast storage, it breezes through single camera editing of HD, 4K, even 8K clips. As well, its multicam performance is outstanding.
While the unit gets warm to the touch when all CPUs are pumping data, it never gets hot. While I still need to test effects processing, here's what I've learned so far:
If you are principally editing SD, HD or 4K media shot single camera, this system won't break a sweat.
If you are editing HD or 4K multicam, this system easily handles more than 40 streams of 4K ProRes 422 without dropping frames.
If you want to future-proof for 8K media, this will easily edit 8K single camera or stream up to eight 8K streams until the bandwidth speed of Thunderbolt gets in the way.
NOTE: To deliver this level of multicam performance, you'll need really fast external storage or opt for a larger internal drive. These tests used the OWC Thunderblade, an 8 TB SSD RAID connected via Thunderbolt 3/4. (Here's my review.)
If you own an M1 system, the M2 Mac mini is only slightly faster. There's no compelling reason to upgrade unless you like the form factor. But, if you own an Intel system, the performance benefits of the M2 Pro Mac mini are striking.
While the Mac Studio is still an object of serious editorial lust, especially due to its RAM capacity, connectivity and cooling, the M2 Pro Mac mini is faster than just about anything else you could compare it to — at a fraction of the price. It is a very sweet editing system.
Product: M2 Pro Mac mini
Manufacturer: Apple Inc.
Apple Mac mini website
Price as tested: $2,699.00 (US)
THE SYSTEM
The unit Apple loaned me is the high-end of the M2 Mac mini line: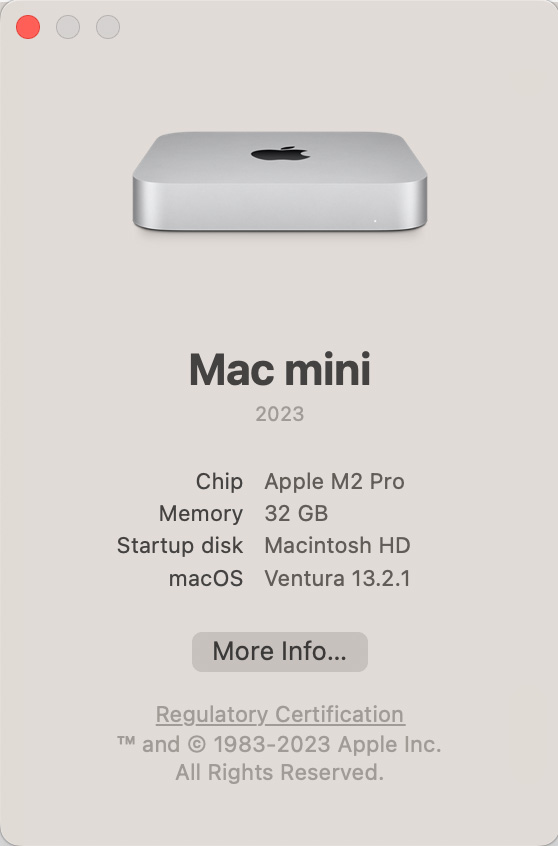 M2 Pro SoC
12 CPU cores
19 GPU cores
16 Neural Engine (AI) cores
32 GB RAM
2 TB storage (a very high-speed SSD)
10 Gb/s Ethernet port
4 Thunderbolt 4 points
HDMI port
2 USB-A ports
Headphone jack
NOTE: They also loaned me an Apple Studio monitor. Here's my review.
MY TEST SYSTEMS
I used three other Macs as comparison systems for these tests:
2021 16″ MacBook Pro
2018 Mac mini
2017 27″ iMac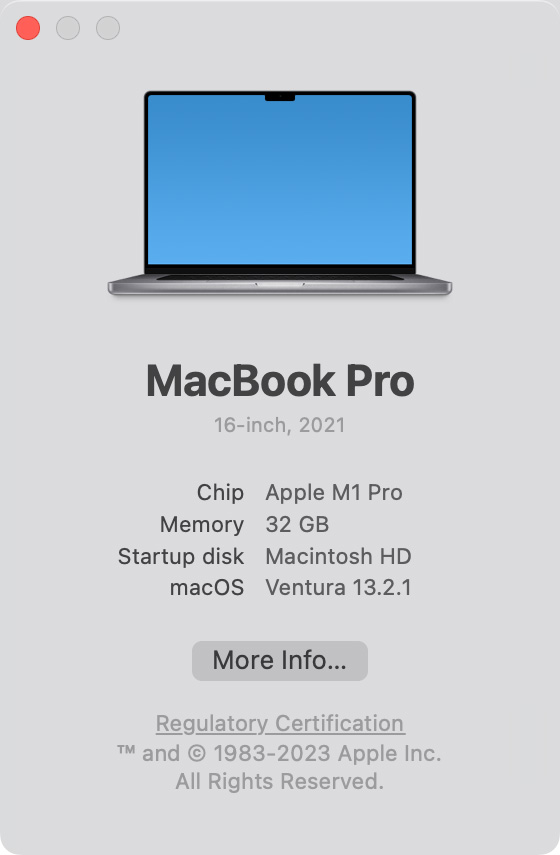 The 16″ MacBook Pro has:
M1 Pro SoC
32 GB RAM
1 TB storage
1 Gbps Ethernet port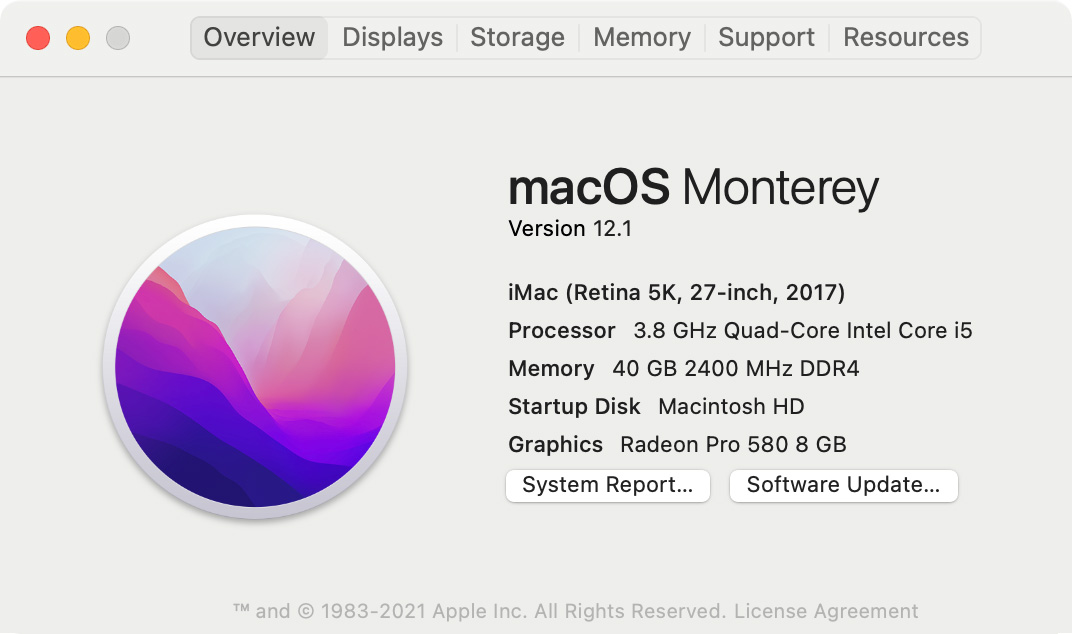 The 2017 27″ iMac has:
Intel 3.8 GHz Quad-core i5
40 GB RAM
2 TB storage
1 Gbps Ethernet port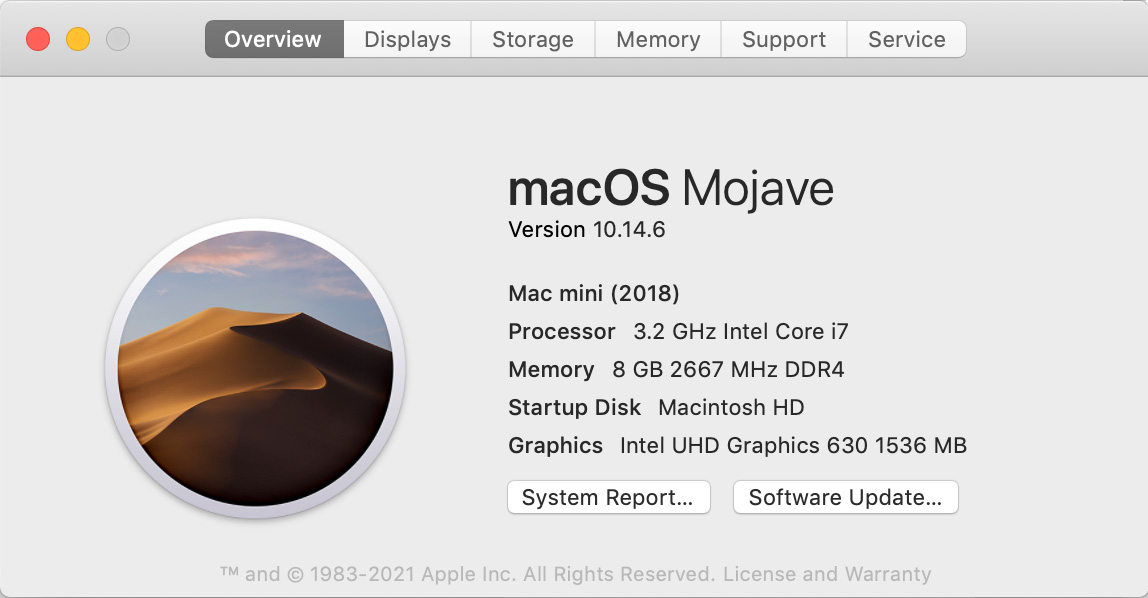 The 2018 Mac mini has:
Intel 3.2 Core i7
8 GB RAM
1 TB storage
1 Gbps Ethernet prot
GET STARTED
Setting up the system was harder than I expected because both the Magic Keyboard and Magic Mouse were out of battery power, so the Mac mini couldn't find them. Once I replaced these wireless devices with a wired keyboard and mouse, getting this setup was no harder than any other Mac. Once they were fully charged, the two wireless devices work great, though I remain a devoted fan of wired keyboard and mouse for exactly this reason.
Operation of the 2023 Mac mini is identical to all other Macs.
BENCHMARKS
The green cells indicate which system was the fastest in each test. In all cases, it was the M2 Pro Mac mini, except for multicam editing where it tied with the M1 Pro. (More on multicam shortly.)
Monterey, which was running on the 2018 Mac mini, is too old to run Geekbench 6, so I ran both Geekbench 5 & 6 on all other computers to help us compare the four units.
BIG NOTE: Geekbench 6 results can not be compared to Geekbench 5. The tests are different. Only compare version 6 results with version 6, or version 5 results with version 5. This is why I ran both tests.
The biggest improvement in the 2023 Mac mini is storage speed. It is almost 9 times faster than the 2017 iMac and 3.4 times faster than the 2018 Mac mini. However, for most video editing projects, we tend to use external Thunderbolt devices, which maxes out around 2,800 MB/second. As you'll see, for most editing that speed restriction is not a problem.
In terms of benchmarks, the new Mac mini averages 2-4 times faster than the 2018 Mac mini or 2017 iMac. There is no doubt if you are using an older system you'll see a marked improvement by migrating to this gear.
STORAGE SPEED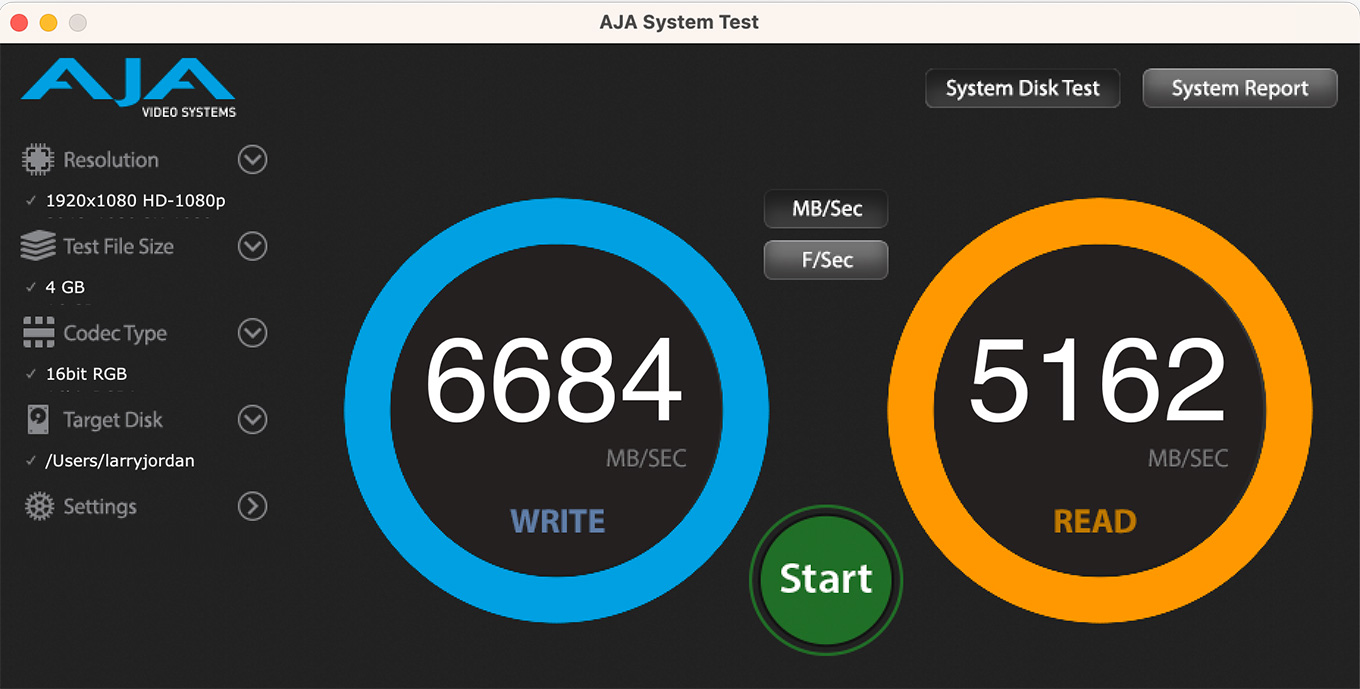 The speed of internal storage is blindingly fast! 5-6 GB per second! This is double the speed of Thunderbolt 3 or 4 which is limited by the Thunderbolt protocol to about 2.8 GB/second.
Network speeds are slower, depending upon whether you buy the Mac mini with a 1 Gbps or 10 Gbps port. 1 Gbps yields 100 – 125 MB/second between the computer and server, while 10 Gbps could support up to 1200 MB/second. However, with most servers, you'll see read and write speeds in the 250 – 400 MB/second range. For single camera SD or HD editing, these speeds are fine, but they are generally too slow for most multicam edits.
NOTE: My server has an M2 SSD cache card in it. Because of that, I was seeing read speeds during these network tests about 1,050 MB/second. However, real-world write and read speeds will be much slower.
A NOTE ON EXTERNAL STORAGE
You may wonder, with the internal drives of the M2 Mac mini so blazing fast, why I keep emphasizing external media? There are four reasons:
Apple's internal storage is far more expensive than buying external storage.
Media files are huge; bigger than huge, actually. It is not uncommon editing media projects that span terabytes. At some point, your projects will get too large to hold on the internal drive, at which time, the capacity and speed of external storage become important.
External storage can be easily expanded.
If your external storage breaks or needs repair, you don't lose access to your computer.
If your project can fit on the internal drives, use them! They are fast, reliable and always available. But, if not, it is good to know what's possible with external media.
APPLE FINAL CUT PRO PERFORMANCE
The reason we buy new gear is to get our work done faster. So I spent a lot of time comparing the speed of older computers running the same projects with this new system.
NOTE: Because the 2018 Mac mini used an older operating system to support older software, I substituted a 2017 iMac running the current version of Final Cut Pro and macOS Monterey for these tests. Based on the GeekBench 5 results the 2017 iMac and 2018 Mac mini are close enough to be used for comparison.
Using Apple Final Cut Pro 10.6.5, I ran three separate tests:
Scale and combine multiple 4K ProRes 422 clips into a four-minute 8K clip, then render and export as 8K ProRes 422 media
Blur, scale, rotate, and render a 4-minute 4K ProRes 422 clip
Multicam streaming performance using H.264, ProRes 422 and ProRes 4444 media at both 4K and 8K frame sizes.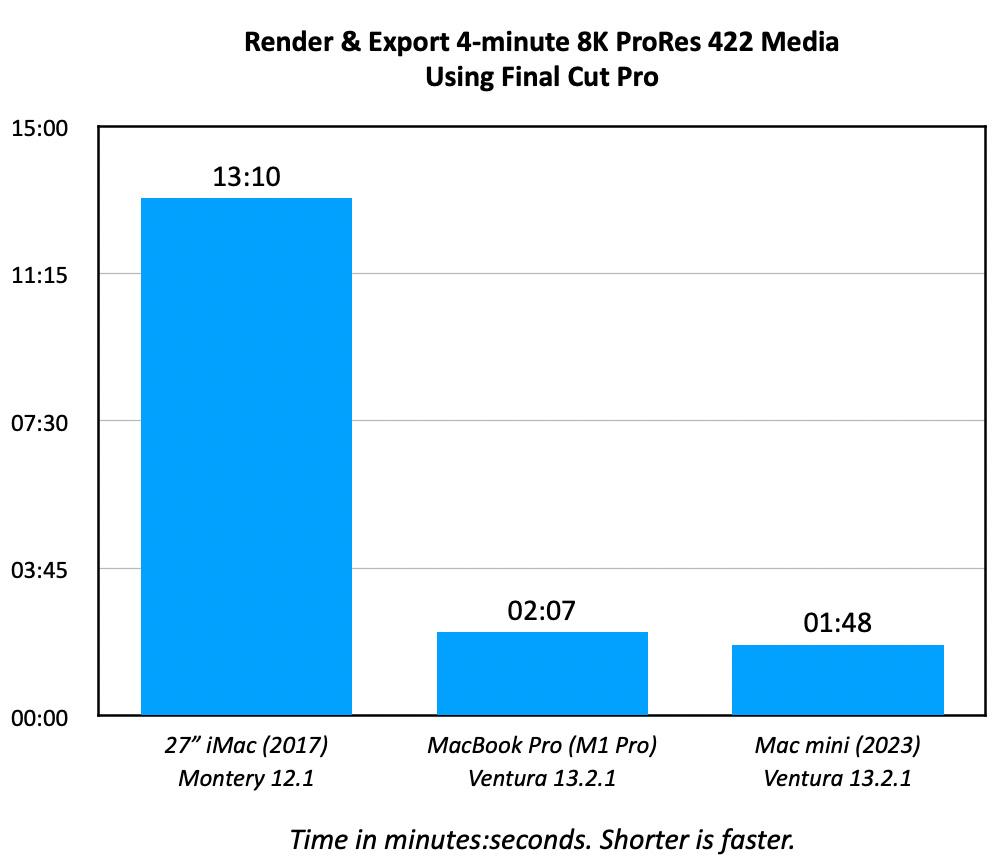 The 2023 Mac mini was over 7 times faster than the 2017 iMac in rendering and exporting a four-minute 8K clip compared to the iMac. This reflects not just the power of the processor, but the benefits of the Media Engine which moves media encoding and decoding into hardware. It was also about 15% faster than the 2021 MacBook Pro with the M1 Pro chip.
NOTE: The 15% speed difference won't improve import, playback or editing. Those always work fine. It will improve effects processing, rendering and export.
When exporting a four-minute 8K clip the GPU was pretty much maxed out, 94.5% out of 100%, while the CPU diverted most processing to the eight performance cores on the system.
NOTE: In the CPU display, the four left columns represent the efficiency cores, the performance cores are on the right.
Final Cut was running about 1/3 speed (top red arrow). The maximum performance of the CPUs in a Mac is measured as (100% * the number of cores). For this system, that equals 1,200%.
Look in the lower right corner (red box) to see transfer bandwidth. This highlights the benefits of faster SSD storage. The clip was exporting at 630 MB/second! This is faster than a single hard disk, PCIe SSD or 4-drive HDD RAID can support.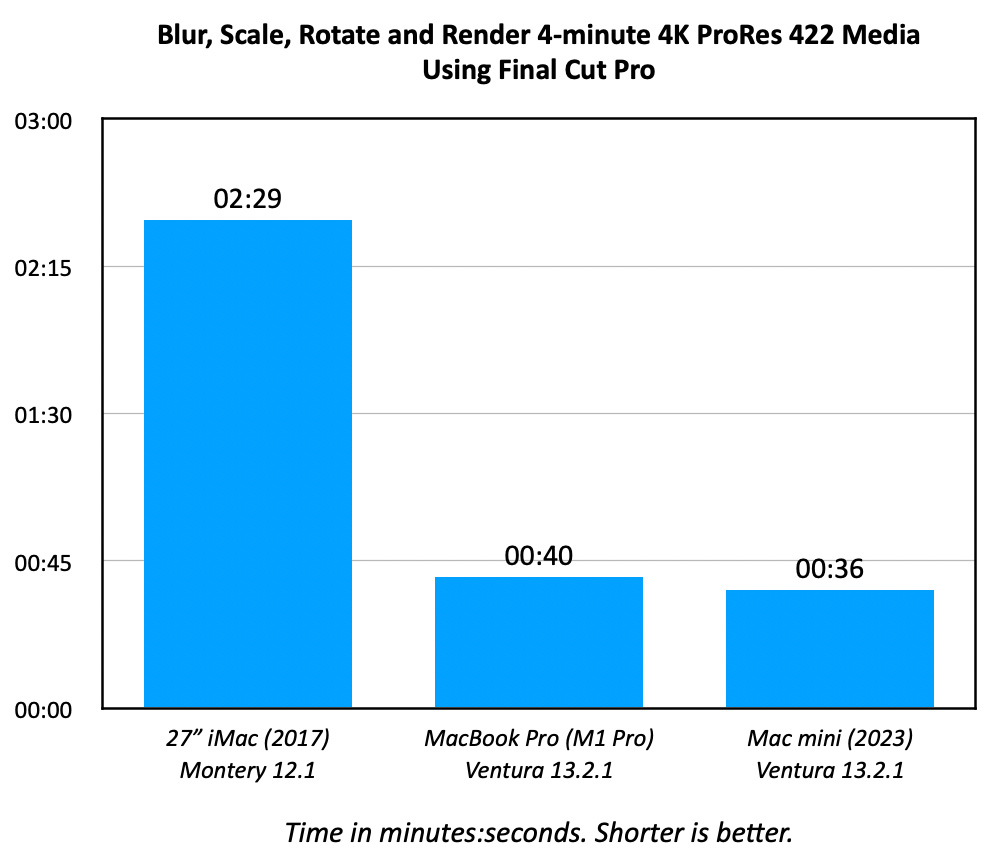 The Mac mini was over 4 times faster than the iMac in applying a Gaussian blur, rotating clips 20°, scaling them to 80%, then rendering the entire 4-minute 4K clip than the iMac. It was also about 10% faster than the MacBook Pro with the M1 Pro chip.
NOTE: All timed speed tests were run three times, then total times were averaged. Timing was by stopwatch.
MULTICAM EDITING
Final Cut Pro is an amazing multicam editing machine. While the multicam performance of the M2 Pro is essentially the same as the M1 Pro, the power of the entire hardware and software system is unparalleled, especially when compared to Adobe Premiere Pro.
NOTE: Apple calls each video stream an "angle," because it is a different perspective on the same scene. I'm using "stream" because each clip is a stream of data from storage to the computer.
I created a series of multicam clips in 5-stream increments (i.e. containing 5, 10, 15, 20 clips…) I then played each stream until Final Cut started flagging dropped frames.
NOTE: You can test this yourself. Open Final Cut and go to Final Cut Pro > Preferences > Playback and check all the check boxes. For the most consistent test results, uncheck Background Render on this page as well.
Each clip, which ran between 30 seconds and 2 minutes, was converted into four formats:
H.264 4K and proxy
ProRes 422 4K and proxy
ProRes 4444 4K and proxy
ProRes 422 8K and proxy
NOTE: Green bars indicate where I could not establish an upper streaming limit. Red bars indicate where multicam clips could not be played at all.
In all cases, the M2 Mac mini is dramatically better than the iMac. (These results would be similar for the 2018 Mac mini.) Where the iMac struggled to play 5 streams of 4K ProRes 422, the M2 Pro plays more than 40.
The one exception to multicam performance was that the iMac tied with the M2 Mac mini in playing H.264 proxy clips. This is due to Intel systems moving H.264 encoding and decoding into hardware, similar to what Apple did with the M2 SoCs. However, Intel systems don't process ProRes in hardware, while the M2 SoCs do.
NOTE: I only had 40 clips to work with for these tests. Other tests I did earlier this month seemed to indicate that Final Cut easily handled 65 4K ProRes multicam streams, provided your storage is fast enough. (Link)
The biggest limitation to maximizing multicam editing was not the speed of the M2, but the speed of the OWC Thunderblade and the bandwidth limitations of Thunderbolt.
Here, Activity Monitor shows how hard the computer is working to stream eight streams of 8K video. (Which, when you think about it, is stunning in itself.)  The CPUs are busy (780%), but the GPUs are not (15%, highlighted by the red box on the right side of the GPU display).  And look at the bandwidth, streaming this much media requires over 2 GB/second of bandwidth!
For all practical purposes the M2 Pro can handle however many multicam streams you need to edit; provided your storage is fast enough.
NOTE: Here's an article that goes into more detail about multicam editing in Final Cut Pro using an Apple silicon system.
A NOTE ON DROPPING FRAMES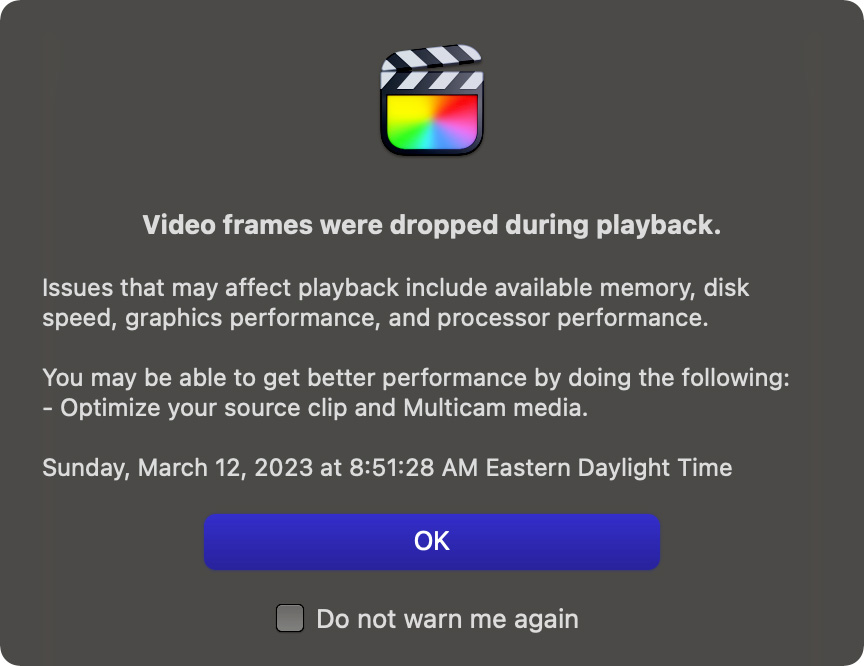 The fastest way to drop frames while editing multicam projects in Final Cut Pro is to switch between banks in the Angle Viewer. When all clips were displayed in the same bank, I could play five more streams than I could if I needed to switch between banks.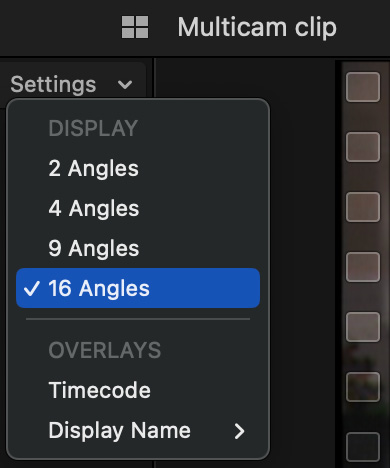 By default, four video streams are displayed in the Angle Editor. If your multicam clip holds more, change the Settings menu so that all streams are displayed. Granted, this isn't possible if you are editing more than 16 streams. But, in that case, make sure you are editing using ProRes, rather than H.264 or HEVC. ProRes is easier to edit for any computer, not just the M2 Mac mini.
The less you use banks, the more streams you can edit without dropping frames.
RECOMMENDATIONS
If you own a system with an M1 Pro, M1 Max or M1 Ultra, there is no significant reason to upgrade to the M2 Mac mini. Yes, it will be faster, but not THAT much faster However, if you own an Intel system, especially an older Intel system, the performance benefits are great.
When it comes to video editing, given the power even in the base model of the M2 Mac mini, any version of this hardware can easily edit SD or HD video. However, here are two configurations optimized for video editing.
NOTE: It is important to maximize RAM and choose more than the default storage. RAM is essential for efficient editing, don't skimp here. Also, the base Mac Mac mini with 256 GB storage has an internal SSD that is 1/2 the speed of the rest of the line. Adding more storage doubles the speed.
BUDGET EDITION – $1,399 (US)
M2
8-core CPU, 10-core GPU
2 Thunderbolt ports
24 GB RAM
1 TB storage
This system would be fine for SD or HD single camera editing.
PLAN FOR THE FUTURE EDITION – $2,199 (US)
M2 Pro
12-core CPU, 19-core GPU
4 Thunderbolt ports
32 GB RAM
1 TB storage
You can save $300 by going with the smaller CPU without materially slowing performance. Only get the 10 Gbps Ethernet port if your network is optimized for the faster speed; most aren't. Add another TB of storage (up to 2 TB)  if you can afford it, but the world will not end if you don't.
NOTE: A similarly spec'ed Mac Studio is $2,399 (US) with a M1 Max SoC. However, for the Studio, I recommend 64 GB of RAM, which raises the price to $2,799 (US). My preferred configuration for a Mac Studio is $3,199 with another TB of storage (2 TB).
SUMMARY
The M2 Pro Mac mini is a surprisingly powerful and highly-capable system for video editing. Its small size means it fits just about anywhere. While it still requires a separate keyboard and mouse, unlike a laptop, it more than holds its own against "the big boys."
I was very impressed with how easily it handled typical editing tasks. While there is still more I want to learn, such as editing performance using Adobe Premiere Pro, effects processing and working with the Apple Studio Display, I am very impressed with this unit.
If you already own an M1 system, there's no big benefit to upgrading. However, if you own the original Mac mini, or any Mac prior to 2019, upgrading to the M2 Pro Mac mini will be a major step up in video editing performance; especially using Apple Final Cut Pro.
EXTRA CREDIT
Here's a one-page PDF with detailed results from my tests.
---
Bookmark the
permalink
.