Compare Render, Export and Multicam Editing Performance Between Final Cut Pro and Premiere Pro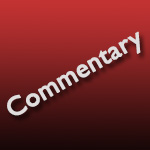 Here, at the very beginning, let me clearly state what this article is NOT: It is not a discussion of which video editing system is "better."
Better is in the eye of the beholder. The "best" NLE is a mostly subjective decision where performance only plays a small role. User interface, features, and workflow are much more important in determining which NLE is right for you.
Better is not faster. Most of the time spent editing is not due to us waiting on the machine, but the machine waiting on us — to pick the next clip, decide how it should be trimmed, study the look of an effect or set the pacing of a scene.
But, while speed may not be a determining factor, my recent testing with the new 2023 M2 Mac mini has discovered a big differences between Apple Final Cut Pro and Adobe Premiere Pro in three areas:
Render speed
Export speed
Multicam editing support
NOTES:
EXECUTIVE SUMMARY
These results are a summary of over sixty tests conducted using the latest versions of Final Cut Pro (v10.6.5) and Premiere Pro (v23.2.0) to test their performance running on  the new M2 Mac mini.
In terms of playback, editing and trimming clips both systems are identical. Final Cut Pro and Premiere Pro are also essentially the same:
If you are editing single camera SD or HD material of any duration
If you are editing multicam clips using HD source media with six cameras or less
If you are editing using spinning hard disks or RAIDs containing spinning media
NOTE: Project and/or media duration has no significant impact on system performance, though it does affect the amount of storage you need.
Performance differences become apparent when:
You are creating proxies
You are editing single camera 4K, 6K or 8K media
You are editing H.264 or HEVC source media without transcoding
You are playing multicam clips containing more than six cameras
You are playing multicam clips containing H.264 media
You are using SSDs, or SSD RAIDs, for media storage
You are editing on systems using Intel chips when compared to Apple silicon. (These chip differences are covered in the reports linked at the top of this article.)
In sum, Final Cut Pro supports far more multicam streams and is significantly faster when rendering and exporting than Adobe Premiere Pro.
RENDER AND EXPORT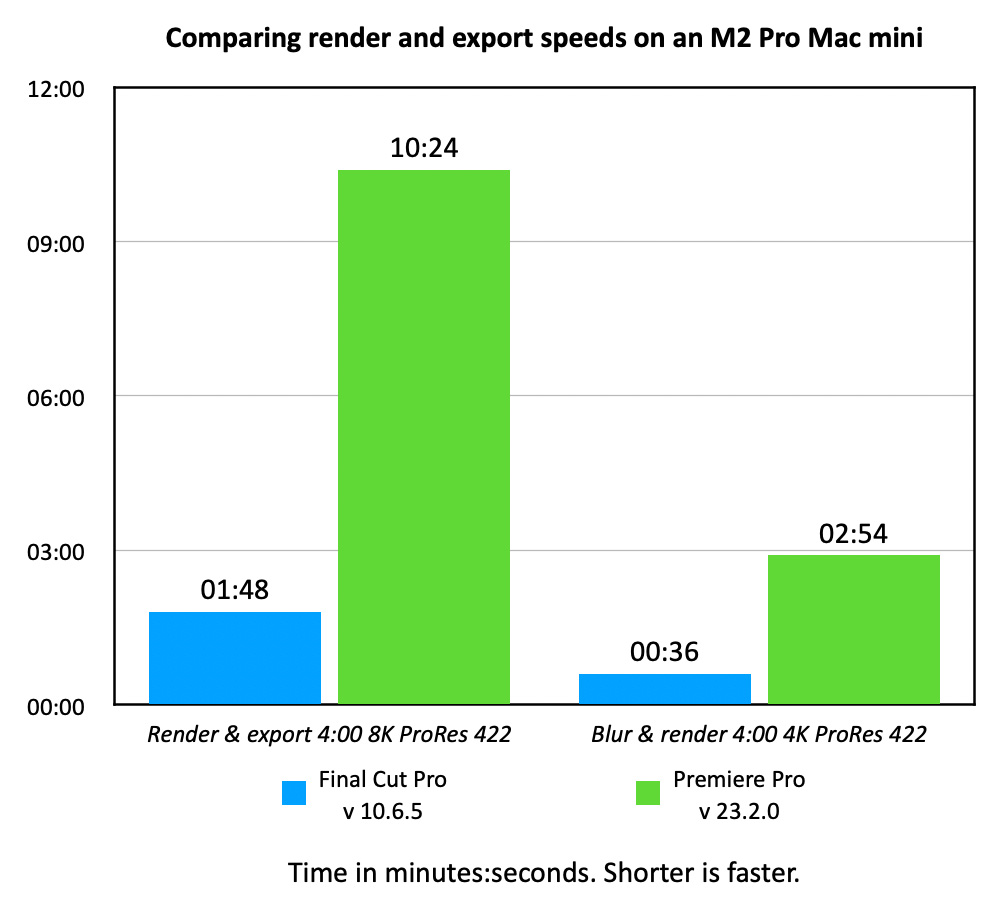 Final Cut is almost 5 times faster than Premiere in rendering 4K images. As well, Final Cut is almost six times faster when rendering and exporting 8K files. At smaller frame sizes, these speed differences are less noticeable, but still there.
From studying the test results, it seems that Premiere is not yet fully optimized for Apple silicon systems.
MULTICAM EDITING
In all cases and for both software, using proxy files allows viewing and editing more streams in a multicam clip. These results also emphasize the efficiency differences between H.264 (optimized for small file size) and ProRes (optimized for editing efficiency). Where possible, always convert files to ProRes for best results.
NOTE: I was struck that Premiere selected very odd frame sizes for proxy files. I suspect this may have played a role in the slower multicam playback of 8K proxy files.
SUMMARY
I am often asked which NLE is "better." That question can't be answered, except to say "It depends…" However, when comparing system performance, Final Cut Pro is clearly the fastest.
EXTRA CREDIT
This PDF document (462 KB) includes all my test results, notes and charts used in my M2 Mac mini articles.
---
Bookmark the
permalink
.