M2 Mac Mini, Mac Studio or Mac Pro? Which to Pick and How to Configure It for Media Editing
[Updated June 20, 2023, with a new section on the media engine. Updated July 9, 2023, with two reviews of the Mac Studio's performance.]
With its latest releases, Apple now offers M2 versions of three desktops: the Mac mini, Mac Studio and Mac Pro. The goal of this article is to help you decide which hardware best meets your needs as a media creator, then provide tips on how to best configure the system.
EXECUTIVE SUMMARY
Any of these computers can easily edit video. Unlike days gone by, media creators no longer need the biggest and fastest computer in order to do professional work. You may want the biggest and fastest, but you don't need it.
Based on my recent extensive tests with Apple Final Cut Pro and Adobe Premiere Pro:
CPUs are used for the interface, playback, editing, trimming, and file I/O.
GPUs and the media engine(s) are used for modifying/rendering individual pixels and media compression.
Different software use different combinations of CPUs and GPUs.
No system uses all available CPU cores when processing media.
No system uses all available GPU cores when processing media.
Rendering visual effects (i.e. After Effects or other VFX software) benefits from more GPUs and RAM.
All systems seem to take advantage of the hardware acceleration provided by the media engine in M2 chips, but Premiere is not using it efficiently.
Most single camera video editing works very well in 32 GB of RAM. The system uses additional (spare) memory to cache files as needed.
All software benefits from the faster speeds of SSDs vs. spinning hard disks.
Rendering and proxy creation benefits from faster storage. Recent tests showed FCP creating proxies at over 2 GB/second, depending upon storage speed.
Multicam editing takes advantage of all the read speed your system supports.
HD multicam editing is easily handled by any of these systems. 4K and larger frame sizes or editing more than ten camera streams benefit from an M2 Pro SoC or better, along with SSD-speed storage.
The more multicam streams you edit, the faster the storage needs to be. After about eight streams, SSD storage is the preferred option.
Internal drives on M2 systems are roughly twice as fast as Thunderbolt 3/4.
Internal SSD storage on M2 systems is so fast that cacheing, required for spinning media, is not as critical as it is for spinning hard disks.
While I haven't directly tested them, I would expect Avid Media Composer and Blackmagic Design DaVinci Resolve to behave similarly.
NOTE: For audio editing and mixing, CPUs are used more than GPUs.
SIDEBAR: WHAT ABOUT OTHER SYSTEMS?
The general rule holds true: you pay extra for portability. If you need a laptop, none of these systems will do. But, if you don't need a portable system, these systems deliver more power, less heat and more ports than a MacBook Pro.
While the iMac is an excellent general purpose desktop computer, you will get more performance by combining one of these three systems with a third-party monitor. (You could also choose the Apple Display, but other monitors are cheaper and look as good.)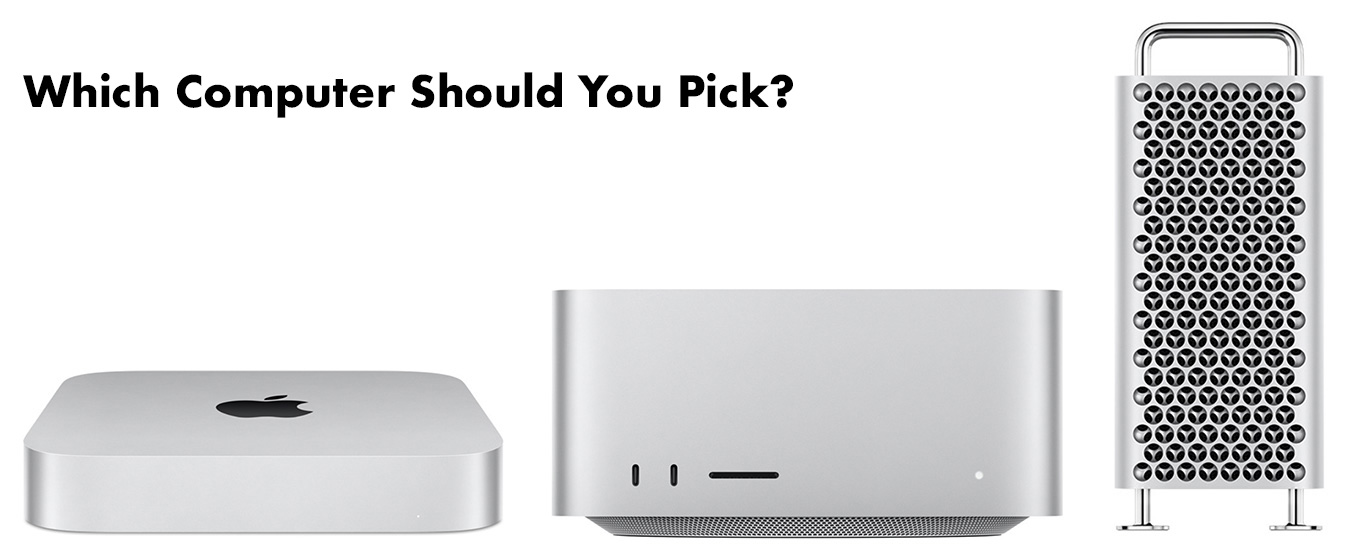 Here are some criteria to use when deciding which system to get.
M2 Mac mini
The M2 Mac mini is an editing powerhouse, especially with the M2 Pro SoC. It easily handles all SD, HD and 4K single camera editing, as well as up to 20 multicam streams, depending upon the speed of your storage.
Selection criteria:
Low system cost is important
Small size is important
You are mostly editing single camera projects of any frame size
You don't need to drive more than two monitors
You don't need to connect lots of external gear
Any multicam editing you do uses less than ten cameras
Deadlines are important, but not super tight
NOTE: Here's my review of the M2 Pro Mac mini.
M2 Mac Studio
The M2 Mac Studio is probably the best balance between performance and price. Single camera editing up to 12K is easily supported. Multicam editing is limited only by the speed of your storage. It has better heat management than the M2 Mac mini. The big advantages of this system are additional memory, more ports and faster render speeds.
Selection criteria:
You are regularly editing single camera projects of any frame size.
You are regularly editing multicam, often with more than ten cameras
Your projects feature a mix of editing and visual effects creation
You need faster render speeds (especially for 3D objects)
You need more ports than the M2 Mac mini provides
Your system is constantly working and needs excellent heat management
You need extremely fast performance to meet deadlines
You want to "future-proof" your system as much as possible
M2 Mac Pro
The key advantages to the Mac Pro are the addition of PCIe ports to connect external hardware and expandable internal storage (but not RAM).
Selection criteria:
You need PCIe ports for hardware audio and video cards
You need the option to expand internal storage in the future
You need massive amounts of RAM, for example for visual effects or 3D modeling
Much of your work requires high-performance rendering
You want the bragging rights to owning the fastest, most powerful, most flexible computer that Apple makes – even, ah, if you don't really need all that power.
WHICH SoC TO PICK?
There are four variations of the M2 SoC (System on a Chip):
M2. Choose this when budget is the most important factor behind your purchase. (This supports two Thunderbolt ports.)
M2 Pro. Choose this for Mac mini systems that require better performance. (This supports four Thunderbolt ports.)
M2 Max. Choose this for all-around media creation tasks. (This supports four Thunderbolt ports.)
M2 Ultra. The Ultra is overkill for single or multi-camera editing. Choose this when heavy-duty rendering or non-editing tasks are the principal purposes of the machine. (This provides two media engines and six Thunderbolt ports on the Mac Studio and eight on the Mac Pro.)
WHAT ABOUT THE MEDIA ENGINE?
The built-in media engine for all M2 SoCs accelerates ProRes, ProRes RAW, H.264 and HEVC files. This acceleration supports larger frame sizes, more multicam streams, faster rendering, faster exports and faster compression.
You can use other media formats, such as XDCAM, RED raw, and many, many others, but you won't see the same performance. Playback of non-supported codecs at larger frame sizes may stutter. The NLE may not support as many multicam streams. Rendering may take longer.
Still, there are benefits to using non-ProRes media in terms of camera selection, lenses, and recording systems. The workaround is to convert your source files into ProRes proxy files for rough cuts or multicam editing. This harnesses the performance benefit of the media engine as you explore how to structure your project. Then, when it's time for final trimming, effects and color grading, switch back to the camera native media.
This provides the greatest flexibility in selecting the media to shoot combined with the maximum performance from your NLE without spending a fortune in hardware.
HOW MUCH RAM IS ENOUGH?
All NLE software requires a minimum level of RAM for editing tasks, then uses any excess RAM to cache files to improve performance.
16GB is fine for simple SD or HD editing.
32GB is preferred for multicam or 4K editing.
64GB is recommended, but not required, for larger frame sizes, faster frame rates, or large multicam edits.
More than 64GB of RAM isn't "bad," but you'll never use it for editing or rendering.
NOTE: For the Mac mini, buy as much RAM as you can afford.
HOW MUCH STORAGE IS ENOUGH?
Apple's internal storage is very, VERY! fast – more than twice the speed of Thunderbolt! But, it is also very, VERY expensive. If you need the absolutely fastest performance store media and projects on the internal drive. This is especially true for multicam editing.
However, even for small projects, the internal drive will fill quickly. This is why I recommend purchasing 1 or 2TB of internal storage to provide plenty of room for the operating system, applications, work files and general purpose storage. Then, store the huge files that media editing creates on external storage. For the fastest performance, use hardware that features NVMe SSDs. For more cost-effective performance use spinning hard drives – ideally a RAID. However, spinning media is inefficient for multicam editing.
NOTE: My general recommendation is to always buy more internal storage than the minimum offered by Apple. This is especially true for the Mac mini.
SYSTEM RECOMMENDATIONS
As you look at these systems, you'll notice that I don't recommend taking the system with the highest GPU core count. The reason behind this is that I haven't found any media editing software that uses all the CPUs or GPUs in a system.
I also don't recommend buying the maximum internal storage. It is too expensive and, even if you do, you'll still need external storage for most media projects.

Mac mini – Low Budget
Apple M2 SoC 8-core CPU, 10-core GPU
24GB RAM
512GB SSD storage
Gigabit Ethernet
NOTE: Don't buy the Mac mini with 256 GB of storage. Its performance is intentionally limited.
List price: $1,199.00 (US)
Mac mini – optimized for media editing
Apple M2 Pro SoC 10-core CPU, 16-core GPU
32GB RAM
1TB SSD storage
Gigabit Ethernet
List price: $1,899.00 (US)
---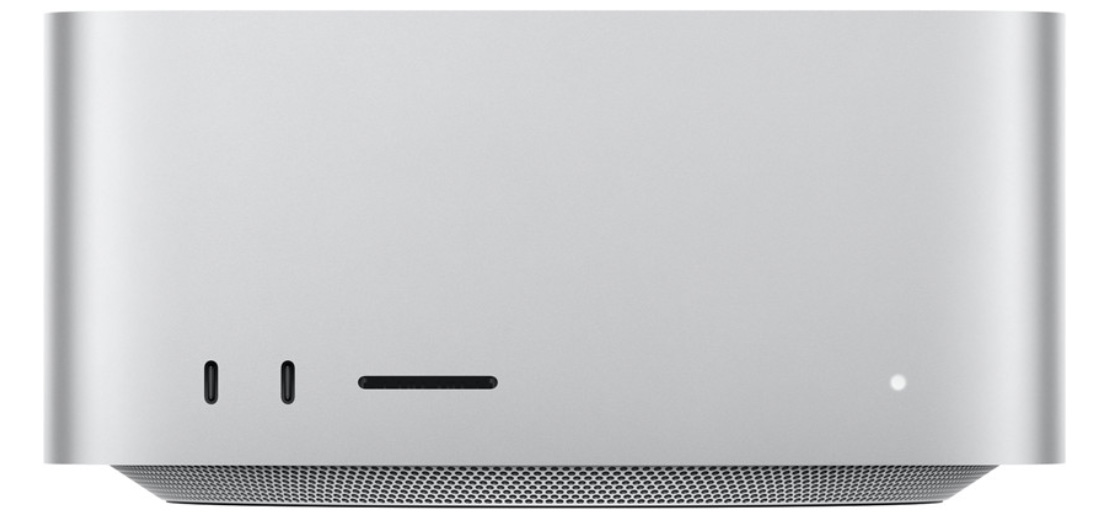 Mac Studio – optimized for editing
Apple M2 Max SoC 12-core CPU, 30-core GPU
64GB RAM
1TB SSD storage
10G Ethernet (standard)
List Price: $2,599.00 (US)
Mac Studio – optimized for rendering visual effects
Apple M2 Ultra SoC 24-core CPU, 60-core GPU
128GB RAM
1TB storage (2TB storage add $400)
10G Ethernet (standard)
List Price: $4,799.00 (US)
---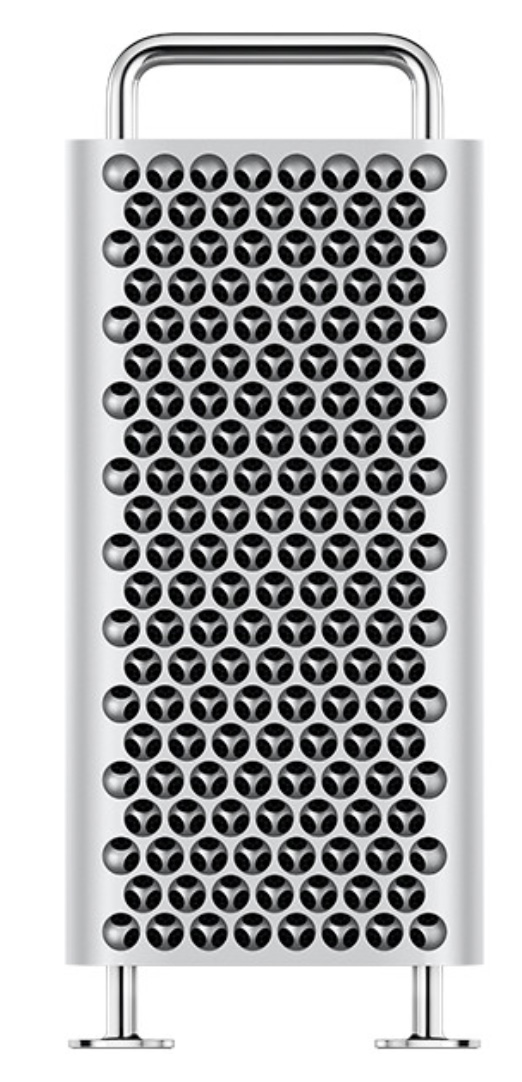 Mac Pro
NOTE: If you need the Mac Pro, you also know which PCIe cards need to go into it. Here's what I would recommend as a starting point.
Apple M2 Ultra SoC 24-core CPU, 60-core GPU
128GB RAM
2TB storage (additional storage can be added after purchase)
10G Ethernet (standard)
List price: $8,199.00 (US)
SUMMARY
When it comes to media creation, we have never had such a range of incredibly powerful systems. My key point, though, is that we don't need to buy a fully-maxed out system in order to get our work done quickly and efficiently.
Find a system that matches your workflow. Given Apple's traditional build quality whatever you buy today will most likely last a decade.
EXTRA CREDIT
I've waited for these upgrades ever since the M1 was announced. So, I purchased my system the day Apple announced it. What did I get?

List price: $2,999.00 (US)
Here are my two reviews on its performance:
---
Bookmark the
permalink
.