Control Final Cut Pro Audio Using Shortcuts and "Fade Dots" [v]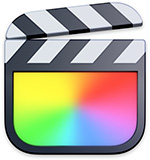 [ This is an excerpt from a recent on-line webinar: "Audio Techniques in Apple Final Cut Pro" which is available as a download in our store, or as part of our Video Training Library. ]
EXCERPT DESCRIPTION
Audio is a huge part of any project. But, all too often, we ignore the sound to concentrate on the picture. In this short video, Larry Jordan presents how to use keyboard shortcuts and "fade dots" to preview audio and add fades between clips.
---
Use Keyboard Shortcuts and "Fade Dots" to Control Audio in Final Cut Pro
TRT: 4:30 — MPEG-4 HD movie
---
SESSION DESCRIPTION
This session illustrates how to work with audio in Apple Final Cut Pro. Hosted by Larry Jordan, this detailed online training covers:
Key audio terms
Audio preferences and Browser settings
How to edit and trim audio clips, including split edits and transitions
How to determine and measure audio levels
How to repair audio and use voice isolation to clean dialog
How to work with double-system and multi-channel audio
How to create Auditions
How to use the Audio Inspector and two key audio effects
How to create stems using compound clips
How to use Roles
Audio is a huge part of any project. But, all too often, we ignore audio to concentrate on the image – only to discover that much of the magic and power is missing.
This session will help you make your projects sound great!
AUDIENCE LEVEL
This intermediate-level session assumes a basic familiarity with Final Cut Pro, though even new users will benefit.
---
Bookmark the
permalink
.