Important Final Cut Pro Bug Fixed in MacOS 13.2.1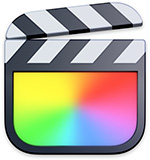 Recently, readers sent me reports of Apple Final Cut Pro 10.6.5 crashing when working with large libraries on systems running macOS 13.2. This seemed occur more often when the library contained lots of clips stored in a single event.
This bug was fixed in the macOS 13.2.1 update which Apple released today.
If large libraries are part of your workflow, I suggest you upgrade to macOS 13.2.1 as soon as you can. Do so using Apple Menu > System Settings > General > Software Update.
---
Bookmark the
permalink
.