UPDATED: SSD and ExFAT Speeds are Much Slower in macOS Ventura & Reformatting Drives is Trickier
[Updated March 5, 2023, with new test results featuring macOS Ventura 13.2.1. ]
Just before I started my webinar last Wednesday, I read a warning on the Hedge.video blog about ExFAT. In it they warned that macOS Ventura reads and writes ExFAT drives significantly more slowly than macOS Monterey.
So, I decided to test this to see if it's true.
It's true, but it is worse than that. When a PCIe SSD is formatted using ExFAT:
Ventura 13.1 writes 25% slower than Monterey.
Ventura 13.1 reads 35% slower than in Monterey!
Also, once a drive is formatted as APFS, the process of re-formatting a drive into ExFAT changed.
When a PCIe SSD is formatted using APFS (the current Apple file system):
Ventura 13.1 writes 14.7% slower than Monterey
Ventura 13.1 reads 25% slower than Monterey
While these speed slow-downs won't generally affect single camera editing, they can dramatically impact multicam edits and DIT transfers.
NOTE: APFS is designed for SSDs. HFS+ is best used for spinning media. My assumption is that these speed slowdowns also apply to NVMe SSDs, but I don't have the hardware to test this currently.
UPDATE – March 5, 2023
Recently, Apple released macOS Ventura 13.2.1, so I decided to revisit these tests to see if anything changed. While APFS speeds remain the same, ExFAT speeds have improved.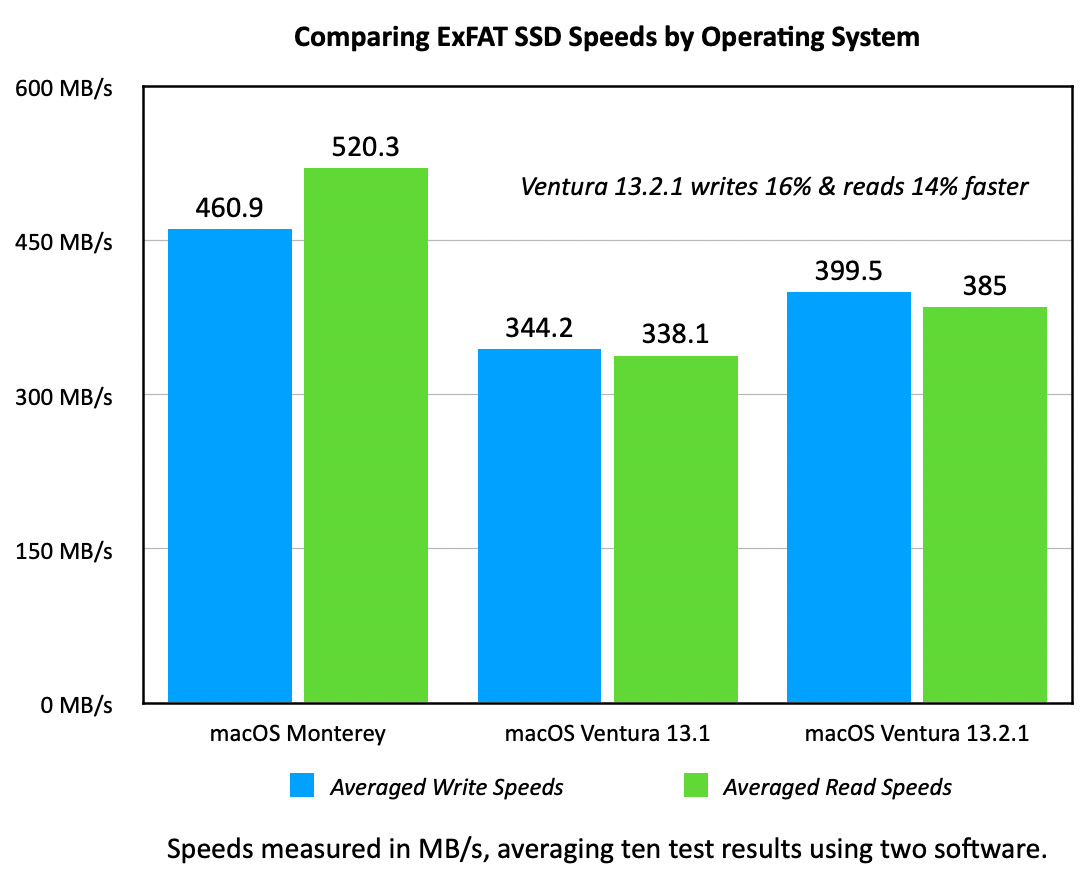 ExFAT write speeds increased 17% and read speeds increased 14%. ExFAT read speeds now match APFS read speeds, while APFS writes about 5% faster. However, Ventura speeds are still significantly slower that macOS Monterey. I don't know why.
NOTE: This PDF contains the most recent test results.
THE TEST
Using a 16″ MacBook Pro (with an M1 Pro chip) running first Monterey then Ventura, I formatted a 1 TB Samsung T-5 PCIe SSD using ExFAT and APFS in macOS Monterey. It connected via USB-C.
I measured read and write speeds using both AJA System Test and Blackmagic Disk Speed Test by running five tests each.
I then updated my computer to macOS Ventura, reformatted the drive and ran five more tests checking the read and write speeds using ExFAT and APFS. In all cases, the SSD drive was empty and newly formatted.
Then, since it seems that one or both of the AJA and BMD results are not accurate, I averaged the two and compared them.
NOTE: All my tests, results and charts are available in a PDF at the end of this article.
THE RESULTS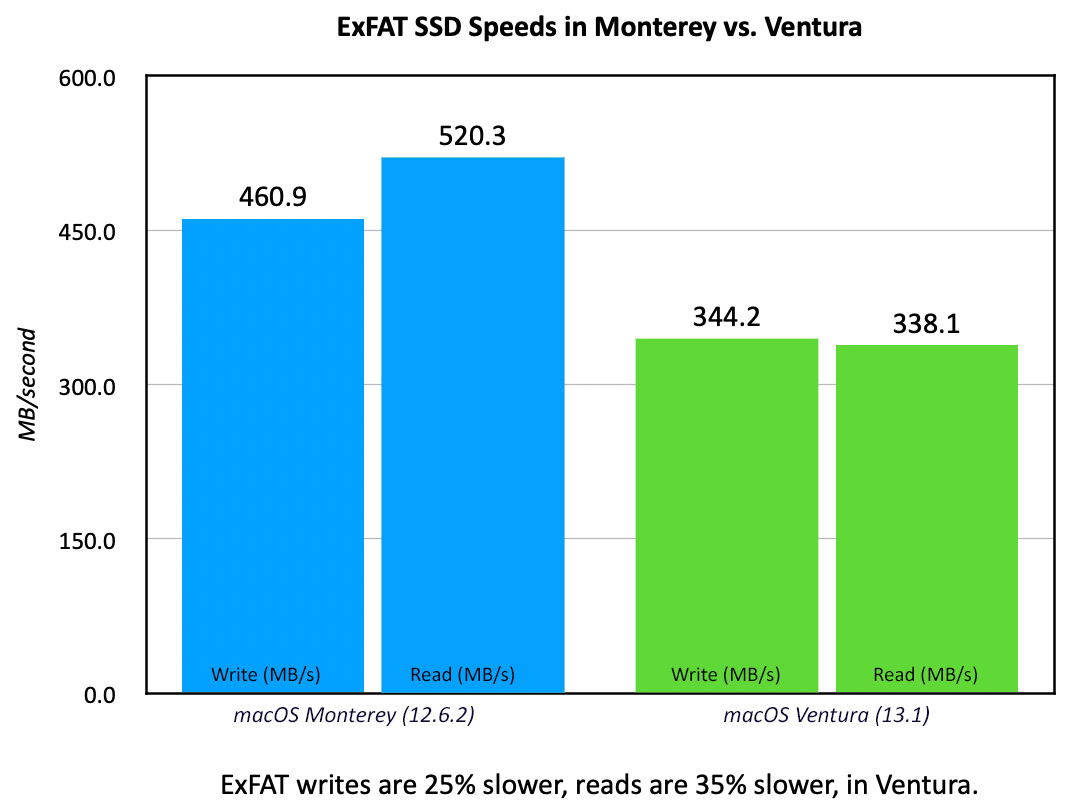 ExFAT in Monterey provides the fastest read speeds I measured. Peaks hit 527 MB/second. However, when the same disk is accessed in Ventura, read speeds drop 35%! Writes decrease by 25%. These differences are dramatic!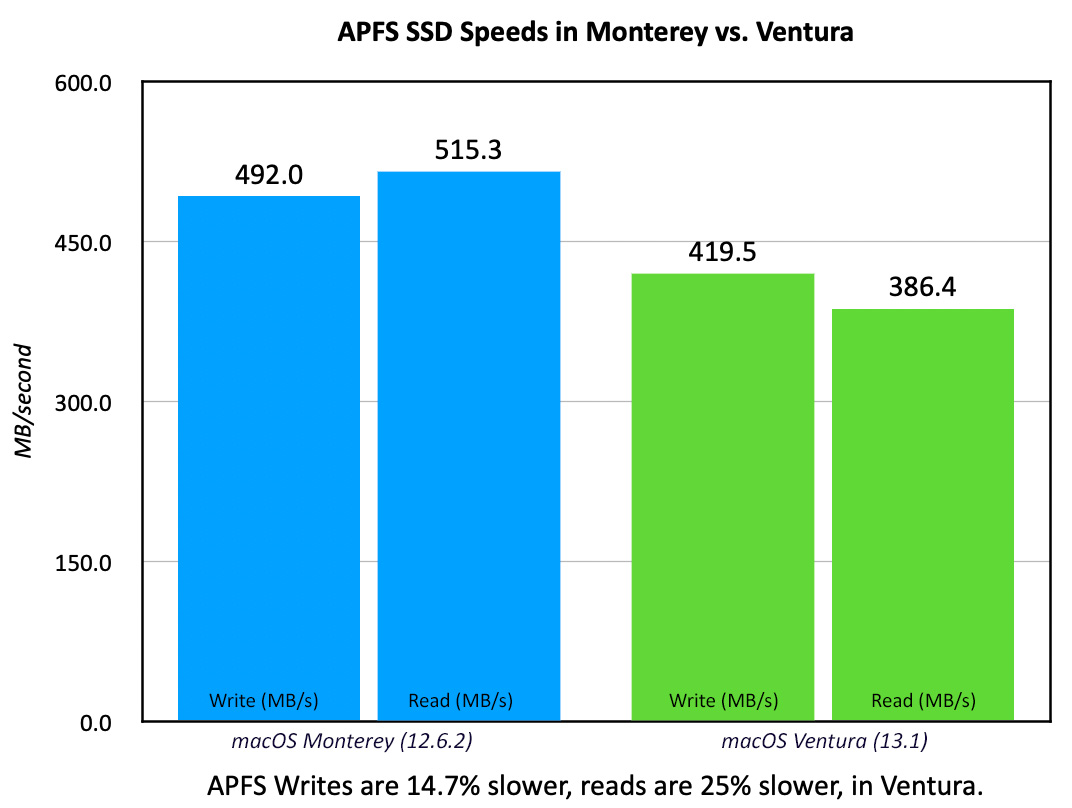 As I mentioned at the beginning, the speed drop applies to more than just ExFAT. APFS volumes write almost 15% slower, while reads are 25% slower in Ventura, compared to Monterey.
Whether these speed drops are intentional or a bug, I can't tell. However, for now, assume that all your SSD work is going to run slower or take longer.
FORMATTING
I got a shock when I went to reformat the Samsung drive in Ventura.  ExFAT didn't exist!
Not to panic, it's still there – but it moved. Unlike past operating systems, APFS creates containers that store one or more volumes. If you select a volume in an APFS container, the only re-format option is APFS.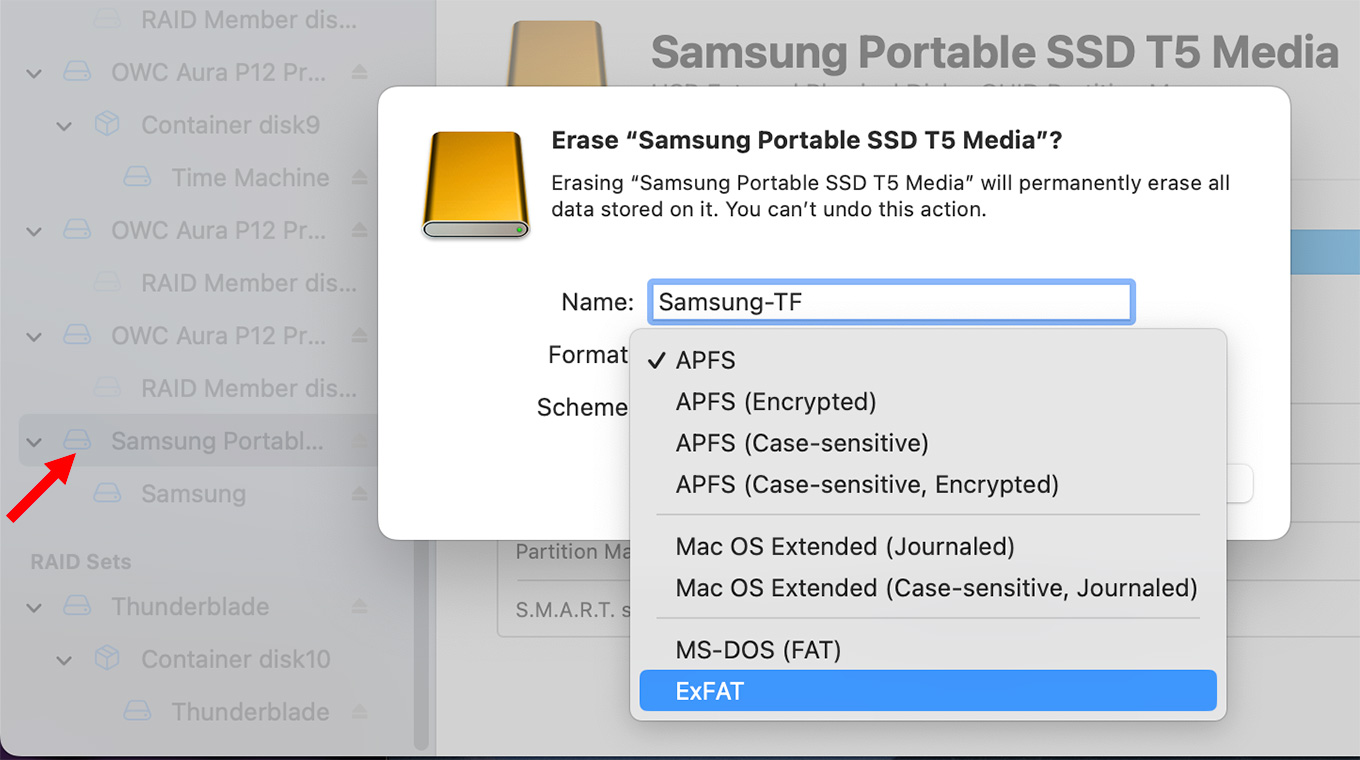 Instead, when using Disk Utility, first select the container (red arrow), not the volume inside it. When you do, all the traditional format options, along with a variety of new APFS flavors, become available.
NOTE: If the container is not showing, select View > All Devices from the top menu.
SUMMARY
Ventura dramatically lowered SSD speeds compared to Monterey. For single camera projects, this won't make much difference. For DIT file processing it means all your transfers will take a long longer. And for multicam work, this means that SSDs will support far fewer streams than before.
Be sure to test your system speed before starting any major projects.
EXTRA CREDIT
Here is a PDF with the results of my tests.
---
Bookmark the
permalink
.