Share Your Process. How Do You Log Video?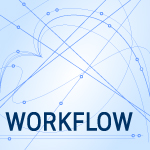 Björn asked an interesting question:
"How do you off-load and log media clips? I am trying to help my friend Goran who uses a Canon XA-70 with UHD-files. Currently, using FCP, he creates a Camera Archive, imports the clips, then opens the Archive, views the clips, modifies the file name to reflect the content, then copies and pastes all the file names into a Numbers spreadsheet."
"The benefit of the Numbers spreadsheet is that he now has a searchable database of all his clip file names. But, is there a better way?"
---
NOTE: Björn's question was also the impetus to write this tutorial on camera archives in Final Cut Pro.
I told Björn that this system wasn't bad, but it was really awkward. Then, I stopped to think. What system allows us to log clips, change file names and metadata, then search for them across multiple projects? Hmm… that list is pretty short.
GOING FORWARD
Hmm… You can't use what you can't find.  Logging and tracking clips in a single project is supported by all NLEs.
My question is what do you use to track media across multiple projects?
Share your thoughts in the comments. I'm stumped.
---
Bookmark the
permalink
.