Speed Test – Compressor 4.2 and YouTube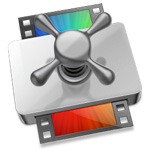 I spend a lot of time each week compressing video and I've written a lot comparing compression speeds for both Apple Compressor and Adobe Media Encoder. With the release of Compressor 4.2 a couple of weeks ago, Apple touted the speed improvements in the new version. This week, I had the time to test some of these claims.
The big benefits of Compressor, in terms of speed, is that the newest version takes advantage of both GPU and hardware acceleration for H.264 files; both MPEG-4 and QuickTime. The YouTube default settings create QuickTime files using the H.264 codec.
This is the first of three articles looking at Compressor 4.2 speeds – comparing speeds using the YouTube default settings on an iMac and MacBook Pro.
NOTE: I've written other articles looking at Apple Compressor 4.2 in more detail:
EXECUTIVE SUMMARY
HOLY SMOKES! The new version is FAST!
Speeds varied from 36 to 92% faster, depending upon codec. The new version of Compressor also takes advantage of the much faster speeds of SSD and Fusion drives to reduce compression times even further.
This speed differential can result in saving several HOURS of compression time when compressing longer-form media.
TEST GEAR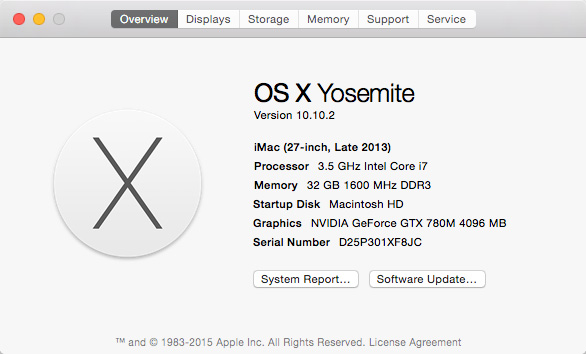 Compressor 4.1.2 was tested on a Late 2013 iMac, running OS X 10.10.2 (screen shot above). Note that the processor speed is 3.5 GHz.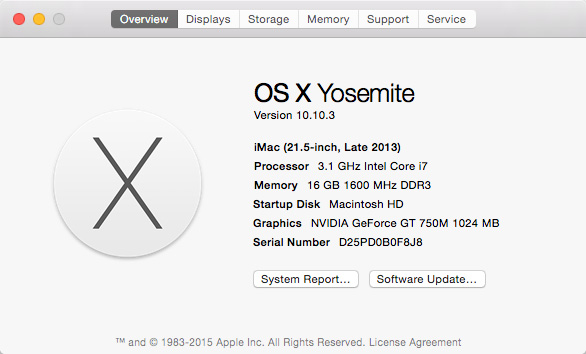 I ran Compressor 4.2 on two different computers: a Late 2013 iMac, running OS X 10.10.3 (screen shot above). Note that the CPU and GPU are both slightly slower than the 27″ iMac; however both iMac use Fusion drives.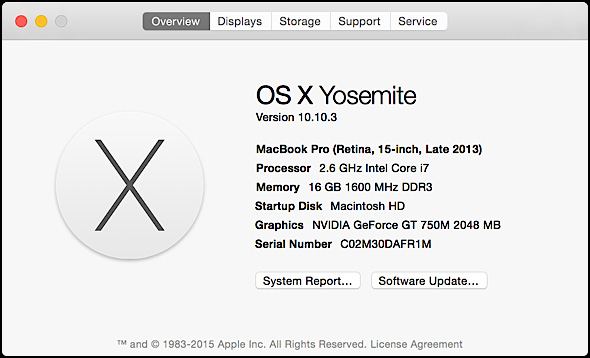 I also tested on a 2013 MacBook Pro, running OS X 10.10.3. It uses an internal SSD drive.
NOTE: I'm hoping to borrow a Mac Pro for a few days to test on that system, as well.
SPEEDS MATTER
The two iMacs are similar in speed; though not identical because 21″ iMacs don't offer the same components as 27″ iMacs. However, their speeds are generally comparable.
The MacBook Pro is slower than the iMacs, but what I discovered is that where you store your media can make a big difference in speed, allowing the MacBook Pro to compete with an iMac.
TEST MOVIES
Not to put too fine a point on it, but Compressor 4.1.2 is dog-slow when compressing H.264 movies. One-hour movies compressed for YouTube can take multiple hours. (This is the main reason I use Adobe Media Encoder for all my YouTube movies; it is light-years faster.)
For this article, I created a compression test suite of three movies – spanning three different frame sizes and three different codecs – with durations that ranged from five to 38 minutes.
COMPRESSION SETTINGS
All files were compressed using the default Video Sharing Services (YouTube/Vimeo) settings of HD 720. This creates a 720p file.
RESULTS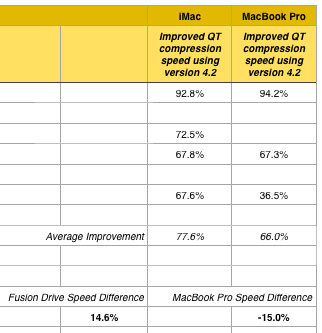 Click the image to see a more detailed PDF of my speed test results.
I expected the new version to be faster. What I didn't expect was that speeds would also vary depending upon where you stored your media.
XDCAM EX showed the fastest speed gains – almost 14 times faster than Compressor 4.1.2.
Storing source files on a Fusion drive improved ProRes 422 compression times by almost 15%.
The MacBook Pro was 15% slower than the 21″ iMac, proving that faster CPUs and GPUs make a difference in video compression.
Here's a detailed PDF containing my test results.
INTERESTING TRIVIA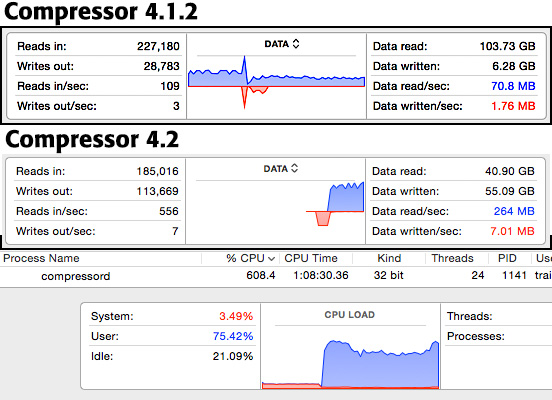 I was also surprised by how much more efficiently Compressor was processing data. In this screen shot, the top stat shows that Compressor 4.1.2, with both application and data stored on a Fusion drive, was only accessing about 70 MB of data per second.
Compressor 4.2, with data and application also stored on a Fusion drive, is accessing data 3.5 times faster (264 MB/second), and using much more of the CPUs; 75% vs. 30% in the earlier version.
SUMMARY
Now that I've seen the kind of results we can get with default settings, I'm really looking forward to seeing how this translates into productivity when compressing files for local websites; as well as a speed test between Compressor and Media Encoder.
For now, though, I'm very impressed with how Apple has transformed Compressor into a speed machine.
---
Bookmark the
permalink
.