Comparing the Speed of Exporting ProRes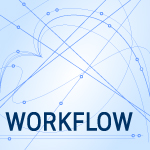 Curiosity is a dangerous thing.
When I responded to Jeff's email asking how to change the timecode linked to a video clip, I suggested he consider converting his source files – legal video depositions – into ProRes 422 LT to save time.
Except, while it seems to make sense that a codec that creates smaller files would be faster, I never really timed it. So, today, before I sat down to write my newsletter, I figured I should. Here's what I learned.
EXECUTIVE SUMMARY
Given the same frame size, the time it takes to compress a file into ProRes Proxy, LT, 422, 422 HQ or 4444 is the same. While there is a difference in speed, the difference seems to be caused more by the time it takes to write the resulting file to disk.
Apple Compressor, which I used for these tests, read source data up to 1.5 GB/second. So, the faster the storage, the faster the export.
As frame sizes increase, encoding time takes longer, but the principle difference seems to be caused by the time it takes to write much larger files to disk.
The source file was a four-minute 8K ProRes 4444 file compressed into a 1080p clip using Apple Compressor (v. 4.6.5) running on macOS Ventura 13.5.
Tests were run on an M2 Max Mac Studio, using an external SSD RAID. All M-series Macs include hardware acceleration for ProRes, along with H.264 and HEVC. Intel systems, which don't support hardware acceleration of ProRes, will show a similar relationship – though much slower. This is why results are expressed as percentages, rather than specific times.
THE RESULTS
All tests were run one at a time, with Compressor in the foreground. All other computer activity was minimized as much as possible. Also, once the job started, there was a consistent three second delay before the encoding (and timer) started. Each test was run at least twice, several were run three times. There was essentially no deviation between test results.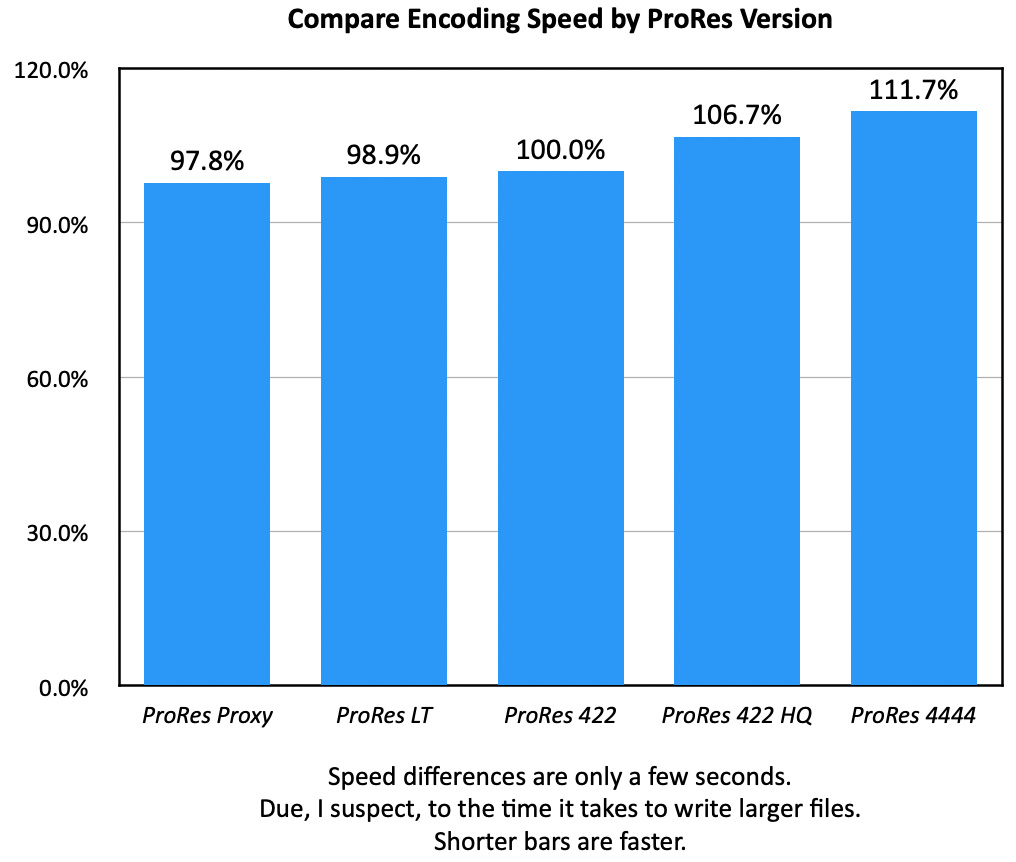 There was a six-second difference between the slowest and fastest times. So, essentially, aside from the time to write larger files to disk, given the same frame size, encoding takes essentially the same time.
NOTE: It is important to point out that compression using Apple Compressor – just like exporting in Final Cut Pro – runs in the background. The more your computer is doing something in the foreground, the longer compression will take.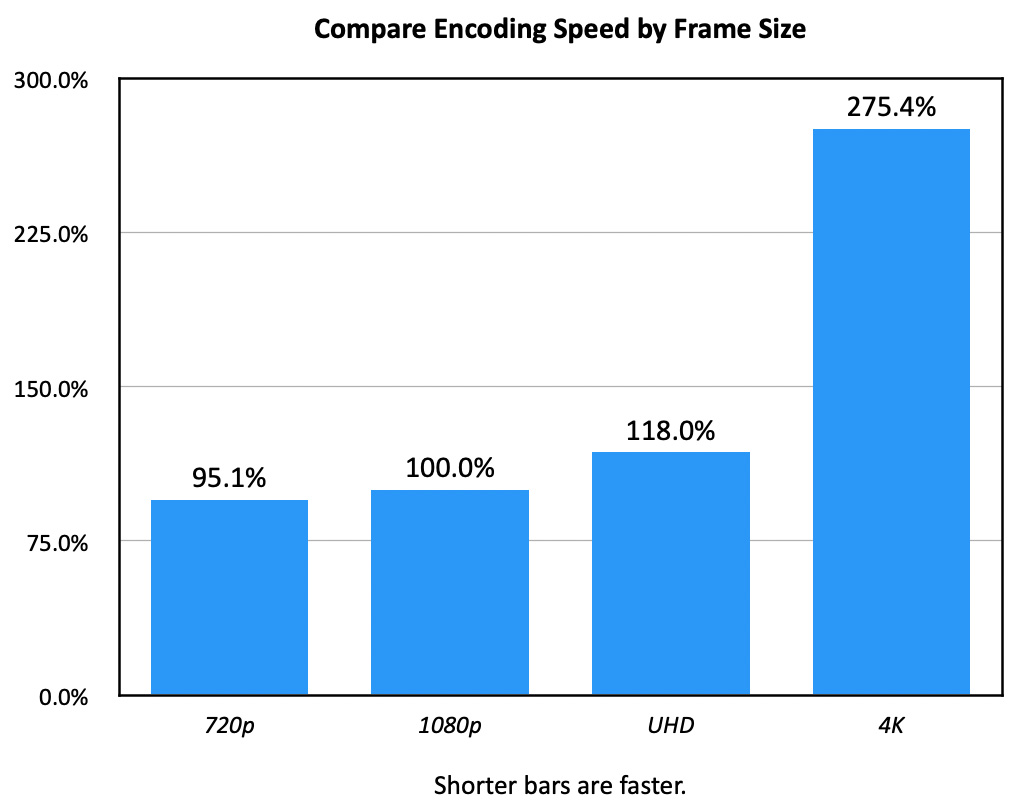 However, there is a big difference in encoding speed as frame size increases. Partly this is due to the encoding. But, a much larger reason is the time it takes to write very large files to disk.
NOTE: Another interesting thing I discovered is that the job timer in Compressor only tracks encoding time. Time spent writing temporary files into a final file on disk is NOT reflected in the timer. For 8K media, this "writing time" was almost as long as the encoding process itself. Even 4K media takes a while after encoding to assemble and write the finished file.
SUMMARY
As we have discovered in other tests, the fastest way to speed renders and exports is to increase the speed of your storage.
While there is a difference in encoding speeds, the differences are minor enough that you should pick the codec and frame size of a project based upon other criteria than speed.
---
Bookmark the
permalink
.