Trouble-Shoot Your Apple Final Cut Pro X System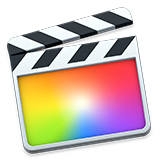 Most of the time, Apple Final Cut Pro X works reliably. But, every so often, things go weird. Here's a list of things to try before you call Apple Support.
These are listed in order. Try each of these steps, then see if FCP X starts working properly. If it is, then stop there. If not, keep going. If nothing works, then please contact Apple Support.
NOTE: If you are looking for general trouble-shooting procedures, read this. If you are looking for Final Cut Pro 7 trouble-shooting tips, read this.
STEP 1: RESTART
Quit Final Cut, then restart your computer. It is amazing what gets fixed simply by restarting.
STEP 2: TRASH FCP X PREFERENCES

Quit FCP X. Then, press and hold the Option + Command keys while clicking the Final Cut icon in the Dock. This message then appears.
Click the blue Delete Preferences button to restore Final Cut's preferences to the factory default.
Trashing FCP X preferences does NOT delete any of your libraries, media, edits or projects. It DOES empty the Recent Libraries list in the File menu, resets all FCP X preferences to defaults and resets the internal settings of FCP X to their Apple defaults. For this reason, make sure you know where your libraries are stored before deleting preferences so you can find them manually after this reset.
STEP 3: SAFE BOOT
A Safe Boot cleans up problems with how files are stored on your hard disk. A Safe Boot is also the best way to delete plug-ins that are malfunctioning, files that refuse to be deleted, or files that remain open after an application quits.
While pressing the Shift key, restart your computer. Continue holding the Shift key until the computer restarts AND you see the small, white thermometer start to scroll across the bottom of your screen.
BIG NOTE: YOU CAN NOT RUN FCP X in Safe Mode. This procedure is for maintenance and repair, not operating your computer.
Your computer will prompt you for your user name and password, even if you have auto-logon turned on. You know you're in Safe Mode because, when the log-in screen appears, the words "Safe Boot" appear in red in the upper right corner of your screen.
This does several things:
It makes sure all file directories on your hard disk are cleaned and optimized.
It turns off all 3rd-party operating system extensions and plug-ins.
It turns off all FCP X extensions and plug-ins.
It essentially disables the GPU.
It turns off all non-vital operating system elements.
NOTE: Safe Boot is an excellent maintenance procedure for your entire computer, not just Final Cut. It was designed by Apple and I recommend you run this once a week. Personally, once I'm logged into Safe Mode, I also run First Aid, which is detailed next.
To restore your computer to normal operation, simply restart it without holding any keys down.
STEP 4: FIRST AID

This used to be called "Repair Permissions," but now Apple has designed this to do more.
Open Utilities > Disk Utility, select your boot disk on the left (Macintosh HD, in my case), then click First Aid.
First Aid runs a number of repair and maintenance procedures on your hard disk, making sure everything is OK, and fixing things that aren't. Everything this does is "under-the-hood" stuff, but it keeps your hard disk directories and applications clean and out of problems.
This is designed for the boot disk. I almost never run this on data drives.

A message then appears asking if this is what you really want to do. Click Run.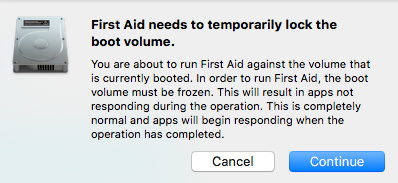 Because you are repairing your boot disk – which is similar to running while tying your shoelaces – Disk Utility warns you that things will slow way down for a few minutes. Click Continue.

First Aid will take a couple of minutes, then this dialog appears. Click Done.
Then, if you are also in Safe Mode, restart your computer. If you aren't, you may get along with your business.
NOTE: I like running First Aid within Safe Mode because with so much of the macOS is turned off, there's less interference when running the utility. However, there's no harm in running First Aid at any time. I try to run it once a week, whether I have problems or not. This just keeps everything on my system running smoothly.
STEP 5: REINSTALL THE APPLICATION
If these procedures don't fix the problem, then its time to reinstall the application.
First, though, delete the current version from Final Cut by dragging it from the Application folder to the trash.
NOTE: Deleting the application does NOT delete any of your libraries, media, projects or personal files. Also, deleting the application does NOT delete any preference files or purchased plug-ins.

After deleting the app, log into the Mac App Store, click the Purchased tab, then click Install to the right of Final Cut Pro X.
After installation, open your application and project and see if things are working better. If so, great. If not, go to the next section.
STEP 6: CREATE A NEW USER ACCOUNT
Finally, just as Final Cut's preference files configure the application, the Mac operating system also uses preferences – LOTS of them. Sometimes, trashing preferences for an application isn't enough, you may need to reset the entire OS.
The easiest way to test whether this is necessary or not is to create a new user account. Since preference files are stored in the Home directory of each user, creating a new user account creates all new preference files for every application. This is essentially the same as resetting all your programs, without a lot of work.
Here's how.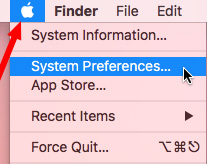 Open System Preferences; it's under the Apple logo in the top left corner of your screen.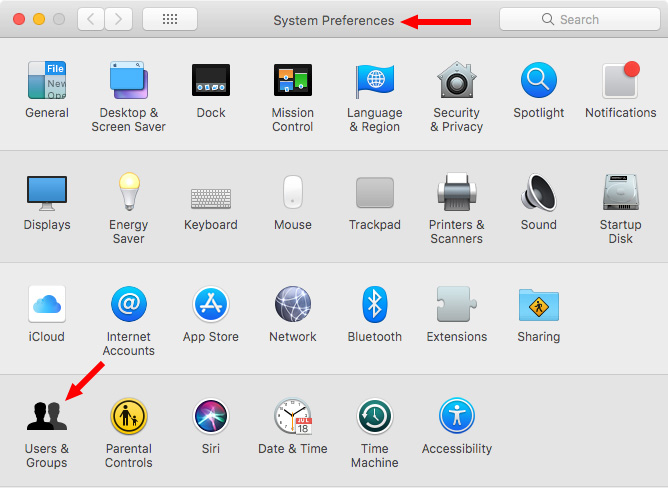 Open Users & Groups, in the fourth row, by double-clicking the icon.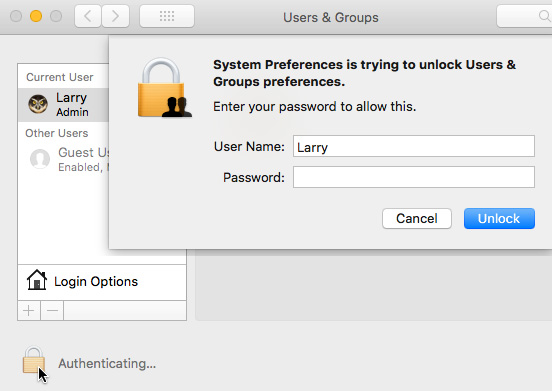 Click the Authenticating padlock icon to unlock these settings. Enter your computer user name and password.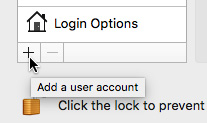 Click the Plus icon to create a new user account.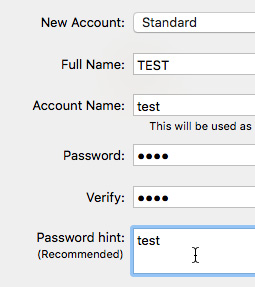 This new account is going to last a VERY short time, give it a simple user name and password. My favorite is "test".

Turn off Automatic Login so you can select which user to login to your computer.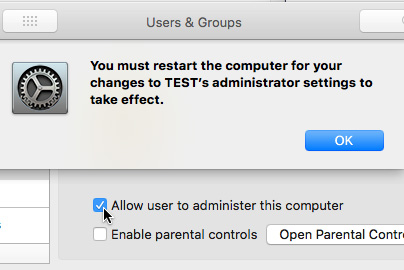 Then, and this is really important, CHECK Allow user to administer this computer. When you do, your system will need to restart.
Restart your computer and log into the new user account you just created.
IMPORTANT NOTE: Any files stored in your old Home directory are NOT available to you when you log in as this new user. This is one of the key reasons I strongly recommend never storing projects or media in the Home directory.
Open Final Cut and a recent Library to see if things are working better. If so, great. This means that you can edit logged in as the new user until you can get your computer serviced by Apple. If things are still not working, go on to the next section.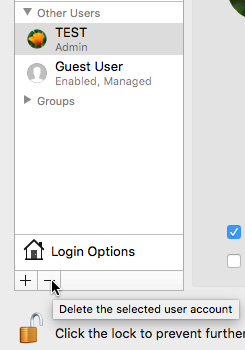 By the way, once you've tested your system, and assuming you don't need to use this new user as a temporary editing login, you can delete the user you just created. Click the Minus icon.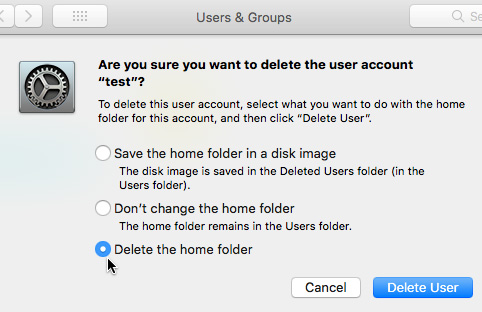 And, when the system asks what to do with the Home Directory, just trash it. There's no need to save a test system.
STEP 7: CONTACT APPLE SUPPORT
After you've done these basic steps, if you are still having problems, it is time to contact Apple Support for more sophisticated help. To save you time at the start of your support call, be sure to tell them what you've done.
Having system problems is a HUGE frustration. I hope these steps will get you back and running in no time.
---
Bookmark the
permalink
.