Thunderbolt May Not Be As Fast As You Think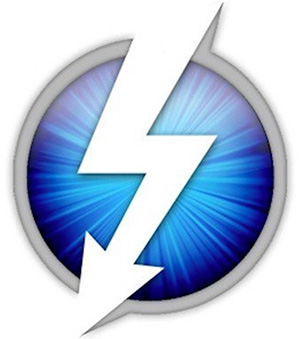 Thunderbolt is an amazingly fast protocol for connecting computers to storage devices. However, even though it has potentially blazing speed, if you don't understand how it works, you may not be getting the speed you expect.
A MATTER OF PLUMBING
An effective way to think about moving data between storage and a computer is to think about plumbing. Yup. Pipes and water pressure.
If you have a very small pipe, such as a garden hose, it can only fill a swimming pool very slowly even with a lot of water pressure behind it.
If you have a very large pipe, such as one of those things buried under a street, it can fill a swimming pool very, very quickly; provided you have a lot of water pressure behind it.
However, if the water pressure is low, even a very large pipe won't carry a lot of water.
Thunderbolt defines the size of the pipe, but it doesn't determine water pressure. The type of storage hardware and how it is configured determines the water pressure.
NOTE: Um, no. Data is not water, this is an analogy. Your computer is not getting wet.
THUNDERBOLT – The Size of the Pipe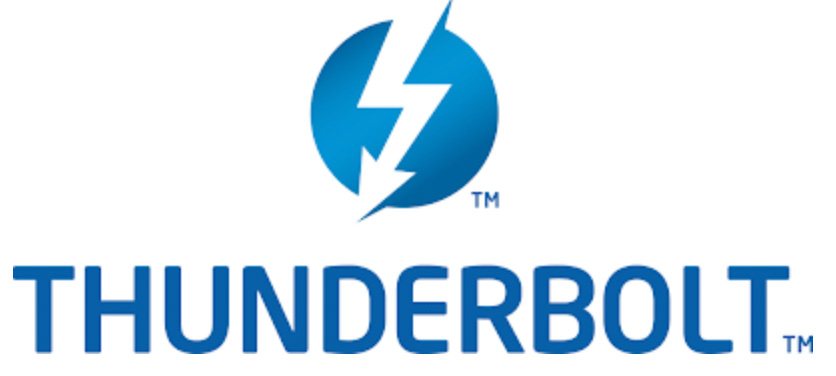 Thunderbolt is the name of a hardware interface, co-developed by Intel and Apple, that connects external devices to a computer. It was first released in 2011. It combines two signals into one cable (or "pipe"): PCIe, for data, and DisplayPort, for monitors. It also has the ability to carry power; though the wattage varies.
Thunderbolt is optimized for rapid transfer of large files, which is why it is so useful for video editing. There are four versions of Thunderbolt, with a fifth version rumored but not announced:
Thunderbolt 1
Thunderbolt 2
Thunderbolt 3
Thunderbolt 4
The principle difference between versions 1, 2 and 3 is the size of the pipe they create. (The bandwidth of Thunderbolt 3 and 4 is identical.) However, that pipe is split into two parts: one for data and the other for monitor video.
Illustration of Available Data Rates
Protocol
Total Speed
Reserved for Video
Maximum for Data
Thunderbolt 1
10 Gbps
(1.25 GB/s)
Min. 6 Gbps
~4 Gbps
(~500 MB/s)
Thunderbolt 2
20 Gbps
(2.5 GB/s)
Min. 8 Gbps
~12 Gbps
(~1250 MB/s)
Thunderbolt 3 or 4
40 Gbps
(5.0 GB/s)
Min. 8 Gbps
~32 Gbps
(~2600 MB/s)
NOTES:
Video signals take priority over data.
The bandwidth of Thunderbolt 3 and 4 are identical.
Data is always encoded during transfer. Decoding lowers the data bandwidth.
Even when Thunderbolt carries no video signals, data bandwidth can not use the full bandwidth of a Thunderbolt pipe.
The amount of bandwidth required by video is dependent upon the monitor size, bit depth, refresh rate, and the number of monitors connected. It is entirely possible to fill almost all of a Thunderbolt pipe feeding monitors, leaving almost no bandwidth for data.

Monitor Bandwidth Requirements
Monitor size
Pixel size
Approx. Bandwidth
for 1 Monitor
(2X for two)
2k
2560 x 1600
~8 Gbps
4K
3840 x 2160
14-15 Gbps
5K
5120 x 2880
22 Gbps
6K
6016 x 3384
31 Gbps
NOTES:
Video signals take priority over data.
These numbers assume 10-bit video at 60Hz running on Thunderbolt 3.
Video bandwidth is subtracted from the total Thunderbolt bandwidth to determine the maximum data bandwidth available.
Source: MacPerformanceGuide.com
So, as an example, if you are running a 4K monitor at 60 Hz over Thunderbolt 3, the maximum available data bandwidth would be 40 – 15 = 25 Gbps; or roughly 3 GB/s. After decoding this data rate drops to about 2.6 GB/s. Running two 4K monitors over the same Thunderbolt 3 or 4 cable would reduce the maximum data bandwidth to roughly 10 Gbps, or roughly 1 GB/second.
BUT WAIT, THERE'S MORE!
To quickly summarize: a large chunk of Thunderbolt bandwidth is devoted to video and is inaccessible for data transfer.
However, Thunderbolt only defines the size of the pipe. Your actual storage devices determine the maximum amount of data (the "water pressure") that can flow through the pipe each second. Here's a table that illustrates some of these differences.
Rough Data Transfer Rates for Typical Storage
Device
Configuration
Data Rate
Spinning hard disk (HDD)
N/A
125 – 225 MB/s
2 HDD RAID
RAID 0
~350 MB/s
2 HDD RAID
RAID 1
~175 MB/s
4 HDD RAID
RAID 5
~575 MB/s
4 HDD RAID
RAID 6
~350 MB/s
8 HDD RAID
RAID 5
~1,235 MB/s
8 HDD RAID
RAID 6
~1,050 MB/s
—
PCIe SSD
N/A
~400 MB/s
2 PCIe SSD RAID
RAID 0
~800 MB/s
2 PCIe SSD RAID
RAID 1
~400 MB/s
4 PCIe SSD RAID
RAID 4
1,200 MB/s
—
NVMe SSD
N/A
~2,500 MB/s
2 NVMe SSD RAID
RAID 0
~2,650 MB/s (limited by Thunderbolt bandwidth)
2 NVMe SSD RAID
RAID 1
~2,500 MB/s
NOTES:
Even the fastest HDD RAIDs won't fill a Thunderbolt 3/4 pipe.
All RAID 1 configurations, regardless of the number of devices, have the speed of a single device.
NVMe SSDs, when combined as a RAID, exceed the data bandwidth provided by Thunderbolt. There's no advantage, currently, to using multiple NVMe devices in a Thunderbolt RAID.
Another weirdness of storage is that transfering large files is much faster than transferring smaller files. For example, transferring a 10 GB file will come close to matching these maximum speeds. Transferring, say, fifty 1 MB files to an HDD will average about 15 MB/sec.

SUMMARY
Now that our brains have exploded, here are the key takeaways:
Video signals take priority – and bandwidth – in a Thunderbolt pipe
Even without carrying video, data can only access a portion of Thunderbolt bandwidth
The storage you connect to Thunderbolt determines the maximum speed of data transfer available.
Transferring large files is much faster than transferring smaller files.
Thunderbolt is an amazing protocol and essential to many video workflows. However, it isn't a magic box. Once you understand what affects the speeds it can transfer data, you can better plan for how to use it.
EXTRA CREDIT
In September, 2021, Intel leaked a new version of Thunderbolt, dubbed "Thunderbolt 5," that promises an 80 Gbps bandwidth! It is expected to use some form of USB-C for connectivity. However, since then, no other information was released and no current products support it.
---
Bookmark the
permalink
.