Review: Synology WRX 560 Wireless Router – Speed & Power with Complexity
[ Read my product review disclosure statement here.]

Recently the folks at Synology asked if I wanted to review their new WRX 560 Wireless Router. Since my home WiFi network uses a ten-year-old Apple Airport I figured this would be a good time to consider an upgrade. So, Synology loaned me two routers for a few weeks.
EXECUTIVE SUMMARY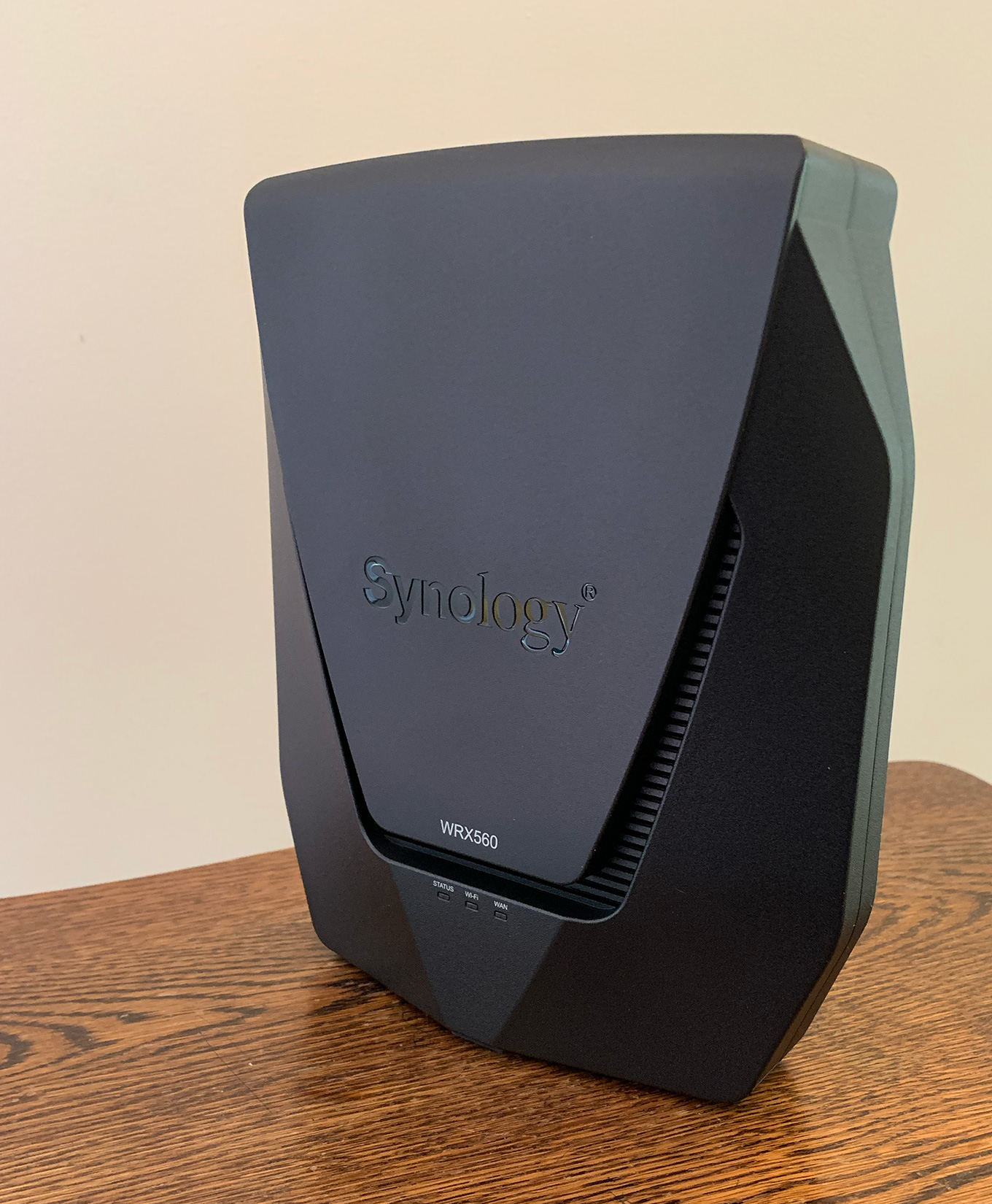 The Synology WRX 560 Router/Wireless Access Point is a high-speed, highly-configurable, secure wireless router for the home or office. Supporting WiFI 6 and up to 150 simultaneous connections, it handles speeds up to 66 MB/second and can do things you haven't even dreamed about. What makes this such a powerhouse is the SRM software that drives it. It also easily extends into a mesh network.
But, if you are looking for a simple system, this isn't it. It's 2-3 times the cost of a simple wireless antenna. Installation is harder than it should be and the Setup Guide doesn't help.
The hardware is nicely designed using heavy-duty plastic, it's dead quiet, highly configurable and delivers seriously high speeds – provided you are within line of sight. (Top speeds are well more than double what I'm getting now with the Airport.) However, speeds slow with distance and intervening walls; which is true for all wireless systems.
NOTE: Here's a link to the hardware and software specs for the WRX 560. Actual speeds vary depending upon the gear you use, the WiFi versions they support, the placement of the receiver and the construction of the location.
The Setup Guide assumes you have a computer and a modem from your ISP. But if you have anything more sophisticated in your network – like a firewall or switch – the Setup Guide won't help. Setting up a mesh network is easy, provided you connect units wirelessly. If you have a switch, which I do, I can't get it to work.
The operating software, called SRM (Synology Router Manager), has a similar look-and-feel to DSM, which powers Synology servers. The SRM, which is accessed using a web browser and hosted on the router itself, provides amazing depth and control, far beyond what most homes or businesses would ever need. It's the best wireless router software I've ever seen.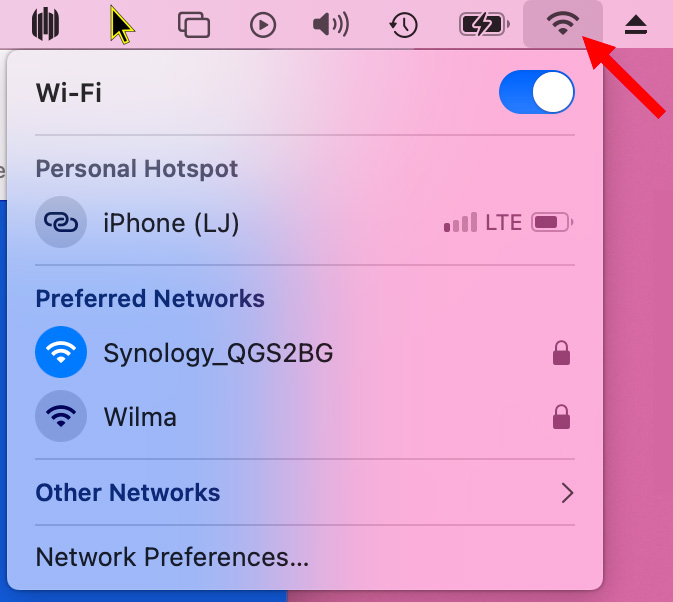 I'm not an engineer, so I can't test all the technical details. I found installation to be challenging but, once installed, access and operation were dead easy and the speeds were more than I expected.
If you need a wireless system that will grow as your needs demand, support multiple access points, connect dozens of devices and provide as much speed as possible, the Synology WRX 560 should be on your short list. Just expect to be frustrated getting it installed.
Manufacturer: Synology Inc.
Product: WRX 560
Website: https://www.synology.com/en-global/products/WRX560
Price: $219 (US) at B&H. Sold in a wide variety of retail locations, prices vary.
NOTE: Here are two additional key links:
UNBOXING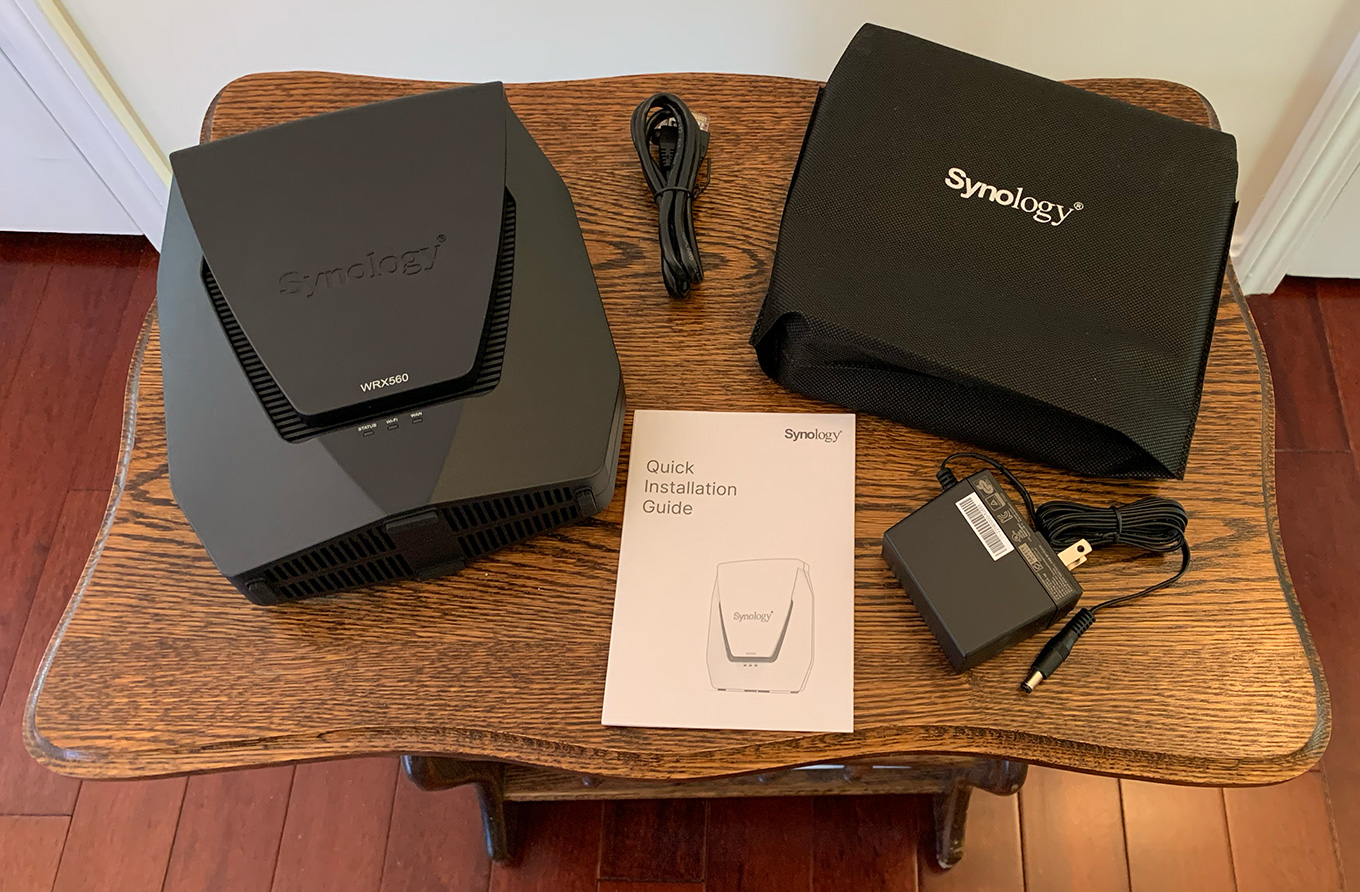 The Synology WRX 560 is safely packaged in cardboard and wrapped in its own cloth bag. Inside the box is a Quick Start Guide, power cable, Ethernet cable, and the Router in a black cloth bag. The unit itself feels solid and well-built.

You can connect devices directly into the back of this unit, which provides the highest speeds, or via wireless, which provides the greatest flexibility in movement.
Left arrow: Power switch
Middle arrow: Power connection from small power brick
Right arrow: Internet (WAN) connection
No arrow: Hard-wired computer connections and the Reset switch
INSTALLATION
Installation is the Achilles heel of this system. There is a lot of complexity here. The Setup Guide assumes you are connecting this directly into the router supplied by your Internet ISP. If so, the guide is probably fine.
However, my home network has an ISP modem, a firewall, and a 10G Ethernet switch. Following the Setup Guide guarantees you won't get this system to work. Also, the WRX 560 defaults to acting as the DHCP server for your network which, for most, is the wrong choice. You need to manually change a setting to convert the WRX 560 into a simple Access Point. The Setup Guide doesn't cover this, it took research to find.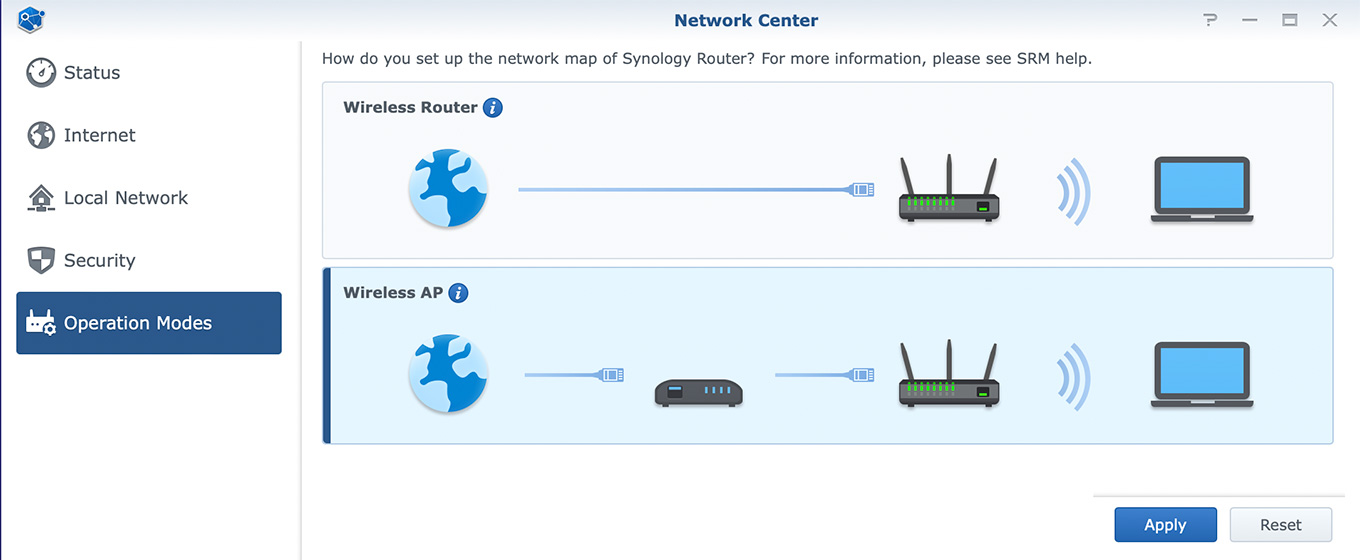 NOTE: This is where you change the WRX 560 to an Access Point in the SRM software: Network Center > Operation Modes. While you can use this unit as a DHCP server, it is generally easier and better to let the ISP router or your firewall handle those duties.
The unit is managed via a web browser, which means that you need to know the IP address of the WRX 560 before you can configure it or it needs to be attached locally to your computer. The easiest way to set this up is to plug the unit directly into your computer – not use the switch or a node on the network – then follow the Setup Guide instructions.
NOTE: The Setup Guide suggests other ways to connect the router to your network. In most cases, these will prevent you from accessing the router. Direct connection is best.
Since the WRX 560 is managed over the local network, make sure to enter a manual IP address during setup so you can find it again.  I left this set to dynamic IP addressing, then spent hours chasing down its IP address every time I power-cycled this unit. Writing the IP address down reduces stress. (The default IP address – 192.168.1.1 – is generally incompatible with most networks.)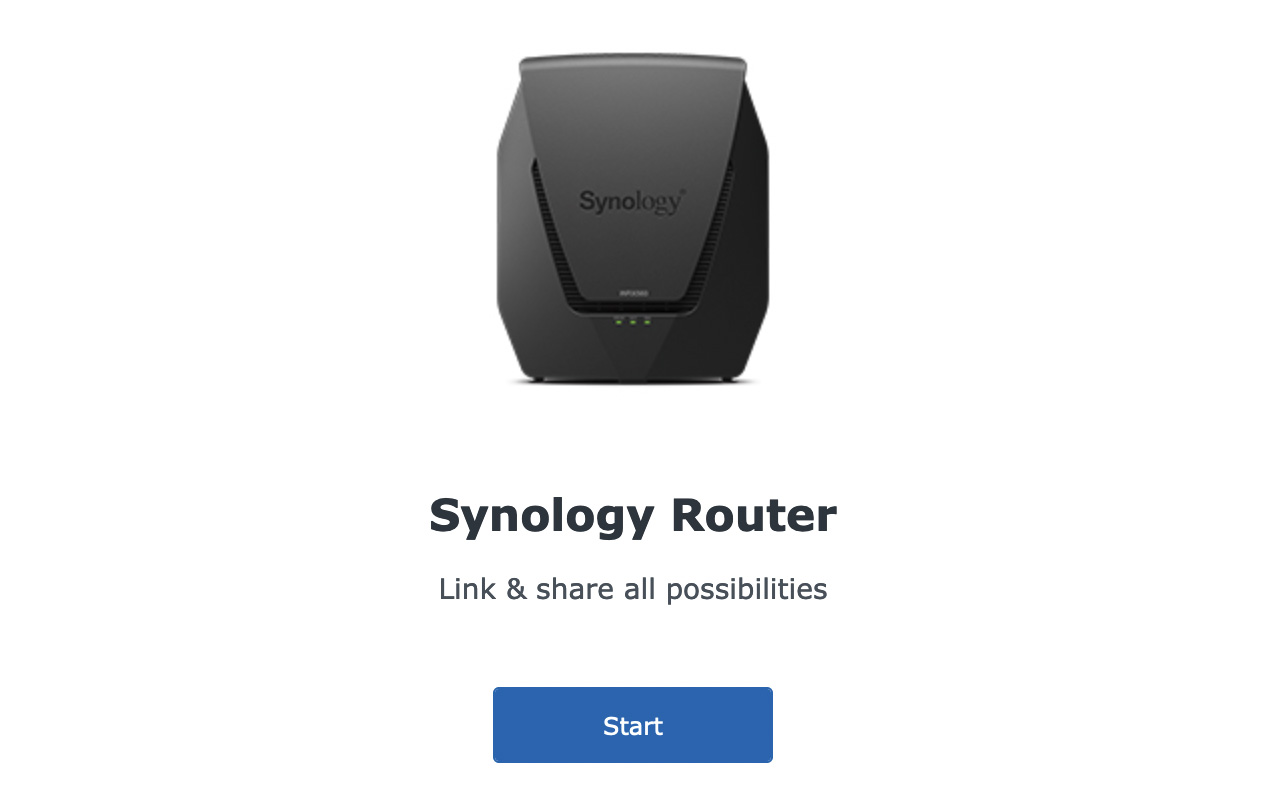 Once the unit is connected to your computer and powered on, search for it using http://router.synology.com. (This means that you don't need to know the IP address initially.) Click the Start button (see screen shot above) to begin the installation process.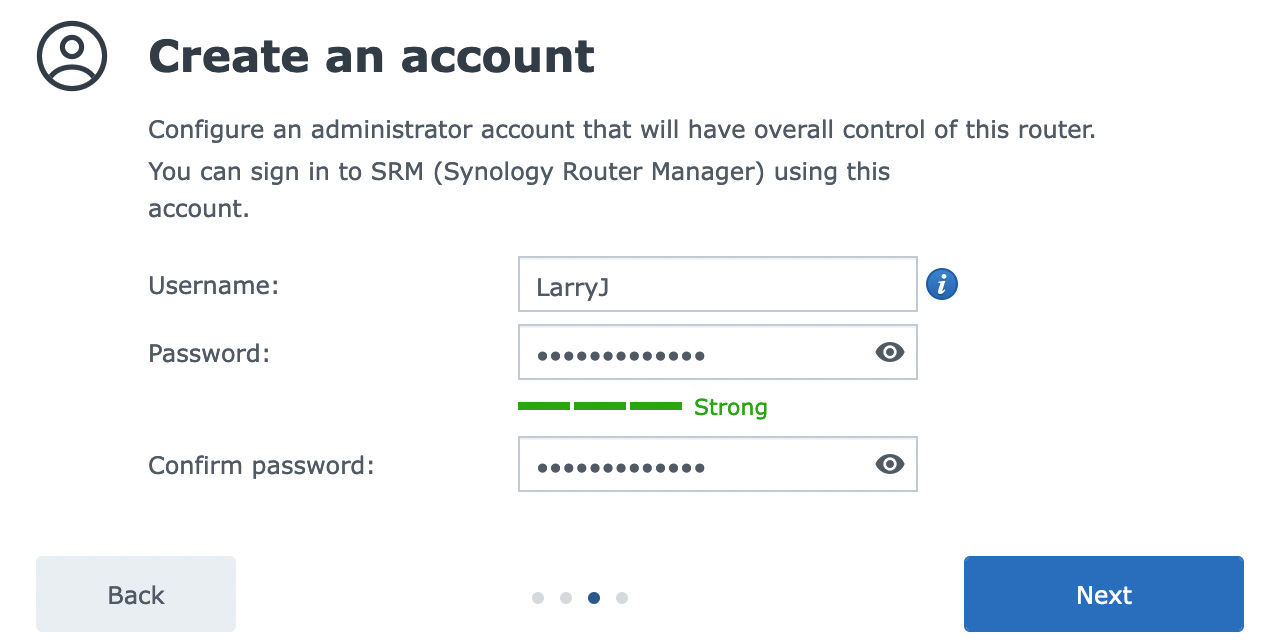 Create an admin account. This is what you'll use to configure the system going forward. However, you'll create a different account for end user access.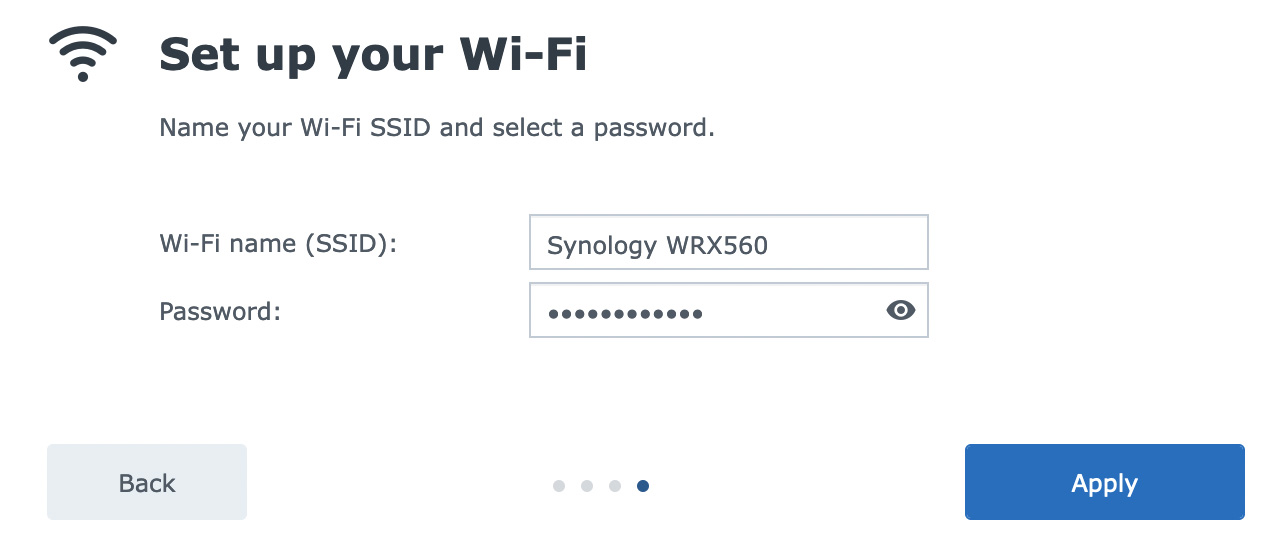 Give the router a name and user password. This is how users locate the router when the time comes to link to it. All users use the same password to gain wireless access.
Now that it has a name, the Quick Setup Wizard appears. This sets basic parameters for the system, such as how it's connected and whether you want to use QuickConnect, which provides a Cloud-based way to access your system remotely.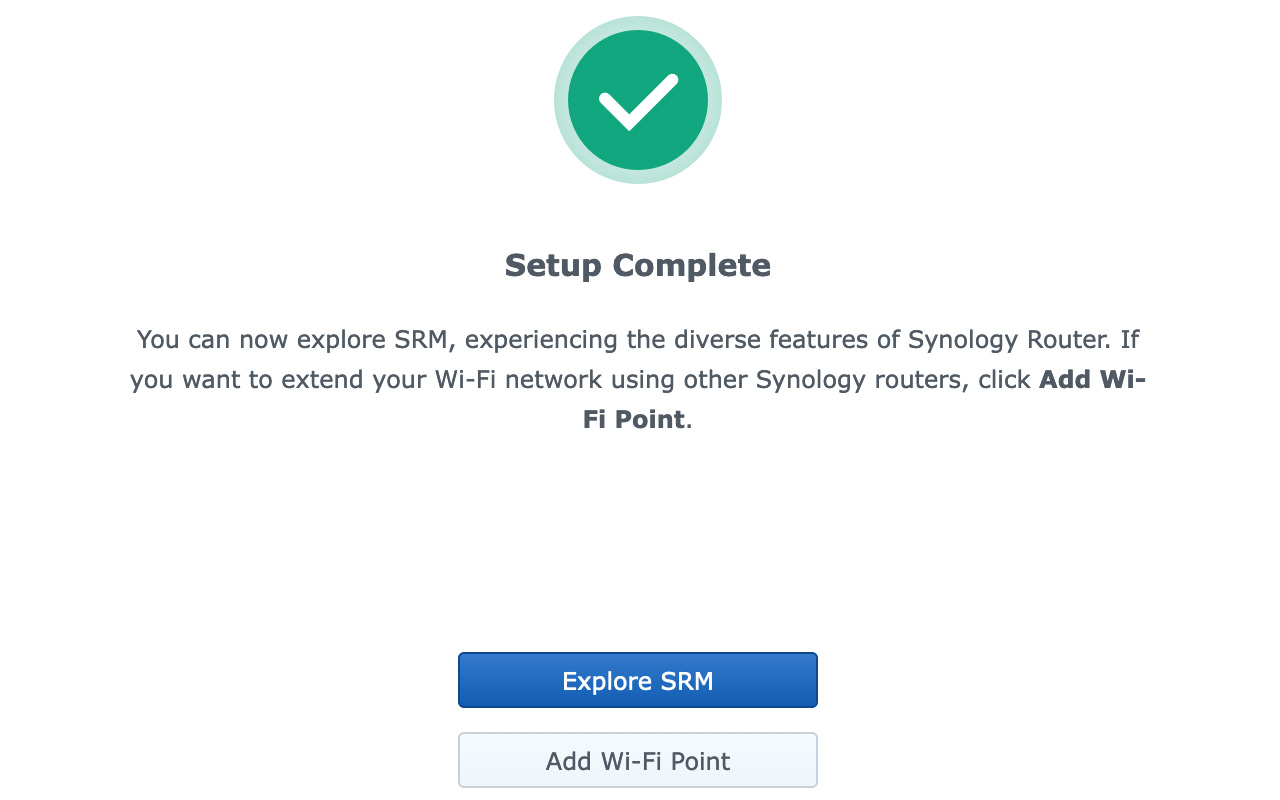 Now that basic configuration is complete, Synology updates the unit to the latest version of SRM, plus defines a flock of internal parameters. For this entire process, from installation through configuration, leave the system attached to your computer. This took 20-30 minutes to complete.
Once configuration is finished you can move the unit into position and connect it to your switch.
THE SRM SOFTWARE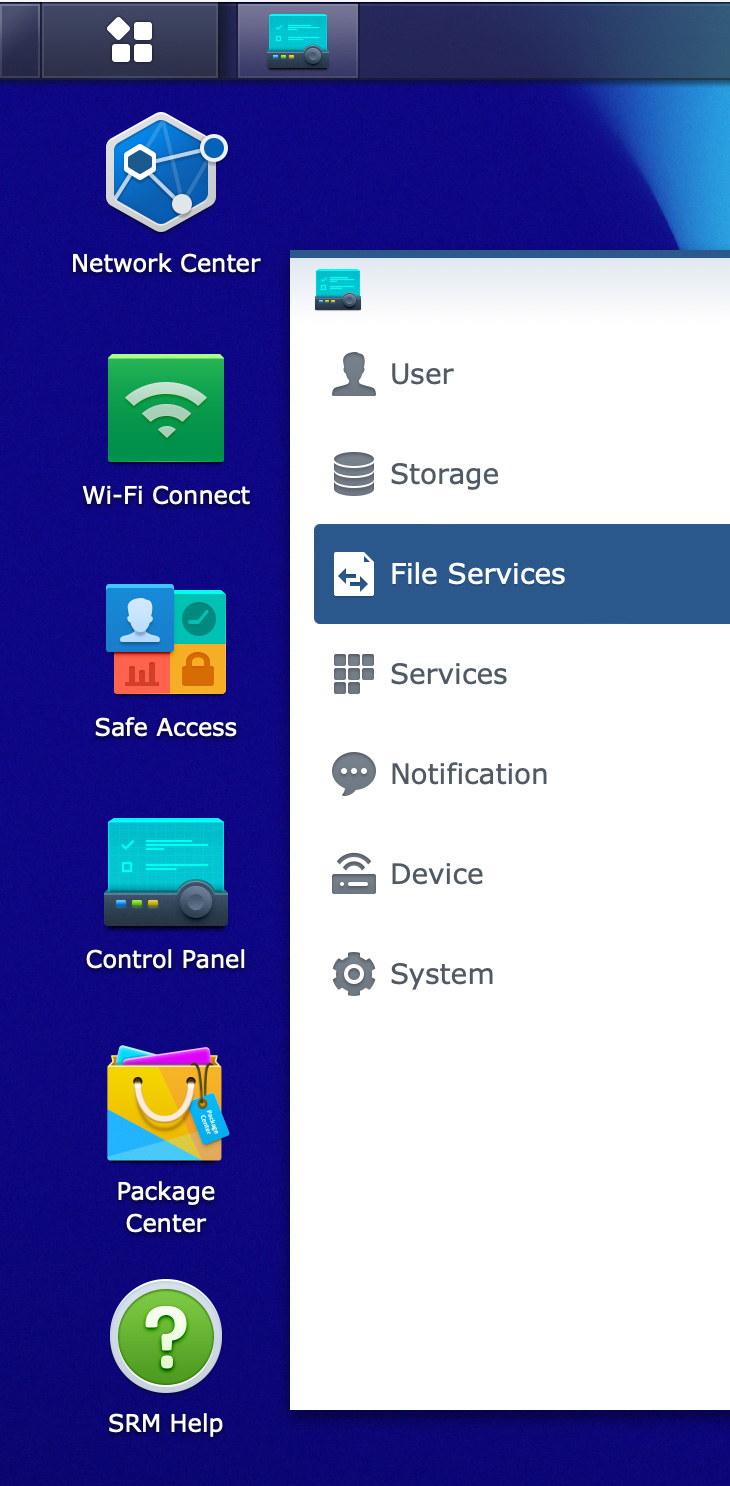 For me, the real power of the WRX 560 is the SRM software that drives it. If you are familiar with Synology servers, this interface will feel comfortable.
The Control Panel, illustrated above, provides access to every conceivable setting on the device or network that you could want. (OK, maybe not EVERY setting, but every setting that I could imagine.)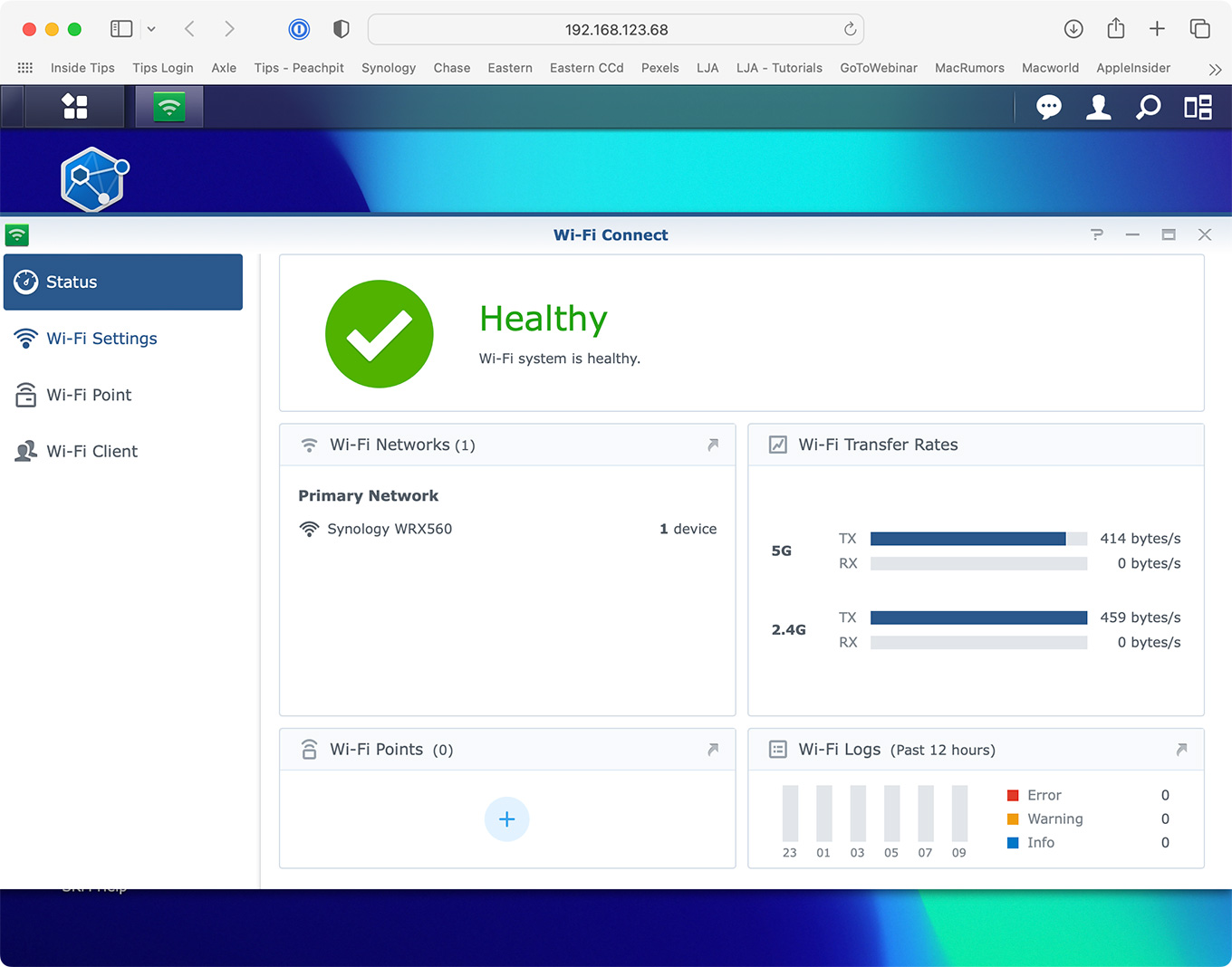 Using the WiFi Connect app, you can easily determine which users are connected, how much bandwidth they are using and total data flowing through the router.
NOTE: All apps illustrated here ship with the device. No additional purchase is necessary.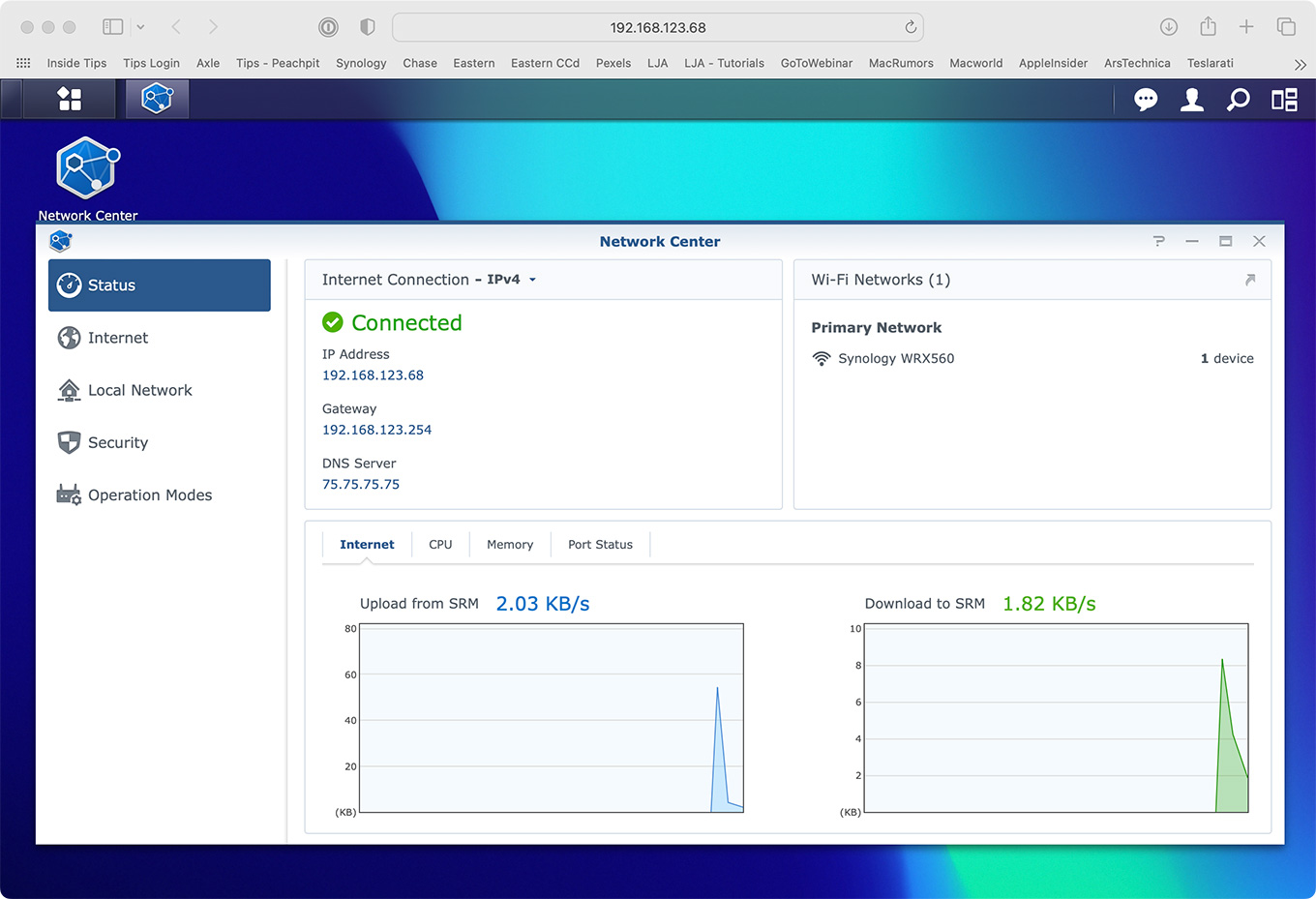 The Network Center app is solely devoted to network status. Here you can monitor who's connected, how much bandwidth they are using and adjust security settings. I REALLY! like these monitoring features. While this protects user privacy by not showing what users are viewing, it does allow me to see how much bandwidth is being used on each user's device.
NOTE: At one point during the pandemic, while my extended family hunkered down in our home for the duration, I had more than twenty wireless devices accessing the Airport every day. I would really have appreciated a detailed look at bandwidth use by user to keep the network flowing smoothly.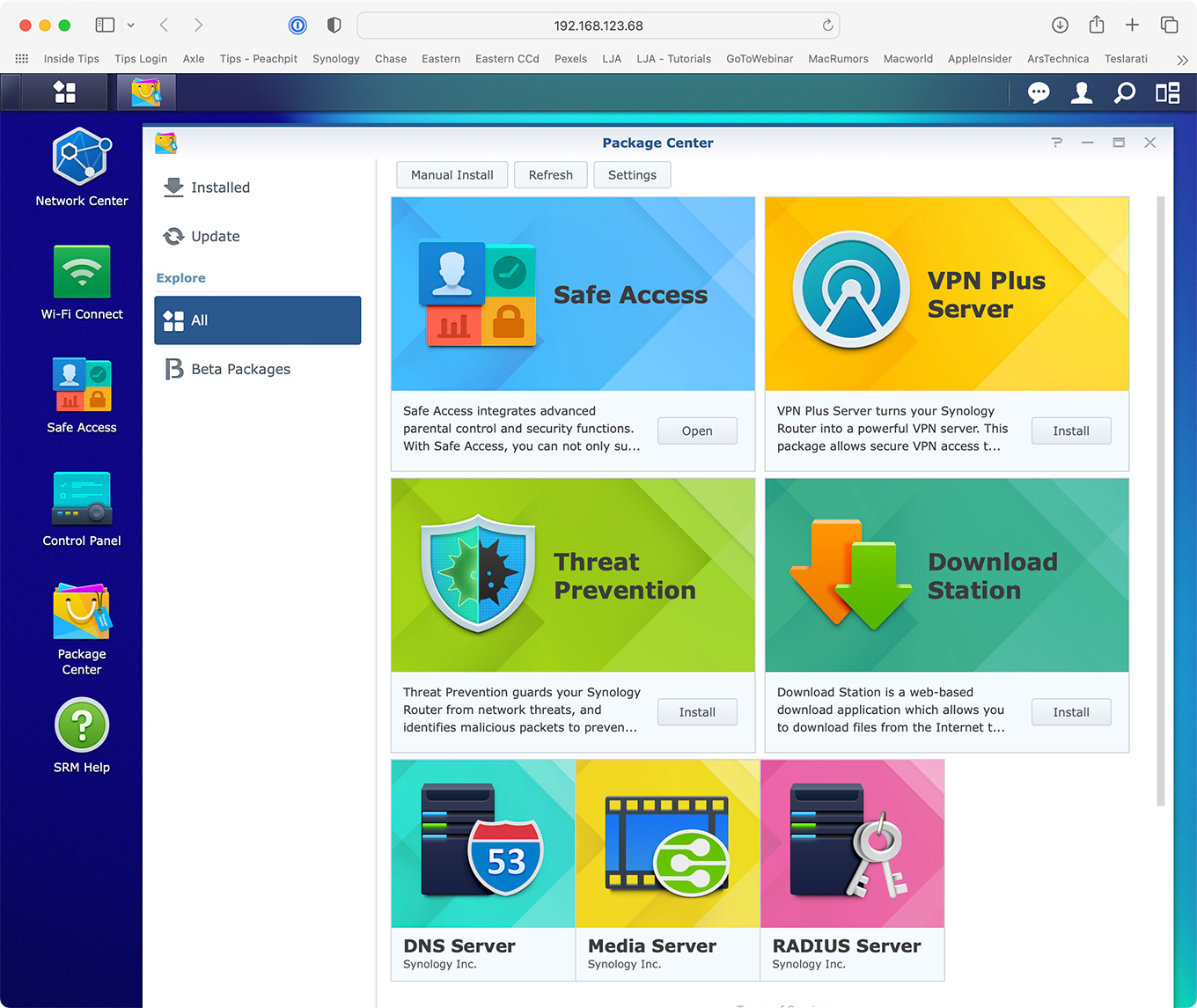 Plus, like Synology servers, there are additional software packages you can add, for example  to support parental control features, add VPNs, install malware protection, and far more.
Like most hardware, once you have this configured for your network, you won't need to change these settings unless something changes in your network.
SPEED TESTS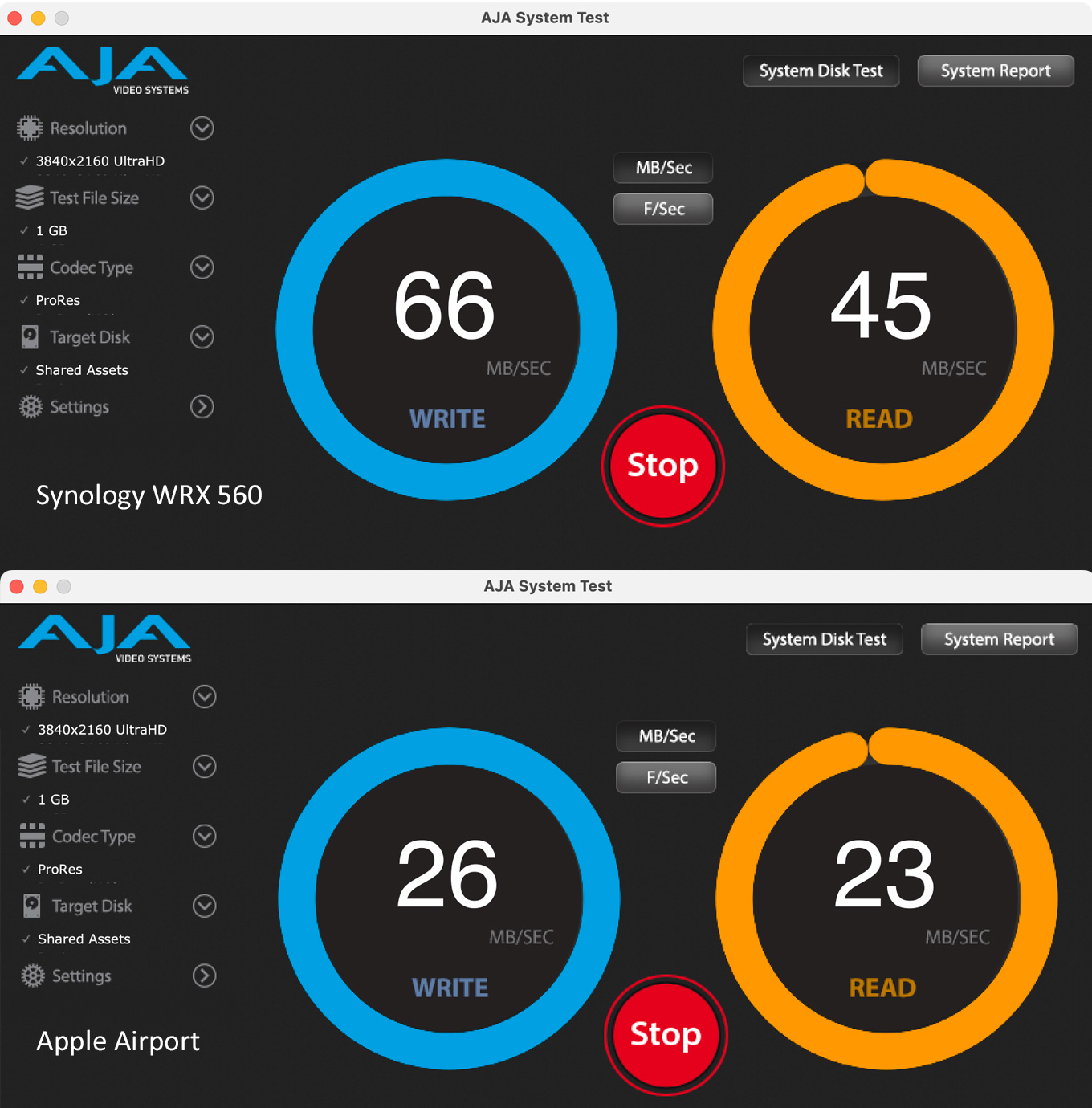 First, using a 16″ MacBook Pro with an M1 Pro chip, I measured maximum speed with direct line of sight between computer and receiver. 66 MB/second is 2.5X my existing Airport's speeds!
NOTE: I measured these speeds connecting wirelessly to a local server.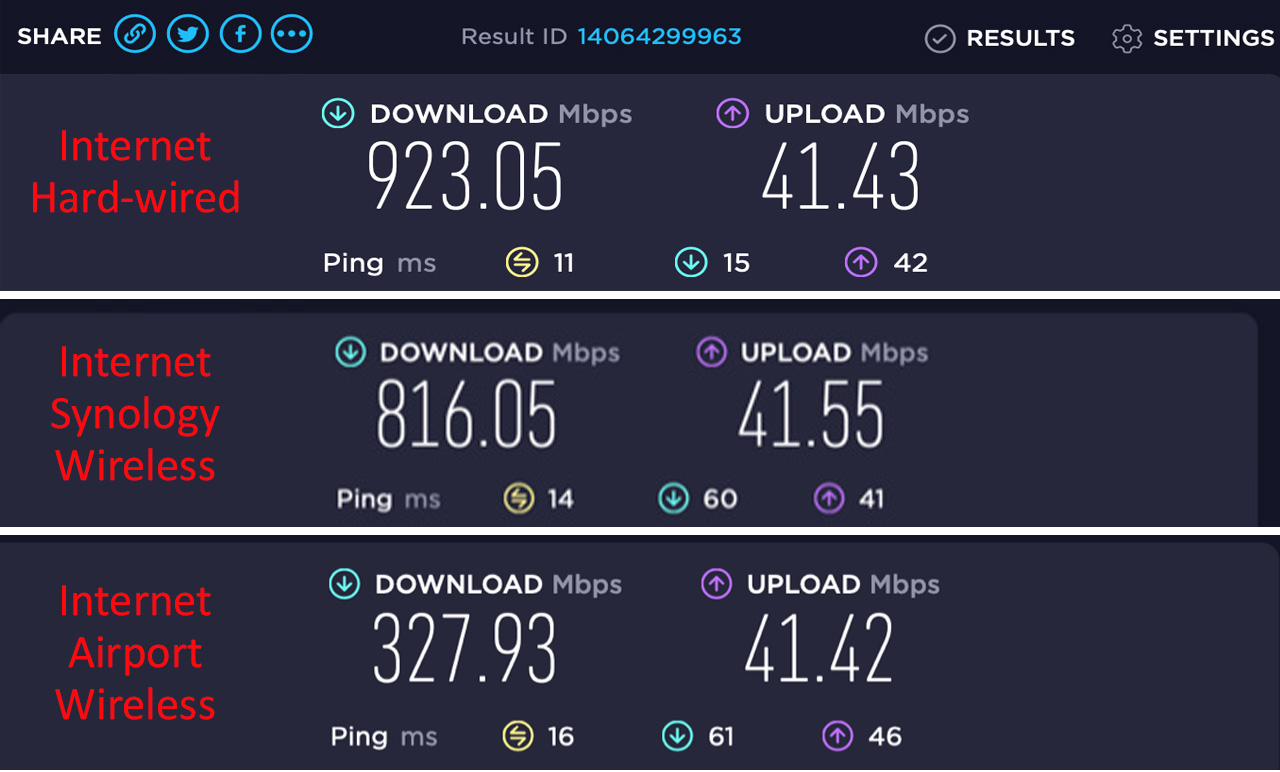 Next, using an M1 MacBook Air, I measured Internet access speeds. The top image shows maximum wired speed. The middle image shows Synology wireless speeds connecting to the web. The bottom image shows current Airport speeds. Again, the Synology is 2.5X faster than the Airport.
There's no question that that Synology is plenty fast!
CHANGING LOCATIONS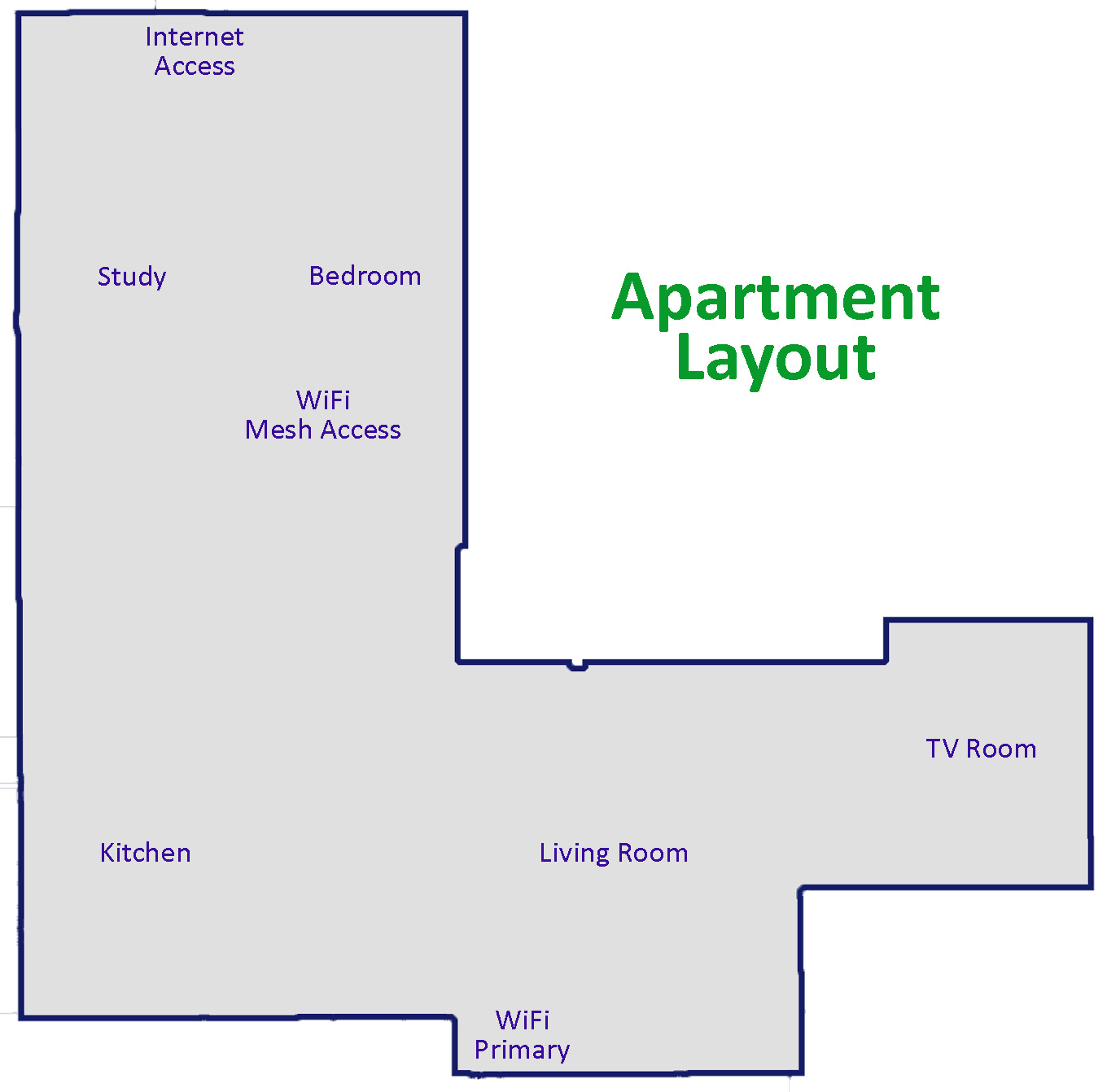 I have a 1600 sq.ft. apartment in the shape of an L. I hard-wired my office and added drops in the living and TV rooms. However, most everyone except me accesses the web using wireless gear.
To maximize coverage outside my study, I put the wireless receiver in a corner of the living room (labeled Wifi Primary).
I measured performance using an M1 MacBook Air with a direct line of sight to the receiver running SpeedTest.net. I then wandered about my apartment measuring speeds. As this chart makes clear, connection speeds decline as distance increases or walls intervene. (Again, this is typical for all wireless systems.)
However, I had at least two bars of signal strength throughout the apartment.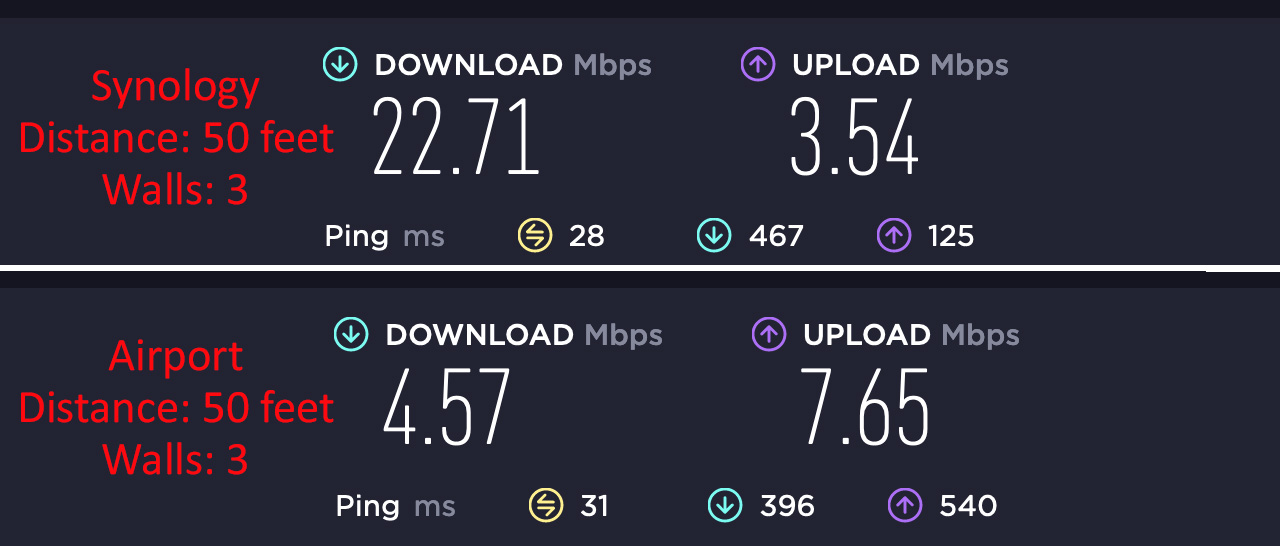 Moving 50 feet away from the primary receiver and putting three walls between, speeds dropped dramatically. Dramatically, but still better than my existing system. This is a good example of when creating a mesh network makes sense.
MESH NETWORK
A mesh network combines two or more wireless routers to form a single wireless network. These are used to fill in spots that lack access or add signal strength to weak areas. I've never used one before and I was looking forward to learning how these work.
Synology makes creating a mesh network simple – up to a point. Chapter 5 in the User Guide walks you through the steps and they work perfectly. The mesh is configured using the SRM software:
Configure the first system
Power on the second system
Let the second system automatically discover the first system
Done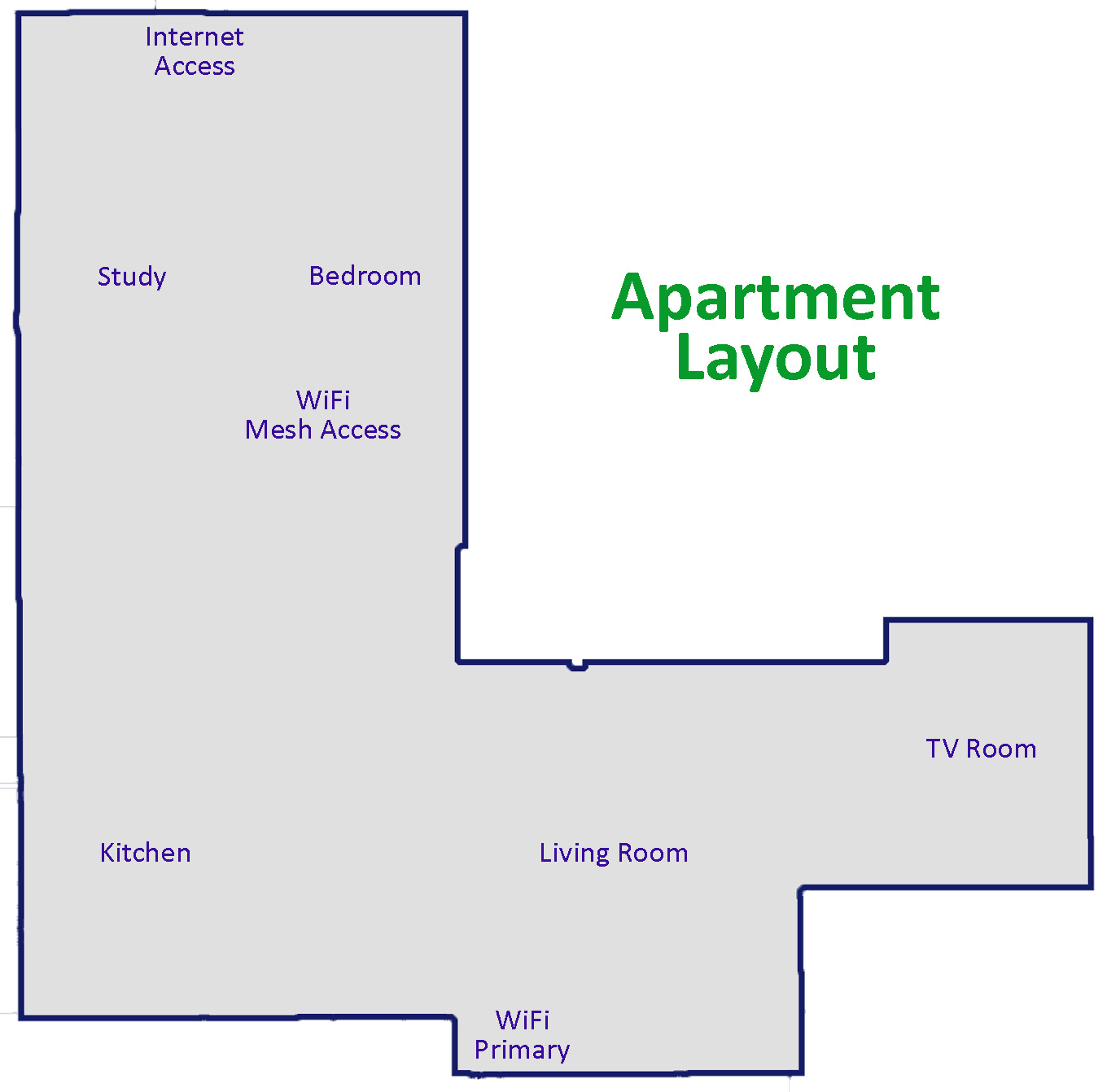 So, I left the Primary unit in the Living Room and added an access point in the Bedroom, as illustrated above.
What I discovered is that since these two routers communicate wirelessly, speeds are still limited by the distance between them. For example, let's say maximum speed with line of sight is 1,000 Mbps. (The system is faster than this, I'm using this number as an example.)
Then, add a second system 50 feet from the first (in my example, with intervening walls). The speed drops – as it does for all wireless systems – to, say, 500 Mbps.
NOTE: The goal in a mesh system is to have the access points close enough together to provide reasonable speeds, but far enough apart to spread coverage across the widest area.
When the second mesh access point is connected to the primary, local users will see full strength on their wireless meters, however the connection speed is limited to that 500 Mbps, because that's the fastest the two routers can wirelessly talk to each other. Which, when you think about it, makes sense.
So, I thought, the way to fix this performance drop off is to connect both wireless access points to my switch using the hard-wire drops I have in key rooms. This would deliver maximum speed to each access point.
However, doing so not only didn't work, but it bricked the second wireless access point. Even a hard reset didn't get its attention back. The User Guide makes no mention of connecting both units to a switch. So, maybe this isn't permitted. It also doesn't explain what to do when a system becomes totally unresponsive.
In any case, connecting wirelessly is easy. Connecting multiple routers to a switch to provide higher-performance to the network was above my ability.
SUMMARY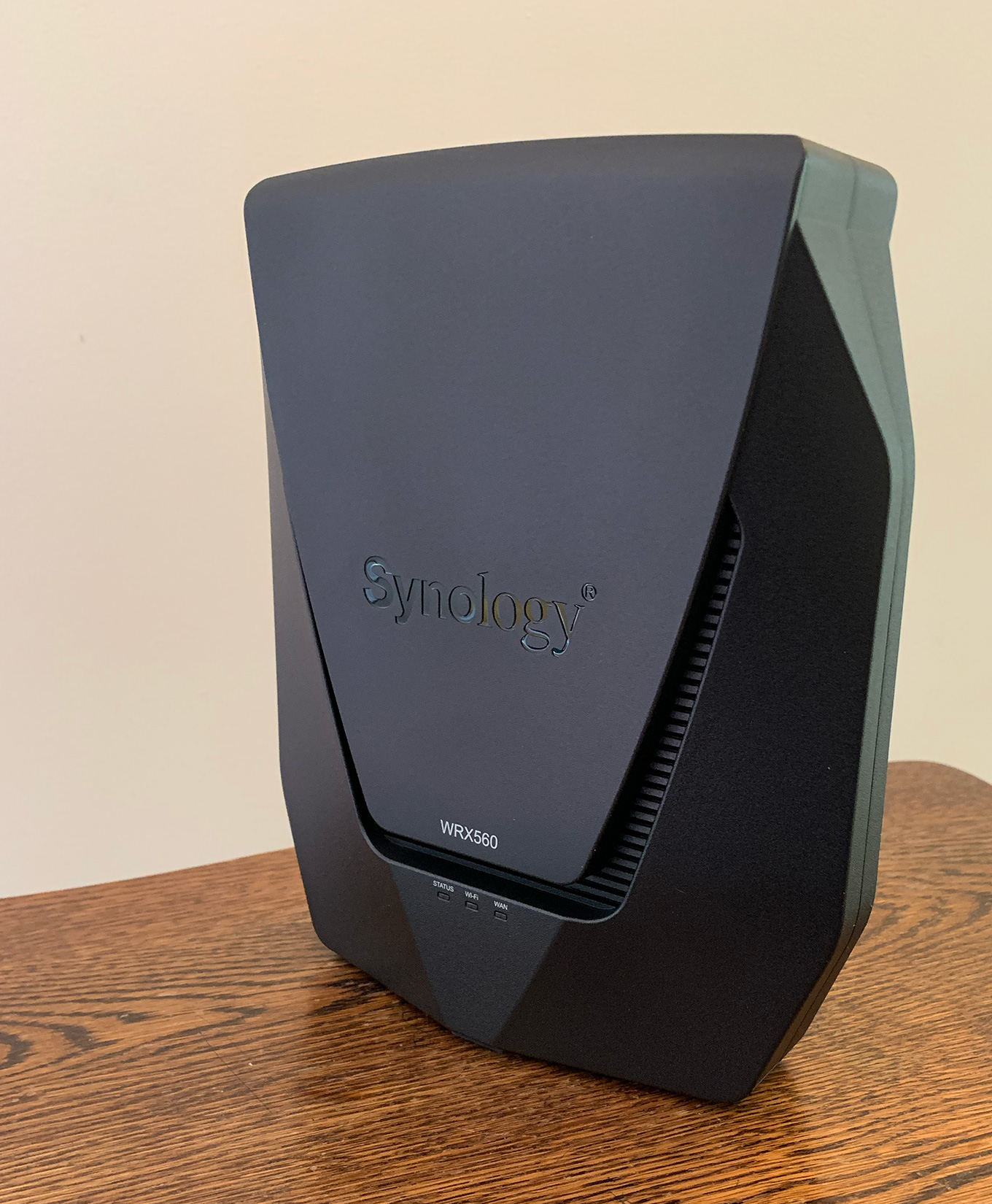 It is now abundantly clear that my existing system is woefully slow. Replacing the Airport with a Synology WRX 560 would more than double the performance of my network. Another key benefit is the power and flexibility of the SRM software. SRM provides control and easy monitoring for even complex networks.
However, getting the most out of the SRM software requires advanced knowledge. The WRX 560 is not for typical new users. It's designed for users who have outgrown their existing wireless system or complex networks that are configured by techs that know what they are doing. The problem is that the Setup Guide assumes you are a distracted parent setting this up for their kids.
However, once you have it installed, you can "set it and forget it." Synology makes solid products. The WRX 560 Synology Router will work great for years — once you get past the challenge of configuration.
---
Bookmark the
permalink
.