Review: iBoysoft Data Recovery for Mac – Strong Recovery, Weak Interface

[ Read my review disclosure statement here.]
It is easy to trash a file. However, recovering a missing file can be very, very difficult. iBoysoft Data Recovery for Mac recovers lost files. It does so for a wide variety of files, formats and hardware with a free trial version that is actually useful.
Recently, the folks at iBoysoft asked if I would review their Mac version. When I said yes, they provided an access code to their Professional version. Here's what I learned.
NOTE: While their Windows software has four editions: Trial, Basic, Professional,  and Technician; the Mac version has three: Trial, Professional and Technician.
EXECUTIVE SUMMARY
iBoysoft Data Recovery for Mac brings missing files back to life. But the interface is flaky and the Mac application is suffering from a lack of product focus.
iBoysoft, founded in 2017, is a software and utility development company located in the High-tech Zone, Chengdu, China. Tim Luo founded the company because he wanted to "help users with data loss problems. With more talented software engineers joining in, iBoysoft is able to provide a broader variety of tools and utilities in disk management and file protection." (iBoysoft website) These tools include data recovery software for Mac, Windows, and a few utilities. (Read my review of iBoysoft MagicMenu here.)
"iBoysoft Data Recovery for Mac is a professional Mac data recovery program designed to recover deleted or lost files (including Office files, videos, audio, images, photos, pictures, emails, archives, etc.) from disk-based internal hard drives, external hard drives, USB flash drives, SD cards, CF cards, memory cards, and so on. With its advanced data recovery algorithms, iBoysoft Data Recovery for Mac can be applied to different types of data loss scenarios, be it a mistaken deletion of files, accidental formatting of a drive, emptying Mac Trash, file system corruption, and Mac not turning on, to name a few." (Email from iBoysoft marketing)
It supports drives formatted as APFS, HFS+, ExFAT, FAT32, as well as recovering specific file types (for example .docx, .xls and so on).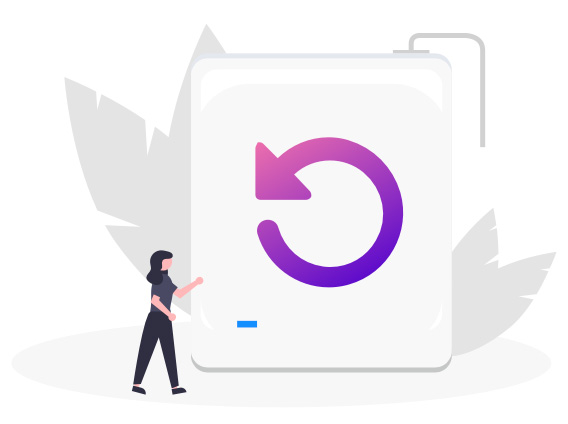 Not every file can be recovered, I'll talk more about that in a few paragraphs. But the free trial version makes it easy to see if a file can be recovered before you spend any money.
You run iBoysoft Data Recovery for Mac once you've lost a file. Ideally, you have backups. But, when you don't, it can often bring your files back from the dead. But the interface needs work.
Developer: iBoysoft
Product: iBoysoft Data Recovery for Mac
Website: https://iboysoft.com/mac-data-recovery/free-mac-data-recovery.html
Price: $89.95 (one-month subscription), $99.95 (one-year subscription)
NOTE: Since the only time you need to run this software is when you lose a file, most of us only need the software for a few days, which is why the monthly price is so high.
INSTALLATION
The software is downloaded from the iBoysoft website. You can also download it from the Mac App Store, but I don't recommend this. (More on this shortly.)
Once downloaded, installation is trivial — drag the app into the Applications folder from the installation disk. At which point, the app is ready to run.
MY SYSTEM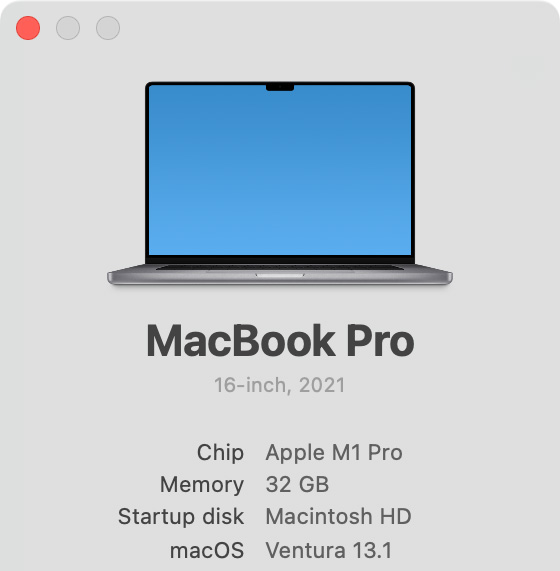 I tested this software using a 16″ MacBook Pro (M1 Pro chip) running macOS Ventura 13.1 using a clean install of the operating system.
My test drive was a 1 TB Samsung T-5 SSD, connected via USB-C.
MAC APP STORE CAUTION
I visited the Mac App Store to see if I could download the software from there. The answer is "Yes, but…" In looking at the listing for iBoysoft Data Recovery for Mac in the Mac App Store, I found several troubling signs:
There's only one rating and it is highly negative. The company says it has millions of users, but no positive reviews posted to the Mac App Store.
While Apple does not display iBoysoft's privacy guidelines, it does link to iBoysoft's Privacy Policy web page.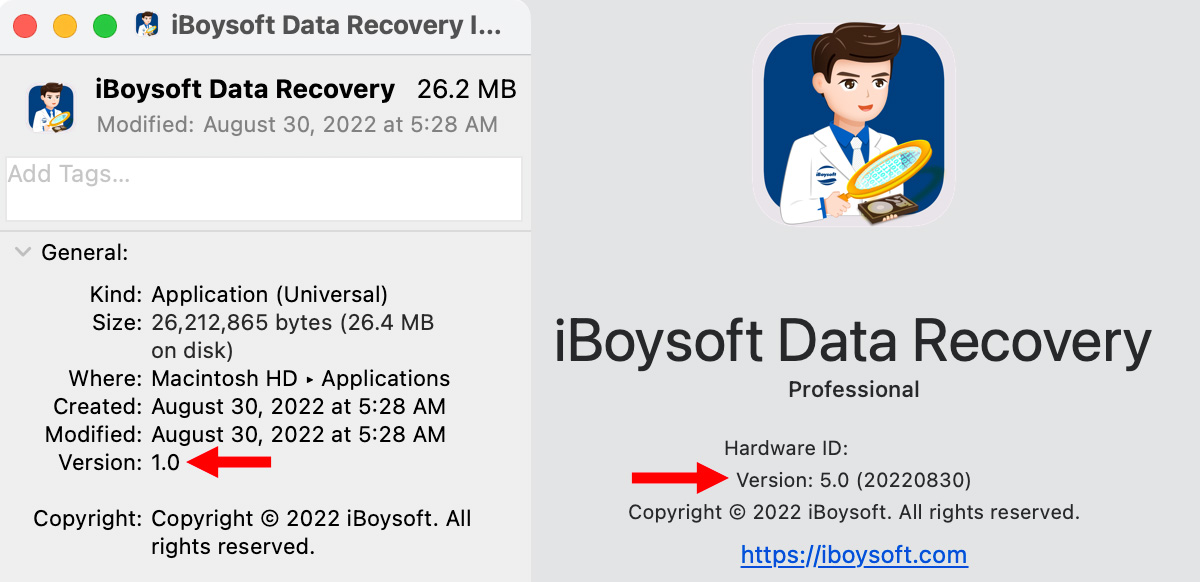 The latest version was posted to the Mac App Store 2 years ago. The version I installed from the iBoysoft website was released Aug. 30, 2022. However, when you Get Info on this latest app in the Finder, it shows version 1.0 (top left). When you do so inside the application it shows version 5.0 (top right). The two version numbers should match.
So, I sent my concerns to iBoysoft. This is their reply:
iBoysoft: Please don't refer to the page on Mac App Store. The information on that page is indeed outdated. For more details, please check out the overview page here:
Here's where users have posted reviews of iBoysoft Data Recovery for Mac:
Here's where you can learn more about our privacy practices, which applies to all our programs:
iBoysoft Data Recovery for Mac is one of our most important flagship products. We regularly update it to best fit our users' needs.
Larry comments: Not to be cynical, but all reviews that iBoysoft referenced are hosted on the iBoysoft website, which provides the opportunity for possible cherry-picking. And, if iBoysoft Data Recovery for Mac is such a "flagship" product, it would seem prudent, at the least, to make sure any listing in the Mac App Store is either up-to-date or the product is removed from the store. What is clear is that iBoysoft is not paying attention to the Mac App Store.
WHAT "DELETING" A FILE MEANS
When a Mac creates a file, it actually creates two related elements:
A directory listing for that specific file
The actual data file
This is very similar to storing books in a library. The book (the data file) is placed somewhere on a library bookshelf. At the same time, a record of that book and its location is located in the card catalog (the disk directory). This makes finding the book easy. When a book is removed from the shelves, the card in the card catalog is deleted.
Computer files are similar, but simplified. When a file is erased, the file remains on the disk, but the disk directory is removed. This means that the file is invisible to the system (because it's directory link is gone) but still stored on the hard disk. (The data isn't actually erased until new data is recorded on top of the existing data.)
What a data recovery program does is skip the directory and just look at where data files are stored. Basically, it starts at the beginning of your hard disk and methodically looks at every sector (i.e. bookshelf) to see if there are any files on it. If so, it then checks to see if those files can be recovered.
If a file goes missing, don't empty the trash. Look in the Trash first, because it is easy to drag a file out of the Trash and back onto the desktop. iBoysoft Data Recovery is where you turn after you trashed a file then emptied the Trash.
NOTE: When I use the term "hard disk" I mean any storage device, such as spinning media, SSD, USB, RAID, internal, external, et al. Hard disk is just easier to write.
OPERATION
Running the software is easy. When you discover a file is missing, download the free Trial and open the software.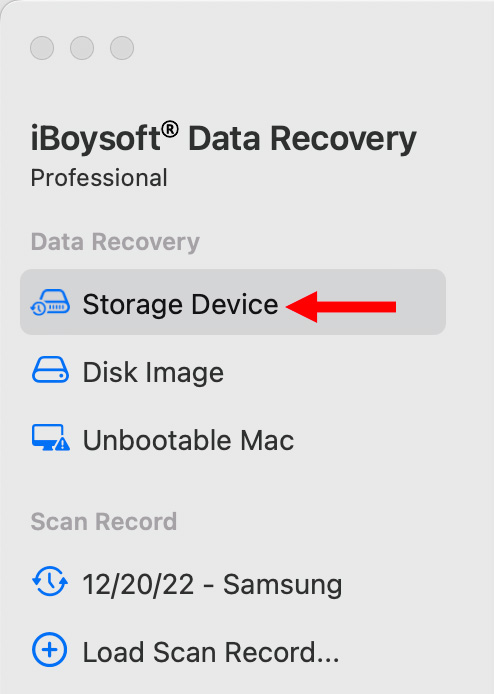 Select the type of search you need from the sidebar on the left.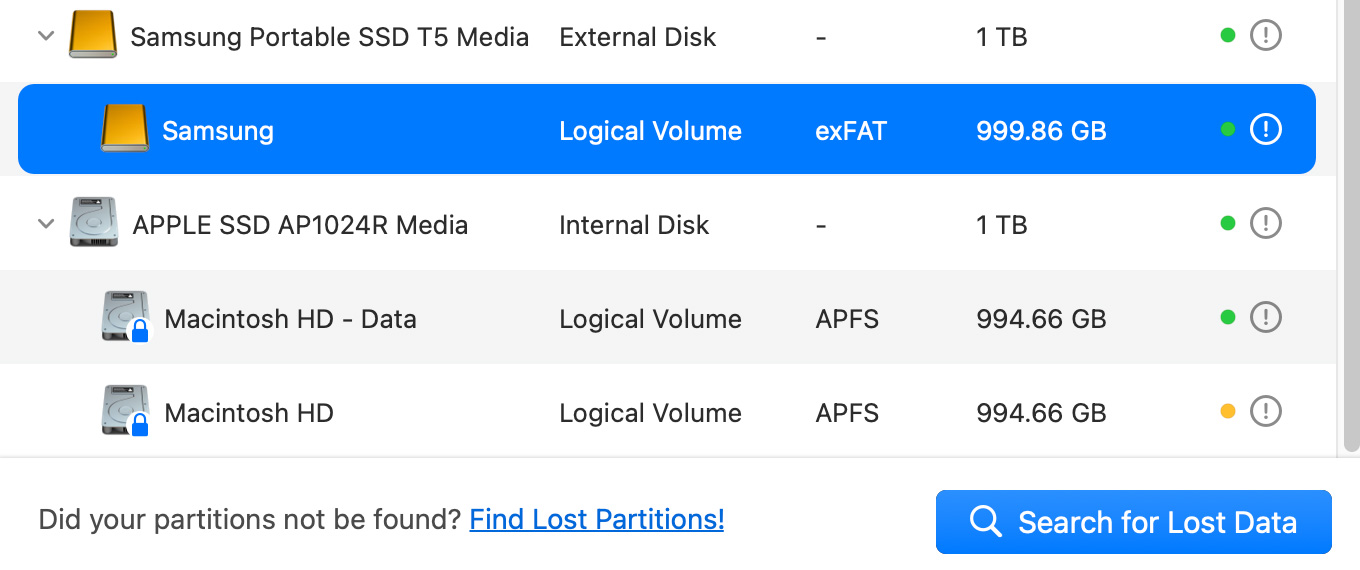 Select the drive you want to search from the list on the right and click Search for Lost Data. The system immediately starts scanning the selected drive.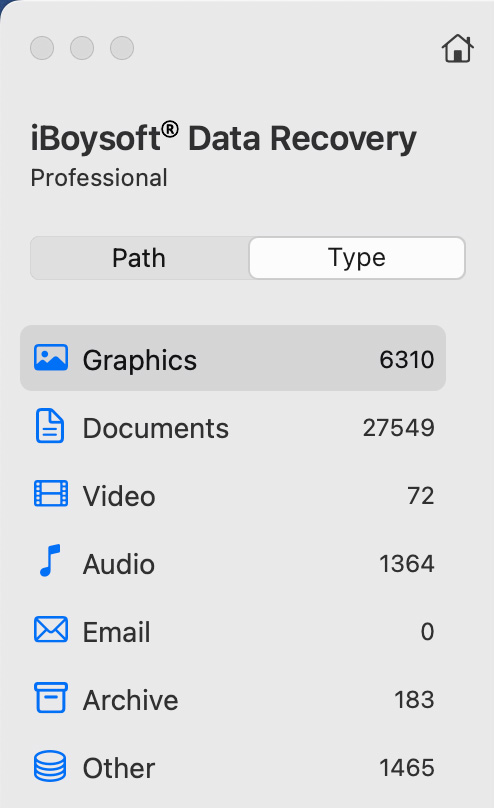 As it searches, it updates the categories listed in the sidebar on the left with the number of files found during the search. If you just want to see results from a specific category, click it. Files in other categories are hidden.

NOTE: Scanning can take a LONG time. It is generally important to wait until a scan finishes before you recover data from it because data is often scattered across a drive and iBoysoft needs to find all the elements in order to safely recover a file.
In my test case, scanning a 1 TB SSD started at 2 hours, dropped to one-and-a-half hours after five minutes, then climbed to 5 then 6 then 7 hours after twenty minutes. It is still scanning as I type this.
I stopped the scan after 35 minutes because the total scan time climbed to over 7 hours. It found 37,000 files, but I have no idea how much more of the disk it needed to scan before it was done.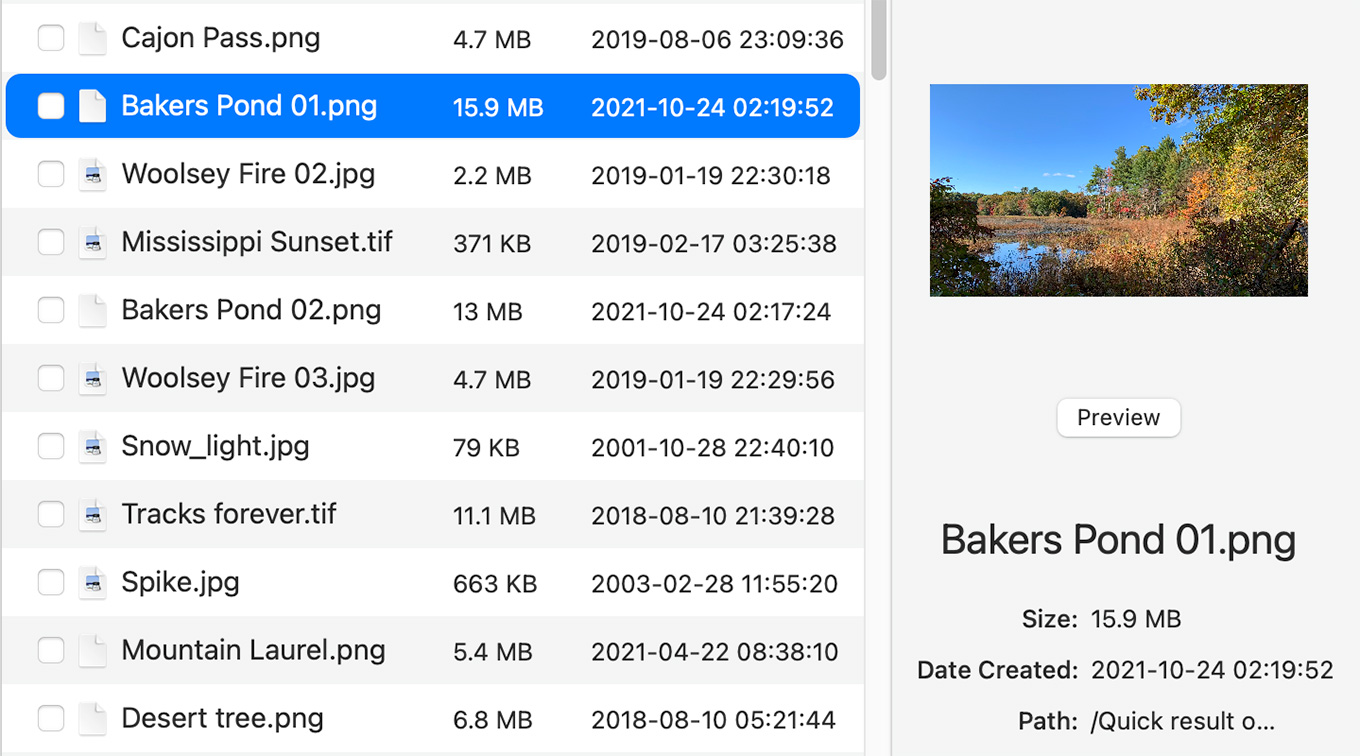 To determine if a missing file can be recovered, select it. Generally, if a preview is displayed on the right, it can be recovered. If not, not.
NOTE: If a preview is not displayed recovery depends on different scenarios and the software will give you a hint. (For example if the file is corrupted or there is no software on that Mac to preview this type of file.) It is also possible that previews are not available because the Trial edition has limited support for that preview size. If a file is corrupt, then it can't be previewed and recovered because iBoysoft is data recovery software, not data repair software.
You can also double-click a file, or click the Preview button, to display a preview. If the preview panel isn't displayed, click the small "i" in the top right corner of the main interface.
Once you see the Preview image, you need to download a paid version to recover it. At which point, though, things get wonky.
The screen shot about indicates four totally contradictory selection options.
Whether you select a file or check the checkbox, sometimes a file will be ready for recovery and sometimes the same file won't. The screen shot illustrates two opposite results for a checked file, then two opposite results for a selected file. A file can NOT be both ready to recover and not ready to recover.
iBoysoft suggests that this behavior may occur while scanning is on-going. When scanning is complete, selection results should be consistent. If true, this behavior is still weird. If a file is not ready for recovery it should not be selectable 0r some indicator should show that it is not ready Selecting or checking something needs to deliver a consistent result. I found no consistent way to select a file, or group of files, for recovery.
What seems to work is to check one or more files, then click Recover – twice. The first time you'll get an error message saying no files are selected. The second time it will recover the selected files. (Assuming that iBoysoft shows a preview image for each file you want to recover.)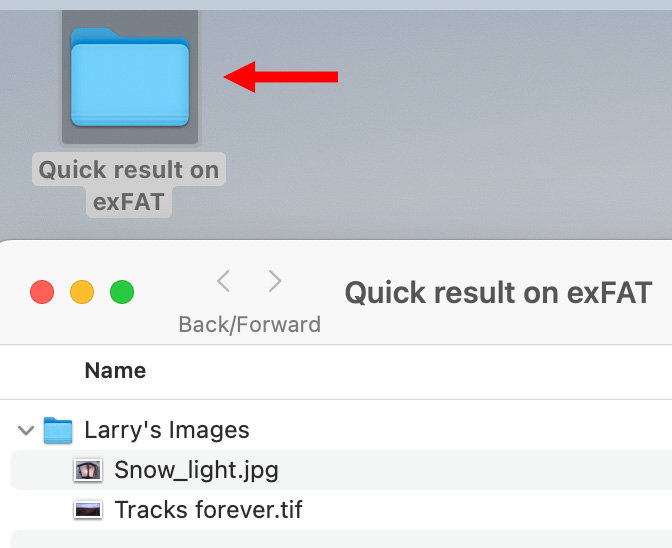 When a file is recovered, it is stored in a folder called "Quick Result…" Inside are the missing files and, generally, placed in a folder named after the original folder they were stored in. While this recovery folder can be stored anywhere you choose, it should not be stored on any drive where you are trying to recover files.
NOTE: However, on several occasions, the software would indicate that a file was recovered when no recovered file was saved. Recovery is a core function of this software, it needs to work consistently.
SAVE A SCAN RECORD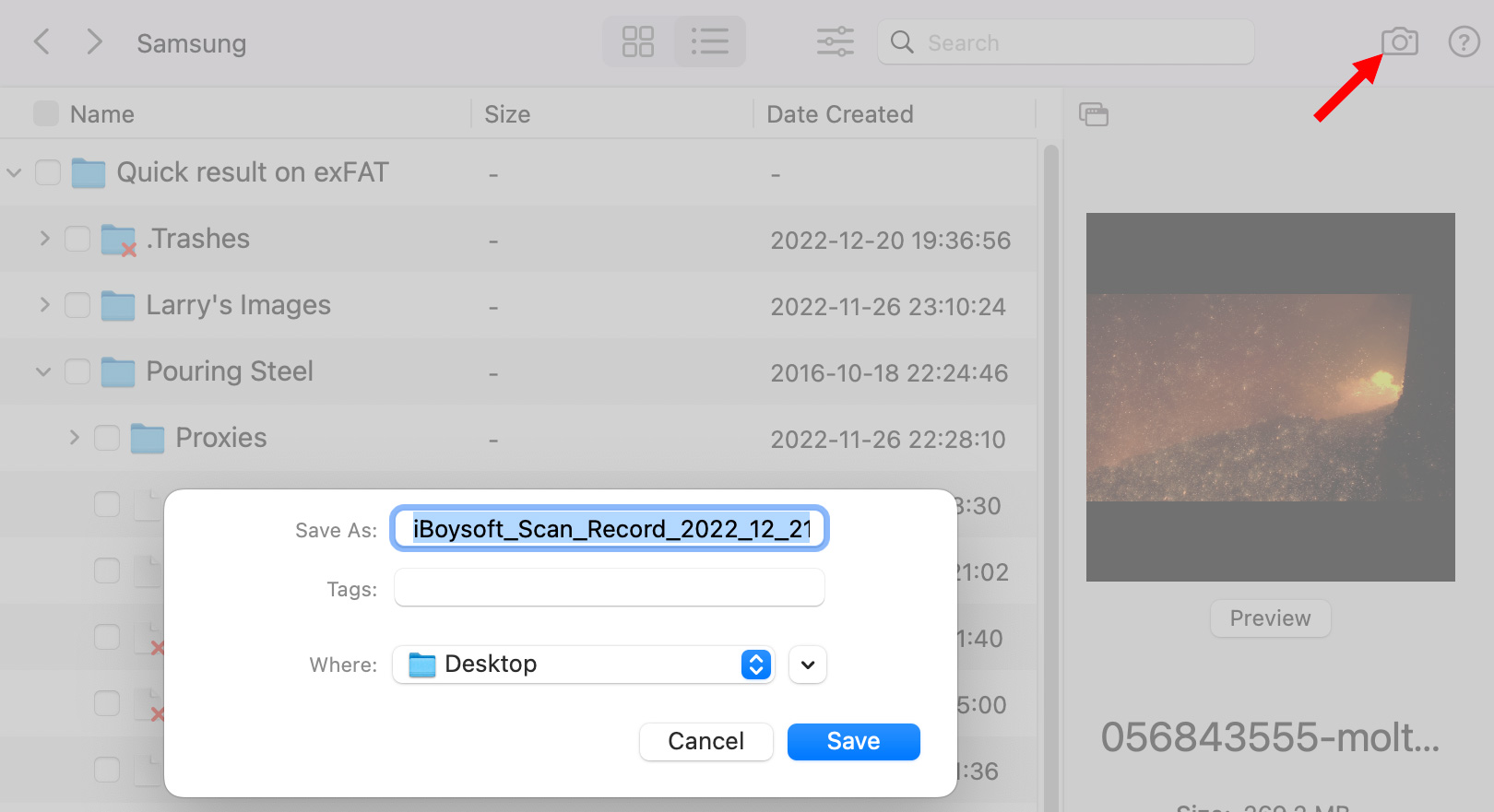 Because scanning can take a long time, you may need to stop a scan in progress. Click the square Stop icon at the bottom of the interface to do so. Then, create a Scan Record to save all work in progress.
To do so, click the camera icon (red arrow), give the Scan Record a name, and pick a storage location.
IMPORTANT: Don't save this Scan Record to the same disk you are scanning, you could erase lost files.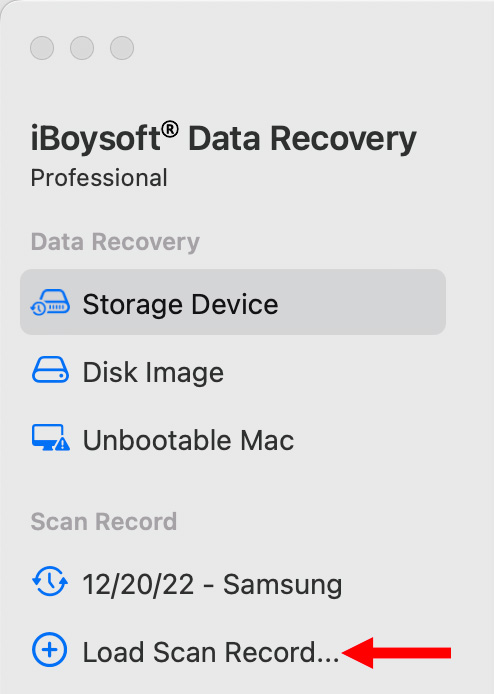 To pick up where you left off, load a saved Scan Record by clicking Load Scan Record on the Home page. However, in my case, I saved a Scan Record to my desktop, but iBoysoft couldn't find it when I went to load it again, even though I could see it on my desktop. (It had an .ibsr file extension.)
THINGS I WOULD LIKE TO SEE
When it works, iBoysoft Data Recovery for Mac can save your posterior. But there is so much about the interface that needs help.
Recovering a file should always recover a file. We should never see a message saying a file was recovered when it was not.
It seems to me that files should either be selected or checked for recovery, but not both. Or, if both are allowed, then both should do the same thing. Currently, the interface is contradictory and inconsistent.
It would be useful if the application could find and open saved Scan Records.
Scanning estimates are, at best, highly inaccurate. Rather than display a count-down clock, it would be more useful to see percentage complete.
It would be useful to know whether the application slows down if it runs in the background. Based on my testing, it seems that it does.
It would be useful if the application described what the different file icons mean.

This program was developed by folks that don't speak English natively. That's perfectly OK, I can't speak any language except English. However, it would be useful for a native English speaker to review all on-screen text. Simple errors like the screen shot above are easy to fix, provided someone cares enough to check.
The Help files provide unclear instructions. For example: "You are allowed to check the Quick Result to see if you can find wanted files or pause/stop the scan anytime." But, there are no instructions on how to find or access Quick Result.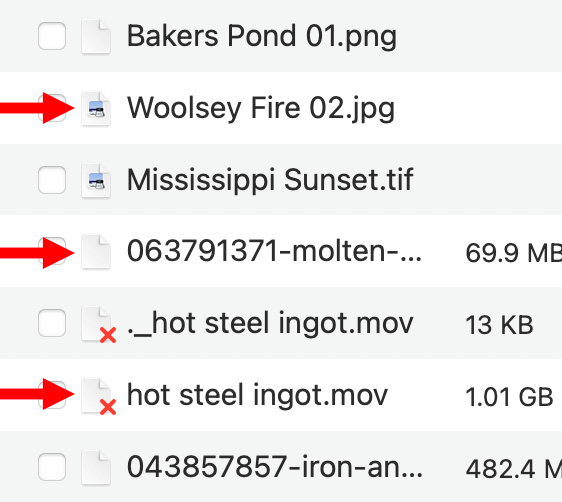 Files are given different icons, but these icons are not defined on-screen or in the documentation. They also are not intuitively meaningful – for example, I was able to recover the "hot steel ingot" file with a red X. My GUESS is that these indicate whether a file is complete and recoverable. But, maybe not.
ORGANIZE YOUR FILES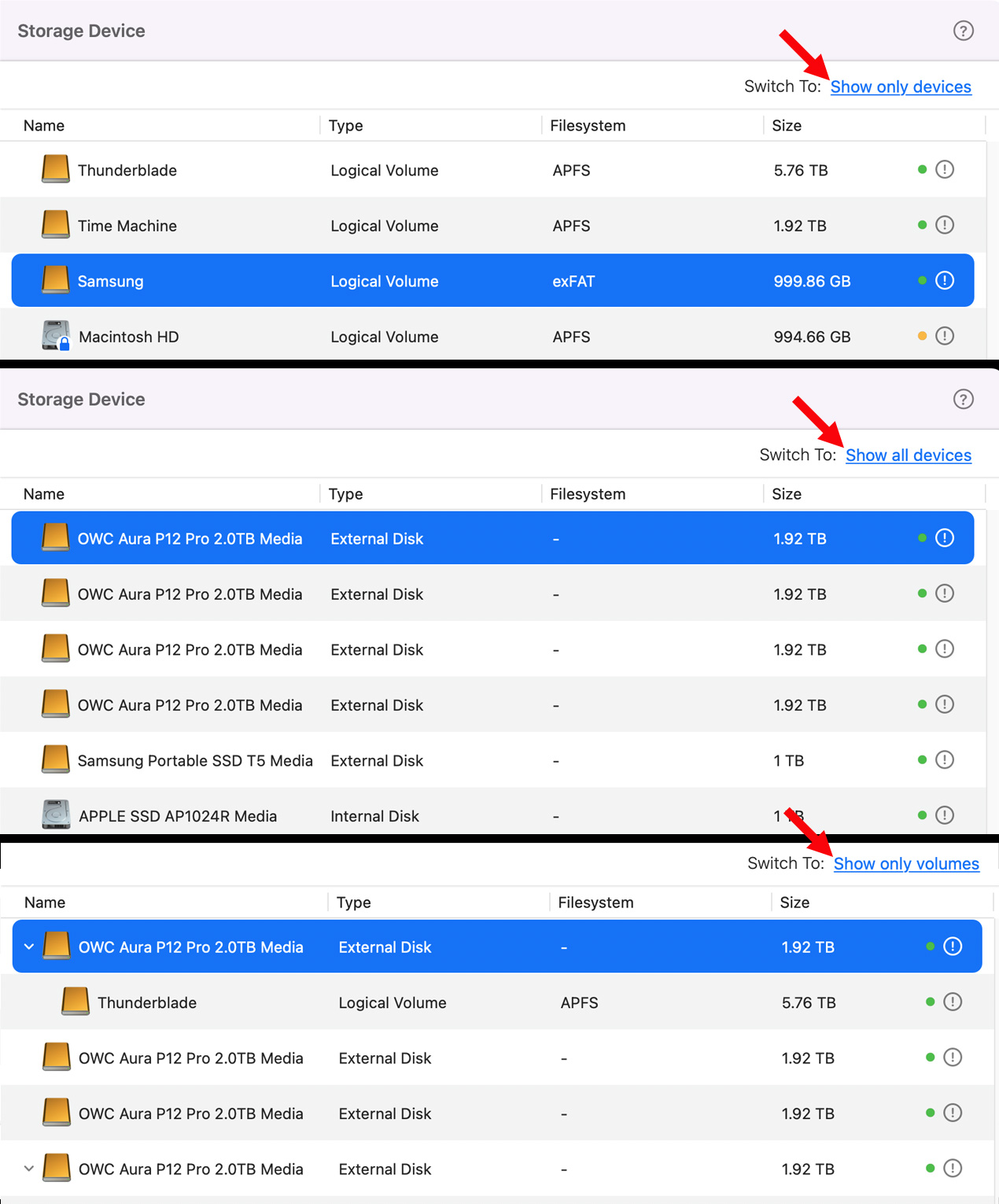 Volumes can be displayed three ways:
Show only volumes (top)
Show only devices (middle)
Show all volumes (bottom)
Files can be filtered using the Summary panel on the left. You can also enter a file extension (i.e. docx, .xls) in the Search box to limit displayed files to one file type. The results of applying these filters is VERY fast.
OTHER RECOVERY OPTIONS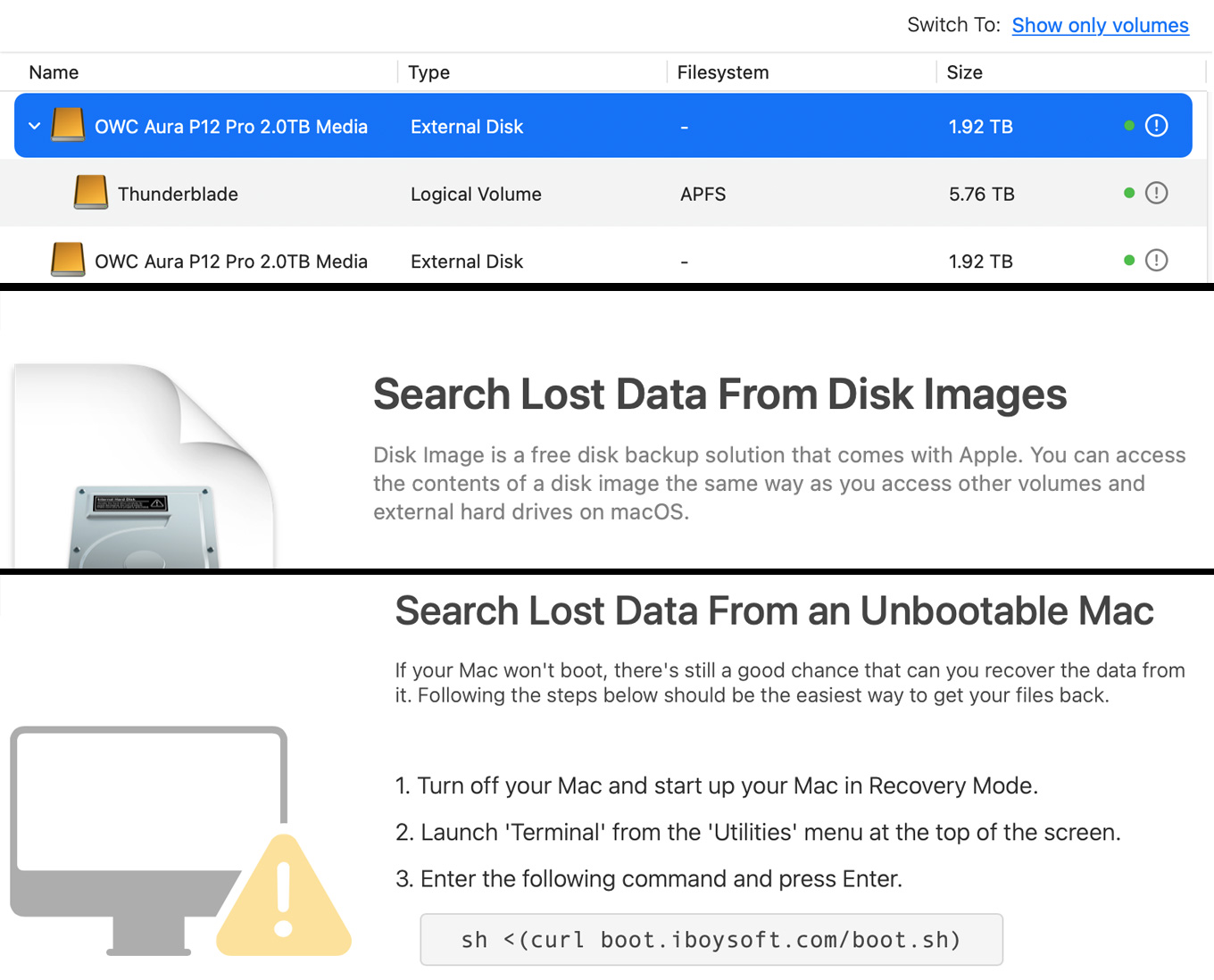 iBoysoft Data Recovery can recover files from:
Individual volumes
A Disk Image
A hard drive that can't be booted
It can also recover files by booting into Recovery mode on your Mac and using Terminal, for those situations where you need all the power you can get to recover your data.
INTERVIEW WITH iBOYSOFT
As part of this review, I emailed several questions to the product team at iBoysoft. Here's what I learned.
Larry: Your webpage does not indicate if iBoysoft Data Recovery supports macOS Ventura?
iBoysoft: We have clearly stated that iBoysoft Data Recovery for Mac is fully compatible with macOS 13 Ventura on the software overview page or other relevant pages here.
https://iboysoft.com/mac-data-recovery/free-mac-data-recovery.html
Larry: What does the full version do that the trial version does not?
iBoysoft: iBoysoft Data Recovery for Mac Free Trial version allows free scan and pre-recovery preview of the documents, photos, videos, and other file types so that you can know what files are recoverable before purchasing. Additionally, it offers 1 GB of free data recovery. In regard to the full version, it can recover unlimited data from encrypted APFS, APFS, HFS+, FAT32, and exFAT drives as well as recover data from an unbootable Mac in macOS Recovery Mode.
Larry: What situations are best for its use?
iBoysoft: It covers all data loss situations to meet your data recovery needs, such as mistaken deletion of files, accidental formatting of a drive, emptying Mac Trash, drive corruption, system crashes, and Mac not turning on, to name a few. To make it more straightforward, iBoysoft Data Recovery for Mac is capable of performing Mac hard drive recovery, APFS/encrypted APFS drive recovery, deleted file recovery, and formatted/corrupted/unreadable drive data recovery, disk image recovery, unbootable Mac data recovery, and more.
Larry: How does TRIM affect file recovery from SSDs?
iBoysoft: TRIM is an Advanced Technology Attachment (ATA) command. If this feature is enabled, it'll be much more difficult to recover deleted files from an SSD.
Larry: What make data recovery complicated?
iBoysoft: There are several factors that can make data recovery complicated, including:
The type of storage device: Different storage devices have different characteristics, and some may be more difficult to recover data from than others. For example, SSDs can be more challenging to recover data from than HDDs due to the way they store data and the way they use TRIM to erase blocks of data that are no longer in use.
The extent of the damage: If the storage device has physical damage, it can be more difficult to recover data from it.
The type of data loss: Different types of data loss can require different approaches to recovery.
The file system: Different file systems have different structures and store data in different ways, and this can impact the complexity of the recovery process. For example, some file systems are more prone to corruption than others, and recovering data from a corrupt file system can be more complex.
The level of expertise: Data recovery can be a complex and technical process, and it requires a certain level of expertise to be successful. If you are attempting to recover data yourself, your lack of expertise could make the process more difficult.
Larry: What should we do if there's a hardware failure to recover our data?
iBoysoft: If you are experiencing a hardware failure that is preventing you from accessing your data, there are a few steps you can take:
Try to troubleshoot the hardware issue: Depending on the nature of the hardware failure, it may be possible to fix it and regain access to your data. For example, if the problem is a faulty cable or a loose connection, you may be able to fix it by replacing the cable or tightening the connection.
Make a copy of the drive: If you are unable to fix the hardware issue, you may be able to make a copy of the drive and use data recovery software to recover the data.
Use a data recovery service: If you are unable to fix the hardware issue and you are unable to create a copy of the drive, you may need to use a data recovery service. These services specialize in recovering data from damaged or inaccessible storage devices, and they typically have the tools and expertise to handle complex recovery scenarios.
It's important to note that if the hardware failure is severe, it may not be possible to recover the data. In these cases, it is best to seek the help of a professional data recovery service as soon as possible to maximize the chances of a successful recovery.
Larry: Does it matter if we emptied the trash before data recovery?
iBoysoft: Yes. For more details, check out here:
Larry: What should we keep in mind to keep our data safe?
iBoysoft: There are several steps you can take to help keep your data safe:
Back up your data regularly: One of the most effective ways to protect your data is to back it up regularly. This can help to ensure that you have a copy of your data in the event that it is lost or corrupted.
Use strong, unique passwords: Using strong, unique passwords can help to protect your data from unauthorized access. Avoid using the same password for multiple accounts and consider using a password manager to generate and store strong, unique passwords.
Keep your software and devices up to date: Installing updates and patches for your operating system, software, and devices can help to protect your data by fixing known vulnerabilities and security issues.
Be cautious when opening emails and attachments: Email and attachments can be a common vector for malware and other threats. Be cautious when opening emails and attachments, especially if they are from unknown sources.
Use a firewall and antivirus software: A firewall and antivirus software can help to protect your data by blocking unauthorized access and detecting and removing malware.
Secure your devices: Keep your devices secure by using locks, passwords, and other security measures, especially when you are not using them.
Keep data recovery software downloaded on your computer. Data loss can happen unexpectedly due to a variety of factors, including system crashes, software issues, and accidental deletion. Having data recovery software on hand can help you to recover lost or deleted data in the event of a data loss incident.
SUMMARY
iBoysoft Data Recovery is a useful tool that recovers lost files. The free trial makes it easy to see if a file can be recovered before you spend money. Scans can take a long time, which is typical for most recovery applications.
However, the feeling I get with this app, starting with the egregious Mac App Store listing continuing into awkward on-screen text messages, the inability to find saved Scan Records, and ending with inconsistent selection and recovery results, is that no one is paying serious attention to this software. For a flagship product, this feels very dis-masted.
iBoysoft can recover files that otherwise would be lost. But, it has a quirky interface, somewhat confusing Help files and unreliable core features; at least in macOS Ventura. It would also benefit from a native English speaker reviewing on-screen messages.
My suggestion is to download the trial and keep that on your system. If/when disaster strikes, use the trial to see if you can recover the file. If so, then using the full version should bring it back. While you can recover a file without finishing a full scan, if you can't recover a file, don't give up until the entire scan is complete.
UPDATE – Dec. 26, 2022
After reading a comment from a reader, I realized that I may have been unclear on some key points. So, let me state:
I WAS able to successfully recover deleted files.
I do NOT think this is a scam in any way. I do think the interface is awkward, but the software seems good.
I LIKE that it shows whether it is likely to recover a file in the free trial by first previewing the image.
Recovering deleted files is not easy due to a variety of technical factors. It requires solid programing skills to do this successfully.
---
Bookmark the
permalink
.