Product Review: iRig Pro Quattro I/O, from IK Multimedia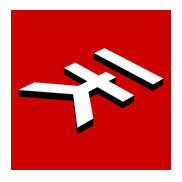 Whoever designed the iRig Pro, from IK Multimedia, knows field audio. They also knew they couldn't compete with established portable recorders from Zoom, Tascam or Sony. Instead they did something different – and clever.
They created a very capable, portable, multi-channel audio interface that can connect to a computer, phone or camera. The unit is equally at home recording music or audio for video. It can handle live streaming or multichannel recording. And it is light and small enough to travel anywhere.
Since I don't create music, I'll look at this from the perspective of field video production.
NOTE: There are two versions of this unit: the iRig Pro Quattro I/O, reviewed here, and the iRig Pro Quattro I/O Deluxe which includes two XY mics, pop shield, power supply and carrying case.
EXECUTIVE SUMMARY
The iRig Pro Quattro I/O is a four-channel digital audio interface, not a recorder, that connects to cameras, Macs, PCs, iPhone and Android devices. It can mix up to four mics, instruments or line feeds and send them, via USB-A, USB-C or Lightning, to a separate device for recording or live streaming.
NOTE: As an interface, it doesn't record audio. It captures and mixes the audio then sends the output to a separate device, like a camera, for recording or streaming.
Source audio can be mixed into a single mono output, stereo pair, or up to four channels of discrete mono. If you are using this for live streaming, the mono or stereo outputs are ideal. If you are using this for later editing, the multi-channel mono output provides the greatest editing flexibility.
The rotating volume controls move very smoothly, with a bit of resistance. This means that they won't be easily jarred from their settings. It has two different ways to prevent distortion during recording: A built-in limiter assures that mic audio levels don't distort and a built-in "safety channel" that outputs the main mix audio at -12dB. Every channel is metered, along with current battery level and line outputs, so you know exactly what your audio levels are.
Background noise levels are -90 dB when the unit is powered on and all volume controls are set to 0 (off). Noise levels rise to -54 dB when volume is increased to normal recording levels. This amount of inherent noise is more than acceptable for field recording where even quiet room tone would be loud enough to mask this.
The heavy-duty plastic case has a black matte finish that does not generate reflections. The surface has a soft rubbery feel, which means it's easy to hold and won't slip out of your grip if things get wet. It has a threaded holder for attaching to tripod or camera accessory supports.
It is powered by 4 AA batteries, a USB connection or an external 9V power supply (sold separately). When running on batteries, the unit will run from 1.5 – 3 hours, depending upon battery type and condition. For longer recordings, provide power via USB or an external power supply.
NOTE: Actual recording time varies by the number of mics connected, whether you are supply 48 volts to the mics, gain adjustments and weather conditions. (Cold weather diminishes battery life.)
I am impressed with the iRig Pro Quattro I/O. I like that it supports up to four channels, provides a variety of audio output options, has controls that move easily then stay put and provides easy-to-read audio meters to keep levels safe. For live recording or streaming in the field where weight and size is an issue, this is a solid choice.
Manufacturer: IK Multimedia
Product: iRig Pro Quattro I/O
Website: https://www.ikmultimedia.com/products/irigproquattroio/
Price: $349.99 (US)
SPECS & CONNECTIONS
The iRig Pro has:
4 XLR microphone inputs
1 Built-in omnidirectional mic
2 Unbalanced instrument (line) inputs using 1/4″ jacks
2 Balanced (XLR) line inputs
2 Balanced (XLR) line outputs, with separate gain control
1 Stereo output (TRS 3.5 mm jack)
1 Headphone output, with separate gain control
The unit supports:
24-bit depth audio
44.1, 48, 88.2 and 96 kHz sample rates
Weight: 0.72 lb (326 g)
Power is delivered by USB bus, 4 AA batteries or an external power supply
NOTE: Here's the complete list of specifications.
COMPUTER RECORDING
The purpose of the iRig is to digitize up to four channels of audio, mix them as needed, then send them to another device for streaming or recording.
Since I do all my audio recording using Adobe Audition on a Mac, I decided to see how easy the iRig Pro Quattro I/O is to use. When recording audio in the field, I want to record each mic separately. This provides the greatest control later during the final audio mix.
NOTE: I would only use a mono or stereo output mix if I was streaming a live event.
Connect the iRig Pro using the supplied USB-A, USB-C, or lightning cable to a recording device. In the image above, it's connected to an iPhone. In my case, below, a MacBook Pro laptop.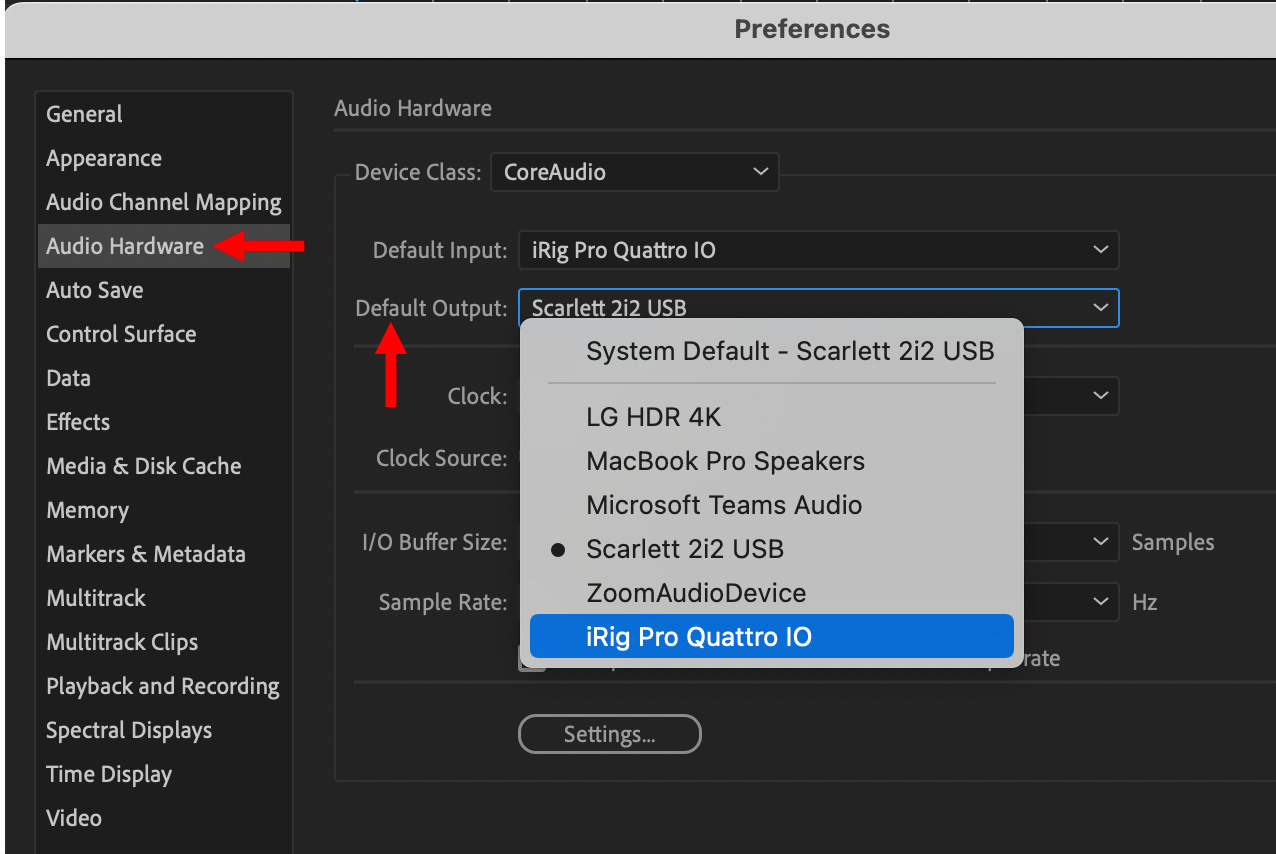 Open Adobe Audition (or the DAW of your choice). In Preferences > Audio Hardware, select the iRig Pro (red arrows).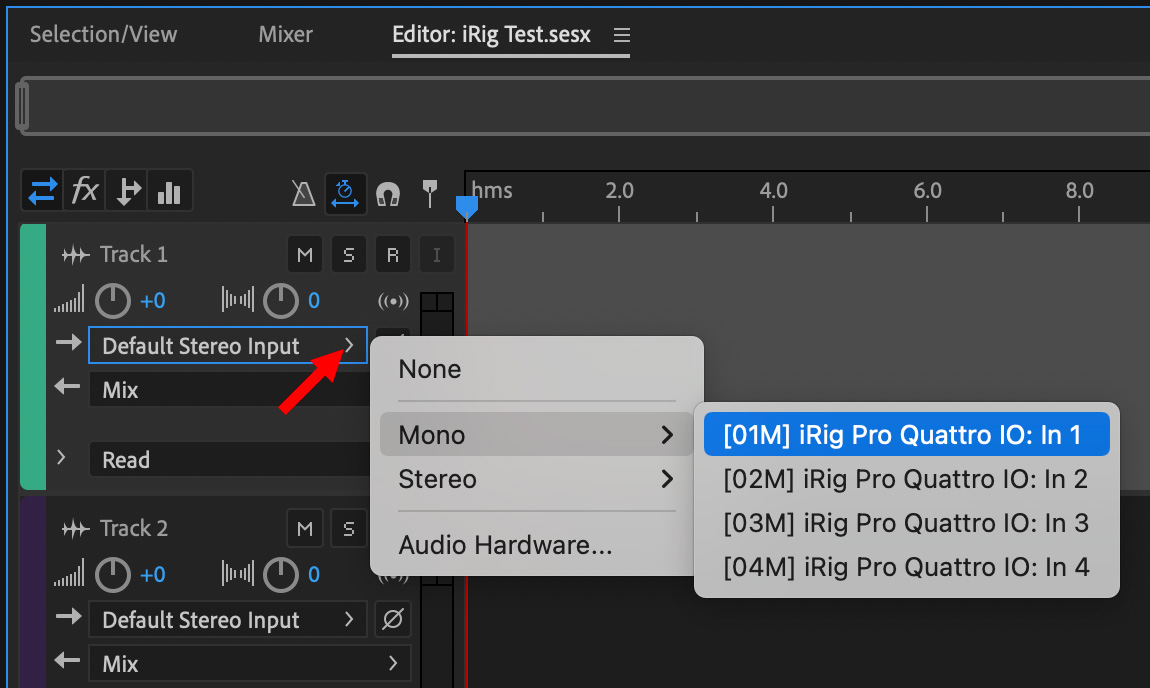 Create a new multitrack session. Set the input for each track to match an output channel on the iRig.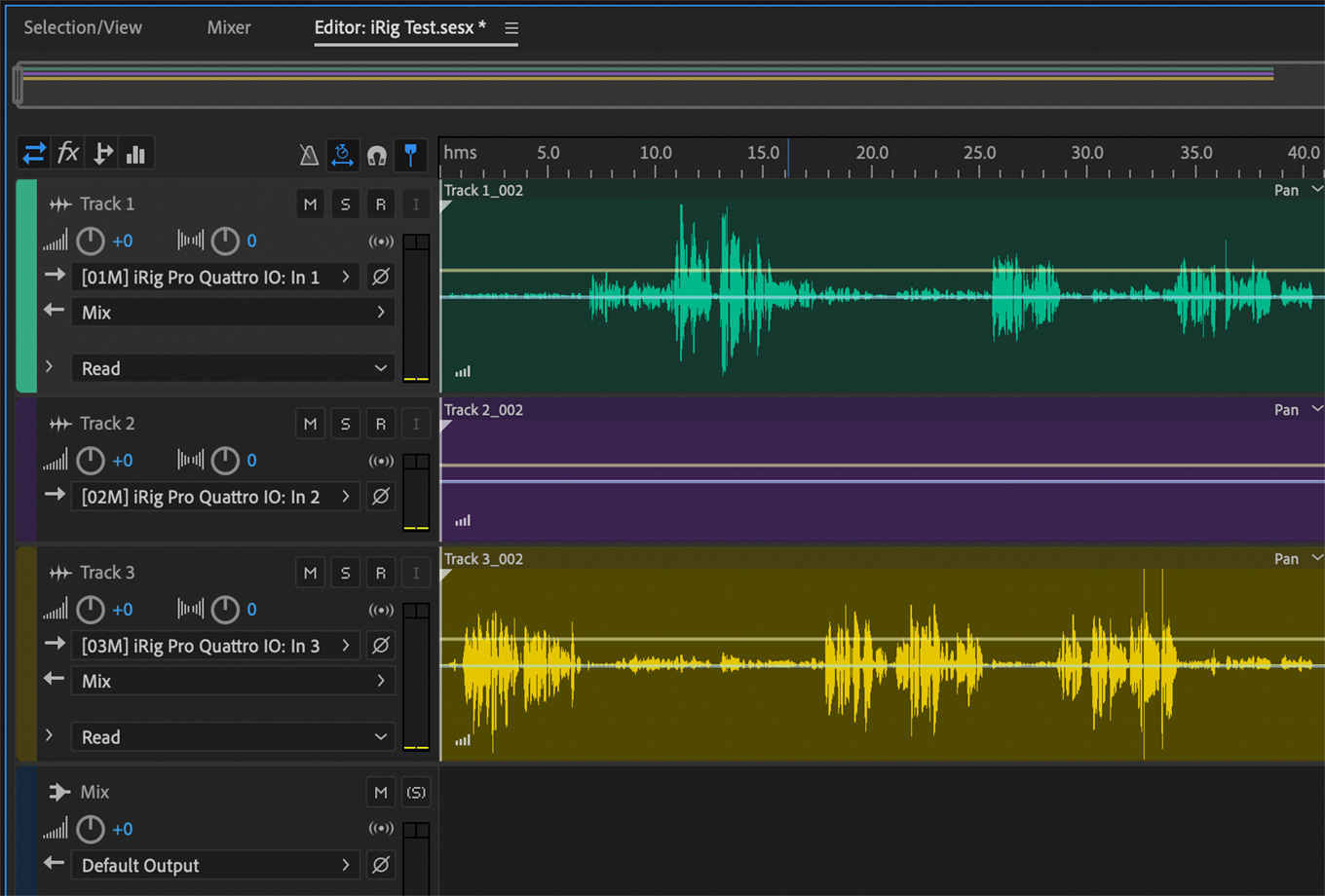 Record the session. Then, mix as usual. The entire process is exactly the same as if you were using any other digital interface.
NOTE: In the screen shot above, I recorded silence in Track 2 to determine the background noise level of the iRig. Tracks 1 and 3 recorded a dialog I was having with myself.
NOISE LEVELS
When powered on and connected via USB:
Background noise level with unit turned off: Non-existent.
Background noise level with volume knobs at 0 (off): -90 dB
Background noise level with no mics connected and volume knobs set to 8 (out of 1o): -54 dB.
OTHER THOUGHTS
There are many things I like about the iRig Pro:
The audio metering, with yellow bars when you get close to exceeding safe levels.
The build-in limiter for microphones
The smoothness and solidity of adjusting the volume controls
The case, made from heavy-duty plastic with a "soft rubber finish"
The number of input and output connections
The variety of outputs, depending upon your needs
I can feed a signal – say music – from my computer into the iRig using the Line In connection, add mics – say for host and guests, mix the entire production and feed the mixed program out the Line Out for streaming.
The only limitation – and it's intentional – is that this is not a recorder. It's an interface and mixer.
SUMMARY
I like the iRig Pro Quattro I/O, especially if I were streaming live audio from remote locations. It is light-weight, capable and takes almost no space in a travel kit. This device is also worth considering for recording up to four mics in the field to bring back for later editing.
It supports all major computers, mobile devices and any camera with an audio input; outputs in all common formats; and supports bit depths and sample rates that far exceed human hearing. It is a very cool device.
---
Bookmark the
permalink
.