Product Review: Archive Media Using PreRoll Post

[ Read my disclosure on product reviews here.]
Recently, I presented a detailed webinar looking at archiving hardware and software called "Protect Your Stuff by Archiving." This article presents some of what I covered in that webinar.
NOTE: Imagine Products will be a sponsor for the Digital Production Buzz starting in January.
EXECUTIVE SUMMARY
I hate creating archives. There are better uses for my time. On the other hand, PreRoll Post makes the process of creating an archive fast and simple. Even better, once the system is set up backups and archives can be fully automated using Watch Folders.
The real test, however, of any archiving software is how quickly you can find and recover a file accurately. Here, PreRoll Post makes file retrieval easy, but its search engine is a little hard to use.
Adding the optional Proxy Mill software automates creating proxy files of supported media during the archiving process.
A free trial is available, limited to 10 archive sessions.
Product: PreRoll Post
Developer: Imagine Products
Website: www.imagineproducts.com
MSRP: $499 (US), $299 for the optional ProxyMill
SYSTEM REQUIREMENTS
An Intel Macintosh with:
OS X 10.11, 10.10 or 10.9
4 GB of RAM
16 GB of free hard-disk space
Internet access required for automated product activation
WHAT IS PREROLL POST?
From the Imagine Products website:
"PreRoll Post is an application that automates indexing your camera originals, complete with thumbnails, proxies and metadata, while backing up full resolution media to local disk and long-term LTO tapes, Optical Disc or local disk or server.
"The software takes advantage of the Linear File Transfer System (LTFS) developed by IBM and supported by HP, MagNext, mLogic, Quantum, Tandberg and other tape drive manufacturers. LTFS mounts a tape as a volume (hard disk) within OSX. This makes it possible to write and read from the tape as if it were a disk without proprietary software or formatting. It also makes PreRoll Post hardware independent—you can use it with any LTFS compliant tape drive or Sony Optical Disc Archive (ODA).
In short, PreRoll Post is the software you use to make backups or archives of your files. It is optimized for media and, when archiving to LTO tape, uses the LTFS filing system.
GET READY TO ARCHIVE
PreRoll Post needs to be purchased directly from the Imagine Products website, it is not available in the Mac App Store. Installation is straight-forward and took about ten minutes.
NOTE: PreRoll Post works with any LTO drive that supports LTFS; LTO-6 is the current version. For this review, I'm working with an mLogic mTape LTO-6 drive.

I've created a folder for all the media I want to archive. PreRoll Post supports archiving files, folders, even entire hard disks. You can mix and match as you see fit.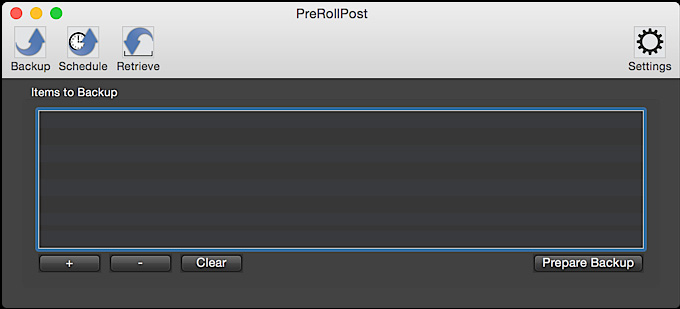 When first started, the Backup screen appears. (If it doesn't, click the Backup button in the top left corner.)

Before backups can start, however, you need to specify a location where the files should be stored, so click the Settings button in the top right corner of this window.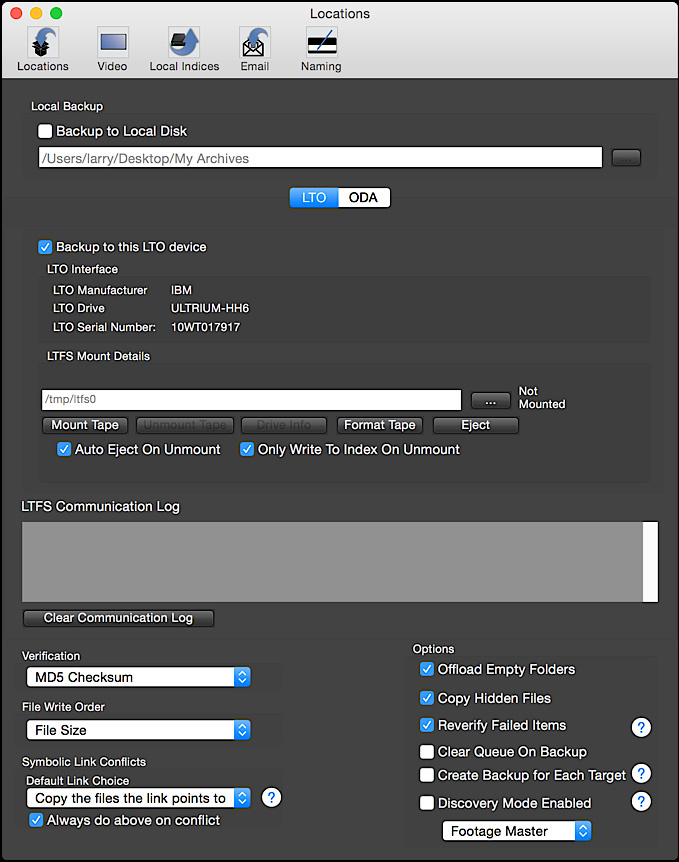 The Locations window appears. Unfortunately, this window requires a fairly large screen to display properly. If you are on an iMac, no problem. If you are on a laptop, you'll need to change your default screen resolution in System Preferences to see this entire panel.
Backup to Local Disk. This allows you to back-up all selected files to a locally-attached hard drive. This can be helpful if you want to stage all your files into a single location. However, if you simply want to copy files from one hard disk to another, Carbon Copy Cloner would be a simpler and cheaper option.
Backup to this LTO device. This enables you to copy files to a locally-attached LTO tape drive. This is the preferred use for this software. It automatically connects to the mTape unit, which is attached via Thunderbolt.
NOTE: This menu has the ability to connect to multiple LTO drives. If multiple LTO drives are connected you can scroll between them. The checkbox allows you to quickly activate or deactivate a drive.

Before a tape can be used, it must be formatted with the LTFS file system. To do so, click the Format Tape button underneath the LTO device listing.
NOTE: You only need to format a tape once, even if you plan to reuse the tape.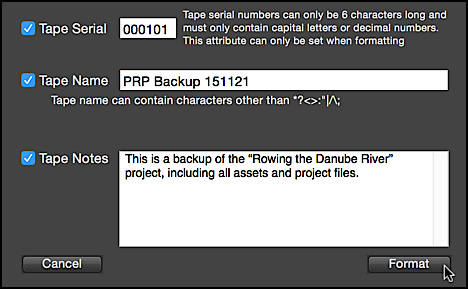 This opens an inset screen where you specify tape number (exactly six numbers or uppercase numbers), backup name and description.
I wish the Tape Format screen was easier to see, it disappears against the background of the Locations window. Also, there are now two Format buttons on the screen, making it difficult to determine which one to click.
NOTE: Don't confuse the Tape Name with the name of the archive you are creating. A tape can contain multiple archive batches.
Click Format in the small inset screen to format the tape.
NOTE: Formatting an LTO-6 tape takes 3-4 minutes. There is no thermometer that indicates the status or duration of formatting and the tape takes about 30 seconds to start, giving the impression you did something wrong. You didn't.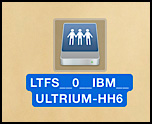 Formatting should mount the tape drive to your desktop. If it doesn't appear, click the Mount Tape button on the Location screen.
NOTE: Tapes must be formatted and mounted to the d
Because the LTFS file system allows the tape drive to act like a hard disk, once the drive appears on your desktop, you might be tempted to double-click it to see what's there. On a Windows system, this is fine. On a Mac, it will drive you nuts. This is because the Finder writes a small, invisible file into every folder that it opens. With LTFS, this means that each time you try to look at a folder, the tape shuttles to the end of recorded data to write that small file, then shuttles back again to the folder. All this shuttling takes forever.
This is not the fault of PreRoll Post, its the fault of Apple not properly supporting tape drives with the Finder. So, to reduce your stress, do NOT try to open a tape drive window in the Finder, even though you can.

We now have only a few other settings to adjust:
When working with LTO units that use IBM drives, like the mTape, check Only Write To Index on Unmount to prevent a significant slow-down in performance.

Because Final Cut Pro 7, Final Cut Pro X and Adobe Premiere Pro all use links to point to media on your hard disk, change the Symbolic Link menu to Copy the files that the link points to. This prevents copying project files without also copying the media the links point to.
The remaining settings on the Location page are generally OK for basic backups.

NOTE: In the Settings window, check Determine Video Type, and PreRoll Post will automatically create thumbnails of your media to display in the Retrieve Files window.
CREATE A BACKUP
Now that a Location has been properly configured – and this only needs to be done once per tape – you are finally ready to back up.

(Click image to see larger image. )
Simply drag all files, folders or disks you want to backup into the Backup screen. Here, for example, I've dragged in a folder containing a variety of files, along with a stand-alone audio file and a stand-alone video file.
NOTE: I tend not to drag in entire disks, because I want more control over which files are stored on which tape. This is not a requirement, just a personal preference.

Click the Prepare Backup button in the lower right corner.
This opens the Backup Preview window.
NOTE: Be sure to enter a Backup name and description, you'll need them to find a file to retrieve.
Click Backup to start copying the files to tape.
PreRoll Post displays a visually interesting status report during the backup process. The inner green circle shows the status of copying the file. The outer green circle shows the status of verifying the file.
The top circle shows the status of the individual file, the bottom circle shows the status of the entire job.
When both circles are solid green, that backup task is done.
Click the Done button to return to the main screen.
SCHEDULING A BACKUP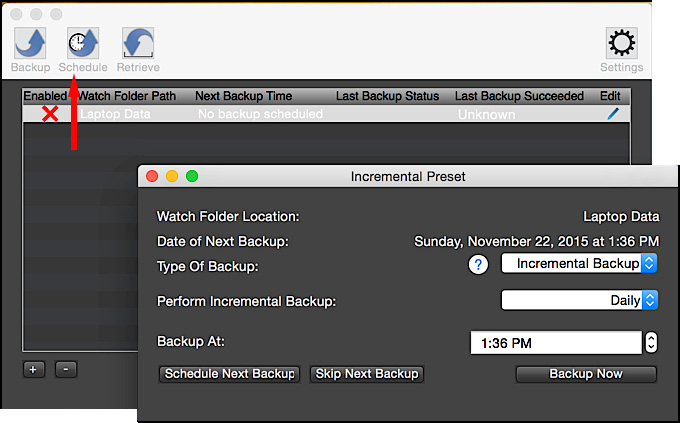 PreRoll Post allows you to schedule backups by setting a watch folder and a series of scheduling parameters. In order for schedules to work, PreRoll Post needs to be running; it does not process backups using a background process.
Since all my backups are project based, I don't use this function.
RETRIEVING A FILE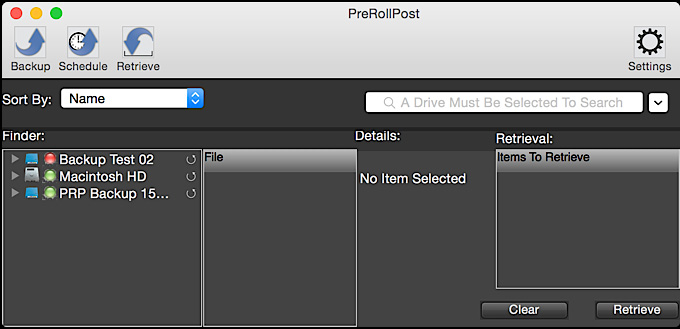 Click the Retrieve button in the top left corner to go to the Retrieve files screen.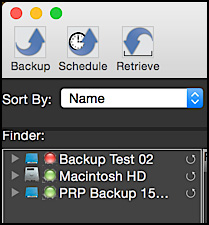 Select a backup from the list on the left that you want to retrieve a file from. Green icons indicate tapes or drives that are mounted and accessible. Red icons indicate tapes or drives that are not mounted.
NOTE: PreRoll Post does not allow selecting multiple locations at the same time. This means that you need to track which files are stored on which tape outside of PreRoll Post.
In the search box in the upper left, type the beginning of the file name you are searching for. This search box only searches from the beginning of the file name.
For more advanced searches, click the small, downward-pointing arrow to reveal the Advanced Search options.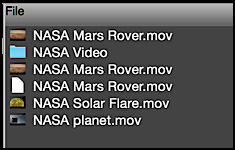 PreRoll Post displays all clips that match your search criteria in the File list in the middle of the screen. Here, I searched on NASA and a number of files were found containing that text at the start of the file name.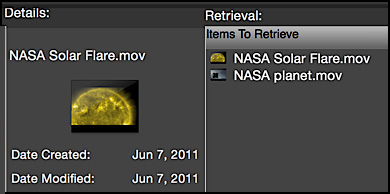 Drag the files you want to restore to the far right Retrieval column, then click the Retrieve Files button in the lower-right corner of the window.
PreRoll Post pops up a dialog asking where you want to store the retrieved files. Give it a location then click Save.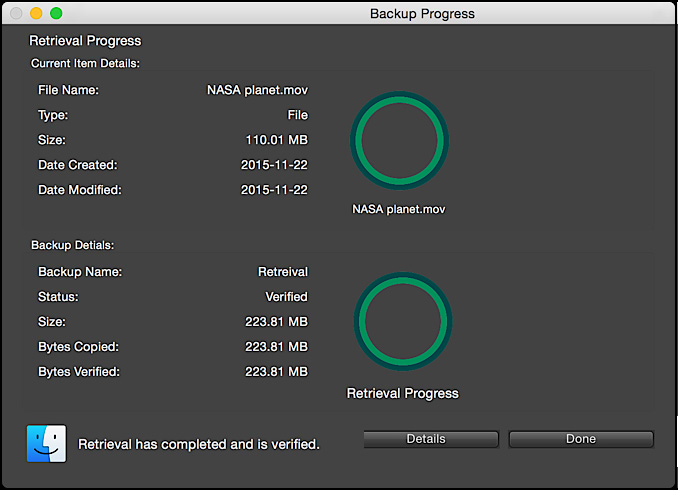 After some humming and shuttling of tape, the files are transferred from the tape back to the location you specify.
NOTE: LTO tape is not designed for files that you need to constantly access. Wikipedia says that tapes are rated for 200 full-file passes, which works out to accessing the tape 44 – 136 times.
LARRY'S THOUGHTS
First, I was surprised by how simple this was. Well, OK, I needed to read the manual to figure out some of the configuration options, but the actual backup process was drag-and-drop simple.
Tapes are NOT fast – they remind me of trying to capture files from DigiBeta tapes. The process is similar.
Still there are some missing features in PreRoll Post (or, perhaps more accurately, I don't know how to do them):
I can't select multiple backup libraries to search when I don't know where a file is stored
There doesn't seem to be a master database that tracks every file on every tape
It can be tricky to get PreRoll Post to properly interface with an LTO drive
The Format Tape sub-window is hard to read and use
Formatting does not always mount a tape to the desktop
Also, there are many features of PreRoll Post which I didn't cover here, including:
The ability to create and deliver tapes in Discovery LTO mode
The ability to create proxy files of our media using Proxy Mill
I recommend visiting Imagine Products website to learn more about all the features in the application.
SUMMARY
Truth be told, I've been afraid of archiving my media because I felt it was too expensive and too hard to do. The inexpensive mTape and reasonably priced PreRoll Post have gone a long way to relieving my worries on this score.
While there is no perfect archive solution that will last forever, LTO tape combined with PreRoll Post from Imagine Products is well worth considering for your archive needs.
---
Bookmark the
permalink
.