Faster Ways to Export from Adobe Premiere Pro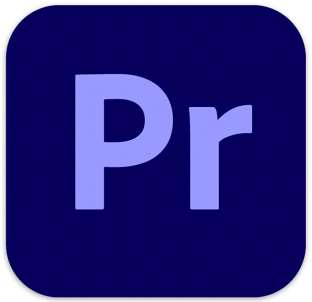 In the 22.3.1 update to Premiere Pro, Adobe added two features that significantly speed exports: Smart Render and the Export Preset Manager.
SMART RENDER
Smart render creates better quality output by avoiding recompression when possible. Smart render only works if the source codec, frame rate, frame size and bit rate match the export settings.
NOTE: Here's a list of codecs that support smart rendering.
Smart Render is turned on by default for QuickTime codecs (i.e. ProRes) and off by default for MXF codecs (ie. MXF OP1a and DNx).
To enable smart rendering for codecs in an MXF wrapper, check "Enable smart rendering codec" which is in the Video tab of the Export workspace. (As a note, if you don't get the settings exactly right, this checkbox will not be visible.)
For sequences using ProRes in a QuickTime wrapper, smart rendering is turned on by default which means automatically faster exports provided you don't change frame size, frame rate or codec during export
EXPORT PRESET MANAGER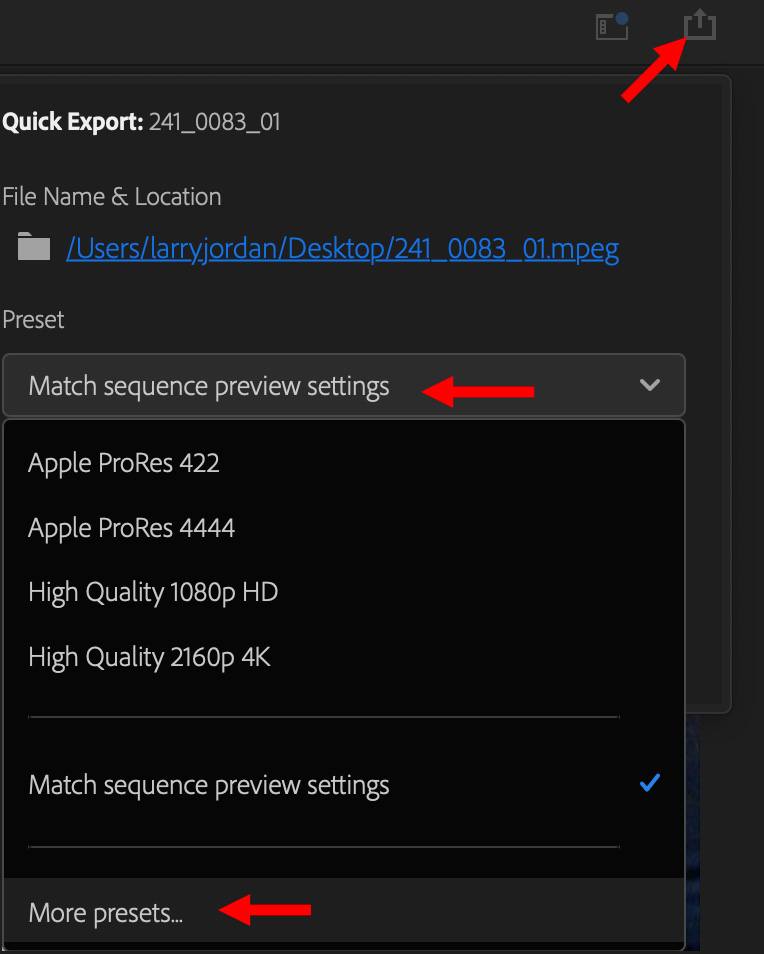 The fastest way to export the selected sequence is:
Click the Export icon in the top right corner of the Premiere interface (top red arrow).
Select the export preset (middle arrow) you want and click Export.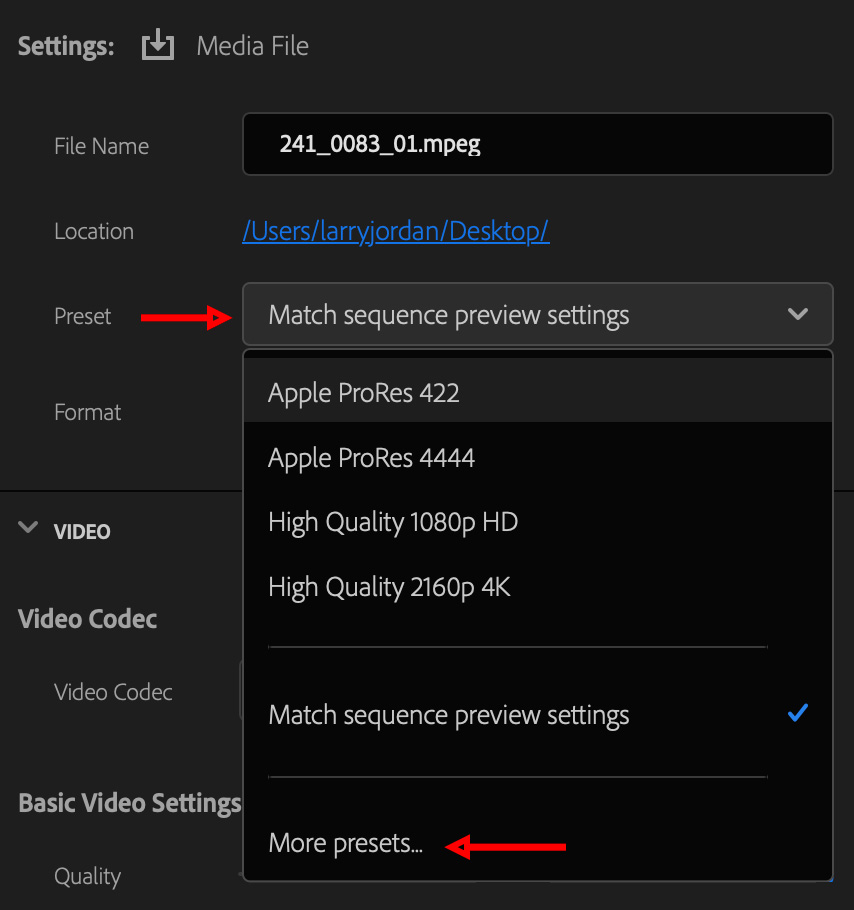 If you need to make adjustments to the export settings, select the sequence you want to export and type Cmd + M.
Select a destination, then a preset from the Preset menu.
In either case, one of the options in the Preset menu is More Presets (bottom arrow).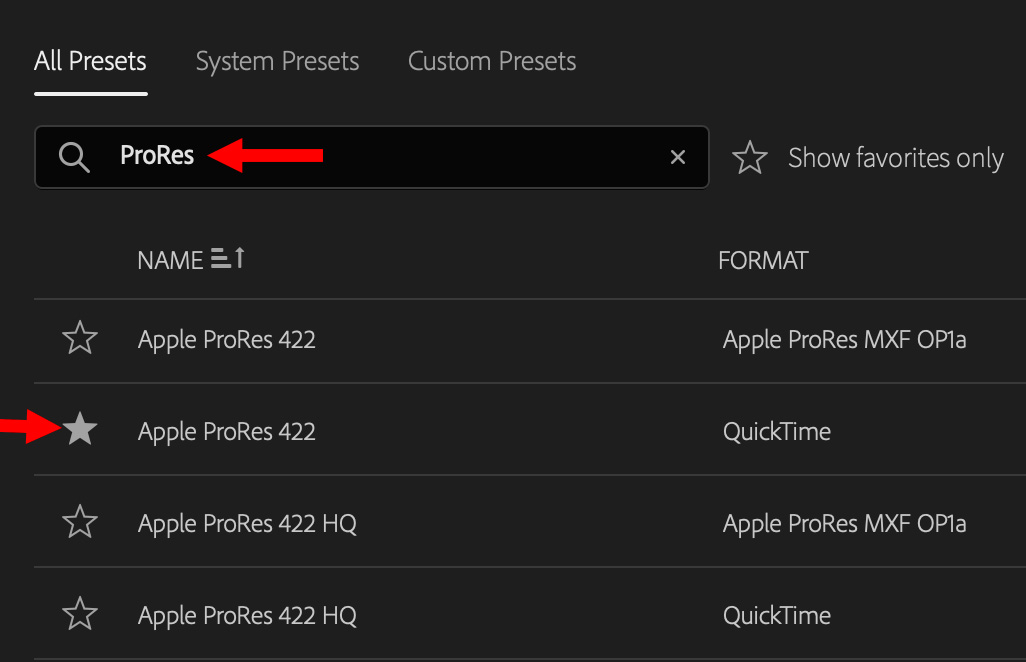 This opens the Preset Manager window.
Use the Search box (top red arrow) to look for a specific preset.
Click a star next to a preset (lower red arrow) to make it a favorite.
Click Show favorites only to only display favorite settings.
NOTE: The Presets menu only shows favorites, which is an easy way to keep this list manageable.

To export a custom setting, select it in the list, then click the Export icon in the lower left.
To import a custom setting, click the Import icon.
To delete a custom setting, but not one created by Adobe, click the Delete icon.
NOTE: Only settings displayed when you click the Custom Presets text button can be deleted.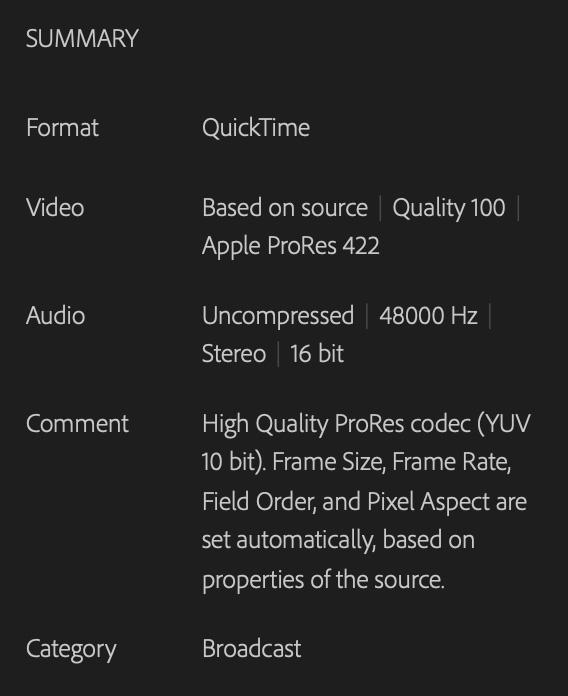 The Summary section, on the right, provides details about the specific settings for that preset.
CUSTOMIZE A PRESET
To create a custom preset, select an existing preset that is close to what you need.
Then, in the Export workspace make whatever changes are necessary. For example, I created a preset that automatically add a watermark to an exported movie.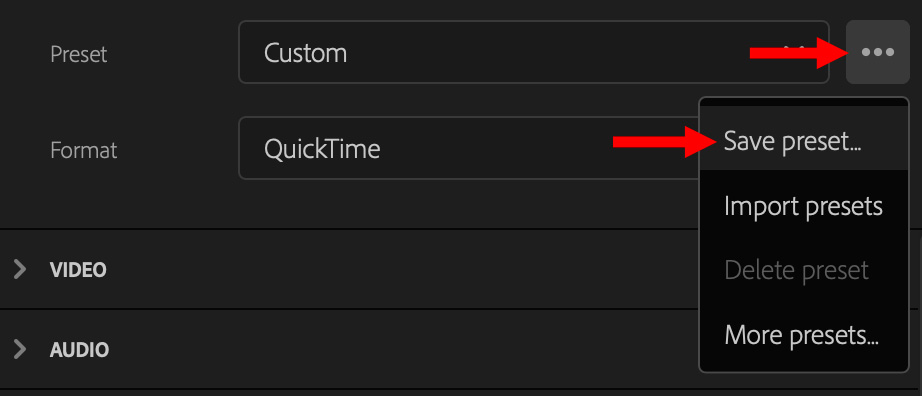 Click the three dot menu (top arrow) to the right of the Preset menu and choose Save Preset (lower arrow).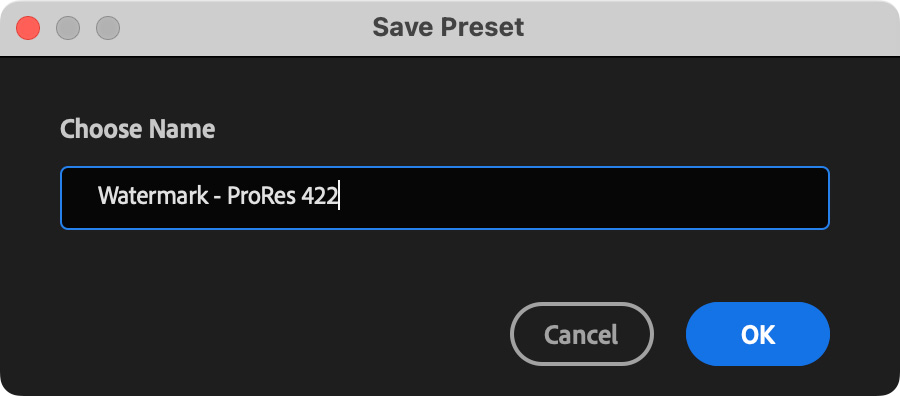 Give the preset a name and click OK.

That custom preset is Favorited (star) and appears when you display All Presets or Custom Presets.
NOTE: Only custom presets can be deleted. Instead, use Favorites to keep the Presets menu small.
---
Bookmark the
permalink
.