Mac OS: Turn Off Drive Ownership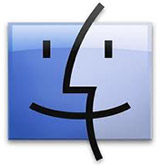 This article was suggested by Robert Bagley, who was having problems storing files on a newly-acquired hard drive. Fixing his problem was simple – but not obvious. If this setting is incorrect on a new hard drive you just installed, you'll have problems accessing files on that drive.
NOTE: This technique applies to, and works the same on, all versions of the Mac OS from 10.6 through 10.9.
Applications, and the boot disk, require permissions and ownership to be accurate and enabled to function properly. (A permission allows one application to "talk" with another application.) This is what we are repairing when we use Disk Utility to "Repair Permissions."
NOTE: File servers, also, require permissions to keep track of which user has access to which file.
Drives that store data don't use permissions and ownership. In fact, they shouldn't use permissions. However, especially for new drives, permissions get turned on by accident for a data drive, which then prevents it from working properly.
Here's how to turn off permissions on a hard drive or RAID.
BIG NOTE: This should NOT be done for the boot disk or server volumes. This SHOULD be done for all direct-connected drives that only store data.

Select a drive. (Remember, leave the boot disk alone.)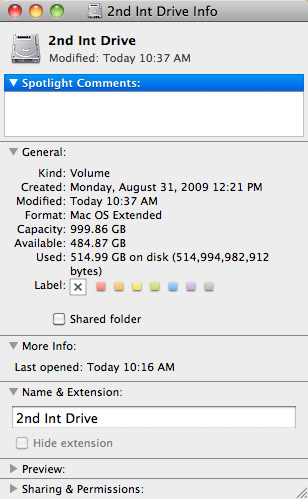 Type Command+I (or choose File > Get Info). This displays a wide variety of statistics about that hard disk. (My favorite is "Available," which is always seems to disappear almost immediately.)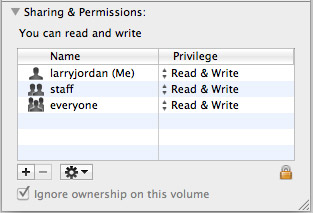 If it is closed, twirl open the Sharing and Permissions triangle and look toward the bottom. If "Ignore ownership on this volume" is checked, everything is fine.
However, if this is NOT checked, we need to change the setting.

Click the lock and enter an administrator's password to allow changes to this setting.

Then, check "Ignore Ownership on this volume" and close the window.
You only need to do this once for each of your data drives. Most of the time, this will be set correctly. But, for those instances where it isn't, now you know how to fix it.
---
Bookmark the
permalink
.