Larry's Initial Thoughts on Apple M3-series Chips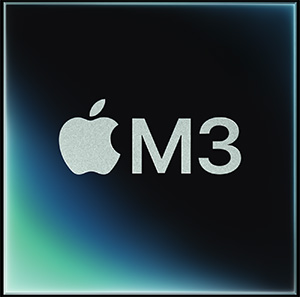 On the night before Halloween (in the US), Apple launched the three latest versions of Apple silicon: M3, M3 Pro and M3 Max.
The computers that use them haven't shipped yet – so we don't know what their real-world performance will be. But, that certainly doesn't stop anyone from speculating. The trade press is filled with rumors, guesses, and tentative specs.
So, here are my thoughts on what media producers and editors should consider.
IN GENERAL
As Adam Wilt points out: "When it comes to basic editing, Crayne's Law still applies: 'All computers wait at the same speed.'" Any M1, M2 or M3-series chip is easily able to edit HD or 4K with no problems.
Based on the performance of M2-series SoCs, any M3 SoC will be more than adequate for any single-camera editing up to and including 8K using the internal drive. (Probably 12K as well, but I need to know more about the base-level M3 before I make a definitive statement. The M3 Pro and M3 Max can handle anything you throw at them.)
While the M3 can easily handle simple multicam editing, the M3 Pro and M3 Max would be a better option if lots of multicam streams are at the center of your editing life. However, the gating factor on multicam editing is the speed of your storage.
If you spend more time rendering than editing, the M3 Max is the better option due to its greater GPU count and Dynamic Cacheing. The M3 Ultra will be faster yet, but it hasn't been announced yet.
There's no doubt NLE software will expand to take advantage of these new chips. Again, quoting Adam Wilt: "For example, realtime transcription during ingest; background stabilization; audio correction and synching; color correction analysis on all clips during ingest; machine-learning-based assistant-editor-style keywording / logging / categorization while you work; dynamic smart binning based on script analysis or transcription output; predictive background rendering continually as you work instead of waiting until you pause for a few seconds; ML-based refocus/defocus/bokeh, noise reduction, smart retouching; and so on – because software, like a gas, expands to fill the space available."
But for basic editing, we have already reached the point where our computers are fast enough. The hardware already is FAR faster than software can currently utilize. Developers need time to catch up.
Keep in mind that, if you have the money, buy whatever you want. ANY M3 system will perform well and last for years. But, for those on a budget, the questions are different.
It isn't really a question of whether these computers are adequate for media editing. Of course they are. They are outstanding systems. Based solely on what Apple has delivered in the past, these are state-of-the-art systems. But, that isn't the most important question. Here are the questions I think you should be thinking about.
Which chip is "best" for the kind of editing I do?
I own an M2-system. Should I upgrade?
I own an M1-system. Should I upgrade?
I own an older Mac Pro. Should I upgrade?
I own an Intel-based system. Should I upgrade?
Is an M3-series computer really necessary for editing?
What does the future hold?
These questions can't fully be answered until Apple ships the hardware and we can do tests. But here's my current thinking.
THOUGHTS ON PERFORMANCE
Apple's presentation was remarkably unrevealing. It contained lots of statements such as: "The M3 is X% faster", but it never described how the tests were conducted, how the system was configured, what software was used, even what computer was used to run the tests.
I don't doubt the M3 is faster. But we really have NO idea what "faster" really means. To quote Adam Wilt, again: "Fast is much faster than Slow, but Darned Fast isn't much slower than Darned Fastest."
For now, there is lots of speculation, but no facts. That is not an ideal situation to be making buying decisions. Be patient.
WHICH CHIP IS "BEST" FOR MY KIND OF EDITING?
Video editing isn't just the CPU, it's the entire system: CPU, GPU, RAM, storage, ports … everything. Based on my tests with M2 systems, mid-level configurations provide the best balance between cost and performance.
But we will need to wait for actual systems to ship and tests to be done to know for sure. Patience is called for.
UPGRADE AN M2-SYSTEM?
Based on Apple's presentation and current specs, while the M3 family is faster, it is not so much faster as to require upgrading any M2 system. Why? Because an M2 Max SoC already handles every form of video editing up to 12K.
As well, an M2 Pro or M2 Max chip can easily edit up to 40 streams of 4K multicam media, depending upon the speed of your storage.
Apple reports that the M3 is about 20% faster than the M2 – and the M2 is already fast enough. There's no big benefit to M2 editors in upgrading.
UPGRADE AN M1-SYSTEM?
Compared to M1 systems, Apple reports speed improvements with the M3 family between 35 – 200%. If you principally edit, you won't see much difference. But if you principally render, the speed benefit might be significant.
I currently own and use an M1 Pro MacBook Pro. It meets all my editing needs, but I principally edit, not render.
If your current M1 computer feels slow for the work you are doing, an upgrade will improve things. However, keep in mind that the image and audio quality between ANY two computers will be the same. What you are buying is speed, not quality.
UPGRADE AN OLDER MAC PRO?
Yes. The M3 Max blows the doors off any Intel-based Mac Pro, with the exception of those needing PCIe cards as part of their workflow. There, the M2 Mac Pro is the better choice.
Speed improvements from 5 – 10X should be expected.
UPGRADE AN INTEL-BASED MAC?
Generally, yes, because you need to transition to Apple silicon because in a few more years, Apple won't support Intel gear.
A CAUTION: However – and this is important – there is a big lag in scientific software moving to Apple silicon. My sister, who is an atmospheric scientist, can't leave Intel Macs because the software she needs doesn't support these new chips.
But, if you aren't involved in scientific research, Apple silicon is multiple times faster than any Intel system. Testing my M2 Max Mac Studio showed performance gains between 5 – 15X compared to a 2017 iMac with an i5 CPU. M3 systems will be even faster.
ANOTHER CAUTION. If you are running older software, you will also need to upgrade to macOS Sonoma to run this new hardware. That means a lot of older software, fonts, plug-ins – maybe even media – won't work. Do your research to determine the impact on your studio and expect to spend a day or two making the conversion. (It took me a day to bring a new Mac Studio online.)
Apple silicon is the future – and the future looks VERY bright. But the transition from an older system to a new one will have bumps. The longer you wait, the bigger those bumps will be.
IS AN M3-SERIES COMPUTER REALLY NECESSARY?
No. Of course not. You are successfully editing now on much older gear. But the march of technology does not stop. While the gear you have now will run for years, Apple won't support it for years.
In general, Apple supports hardware for about seven years after initial release. After that, you are locked into the operating system and software that runs on your gear. I know editors who are happily editing on 2009 Mac Pros running Final Cut Pro 7. That's perfectly fine as long as the gear keeps running.
But, when it breaks, you have a problem.
WHAT DOES THE FUTURE HOLD
It takes four years to develop a new M-series chip. This means Apple is probably currently developing:
The M3 Ultra – because it already released the M1 and M2 Ultra
The M4 family – shipping in 2025?
The M5 family – shipping in 2026?
The M6 family – shipping in 2027?
The M7 family – shipping in 2028?
And each will be faster than the ones before it – because that's how technology works. There will always be a newer, faster system "just around the corner." This new M3 family continues Apple's development of stunning new chips. A trend that will continue long into the future.
Whether an M3 computer is right for you is something only you can decide. Personally, I would wait for test results and real-world analysis before making a final decision. In all likelihood, you won't need a top-of-the-line computer to get your work done quickly and well.
But is Apple silicon the future? Absolutely yes.
---
Bookmark the
permalink
.