How to Set and Change Project Settings in Final Cut Pro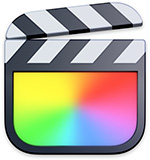 Project settings, which Apple calls "Project Properties" determine the technical specs of your project. In this tutorial, I explain what they are, how to set them and how to change them. More importantly, I explain what can't be changed.
NOTES:
Here's a tutorial on how to change Library Properties.
Here's a tutorial on how to consolidate media within a library.
BACKGROUND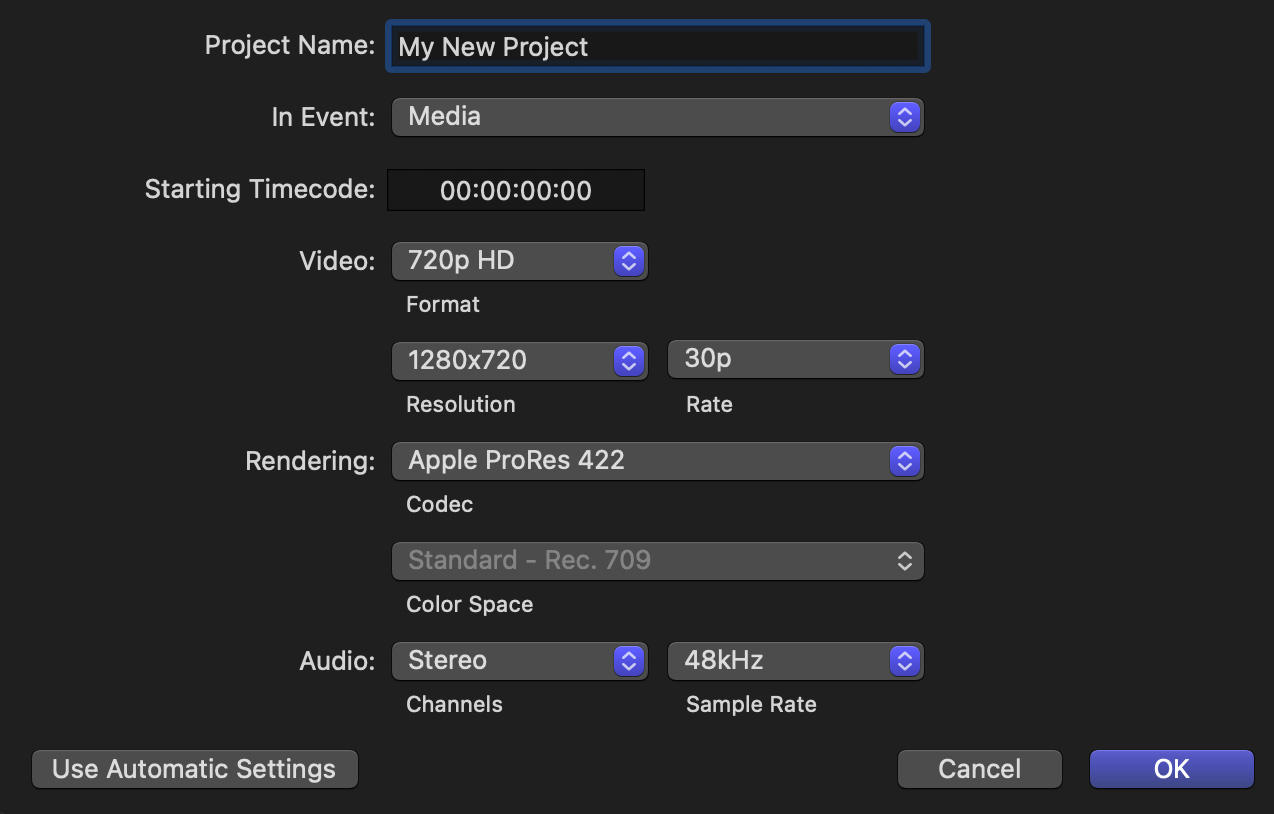 The Project Properties dialog appears whenever you create a new project. It determines, among other things, the frame size, frame rate, render codec and color space of a project.
NOTE: The shortcut to create a new project is: Cmd + N.

There are two setup options: Automatic and Custom. However determining which you are using is a bit backward. When Use Custom Settings is displayed, you are in Automatic mode. When Use Automatic Settings is displayed, you are in Custom mode. Automatic mode displays fewer options.
USING AUTOMATIC SETTINGS

When you create a new project using the Automatic settings, you can:
Name the project
Determine in which event to store it
Modify the starting timecode
When you click OK, the project is created.
Now, here is the KEY point: The project will automatically configure itself to match the technical settings of the FIRST clip you edit into the timeline; this includes setting:
Frame size
Frame rate
Color space
Rendering generally defaults to ProRes 422
The reason this is important is that if your first clip is not the format you need, you'll need to change these settings later, which I'll cover shortly. However, once media is in the timeline, the frame rate can not be changed. So it is important to be sure you edit a clip with the correct frame rate as your first timeline clip.

You can see what your project specs are by clicking inside the timeline, but not on a clip, to select the timeline pane, then look at the top of the Info Inspector (left red arrow).
As you can see in the screen shot above, this is a 4K UHD 29.97 fps project (lower red arrow), using the Rec. 709 color space. This is a fast and easy way to make sure your project is configured the way you expect.
USING CUSTOM SETTINGS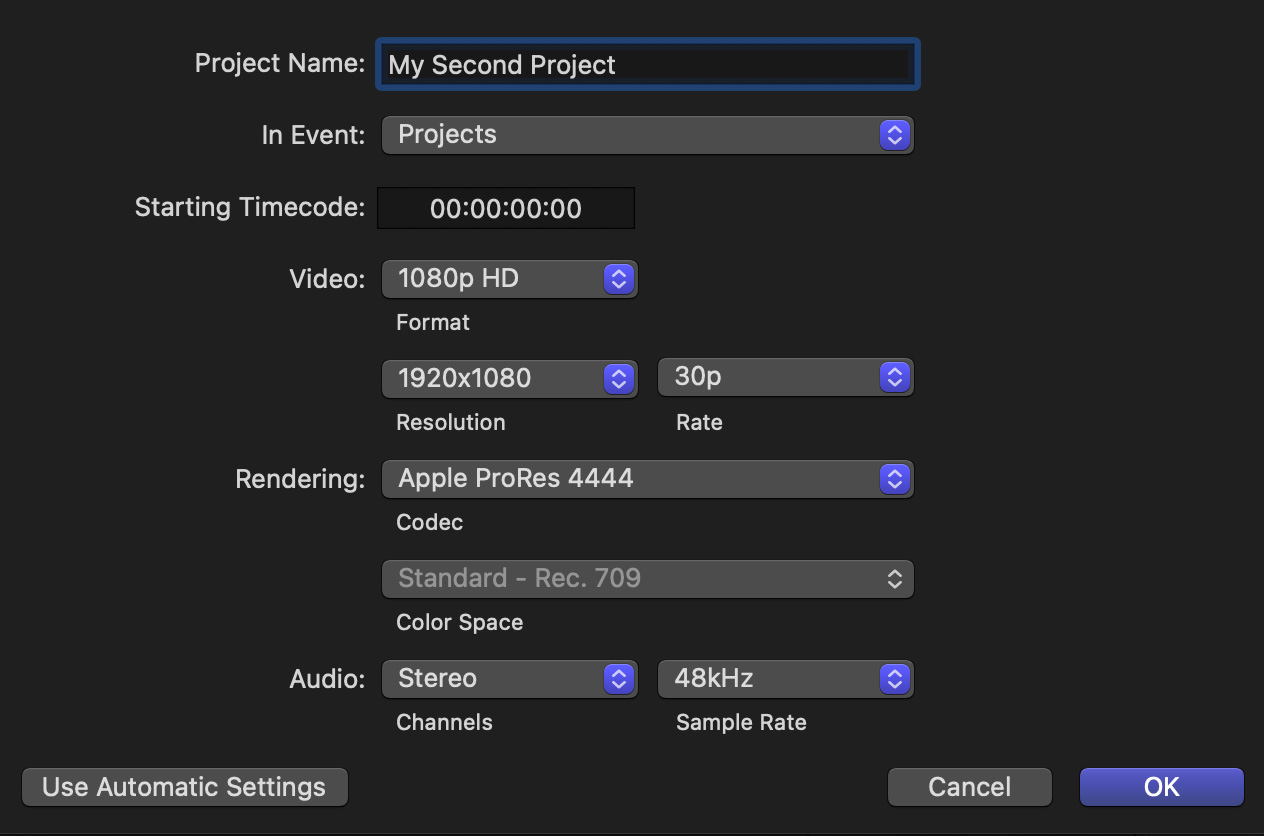 Custom settings allow us to specifically determine the specs of our project, regardless of the first clip we edit into it. This requires more understanding of media formats, but prevents surprises at the end, such as creating a project with the wrong frame size or frame rate.
NOTE: Once you set custom properties, Final Cut will not change project settings, regardless of the clip you edit into the timeline first.
Looking at the screen shot above:
Starting timecode. This determines the timecode of the project. The default (00:00:00:00) is fine for the web. 01:00:00:00 is normally used for North America broadcast and cable, while 10:00:00:00 is normal for European broadcast and cable. You can change project timecode at any time with no problems.
Video Format. This determines the frame size of the finished project. Custom allows creating non-standard frame sizes. Final Cut can easily edit projects of any frame size, even non-standard, non-broadcast sizes.
Video Resolution. Normally, this matches Video Format. However, several formats, such as NTSC SD and 1080i have multiple frame sizes associated with the format. For the web, progressive formats (indicated by the letter "p") are best.
Video Rate. This determines the frame rate of your project. Of all settings, this is the most critical. Why? Because we can't change it after media is edited into the timeline. Final Cut actually edits by counting frames, which is why we can change project timecode without damage. Changing the frame rate would alter every edit, which is why FCP won't allow it.
NOTE: There is a workaround. Select all media in the timeline and cut it to the clipboard. Change the frame rate, then paste the media back in. In many cases, this will work.
Rendering. This determines the codec used for all render files, and acts as the default setting when sharing a project during export. For projects shot with most cameras, ProRes 422 is an excellent choice. For projects shot using RAW, Log-C or HDR media, use ProRes 4444. For projects that originate on the computer, for example, my weekly webinars, use ProRes 4444. If your project was recorded in ProRes 422 HQ, use that codec.
Color Space. This defaults to Standard – Rec. 709, unless you have changed your Library settings to support Wide Gamut color. For non-HDR media, Rec. 709 is fine.
Audio. This determines the audio format of the project and the default output format when exporting. Stereo 48K is the default and an excellent choice; with a frequency response that exceeds normal human hearing.
Click OK to accept these changes.
MAKING CHANGES
While we can't change frame rate after we start editing, we can change everything else. The trick is in knowing where.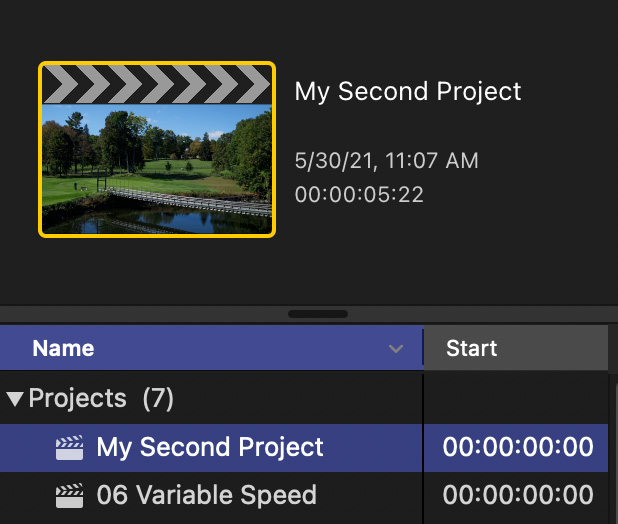 Select the project name in the Browser.

Type Cmd + J (or open the Inspector). At the top is a blue Modify button. Click it.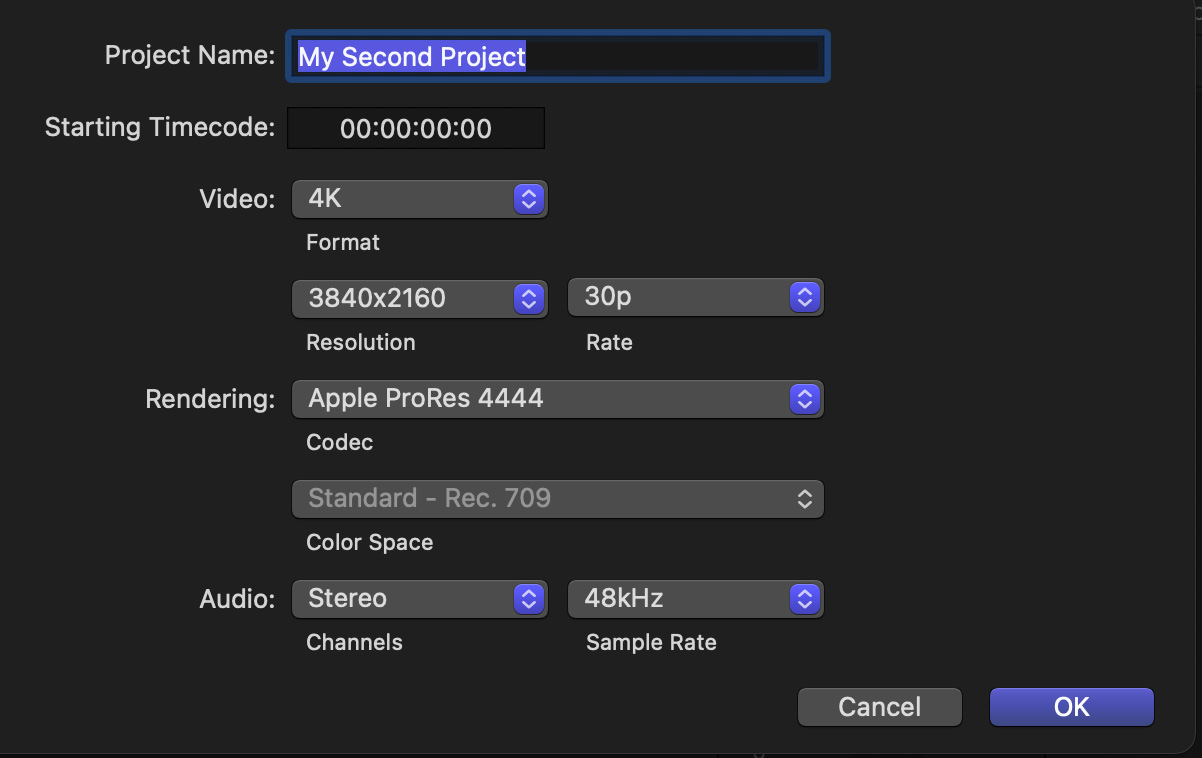 This re-opens the Project Properties pane, where you can change whatever you need – except for frame rate.
Click OK and Final Cut resets everything instantly, including resizing media, if necessary.
Most of the time in my work, I set my project settings at the beginning and leave them alone. But, when I'm teaching, I'm frequently changing settings to explain media concepts to students. Final Cut is happy either way.
EXTRA CREDIT
Here's a video tutorial on how to adjust Library settings.
---
Bookmark the
permalink
.