FCP X: Export To/From Adobe Audition [video]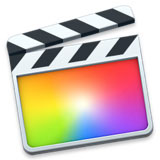 [This is an excerpt from a recent on-line video webinar: "Advanced Audio for Final Cut Pro X" which you can download from our store. You can also access all our training when you become a member of our Video Training Library.]
This webinar is the second of a three-part series on audio techniques in Final Cut Pro X. Building on the basics of audio covered in Webinar 178a – Audio Basics, this session examines advanced audio techniques in Final Cut:
Apply and modify audio filters
Learn how to use key audio filters
Learn how to use compound clips for audio
Repair problem audio
Send files to and from Adobe Audition
In this short video excerpt, Larry illustrates how to export a project from Final Cut Pro X to Adobe Audition for final mixing, then how to bring the completed mix back into Final Cut. (This excerpt also features the plug-in "XtoCC" from Intelligent Assistance.
---
Send Projects To and From Adobe Audition
TRT: 5:21 — MPEG-4 HD movie
Our website offers lots more video training in our store.
---
Bookmark the
permalink
.
Larry Recommends
Final Cut Pro X 10.4

Edit smarter with Larry's brand-new webinars, all available in our store.
Access over 1,900 on-demand video editing courses. Become a member of our Video Training Library today!
JOIN NOW
Subscribe to Larry's FREE weekly newsletter and save 10%
on your first purchase.