FCP X: Export Master File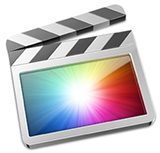 I always want to export my projects before compressing or transferring them, because I want to be sure there are no problems with the export. So, I always use Share > Master File. However, because I do this so much, I also don't want to waste any time, so I tend to use the keyboard shortcut for this process: Command+E.
However, last week, in my newsletter, I wrote that the Command+E export shortcut had disappeared! Gasp!

As you can see, here in this screen shot, there is no shortcut for Share > Master File. So, I went to create one using the Commands menu. Except….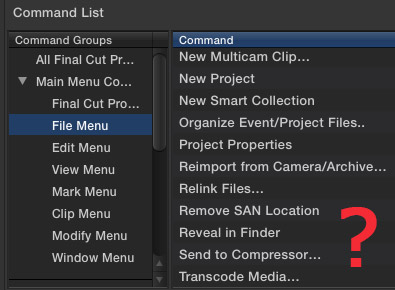 There is no way to create export keyboard shortcuts in the Command menu, because none of the Share menus are available.
This was a scandal!! No sooner had I published this astonishing fact, when several (OK, dozens) of readers wrote in to say that Apple moved this shortcut out of the Command menu and into Preferences. There was no scandal, just a new location.
In other words, I was not paying proper attention.
CREATING DESTINATIONS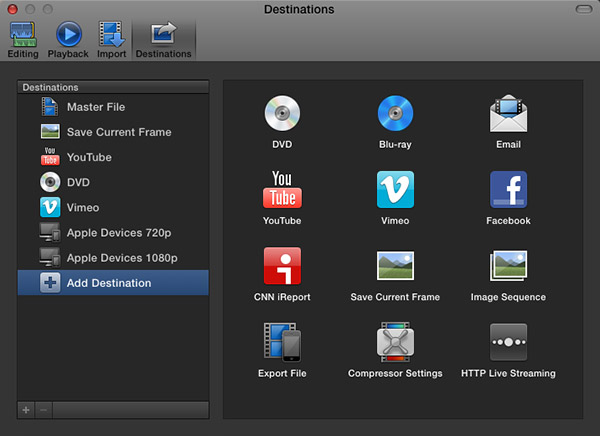 The Final Cut Pro > Preferences > Destinations pane now allows you to determine which export options appear in the Share menu, and to easily assign a keyboard shortcut to the default output option.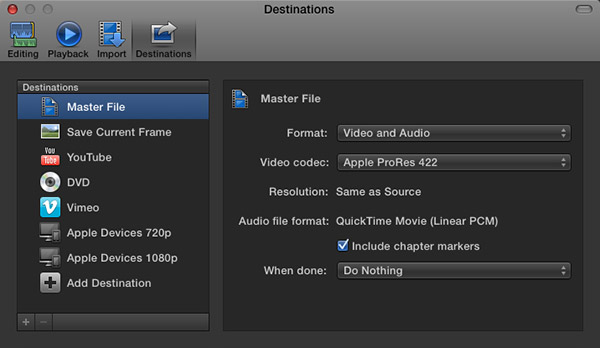 My recommendation, when exporting projects from Final Cut Pro X, is to always export a Master File. This is the highest quality and fastest export from FCP.
When you select Master File (or any other option from the list on the left), you are able to configure your default export settings on the right. My recommendation is to export using ProRes 422 (a good balance between high quality and smaller file size).
ProRes 422 is my general codec recommendation for master files. This provides a good balance between relatively small file size and excellent image quality.
Resolution Same As Source means you are exporting at the same image resolution of your project. This choice automatically matches the pixel aspect ratio of your source media and, in almost all cases, yields the highest image quality.
Linear PCM means uncompressed audio, which is the highest audio quality you can export.
This screen shot above shows my default export settings.
NOTE: I am getting a LOT of reports of "bad frame" errors preventing exports when trying to burn DVDs or export to Vimeo. My recommendation is to export a Master File first, then compress/process/burn the file as a separate step, using different software.
SET THE DEFAULT KEYBOARD SHORTCUT
It is in this Preferences pane that you set the export keyboard shortcut. It can be to any of the options listed on the left, as these are the destinations that appear in the File > Share menu.
NOTE: The list on the right are potential destinations. To add a destination to the list on the left, simply drag the icon from the right to the left.  You can change the stacking order by dragging up or down. You can configure the default export settings for any destination by selecting it on the left, and adjusting the settings on the right.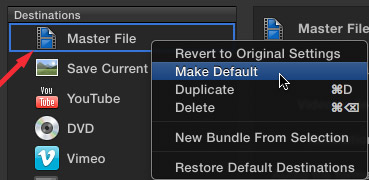 To create the Command+E keyboard shortcut, simply right-click the destination you want to use for the shortcut – in my case, that would be Master File – and select "Make Default."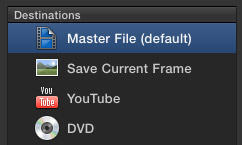 When the shortcut has been applied to a destination, Final Cut displays the words "(default)" after the destination.

To prove this for yourself, select File > Share > Master File and notice that the Command+E shortcut now appears where it belongs.
Thanks to everyone that wrote in pointing out this change. The next time my Command+E goes missing, I will know where to look!
---
Bookmark the
permalink
.