FCP X: Consolidate Media and Libraries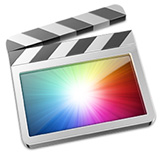 I was in the middle of a webinar when it happened. It suddenly struck me that there is a very easy way to consolidate all library elements into a single library for purposes of archiving and backup. In fact, I added it to the webinar then and there.
It isn't obvious, but this is a great trick… if you know where to look.
This technique is especially helpful if you have lots of external media and need to gather it all into one place for archiving or to send to another editor.
NOTE: This technique requires Final Cut Pro X v10.1.2 or later.
IMPORTANT NOTES
This technique works great, provided two conditions are true:
A library in Final Cut Pro X holds about 3,000 clips. While this is not a hard limit, if you have a lot more clips than that, you'll need to use multiple libraries to store them and this technique won't work.
Moving all media elements into a single library will take a lot of space. Be sure you have lots of free space on your hard disk before beginning this process. There's no magic number defining free space because different video formats have different space requirements; but, a good estimate is that you'll need the same amount of space you are currently using to store the existing media for your project.
DEFINITIONS
Managed Media. Media that is stored inside a library and managed by Final Cut Pro X.
External Media. Media that is stored outside a library and managed by you. FCP X points to external media and only stores links to that media in the Library. There is no limit to the number of external hard disks or folders that can be referenced by Final Cut. However, the 3,000 clip limit per Library still applies.
HOW THIS WORKS

In the Finder, find the Library containing the project you want to consolidate and duplicate it. (It is always safest to work with a copy.)
Next, open the duplicated library in Final Cut Pro X.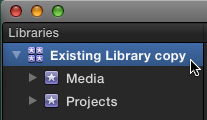 Select the Library in the Libraries panel.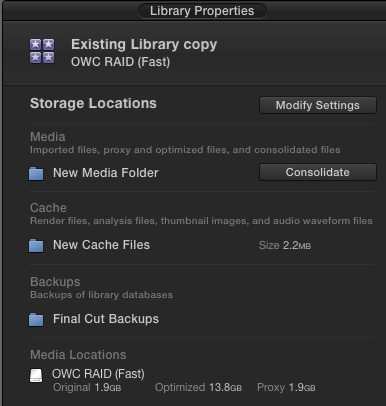 If the Library Properties panel doesn't open in the Inspector, choose File > Library Properties (shortcut: Control+Cmd+J).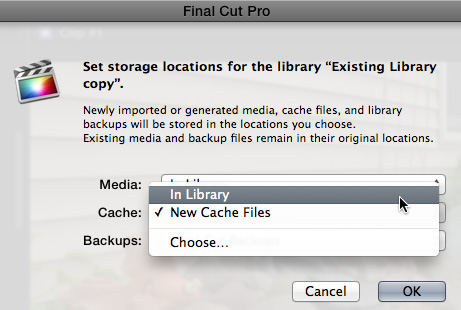 Click the Modify Settings button next to Storage Locations. Then, set both Media and Cache to In Library.
Click OK.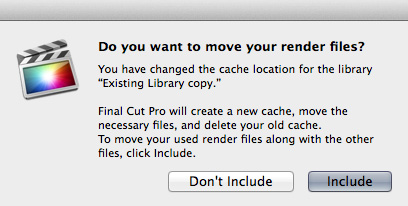 If you want to continue editing with this Library, be sure to include Render Files, as it will save Final Cut from having to render them again.
If, on the other hand, you are done editing and simply want to archive the entire project, don't include render files, as FCP will recreate them if you need to reedit this project in the future.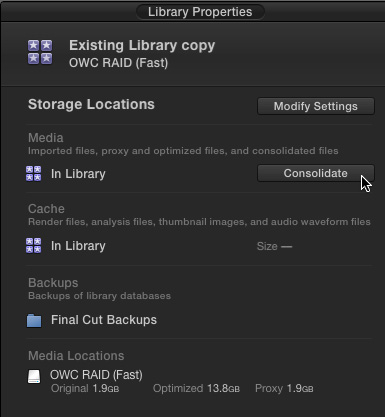 Notice that the Library Properties are now set to store all media in the Library
Click the Consolidate button.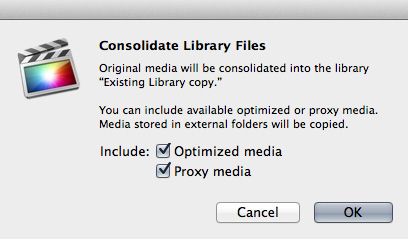 Determine whether you want to include Optimized and/or Proxy files. Again, if you are archiving, you can uncheck both checkboxes. If you are continuing to edit, you should check them.
Click OK when you are ready.
NOTE: If you included Render Files earlier, there will be an additional check-box asking whether you want to include Unused Render Files. These are render files that FCP created that were excluded during the trimming process that Final Cut retained in case you trimmed them back in again. (There is no harm in getting rid of unused render files. If FCP needs them in the future, it will create them again automatically.)
Final Cut now moves media from wherever it is into the selected library.
BIG NOTE
This system works best when you are consolidating media to a separate hard disk from the library currently holding your data. I have been told, but not verified, that if you consolidate media into a Library on the same hard disk, FCP uses aliases, rather than actually moving the files. To prevent this, move the Library copy to a separate drive before beginning consolidation.
Quit Final Cut and you are done – with all the files for the selected project now stored in a single library. Ready for archiving, giving to another editor, or just to get all your files in one place.
---
Bookmark the
permalink
.