FCP X: Color Correct Multicam Clips
I've written and recorded a lot about color correction and multicam editing in Final Cut Pro X. In fact, one of the big advantages to editing multicam clips in Final Cut Pro X is that you can color correct the master clip before you start editing. This saves a ton of time by making one change, rather than changing each individual edited clip in the Timeline.
But there's a really important step you need to know to make this work. And I just realized I've never written about this before now.
NOTE: For a step-by-step guide to creating multicam clips, read this article.
SECOND NOTE: For an introduction to color correction in Final Cut, view this webinar.
BACKGROUND
Most of the time, color correction is the last step in the editorial process, just prior to final output. However, with multicam clips, you may save time by color correcting before beginning editing.

After the multicam clip is created, it is indicated by a special icon in the top left corner of the multicam clip displayed in the Browser.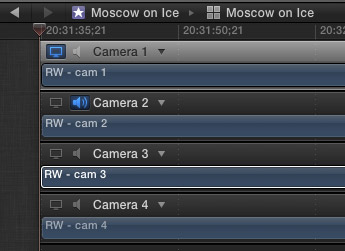 Double-click the multicam clip in the Browser to open it into a special form of the Timeline called the "Multicam Editor."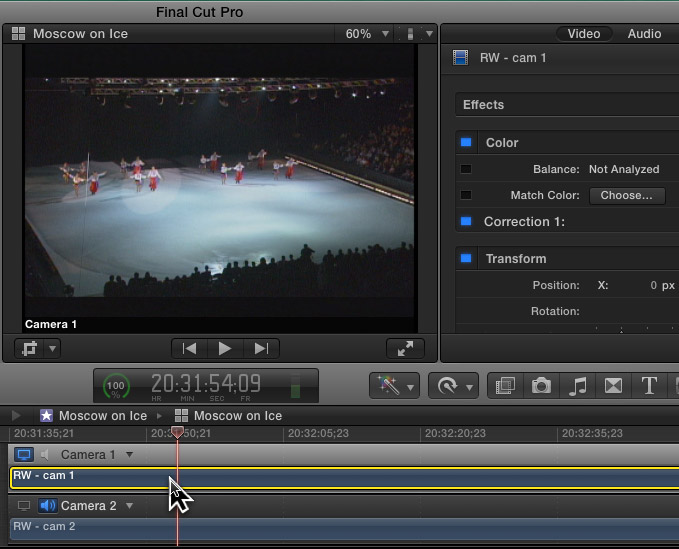 Select the top track, which loads it into the Inspector. From there you can make color changes using the Color Board or any effects filter. (By the way, thanks to Ed Greene and Greene HD Productions (www.greenehdtv.com) for sharing their footage with us.)
However, there's a problem when you try to color correct any other clip except the top one. When you select the clip, as soon as you move the cursor into the Inspector, the image in the Viewer reverts to the top track.
Sigh… This could drive you nuts.
Here's the quick tip: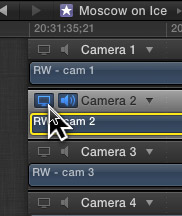 When you select the camera angle you want to color correct, ALSO check the "Video Monitor" checkbox in the top left corner, so that it goes blue. (Only one track at a time can be monitored and, by default, it is always the top track.)
This checkbox determines which angle you will see in the Viewer when the cursor moves out of the Multicam Editor. Whenever you need to see a different angle, simply change the monitor checkbox.
It's a simple trick, but one I've never written up before. And it makes color correction of multicam clips SO much easier.
EXTRA CREDIT
The speaker icon just to the right of the video monitor determines the audio monitor. This selects which track you'll hear prior to editing the multicam clip.
---
Bookmark the
permalink
.