How to Display High-Quality Full-Screen Video in Adobe Premiere Pro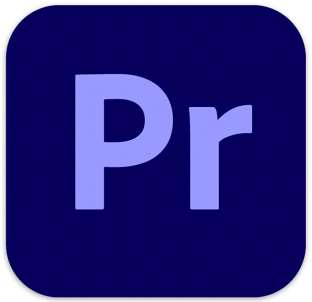 The easiest way to display any panel full-screen in Adobe Premiere is to select the panel you want to enlarge. This displays a blue box around the panel.
Then press the grave accent key (`). On US keyboards this is just below the ESC key. This enlarges the selected panel full screen.
I use this constantly to see a larger version of the timeline, Project panel or Program monitor. This works regardless of whether you have one or more monitors attached to your computer and regardless of the resolution or color accuracy of the monitor.
Press ESC or the grave key (`) to return to normal size.
A DETOUR TO SET COLOR SPACE
But, if you need to trust the colors that the monitor is showing, you need to set its resolution and color space, then feed it a video signal.
Recently, I purchased a BenQ PD2725 computer monitor to act as my color grading monitor. Why? Because it supports 100% of both sRGB and Rec. 709 color spaces. (Other monitors that meet these specs will also work.)  While I'm writing a review of this monitor separately, here's how to use it as a color grading monitor.
NOTE: DataColor makes color calibration tools to verify the accuracy of monitor colors. If absolute, precise accuracy is critical, look into their Spyder series of calibrators.
Open Apple menu > System Settings (System Preferences on older versions of the macOS).
Click Displays.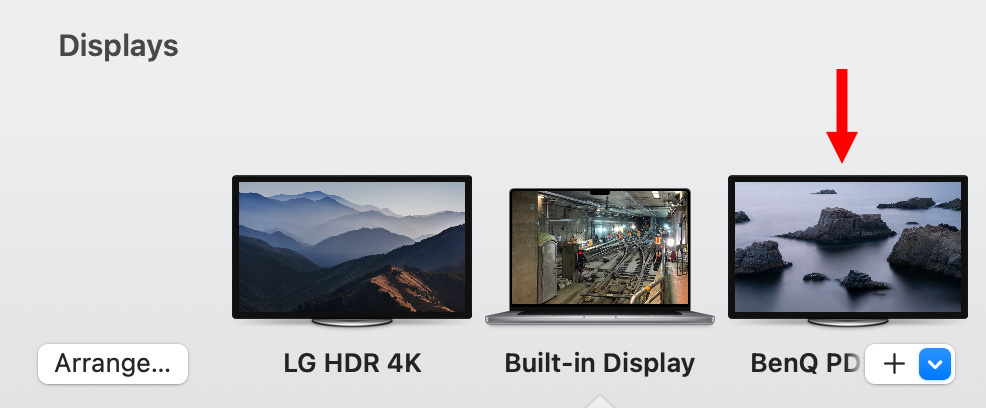 My system currently includes a 16″ MacBook Pro (M1 Pro SoC), plus LG HDR 4K and BenQ PD2725 monitors. For this tutorial, I'll switch the BenQ to be a video monitor.
NOTE: I haven't tested to see if this works when the monitor is connected via Thunderbolt. I know it works when the monitor is connected via HDMI or DisplayPort.
For best results, you need to change two settings:
Monitor resolution
Monitor color space
Monitor Resolution
If you principally edit vertical video, first rotate your monitor 90° by changing the Rotation setting. Most, but not all, computer monitors support physical rotation; their stands, however, may not.
This must be set to a video resolution that either equals or exceeds the frame size of the sequence. For example, I was editing a 1600 x 900 sequence. When I set the screen resolution to 1600 x 900 this did not work. But setting the monitor resolution to either 1920 x 1080 or 3840 x 2160 (both standard video frame sizes) works perfectly. (Setting it to 1280 x 720 did not work because it was smaller than the sequence video.)

To change the monitor resolution, click the monitor icon at the top of the Display setting to select it. Then, right-click any of the text icons and choose Show List.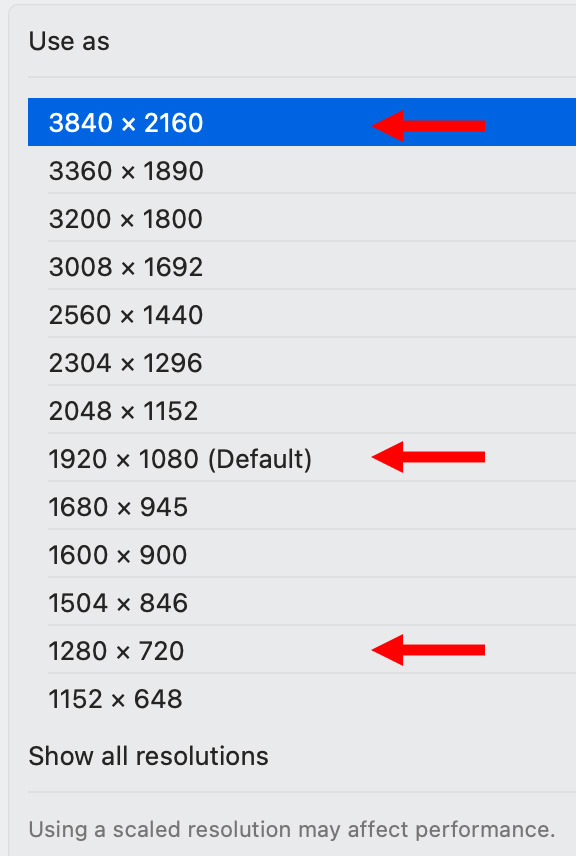 From the resolutions displayed, pick the one indicated by a red arrow that equals or exceeds the frame size of your sequence. This is important. Choosing a non-standard frame size disables this feature. For video, there are five important resolutions:
UHD: 3840 x 2160
1080: 1920 x 1080
1080 (vertical): 1080×1920
720: 1280 x 720
720 (vertical): 720 x 1280
NOTE: 5K monitors would also support True 4K (4096 x 2160) and 5K (5120 x 2700) resolutions.
Monitor color space.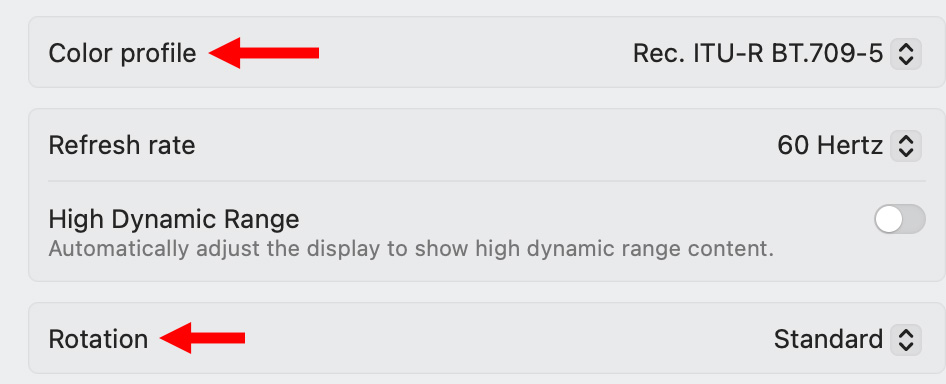 Click the Color Profile menu. Again, you are confronted with options.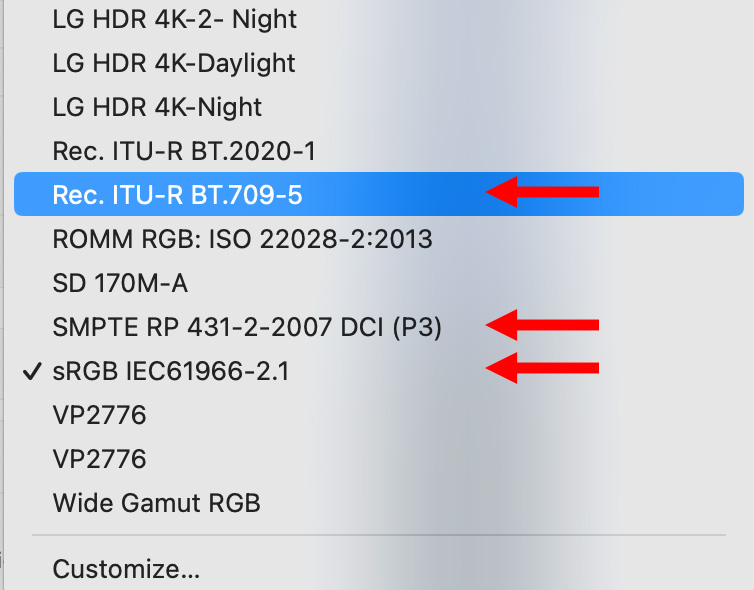 These options vary by monitor. However, while the wording may change, choose:
Rec. ITU-R BT.709-5 [Look for: Rec. 709]. Use this for editing SD & HD media.
SMPTE RP 431-2-2007 DCI (P3) [Look for: DCI P3]. Use this to match a built-in Mac screen; i.e. a MacBook Pro or iMac.
sRGB IEC61966-2.1 [Look for: sRGB]. Use this for photo editing and other Photoshop work.
Close the Display settings to automatically save your choices.
NOTE: After writing this I realized I was unclear on whether we need to set color space on both the Mac and the monitor, just the Mac, or just the monitor. I've contacted a couple of monitor vendors to learn more and will update this when I have more complete information.
DUAL MONITOR DISPLAY
My system currently has three monitors attached. (This technique works the same if you only have two monitors.)
MacBook Pro laptop
LG monitor #1 (displaying 1920 x 1080)
LG monitor #2 (displaying 3840 x 2160)
In my case, I want to put Premiere on LG monitor #1, display full-screen color-accurate video on LG monitor #2 and leave my laptop monitor free for other applications – like email, web browser or taking notes.
The benefit to this setup is that, provided my second monitor accurately displays Rec. 709 color space, I can use that second monitor for color grading and know that the colors I'm seeing on it are what the viewer will see.
Here's how.
Open Premiere.
Open Premiere Pro > Settings > Playback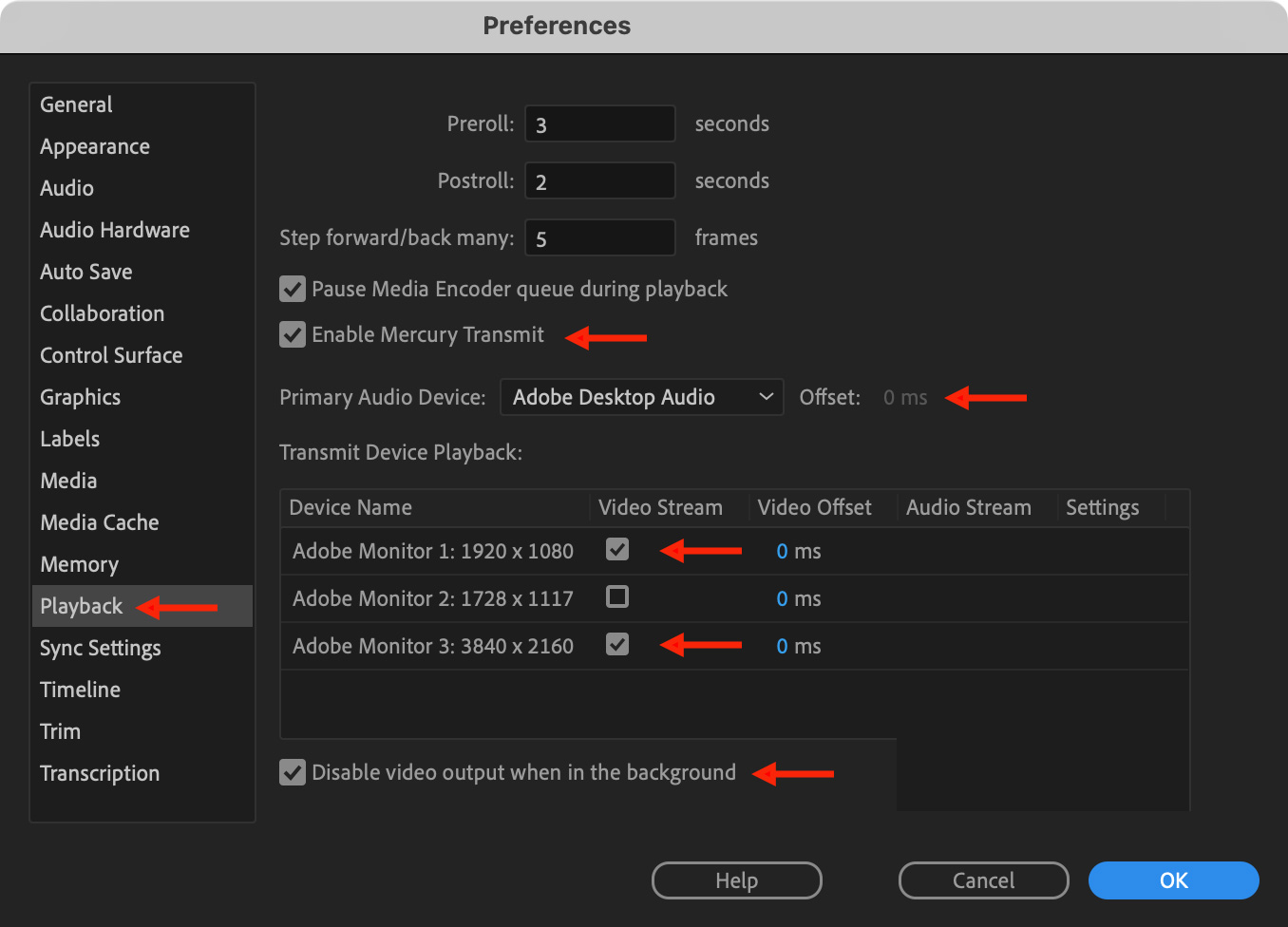 Enable Mercury Transmit (this tells Premiere to send video data to another monitor).
Specify the Primary audio device, not required but helpful.
Check the monitors you want to use for Premiere. I checked my two LG monitors. Note that one of them is displaying 4K. That's the one I want to use to display video.
Check whether you want the second monitor disabled when Premiere is running in the background.
Click OK.
I make sure the Premiere interface is displayed on the 1080 monitor. Then, the instant I click a clip in the Timeline or display it in the Source monitor, it will appear full-screen in the second monitor.
Use all the standard keyboard shortcuts to play your sequence, then watch it full-screen on the second monitor.
---
Bookmark the
permalink
.