Use Custom Overlays for Re-framing in Final Cut Pro X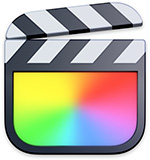 A new feature that appeared with FCP X 10.4.9 is custom overlays. These are non-exporting elements that can help with framing, or re-framing, in Final Cut.
CREATE THE OVERLAY
Custom Overlays are images that we create and, as such, there are none available in Final Cut until we create them.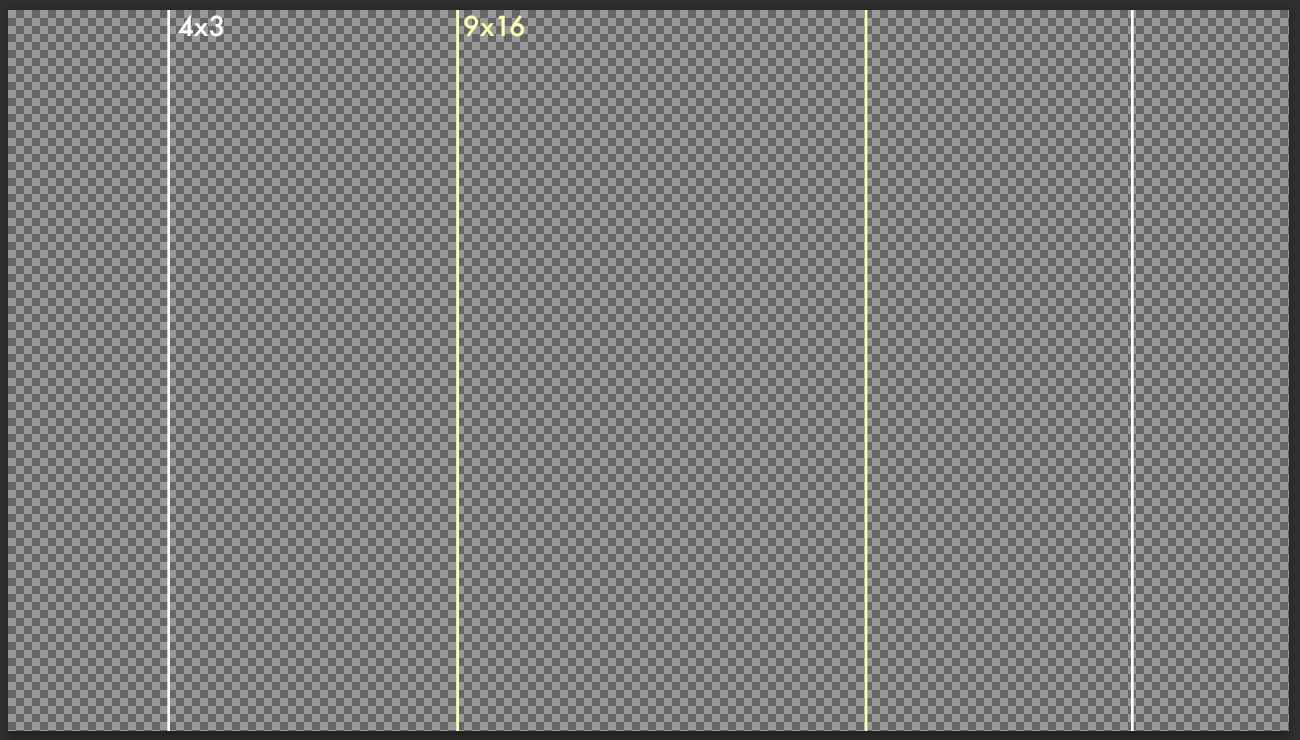 Here's an example. This is a PNG file with a transparent background that I created in Photoshop. (Other formats may work, but my preference is PNG.)
NOTE: The transparent background is important, as that is what allows the overlay to be superimposed over your video.
Notice that I'm including text to label the frame sizes as well as color to help differentiate between the 4×3 and 9×16 frames.
You can create any overlay content you want – keep in mind this will be superimposed over your video, so try to keep the overlay elements minimal so you can see the video below it.
Save the file to a location you can easily find later.
ADD AN OVERLAY TO FINAL CUT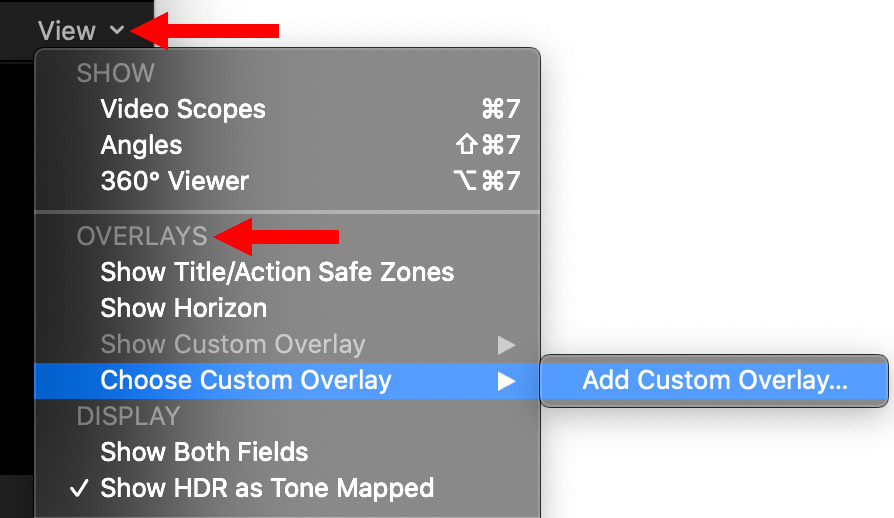 To add an overlay, go to the View menu in the top right corner of the Viewer and Choose Custom Overlay > Add Custom Overlay. (In this screen shot, I removed some of the View menu.)
Navigate to the PNG file you just created in Photoshop and select it.
The overlay is added to Final Cut's menu and the overlay file itself is moved to: [Home Directory] > Library > Application Support > ProApps > Custom Overlays.

Here, for instance, I added two different overlay files to FCP X. Whichever is checked is the active overlay.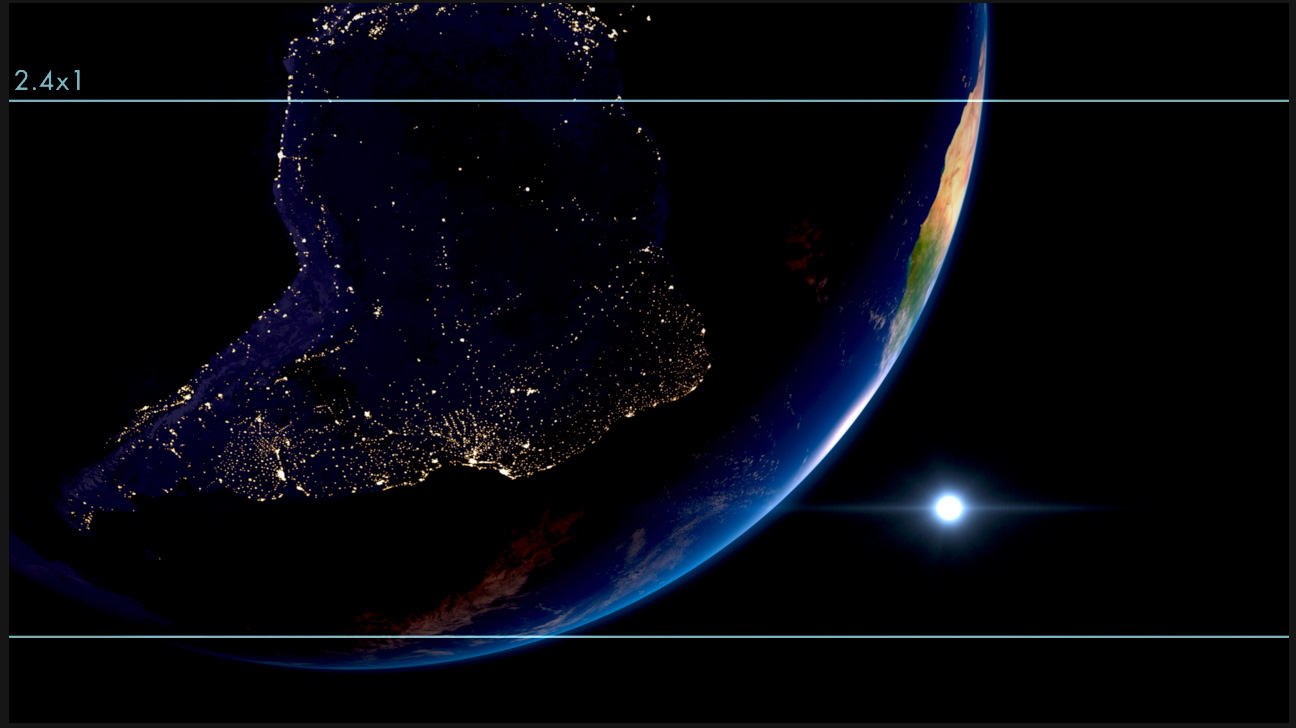 Here's one I use for anamorphic framing, set to 75% opacity.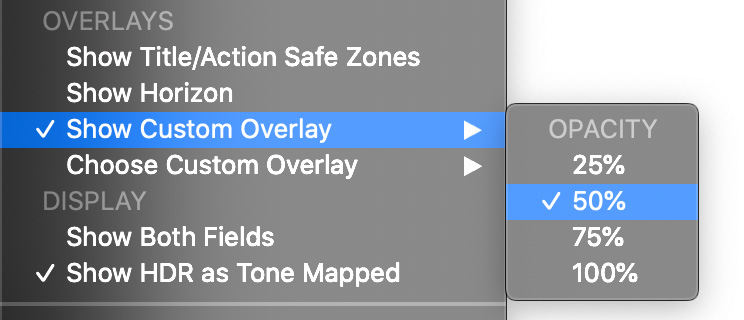 To enable, or disable, the display of overlays, check or uncheck Show Custom Overlay. (This menu is also used to determine the opacity of the overlays.)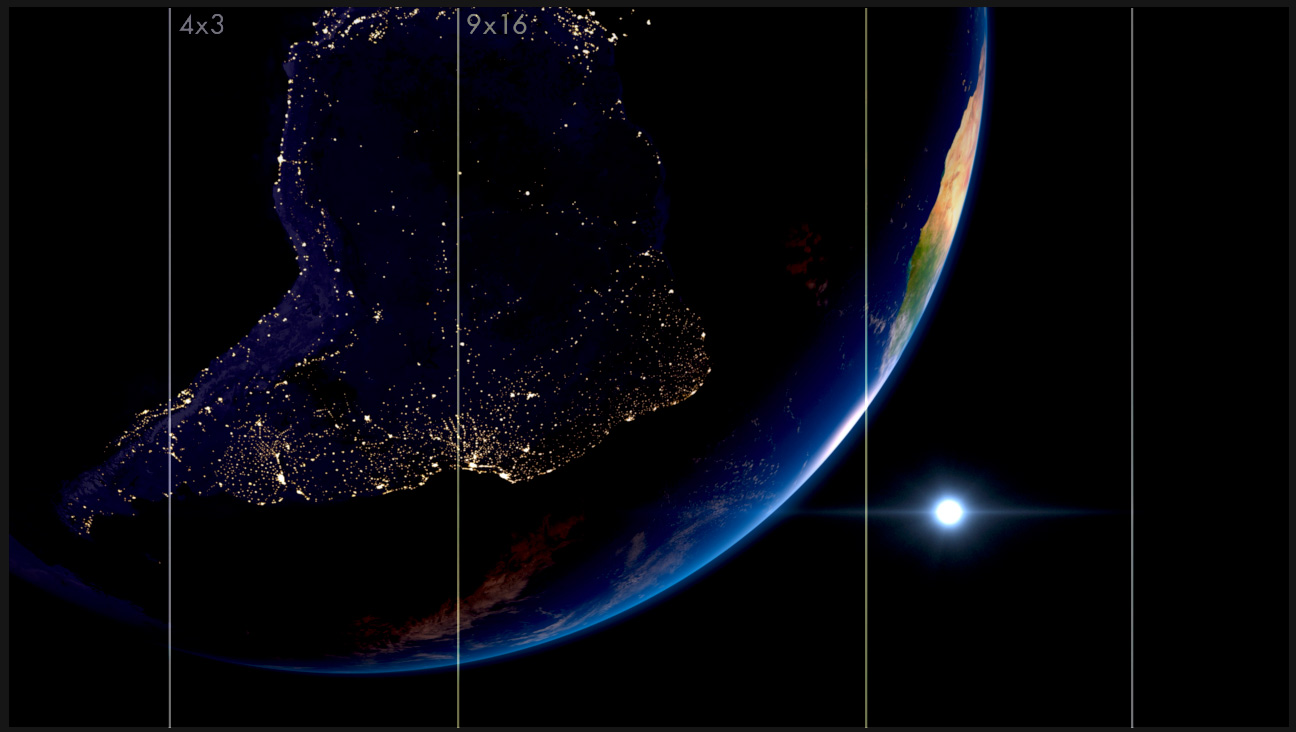 Here is the overlay we created in Photoshop, set to 50% opacity.
SUMMARY
Overlays can contain lines, text and other graphical elements. They could even fill the entire screen, but, then, how would you see the video below it?
Overlays do not export, nor do they show up on the video scopes. But, when they are on-screen, they can help a lot with figuring out the best way to frame a scene for multiple aspect ratios, or other compositional tasks.
---
Bookmark the
permalink
.