Solving Audio Sync Drift
Recently, I received a number of emails from folks with problems with audio that slowly drifts out of sync. These complaints cover Final Cut Pro X, Final Cut Pro 7, and Compressor.
Sync drift is generally caused by audio sample rates that don't properly match the audio settings in the sequence. Here's an article that explains this.
www.larryjordan.com/solving-problems-caused-by-audio-sample-rates-that-dont-match/
However, there are also problems with ProRes HQ and how it handles audio sync. Take a look at the two comments at the end of this article for more information:
www.larryjordan.com/fixing-out-of-syncsound-in-a-prores-file/
But in the cases this week, the audio sync problem was caused by trying to edit an MP3 audio file. MP3 is extremely compressed and often difficult to edit. I strongly recommend converting (or transcoding) any MP3 files that you need to edit into AIF before you start editing. This won't improve the quality, but it will simplify your editing. And the good news is that this conversion process is very fast and can be automated.
NOTE: Soundtrack Pro just hates editing MP3 audio – transcoding (or conversion) is almost mandatory.
Here's how to convert your MP3, or any other audio format, to AIF using Compressor. (I'm using Compressor 4 for this example, but the process is the same using Compressor 3.x.)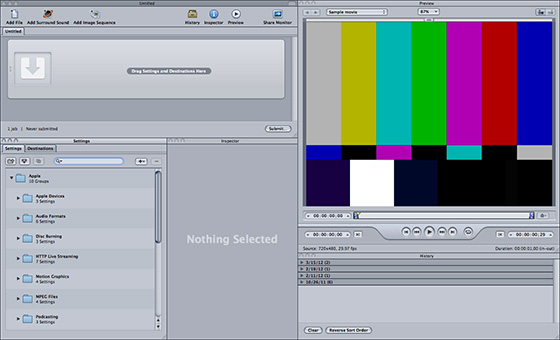 1. Open Compressor.

2. Click Add File in the top left corner and import the MP3 file(s) you want to convert.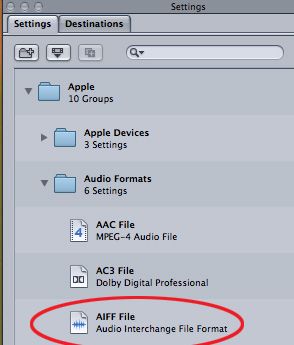 3. Click the Settings tab, twirl down the Apple folder, twirl down Audio Formats and look for the AIFF File setting.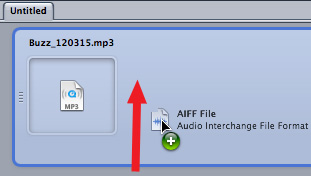 4. Drag the AIFF File setting on top of the task that contains your audio file in the top window.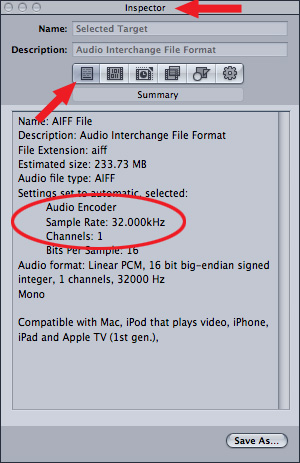 5. Look in the Inspector and make SURE the sample rate is set to 48.000 kHz. This is the default setting for recording audio with video. If the sample rate is correct, go to Step 10. If it isn't, go to Step 6.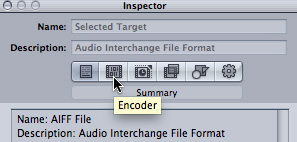 6. Click the Encoder button at the top of the Inspector.

7. If the automatic sensor button is dark, as it is here, click it to turn it off.

8. If the clip is mono, set the Channel layout to Mono. If it is Stereo, set Channel layout to Stereo.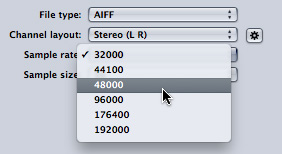 9. Change the Sample rate popup menu to 48000.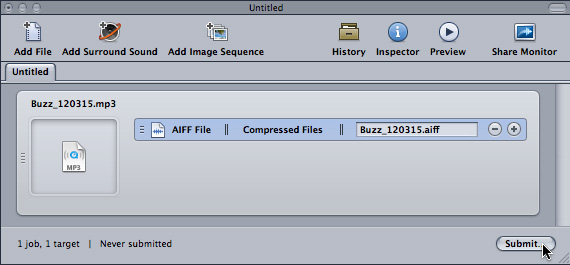 10. In the task bar at the top, make sure the Destination (middle column) is set and you've given the compressed file a name (right column). Then, click Submit in the lower-right corner.

11. In the next dialog, click Submit and your file is sent off to be converted. Converting audio files is VERY fast, so even if you have a lot of MP3 files to convert, you won't be wasting a lot of time.
NOTE: Once you have a setting you like, turn it into a Compressor droplet which automates the entire audio transcoding workflow. This article explains how. www.larryjordan.com/technique-creating-a-compressor-droplet/
---
Bookmark the
permalink
.