Apple Updates Final Cut Pro to Version 10.5.2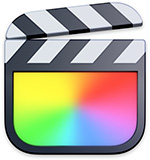 This morning (March 4, 2021), Apple released Final Cut Pro 10.5.2, along with updates to Motion (5.5.1) and Compressor (10.5.2). These releases are, essentially, bug fixes.
FINAL CUT PRO 10.5.2
Here are the Apple Release Notes:
Adds support for a new Universal RED plugin enabling native RED RAW decoding and playback on both Apple silicon and Intel-based Mac computers.
Improves stability when playing back H.264 video files with corrupt data.
Fixes an issue in which text could disappear when double clicking a value field in the inspector.
Fixes an issue in which FCPXML files created from drop frame projects would import as non drop frame.
Fixes an issue that may prevent custom Motion titles stored inside the library from appearing in the Titles browser.
Improves stability when choosing the DPP/Editorial Services metadata view with MXF media.
Improves stability when using AirPlay with Final Cut Pro on a Mac computer with Apple silicon.
The folks at Digital Anarchy added the following notes to the upgrade:
Final Cut Pro 10.5.x uses a new version of the FCP plugin architecture (FXPlug4). The older plugin versions (FxPlug3) still works for now but these new builds of the plugins will be required at some point. They also add support for Apple's Metal (replacement for OpenCL), the Apple Silicon machines and Big Sur (FxPlug4 and FxPlug3).
10.5.2 adds some bug fixes for FxPlug4, so we highly recommend you upgrade to this version if you're using 10.5 or higher. 10.4.x will still use FxPlug3 plugins but you still want to download these releases as they add Big Sur support.
MOTION 5.5.1
Updates:
Fixes an issue in which Motion would crash when undoing a reset of animated color curves.
Fixes an issue in which Motion might render a black canvas after reseting keyframed Color Wheels.
COMPRESSOR 4.5.2
Updates:
Fixes an issue with an incorrect preview image when using the Timecode Generator effect.
Adds a new icon for captions in the batch area.
---
Bookmark the
permalink
.