Adobe Makes Major Color Changes for HDR Media in Premiere Pro
Holy Smokes! What a mess.
Rob asked an interesting question that opened a rat's nest of issues:
"I volunteered to put together some videos of my sister in law's wedding after her videographer dropped out. There is footage from a Canon mirrorless camera as well as footage from multiple iPhones. When I tried to put all the footage in a sequence in Premiere 2023, though, I ran into all sorts of color problems because the iPhone footage is HDR.
"I'm not looking for perfection, all I am trying to do is make each camera footage have roughly the same color / tone. I made a 709 sequence, made all the footage in the 709 color space, and used the color match operation in the Lumetri panel on the HDR footage. In spite of that, the HDR footage still looks pretty different—desaturated and with weird tints. When I try to then tweak the "matched" HDR footage, it still doesn't look right."
I thought the answer to Rob's question would be fairly straightforward. What I found, instead, is a highly confusing morass of new settings and inconsistent results.
Why? Because in the 2022 releases to Premiere Pro, Adobe made MAJOR changes to how color space is set for both sequences and clips. Integrating HDR media into Premiere is not easy. It should be, but it isn't. This hopefully will get better in the future, but for now, it's a mess, with multiple setting changes, inconsistent software behavior and inconsistent results.
This is further complicated by all modern iPhones shooting HDR video by default, making it very difficult to integrate iPhone video into HD projects using video shot by traditional video cameras and maintain consistent colors between clips.
BACKGROUND
HDR (High Dynamic Range) video has brighter highlights and richer colors than SDR (Standard Dynamic Range) video. It is easier to add HDR to an SDR timeline than the reverse, because it is easier to throw away highlights or color that you don't need than to invent highlights and colors that aren't there in the first place.
Complicating matters, HDR is the default video recording setting on recent iPhones, which means that when you integrate traditional video, shot using Rec. 709, with iPhone video which is shot using HDR, you will have problems. Just as Rob discovered.
Rec. 709 is the color space used for "normal" HD projects. It is the color space of SDR.
Rec. 2020 / 2100 is the color space used for HDR projects. (Rec. 2020 defines how monitors display color. Rec. 2100 includes Rec. 2020 and defines HDR color in general.)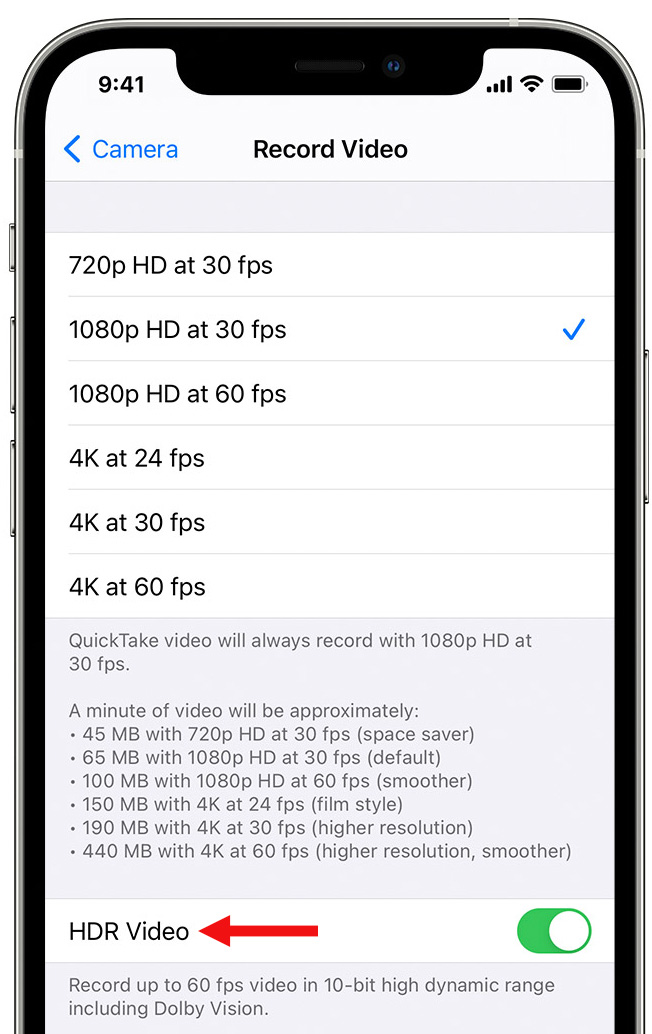 NOTE: As I was writing this article, I discovered that my iPhone is too old to shoot HDR video. So, for this article, I'll work with other HDR material. To disable HDR recording on an iPhone:
Open Settings on the iPhone
Tap Camera.
Tap Record Video.
Tap HDR Video. It's turned on by default, slide to turn off.
MODIFY PREFERENCES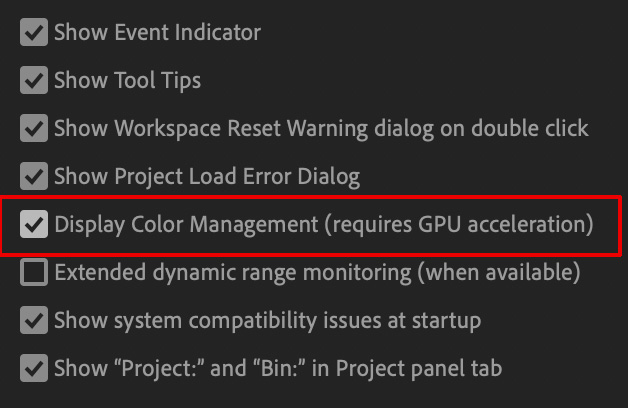 Open the Premiere Pro > Preferences > General panel and enable Display Color Management. This setting displays colors correctly on P3 and sRGB computer displays (i.e. Macs). (Windows users will find Preferences under the Edit menu.)
NOTE: Here's a link that describes how Adobe maps video colors to a P3 Mac monitor, which is the default setting for all current Macs.
MODIFY SEQUENCE SETTINGS
There are now color management settings for sequences and clips in Premiere. Complicating matters, Premiere may or may not recognize existing clip and sequence settings and it may or may not import clips correctly.
For these reasons, it is a good habit to get into checking color settings before editing a project.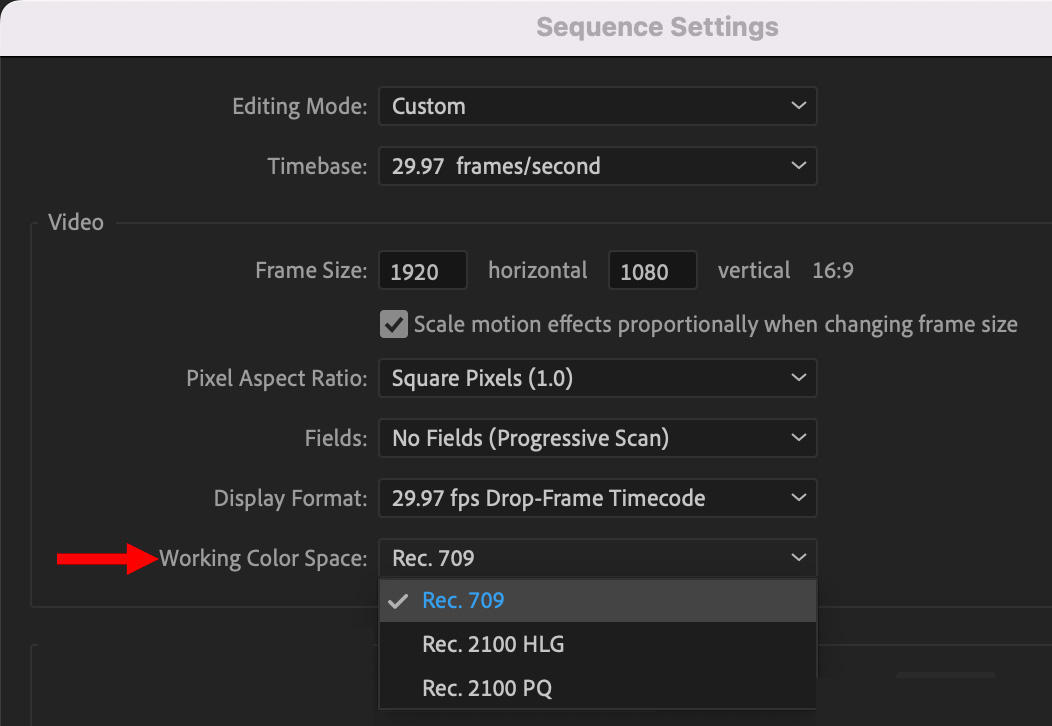 Select a sequence in the Project panel in Premiere.
Choose Sequence > Settings
Make sure Working Color Space is set to Rec. 709 (for an SDR project)
Click OK.
MODIFY CLIP COLOR SETTINGS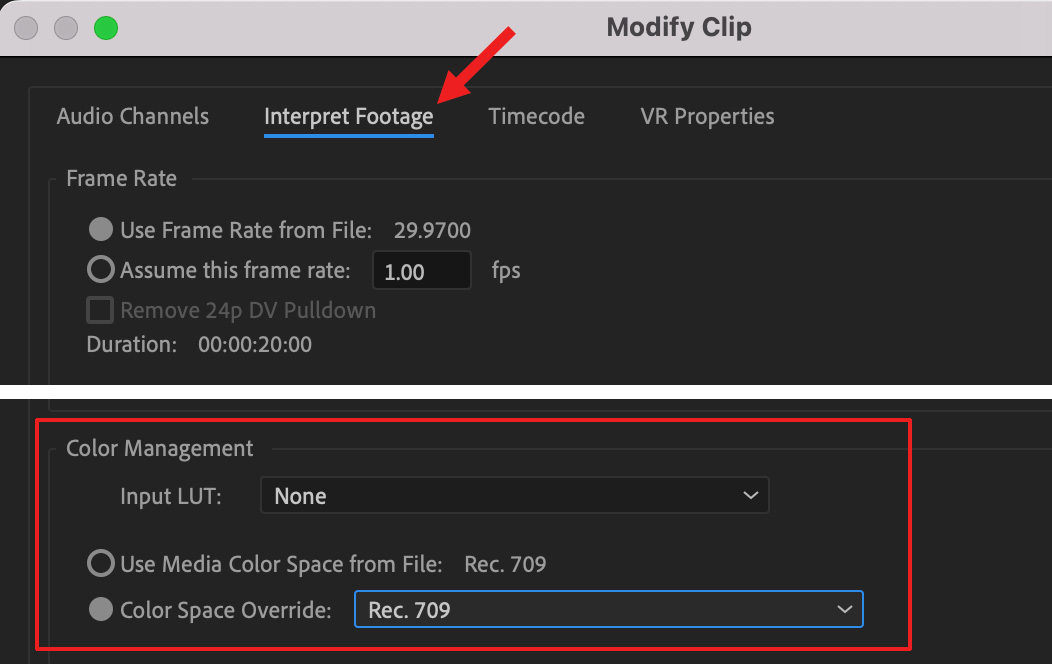 In the Project panel, select the HDR clips you want to integrate into the timeline.
Right-click them and choose Modify > Interpret Footage
If you have a camera LUT for the footage you are using, apply that using Color Space Override.
Otherwise, at the bottom, change Color Management to Color Space Override > Rec. 709. (This is the currently preferred setting for all iPhone HDR video.)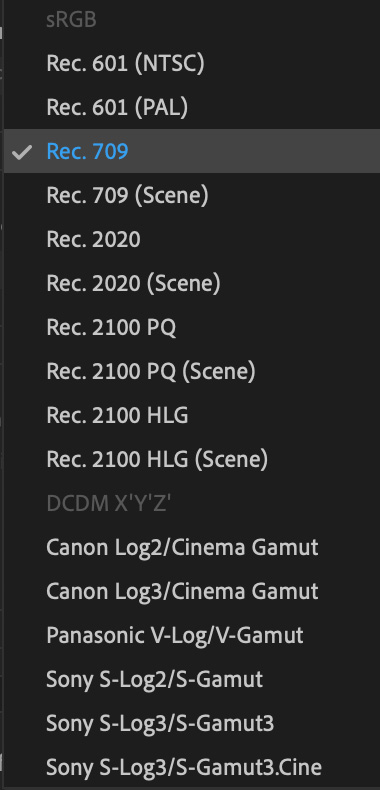 NOTE: However, there are many other choices to pick from. Feel free to experiment with different settings to see which looks best for your clips. I was not able to get consistent results for my HDR clips.
MODIFY SCOPE SETTINGS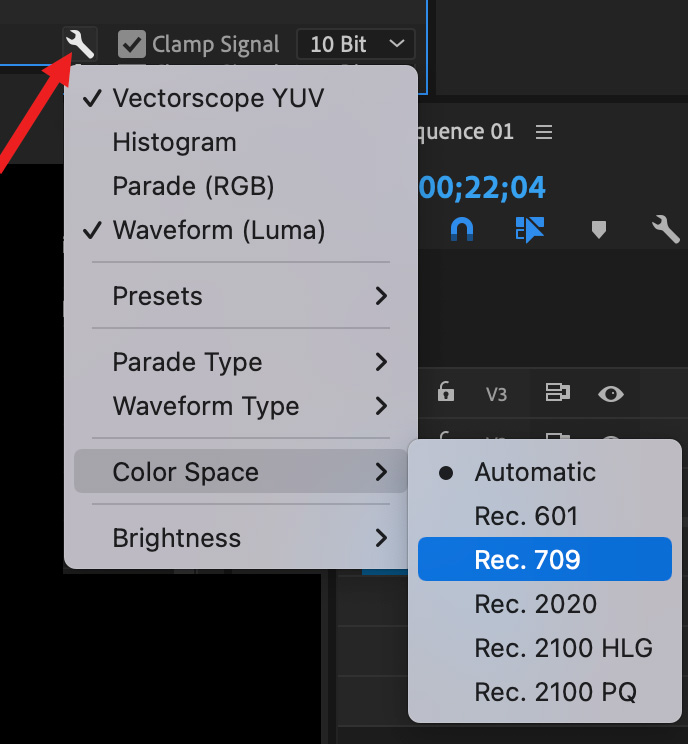 There are also color management settings for the Lumetri video scopes.
In the bottom right corner of the Lumetri scopes, click the Wrench icon
Go to Color Space and choose the color space settings for your project. Most often, this will be Rec. 709.
However, for iPhone media, changing this setting to Rec. 2020 may yield better results.
NOTE: It would be useful for Adobe to include a setting for iPhone HDR media, given the default HDR recording setting for all iPhone video.
LEARN MORE
Color management for HDR media in Premiere Pro is rapidly changing. For now, it's a mess with too many settings that need to be manually changed, color results that vary inconsistently, and no clear instructions on working with iPhone HDR media.
Here is an outstanding blog from Neil Haugen that describes these color changes in more detail. If you are having problems getting colors to look right between SDR and HDR clips, this blog will help.
Here's another excellent blog, also from Neil Haugen explaining how to get your monitor to properly display HDR media.
---
Bookmark the
permalink
.