346: Working with Still Images in Apple Final Cut Pro
346: Working with Still Images in Apple Final Cut Pro
Still photographs, slides and digital images are a common component in many video projects. In this session, Larry Jordan takes you step-by-step from scans to image prep to import and animation in Apple Final Cut Pro and Motion.
- OR -
Presented: March 8, 2023
Several times each month, Larry Jordan presents a live, on-line, video webinar presenting issues related to video editing and post-production. For a list of upcoming webinars, click here.
Duration: 58:01
Download file size: 1.4 GB (ZIP file)
Format: QuickTime movie (HD: 1600 x 900)
DOWNLOAD NOTE: After you complete the store checkout process, you will see a Download Link on the Order Confirmation page. This link allows you to download the product to your computer. You are given four attempts over ten days to download the file. Since this title is downloaded, a CD/DVD will not be shipped.
SESSION DESCRIPTION
Still photographs, slides and digital images are a common component in many video projects. From digital photos to maps to old photos, editors often need to bring still images to life.
In this session, Larry Jordan starts at the beginning with an old print photo. Then, step-by-step, he takes you through the entire process from scanning to prepping images, improving resolution, then animating them in Final Cut Pro and Apple Motion. Specific topics include:
Still image workflow
Use SilverFast 9 to get better scans of old photos or slides
Prep scanned or digital images in Photoshop
Improve image resolution using TopazLabs' Photo.AI
Animate stills in Final Cut Pro
Animate stills and objects in Apple Motion
Whether you are new to scanning or an old hand with still images, Larry's tips and workflow will help make all your images look better.
AUDIENCE LEVEL
This is an intermediate-level session. Some knowledge of Final Cut Pro will be helpful in understanding this material.
CHAPTER MARKERS
To help you quickly find the information you need, we included chapter markers in the QuickTime download  to simplify navigation. Click here to learn how to display them in your download.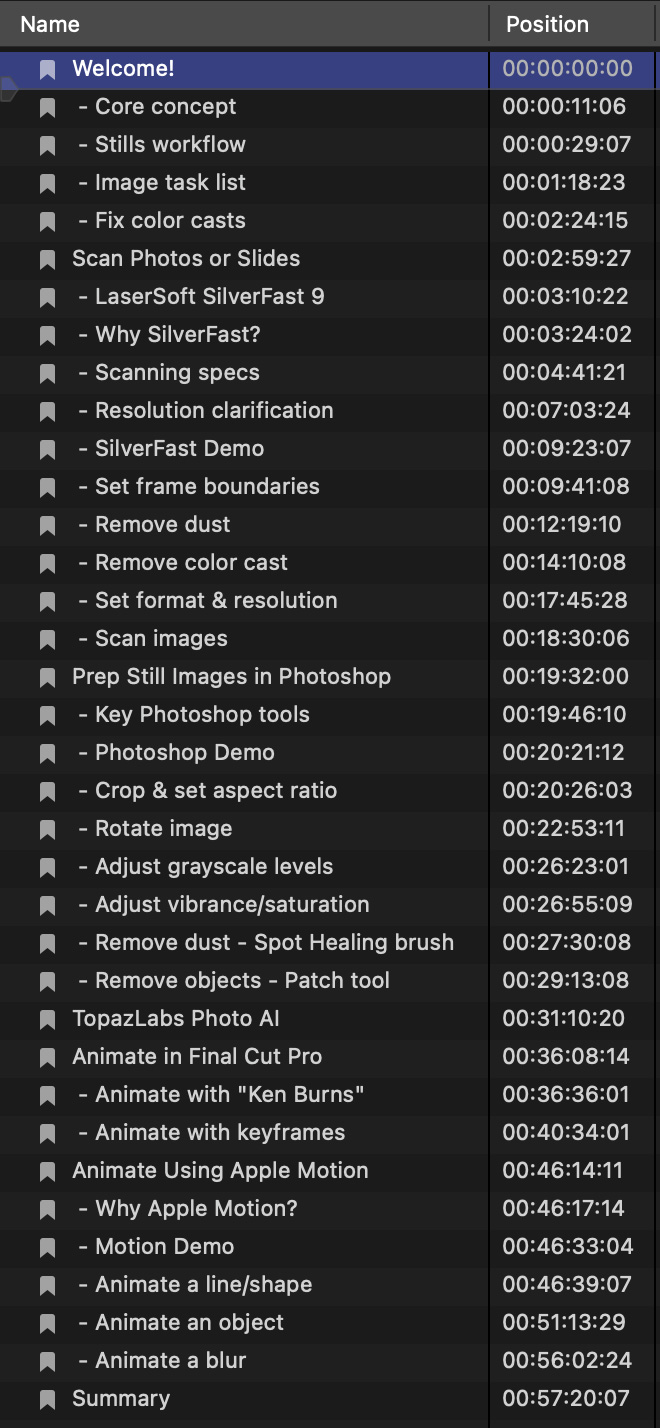 Welcome!
– Core concept
– Stills workflow
– Image task list
– Fix color casts
Scan Photos or Slides
– LaserSoft SilverFast 9
– Why SilverFast?
– Scanning specs
– Resolution clarification
– SilverFast Demo
– Set frame boundaries
– Remove dust
– Remove color cast
– Set format & resolution
– Scan images
Prep Still Images in Photoshop
– Key Photoshop tools
– Photoshop Demo
– Crop & set aspect ratio
– Rotate image
– Adjust grayscale levels
– Adjust vibrance saturation
– Remove dust with the Spot Healing brush
– Remove objects with the Patch tool
TopazLabs Photo.Al
Animate in Final Cut Pro
– Animate with "Ken Burns"
– Animate with keyframes
Animate in Apple Motion
– Why Apple Motion?
– Motion Demo
– Animate a line/shape
– Animate an object
– Animate a blur
Summary