340: Ask Larry Anything!
340: Ask Larry Anything!
Larry Jordan's favorite session returns with a detailed look at optimizing storage performance, along with tons of questions on computer hardware, software updates, Final Cut Pro and Premiere Pro.
- OR -
Presented: Sept. 22, 2022
Several times each month, Larry Jordan presents a live, on-line, video webinar presenting issues related to video editing and post-production. For a list of upcoming webinars, click here.
Duration: 57:05
Download file size: 1.5 GB (ZIP file)
Format: QuickTime movie (HD: 1600 x 900)
DOWNLOAD NOTE: After you complete the store checkout process, you will see a Download Link on the Order Confirmation page. This link allows you to download the product to your computer. You are given four attempts over ten days to download the file. Since this title is downloaded, a CD/DVD will not be shipped.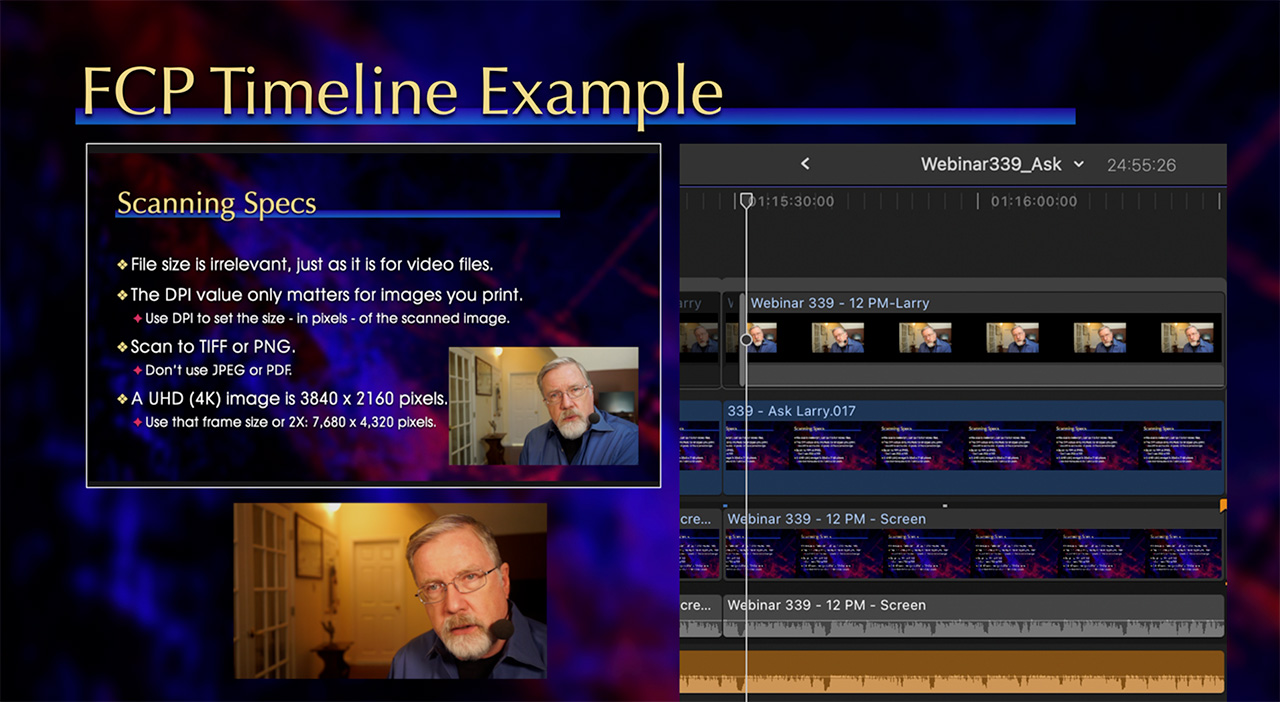 SESSION DESCRIPTION
One of our favorite – and most wide-ranging – sessions returns with "Ask Larry Anything!" Presented by Larry Jordan, this is a free-form conversation based on questions submitted by viewers.
This session answers more than two dozen questions covering:
Computer hardware
Software upgrades and issues
Apple Final Cut Pro
Adobe Premiere Pro
Video Compression
This also includes a detailed discussion on planning and optimizing storage for maximum performance.
AUDIENCE LEVEL
These questions span a range from beginner to intermediate. Subjects change quickly, so if you aren't interested in the current question, another will be along in a few minutes.
CHAPTER MARKERS
To help you quickly find the information you need, we included chapter markers in the QuickTime download  to simplify navigation. Click here to learn how to display them in your download.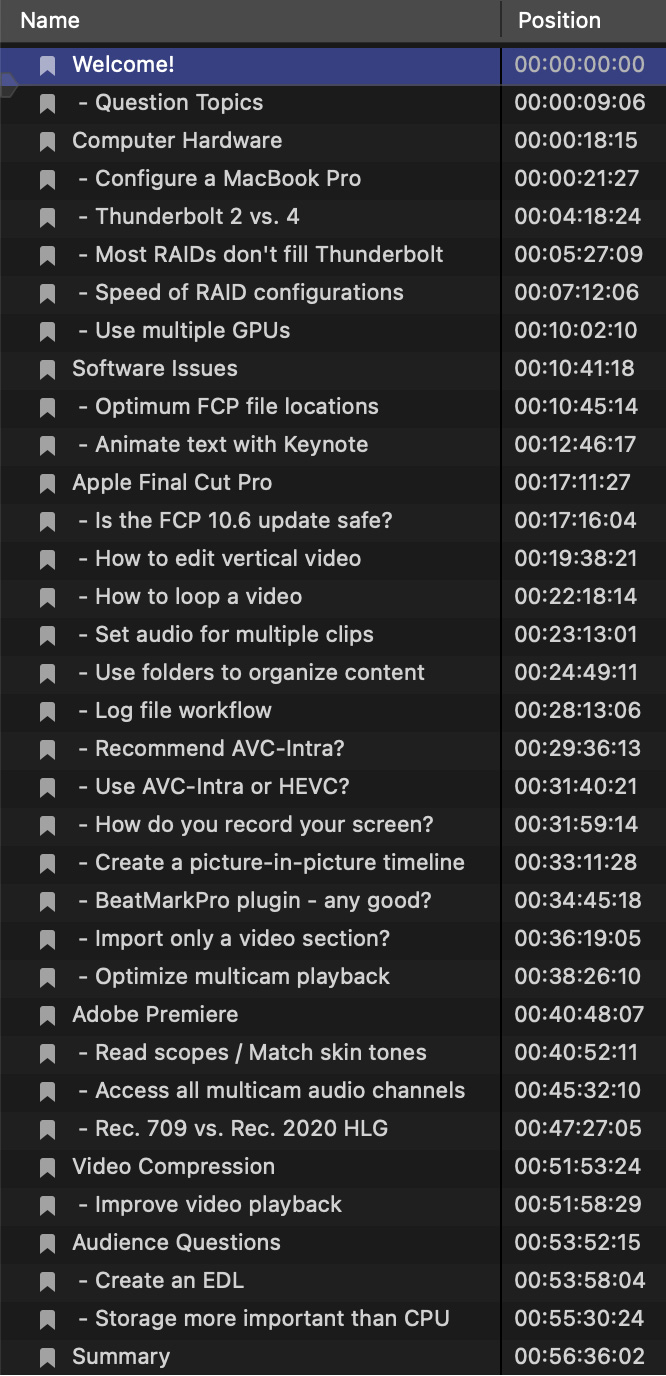 CONTENT OUTLINE
Welcome!
– Question Topics
Computer Hardware
– Configure a MacBook Pro
– Thunderbolt 2 vs 4
– Most RAIDs don't fill Thunderbolt
– Speed of RAID configurations
– Use multiple GPUs
Software Issues
– Optimum FCP file locations
– Animate text with Keynote
Apple Final Cut Pro
– Is the FCP 10.6 update safe?
– How to edit vertical video
– How to loop a video
– Set audio for multiple clips
– Use folders to organize content
– Log file workflow
– Recommend AVC-Intra?
– Use AVD-Intra or HEVC?
– How do you record your screen?
– Create a picture-in-picture timeline
– BeatMark Pro plugin – any good?
– Import only a section of video
– Optimize multicam playback
Adobe Premiere Pro
– Read scopes / Match skin tones
– Access all multicam audio channels
– Rec. 709 vs. Rec. 2020 HLG
Video Compression
– Improve video playback
Audience Questions
– Create an EDL
– Storage more important than CPU
Summary