326: Explore the Color Page in DaVinci Resolve 17
326: Explore the Color Page in DaVinci Resolve 17
Our look at DaVinci Resolve 17 continues with an overview of the Color page for color grading. Join Larry Jordan as he illustrates key features in the Color page, and how to round-trip projects between Premiere or Final Cut and Resolve.
- OR -
Presented: Dec. 15, 2021
Several times each month, Larry Jordan presents a live, online webinar discussing issues related to video editing and post-production. For a list of upcoming webinars, click here.
Duration: 55:14
Download file size: 851.7 MB (ZIP file)
Format: QuickTime movie (HD: 1440 x 810)
DOWNLOAD NOTE: After you complete the store checkout process, you will see a Download Link on the Order Confirmation page. This link allows you to download the product to your computer. You are given four attempts over ten days to download the file. Since this title is downloaded as a QuickTime movie, a CD/DVD will not be shipped.
SESSION DESCRIPTION
Our look at DaVinci Resolve 17 continues with an overview of the Color page for color grading. It is no exaggeration to say that color grading in DaVinci Resolve is considered state-of-the-art. But, both Premiere and Final Cut have excellent color grading tools, what makes Resolve better? The answer is the depth and power of its tools.
In this session, Larry Jordan covers:
Using XML to transfer projects from Premiere Pro or Final Cut Pro to Resolve
The Color page interface
The video scopes in Resolve
Using the color wheels to make primary color changes
Using selection tools to make secondary color changes
Moving graded projects from Resolve back to Premiere and FCP
If you want to boost your color grading skills, or are simply curious about what Resolve can do, this webinar is for you.
AUDIENCE LEVEL
This is an intermediate-level session. While no knowledge of Resolve is necessary, it will help if you know something about video editing or color grading.
CHAPTER MARKERS
To help you quickly find the information you need, we include chapter markers in the QuickTime download. Click here to learn how to display them in your download.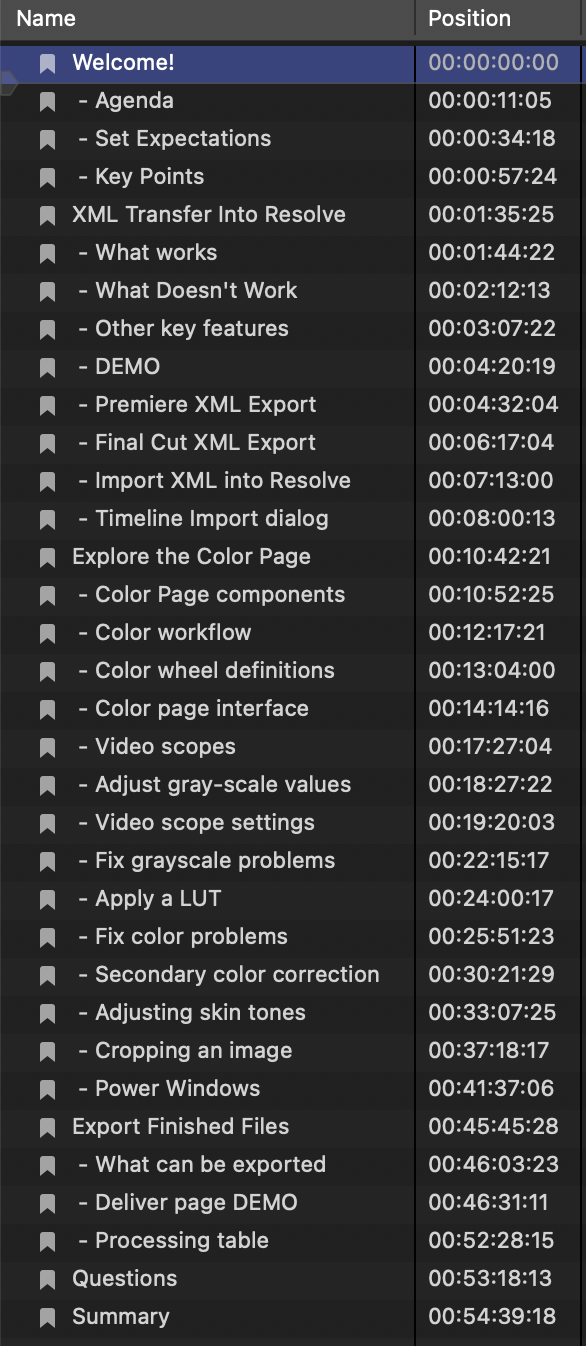 Welcome!
– Agenda
– Set Expectations
– Key Points
XML Transfer Into Resolve
– What works
– What Doesn't Work
– Other key features
– DEMO
– Premiere XML Export
– Final Cut XML Export
– Import XML into Resolve
– Timeline Import dialog
Explore the Color Page
– Color Page components
– Color workflow
– Color wheel definitions
– Color page interface
– Video scopes
– Adjust gray-scale values
– Video scope settings
– Fix grayscale problems
– Apply a LUT
– Fix color problems
– Secondary color correction
– Adjusting skin tones
– Cropping an image
– Power Windows
Export Finished Files
– What can be exported
– Deliver page DEMO
– Processing table
Questions
Summary