236: New Features in Adobe Software (2018)
236: New Features in Adobe Software (2018)
Last week, Adobe released updates to all their software. This week, Larry Jordan shows you how they work.
- OR -
Presented: Oct. 25, 2017
Several times each month, Larry Jordan presents a live, on-line, video training webinar discussing issues related to video editing and post-production. For a list of upcoming webinars, click here.
Duration: 39:16
Download file size: 421 MB (Downloaded ZIP file)
Format: QuickTime movie (HD: 1280 x 720)
DOWNLOAD NOTE: After you complete the store checkout process, you will see a Download Link on the Order Confirmation page. This link allows you to download the product to your computer. You are given four attempts to download the file. Since this title is downloaded, a CD/DVD will not be shipped to you.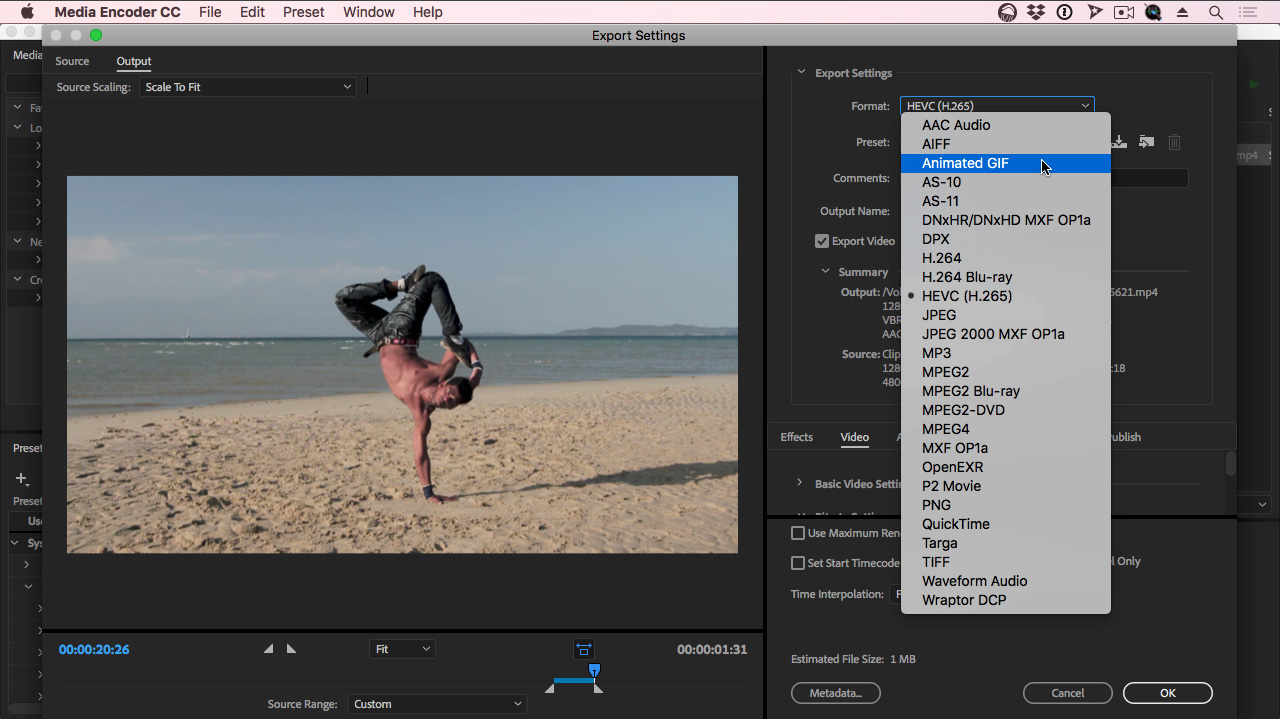 (Click to view a larger image.)
COURSE DESCRIPTION
NOTE: This session does not cover Team Projects. To learn how these work, click here.
Last week, Adobe released updates to all their software. This week, Larry Jordan takes a look at the key highlights and shows you how they work. This includes new features in:
Adobe Premiere Pro
Collaboration – Shared Projects
New motion graphic templates
Changes to the Essential Graphics panel
360/VR
Adobe Media Encoder
HEVC encoding
Animated GIFs
Adobe Audition
Improved cross-fades
Auto-ducking of music cues
Adobe added a variety of new features in this update. This session shows you how to put them to use.
AUDIENCE LEVEL
This intermediate-level session is designed for people who already have some knowledge of Adobe Premiere and want to learn more about the new features. This session is delivered as a QuickTime movie, so you don't need to own the software to watch this.
CHAPTER MARKERS
To help you quickly find the information you need, we include chapter markers in the QuickTime download  to simplify navigation. Click here to learn how to display them in your download.
CONTENT OUTLINE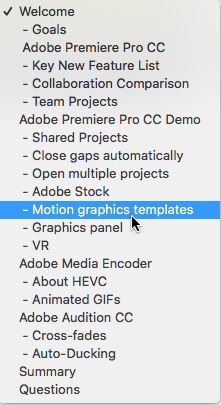 Welcome
  – Goals
Adobe Premiere Pro CC 2018
  – Key New Features List
  – Collaboration Comparison
  – Team vs. Shared Projects
  – Shared Projects
  – Close gaps automatically
  – Adobe Stock
  – Motion Graphics Templates
  – Graphics panel
  – 360/VR
Adobe Media Encoder 2018
  – HEVC (H.265) compression
  – Create animated GIFs
Adobe Audition CC 2018
  – Cross-fades
  – Auto-ducking
Summary
Audience Questions