225: Create Simple Effects in Final Cut Pro X
225: Create Simple Effects in Final Cut Pro X
This is an introductory webinar showcasing how to create simple effects in Apple Final Cut Pro X. Hosted by Larry Jordan, this covers transitions, titles, generators, retiming, the Inspector and Effects Browser.
- OR -
Presented: June 7, 2017
Several times each month, Larry Jordan presents a live, on-line, video training webinar discussing issues related to video editing and post-production. For a list of upcoming webinars, click here.
Duration: 58:15
Download file size: 707 MB (Downloaded as a ZIP file)
Format: QuickTime movie (HD: 1280 x 720)
DOWNLOAD NOTE: After you complete the store checkout process, you will see a Download Link on the Order Confirmation page. This link allows you to download the product to your computer. You are given four attempts to download the file. Since this title is downloaded, a CD/DVD will not be shipped to you.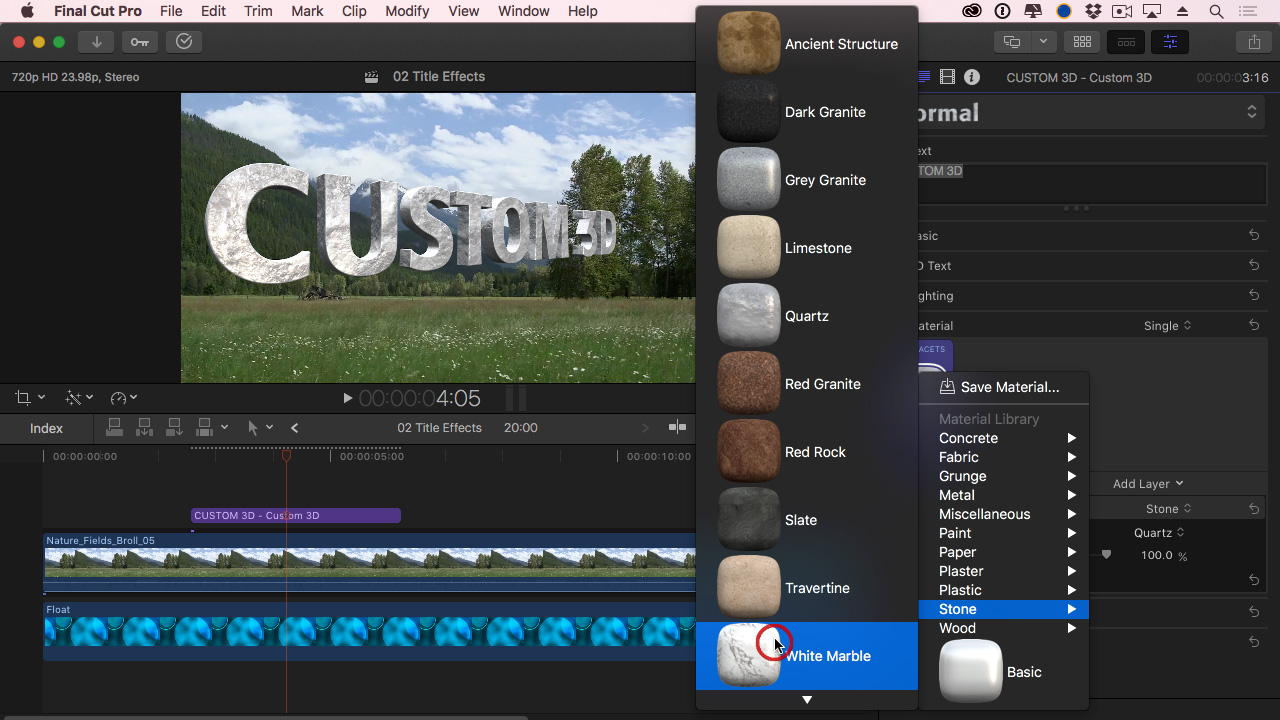 (Click to view a larger image.)
COURSE DESCRIPTION
Last week, we looked at how to create simple effects in Adobe Premiere Pro CC. This week, we do the same thing for Apple Final Cut Pro X.
Join host, Larry Jordan, as he illustrates how to create simple effects from the six different categories of effects in Final Cut Pro X:
Transitions
Generators
Titles and Text
Clip speed changes
Inspector effects
The Effects Browser
This webinar starts at the beginning and illustrates effects from all of these categories. Along the way, we also cover:
2D and 3D text formatting
Keyframes
Masks
If you are new to Final Cut, or have a friend that's new to the software, or if you just want a refresher course on the basics, this session is for you. It covers all the basics and gives you a solid understanding of how everything works.
AUDIENCE LEVEL
This is a beginning-level webinar. While some knowledge of Apple Final Cut Pro X will be helpful, my intent is to enable even new editors can keep up. This session is delivered as a QuickTime movie, so you don't need to own the software to watch this.
CHAPTER MARKERS
To help you quickly find the information you need, we include chapter markers in the QuickTime download  to simplify navigation. Click here to learn how to display them in your download.

CONTENT OUTLINE
Welcome
Concepts & Definitions

– What is an effect?
– Definitions

Transition Effects

– What transitions "mean"
– Transition basics
– Trim under a transition
– Duration preferences
– Apply multiple transitions
– The Transition Browser
– Create a default transition
– Complex transition
– Modify transition settings

Title Effects

– How to time titles
– Title basics
– The Inspector
– Formatting 2D text
– Animating text
– Formatting 3D text
– Rotating 3D text

Generators

– Backgrounds
– Shapes
– Timecode & other counters
– Placeholders
– Solids
– Textures & Blend modes

Clip Speed Effects

– 6 types of effects
– Conform clip speed
– Create a still frame
– Create a hold frame
– Constant speed changes
– Variable speed changes

Inspector Effects

– Thoughts on resizing clips
– Spatial Conform
– Transform settings
– Keyframes

The Effects Browser

– Effects overview
– The Effects Browser
– Effect "stacking order"
– Apply a drop shadow
– Use effects in groups
– Apply a shape mask
– Delete an effect

Masks

– When to use masks
– Create a shape mask
– Use the Draw Mask effect

Summary