161: Record Great Audio
161: Record Great Audio
How do you record great sound? What mics do you use and where do you put them? What recording levels should you set? Join host, Larry Jordan, as he combines actors with different mics and illustrates what sounds great, and what doesn't, and how to record it in this highly informative webinar.
- OR -
Presented: June 3, 2015
Each week, Larry Jordan presents a live, on-line, video training webinar discussing issues related to video editing and post-production. For a list of upcoming webinars, click here.
Duration: 52:16
File sizes: 824 MB and 414 MB (ZIP files)
Format: QuickTime movie (HD: 1280 x 720)
DOWNLOAD NOTE: After you complete the store checkout process, you will see a Download Link on the Order Confirmation page. This link allows you to download the product to your computer. You are given four attempts and 10 days to download the file. Since this title is downloaded, a CD/DVD will not be mailed to you.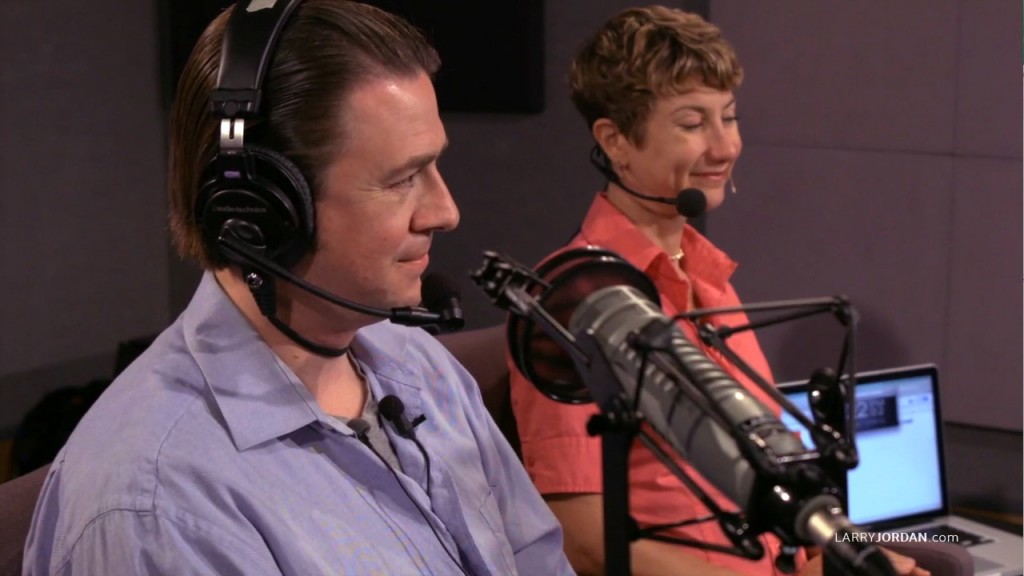 Click to see larger image.
DESCRIPTION
This session answers the question: what mics do I use and where do I place them to get great sound in-studio or on-location? This webinar is filled with LOTS of practical examples of different mics, techniques and locations to help you improve your sound.
During this session, host Larry Jordan works with two actors and ten different microphones in-studio and outside to illustrate:
Digital audio recorders
Where to set proper record levels
How changing mic position affects sound quality
What different mics sound like indoors
What different mics sound like outdoors
How to use mics to reduce noise
Compare desktop, handheld, headset, shotgun vs. lav mics
How and when to record room tone
This session doesn't just talk about mics, it illustrates them. During this session we use the following gear:
Electro-Voice RE-20
Shure SM58
Audio-Technica BPHS1
AKG C520
Countryman E6D
Tram TR-50
Sennheiser MKE-2
Audio Technical Pro 70
Rode NTG-2
Sennheiser ew 100 G3 wireless system
SPECIAL BONUS: Includes almost 30 minutes of informative Questions and Answers from the audience during the two live sessions.
AUDIENCE LEVEL
This beginning-level session is designed for anyone interested in improving their sound – either in-studio or on-location. (This training only requires QuickTime Player to view.)

SPECIAL FEATURE
To help you quickly find the information you need, we included chapter markers in the QuickTime movie for easy navigation. Click here to learn how to display them in your download.
CONTENT OUTLINE
Explain key audio concepts
Defining key terms
Explain frequency response
Explain where to set audio recording levels
Explain when and where to use an AGC
Show different audio connectors
Discuss microphone pickup patterns
Showcase digital audio recorders
Test desktop, headset, lavaliere, handheld mics indoors
Test lavaliere, handheld and shotgun mics indoors
Show how and when to record room tone
Show how different mics reduce background noise differently
Show how lavaliere mic placement affects sound quality
Show how shotgun mic placement affects sound quality
Show how to properly coil audio cables
Answer audience questions