Missing HUD
What the Hud?
Software: Apple Motion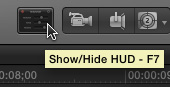 The HUD is an essential interface element of Motion. However, its keyboard shortcut (F7) is not available on all keyboards.
If you are trying to display the HUD and the F7 key is not getting the job done, click this icon in the lower right of the Viewer.