Manage Media Using Rejected Clips
Create a Rejected Clip or Portion of a Clip
Software: Apple FCP X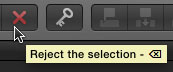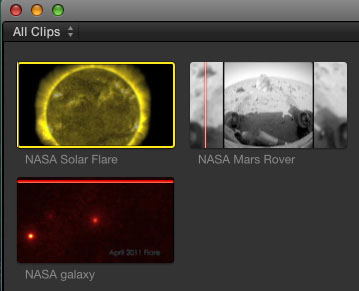 FCP X can display media ranges on your clips in the Browser, which include Favorites, Rejected, Keywords, and Used Media. But how do you reject a clip or portion of a clip? Here's how:
With a clip or portion of a clip selected in the Browser window, click the red "X" located in the Toolbar at the bottom of the Browser window.
You now see a red bar placed over your range selection— this marks the clip or a portion of a clip as Rejected. In fact, the clip may not even appear in the Browser window. However, the media has not been deleted from the Event or your hard drive. You can always re-display them.
To toggle the display of rejected clips on or off in the Browser window, change the top menu from Hide Rejected to Show All Clips. Your Rejected clips are either hidden or displayed, depending upon which of these two options you choose.
If you wish to de-select the range as a favorite, have the range selected again and click the hollow star in the Toolbar (Shortcut: U).