Final Cut Pro X: Workflow & Editing (v10.3)
Final Cut Pro X: Workflow & Editing (v10.3)
Larry Jordan's incomparable Final Cut Pro X (v.10.3) training. Now available as a five DVD set. Includes practice media.
- OR -
ALL NEW FOR FINAL CUT PRO X (v. 10.3)!
137 Movies – Includes Practice Media – 5 DVD Set!!
These five DVDs contain Larry Jordan's latest FCP X 10.3: Workflow and Editing training. (This is a DVD set. Click here to order as a download.)
Specs:

137 QuickTime HD movies (720p HD)
Running time: 15.7 hours
Delivered as five (5) DVDs
Total file size: 20 GB

Our training is recognized around the world as the best, most complete video training available for Final Cut Pro X. In this latest edition, Apple-Certified Trainer, Larry Jordan, recorded all new movies – 137 in total – to showcase all the new features in Final Cut, plus everything he's learned about running the software over the last four years.
New features – hidden secrets – and killer techniques – all contained in this brand new, updated and comprehensive new title.
The FCP X 10.3 upgrade from Apple introduced major new features, including:
Totally revised interface
Support for wide color gamut (HDR) color
Major revisions to the Magnetic Timeline
Major improvements to Audio Roles and the brand-new Audio Lanes
Improved media management and codec support
And dozens of smaller features that make editing faster, easier and more fun
In addition to illustrating these new features, Larry went back and, based on his years of experience working with the software, added even more new training covering:
Media Management and trouble-shooting
Collaboration between editors
Working with high-resolution and wide color gamut (Rec. 2020) media
Libraries and Library Properties
Audio Roles and Lanes
Projects, Editing and Timeline Organization
All new training; with Larry's trademark conversational approach, in-depth information and sense of humor. More complete. More up-to-date than ever. And the movies are shorter and more focused, so you don't waste time.
FIRST-TIME EVER
For the first time ever, we are including practice media so you can work right along with the exercises. Practice media and libraries are included in the DVD set.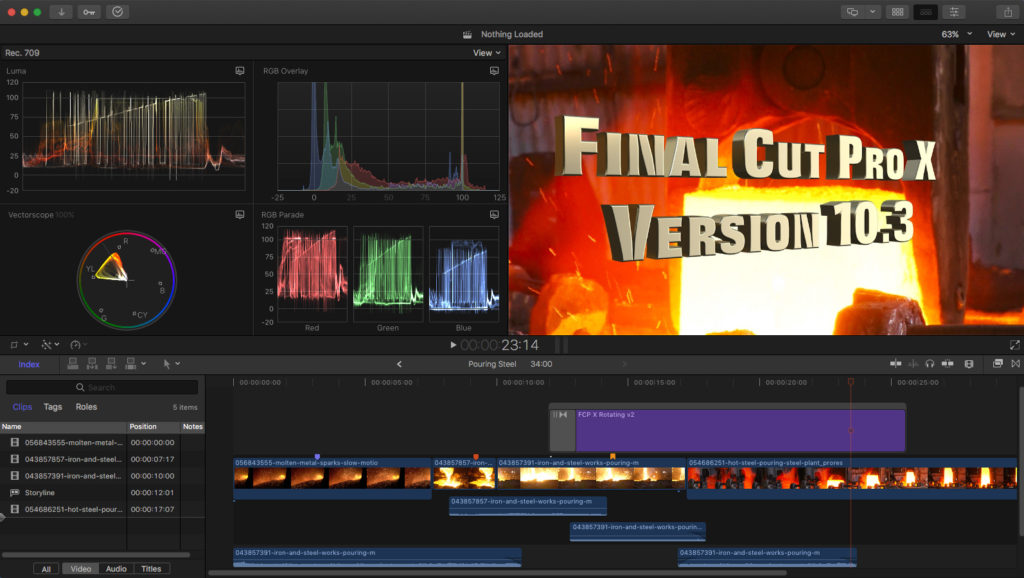 [ Click to see a larger image.]
WHAT DO YOU NEED?
Need to learn the new features? The first movie in each chapter highlights the relevant new features for that chapter. (See the Table of Contents, below.)
Need to learn the application in a hurry? The first three chapters give you a Quick Start into the application.
Need to become an expert in Final Cut editing? Start at the beginning and watch every movie. Careers have been built on Larry's training.
Larry's training is used every day around the world by tens of thousands of professional editors. There is no finer Final Cut Pro X training available anywhere.
---
TABLE OF CONTENTS
FINAL CUT PRO X 10.3 — WORKFLOW AND EDITING
01 — OVERVIEW  (TRT: 34.5 minutes)
01.01 – Welcome to FCP X 10.3!
01.02 – New Features in the 10.3 Release
01.03 – Definitions: High-Resolution Media
01.04 – Definitions: Wide Color Gamut Media
01.05 – Definitions: Libraries, Media, Events and Projects
01.06 – Definitions: Codecs
01.07 – Definitions: Native, Optimized and Proxy Media
01.08 – Upgrade from Earlier Versions of FCP X
01.09 – Upgrade from Premiere Pro or Final Cut Pro 7
01.10 – Trouble-shooting
02 — AN EDITING QUICK START  (TRT: 111 minutes)
02.01 – Chapter Overview: An Editing Workflow
02.02 – Interface Overview
02.03 – Interface Changes for 10.2 Users
02.04 – Create a Library
02.05 – Import Media
02.06 – Organize Media: Events, Ratings, and Keywords
02.07 – Create a Project, Review and Edit Media
02.08 – Trim Clips and Add Transitions
02.09 – Organize the Timeline
02.10 – Audio
02.11 – Share the Project
02.12 – Keyboard Shortcuts for this Chapter
03 — LEARN THE INTERFACE  (TRT: 89 minutes)
03.01 – Chapter Overview
03.02 – Workspaces
03.03 – Library List and Content Browsers
03.04 – The Browser
03.05 – The Viewer
03.06 – The Timeline
03.07 – The Timeline Index
03.08 – Background Tasks Window
03.09 – The Inspector
03.10 – Video Scopes
03.11 – Preference Settings
03.12 – Shortcuts and Gestures
03.13 – Keyboard Shortcuts for this Chapter
04 — MEDIA MANAGEMENT (TRT: 66 minutes)
04.01 – Chapter Overview
04.02 – Create and Modify Libraries
04.03 – Library Properties
04.04 – Create and Modify Events
04.05 – Consolidate Libraries, Events, and Projects
04.06 – Library Database Backup
04.07 – Generated Media
04.08 – Relink Missing Media
04.09 – Collaboration
04.10 – Keyboard Shortcuts for this Chapter
05 — IMPORT MEDIA  (TRT: 85 minutes)
05.01 – Chapter Overview
05.02 – Media Import Window
05.03 – Prepare for Digital Media
05.04 – Import Digital Media
05.05 – Import QuickTime Movie Files
05.06 – Import From iOS Devices
05.07 – Import R3D, RAW and Log Files
05.08 – Import Still Images and Photoshop Files
05.09 – Import Media from Video Tape
05.10 – Custom File Names and Batch Renaming
05.11 – Create and Access Camera Archives
05.12 – Transcode Media After Import
05.13 – Keyboard Shortcuts for this Chapter
06 — RATING, KEYWORDS AND METADATA  (TRT: 52 minutes)
06.01 – Chapter Overview
06.02 – Ratings and Favorites
06.03 – Keywords
06.04 – Find Stuff
06.05 – Smart Collections
06.06 – Metadata and Views
06.07 – Analyze Clips
06.08 – Keyboard shortcuts for this chapter
07 — PROJECTS AND EDITING (TRT: 79 minutes)
07.01 – Overview
07.02 – Create a New Project
07.03 – Change Project Settings
07.04 – Mark Clips and Append Edit
07.05 – Create a Project Snapshot
07.06 – Connected Clips and Storylines
07.07 – Insert and Overwrite Edits
07.08 – Audio-only or Video-only Edits
07.09 – Replace Edits
07.10 – 3-point and Backtime Edits
07.11 – Keyboard Shortcuts for this Chapter
08 — MULTICAM EDITING  (TRT: 47 minutes)
08.01 – Overview
08.02 – Create a Multicam Clip
08.03 – The Multicam Angle Editor
08.04 – Edit and Trim Multicam Clip
08.05 – Multichannel Audio, Effects and Other Tricks
08.06 – Keyboard Shortcuts for this Chapter
9 — TRIM CLIPS  (TRT: 54 minutes)
09.01 – Overview
09.02 – The Precision Editor
09.03 – Trim Tools: Clip Duration, Blade and Range Selector
09.04 – Trim Tools: Ripple and Roll
09.05 – Audio and Video Split Edits
09.06 – Trim Tool: Slip and Slide
09.07 – Keyboard Shortcuts for this Chapter
10 — ORGANIZE THE TIMELINE  (TRT: 85 minutes)
10.01 – Overview
10.02 – Timeline 101 Basics
10.03 – The Magnetic Timeline and Position Tool
10.04 – Markers and To-Dos
10.05 – Solo, Enable, Disable and Skim Clips
10.06 – Roles and Lanes
10.07 – The Timeline Index
10.08 – Compound Clips
10.09 – Auditions
10.10 – Open in Timeline
10.11 – Keyboard Shortcuts for this Chapter
11 — AUDIO TECHNIQUES (TRT: 100 minutes)
11.01 – Overview
11.02 – Audio Editing
11.03 – Set Audio Levels
11.04 – Audio Animation (Keyframes)
11.05 – Multi-channel Audio
11.06 – Roles in Audio
11.07 – Basic Audio Effects
11.08 – Sync Double-System Clips
11.09 – Audio Analysis and Enhancements
11.10 – Music and Sound Browser
11.11 – Record Audio Voice-Overs
11.12 – Create a Surround Mix
11.13 – Keyboard Shortcuts for this Chapter
12 TRANSITIONS (TRT: 27 minutes)
12.01 – Overview
12.02 – Transition Basics
12.03 – The Transition Browser
12.04 – Advanced Transition Techniques
12.05 – Keyboard Shortcuts for this Chapter
13 — SHARE AND EXPORT (TRT: 52 minutes)
13.01 – Overview
13.03 – Sharing Destination Preferences
13.02 – Share to a Master File
13.04 – Share Using Roles
13.05 – Share to a Service or DVD
13.06 – Export a Still Frame
13.07 – Export to Apple Compressor
13.08 – Export XML
14 — EFFECTS OVERVIEW (TRT: 64 minutes)
14.01 – Chapter Overview
14.02 – Text and Titles
14.03 – Effects Basics
14.04 – Picture-in-Picture
14.05 – The "Ken Burns" Effect
14.06 – Change Clip Speed
14.07 – Inspector Image Controls
14.08 – Green-screen Key
14.09 – Keyboard Shortcuts
15 — CONCLUSION (TRT: 2 minutes)