Apple Final Cut Pro X 10.4: Effects
Apple Final Cut Pro X 10.4: Effects
All new! 100 new video training movies showing you exactly how to create stunning visual effects in the latest version of Apple Final Cut Pro X – 10.4. Presented by Larry Jordan, there's no finer training on the web.
- OR -
BRAND NEW! REVISED FOR APPLE FINAL CUT PRO X  (v.10.4)
100 Movies – Now Includes Practice Media!!
Title Specs:
100 QuickTime HD movies (720p HD)
Running time: 11.1 hours
Delivered as five ZIP files (Recommend decompressing on a Mac)
Total download file size: 11.5 GB
This is a DOWNLOAD only.
If you want the USB thumb drive version, click here.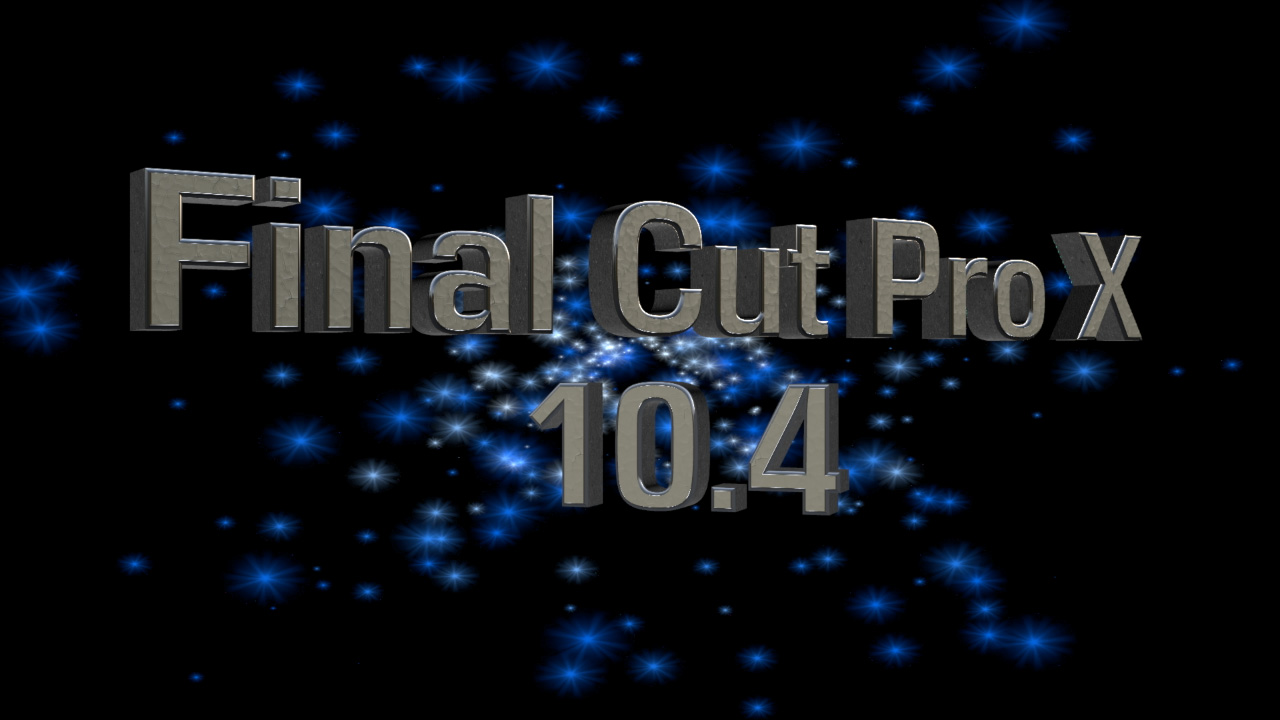 NOW INCLUDES PRACTICE MEDIA AND LIBRARIES!
Totally revised for FCP X 10.4, Larry Jordan's training is recognized around the world as the most accurate, most complete, most helpful video training available for Final Cut Pro X.
SAVE MONEY: Buy the bundle: FCP X: 10.4 Complete.
In this latest edition, Apple-Certified Trainer, Larry Jordan, includes everything he's learned about creating effects in Final Cut over the last three years. This title also explains WHY you need to do things a particular way, along with new techniques, keyboard shortcuts, and extensive "how-to's" to help you make the most of this new software.
Totally revised – totally new!


(The all-new 360° VR interface. Click to see larger image.)
Discover:
Editing 360° Video
Vastly improved color tools
New HDR support
New HEVC support
And dozens of smaller improvements throughout the application!
Plus the stunning new Video Effects and Audio Effects Cookbooks!
All new movies with all new training – each with Larry's trademark conversational approach, in-depth information and sense of humor. More focused. More complete. More up-to-date than ever.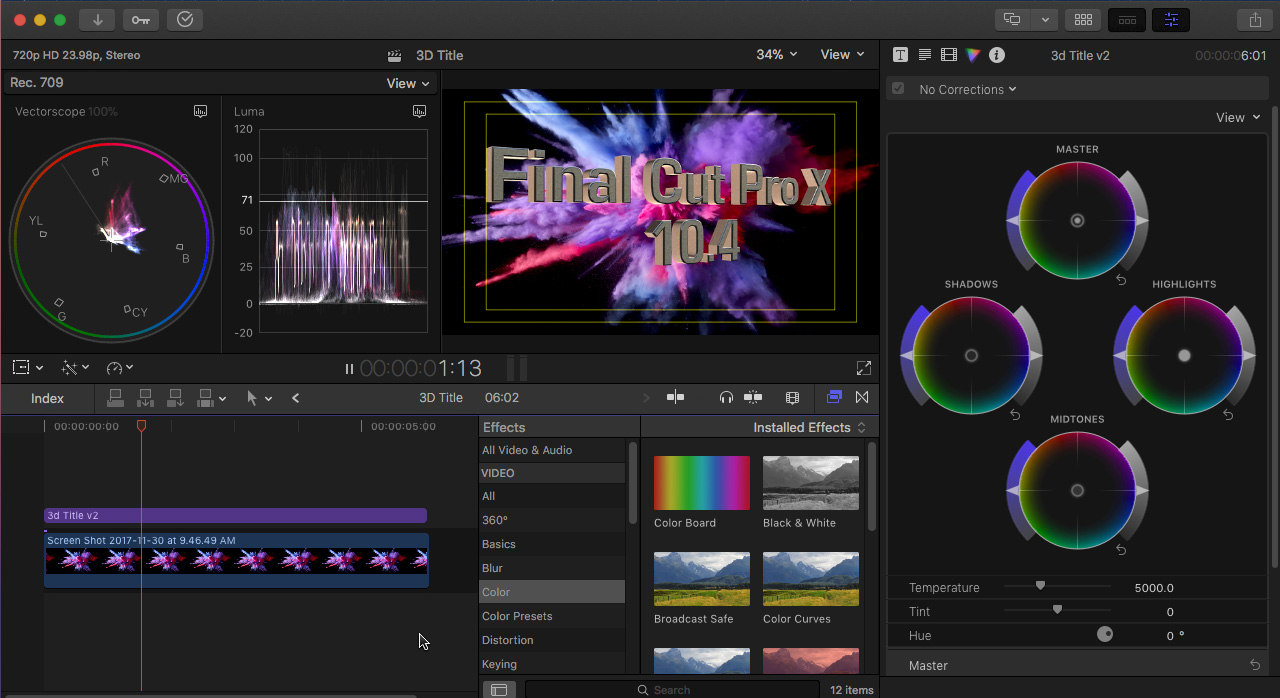 (The all-new color wheels and color workspace. Click to see larger image.)
There is no finer Final Cut Pro X training available anywhere. (Click here for a detailed outline of the training.)
Trying to decide which title to buy?
Here's a comparison chart of all our Final Cut Pro X training.
TABLE OF CONTENTS
FINAL CUT PRO X 10.4 — EFFECTS
1 ORIENTATION (TRT: 27 minutes)
01.01 – Overview
01.02 – New Effects Features in FCP X 10.2
01.03 – Introduction to the Effects Interface
01.04 – Custom Effects Presets
2 GENERATORS (TRT: 11 minutes)
02.01 – Overview
02.02 – Themes
02.03 – Generators
02.04 – Specific Generator Examples
3 3D TEXT and TITLES (TRT: 54 minutes)
03.01 – Overview
03.02 – Text Basics
03.03 – Modify Text and Style using the Inspector
03.04 – 3D Title Basics
03.05 – 3D Title Lighting
03.06 – 3D Title Materials
03.07 – Modify Title Animation
03.08 Find and Replace Text in Titles
4 BUILT-IN INSPECTOR EFFECTS (TRT: 60 minutes)
04.01 – Chapter Overview
04.02 – Transform Effects
04.03 – Animate using Keyframes
04.04 – Trim and Crop
04.05 – Distort an Image
04.06 – Stabilize an Image
04.07 – Correct for Rolling Shutter
04.08 – Opacity and Blend Modes
5 WORKING WITH STILLS (TRT: 28 minutes)
05.01 – Chapter Overview
05.02 – Spatial Conform and Rate Conform
05.03 – Create a Picture-in-Picture Effect
05.04 – "Ken Burns" Effect
05.05 – Animate Stills Using Keyframes
05.06 – Layered Photoshop Images
6 CHANGE CLIP SPEED (RETIMING) (TRT: 53 minutes)
06.01 – Overview
06.02 – Freeze Frames and Hold Frames
06.03 – Constant Speed Changes
06.04 – Variable Speed Changes
06.05 – The Retime Menu – and other speed effects
06.06 – Improved Optical Flow and Frame Rate Conform
7 KEYING (TRT: 28 minutes)
07.01 – Overview
07.02 – Luma Key
07.03 – Alpha Channel Key
07.04 – Chroma Key
8 MASKS (TRT: 44 minutes)
08.01 – Overview
08.02 – Integrated Color and Shape Masks
08.03 – Keyframe Built-in Masks
08.04 – Shape Mask Effect
08.05 – Draw Mask Effect
08.06 – Masks for Chroma-keys
08.07 – Graduated and Image Masks
08.08 – Vignette Mask vs. Vignette
9 LUTs (TRT: 20 minutes)
09.01 – Overview
09.02 – Apply and Modify a LUT
09.03 – Share a Custom LUT
09.04 – RedCode RAW Files
10 COLOR CORRECTION (TRT: 139 minutes)
10.01 – Overview
10.02 – A Color Correction Workflow
10.03 – Create a Mood with Looks
10.04 – Automatic Color Analysis and Correction
10.05 – The Video Scopes – SDR and HDR
10.06 – Color Board
10.07 – Color Wheels
10.08 – Color Curves
10.09 – Hue/Saturation Curves
10.10 – Correct a Color Cast
10.11 – Correct Skin Tones
10.12 – Keyframe Color Changes
10.13 – Create and Save Color Presets
10.14 – Color and Shape Masks
10.15 – Broadcast Safe – SDR and HDR
10.16 – Color in an HDR World
11 360° Video (VR) (TRT: 56 minutes)
11.01 – Overview
11.02 – 360/VR – Setup, Import and Metadata
11.03 – 360/VR – View, Navigate, Edit and Export
11.04 – 360/VR – Titles
11.05 – 360/VR – Effects and Generators
11.06 – Add 360/VR to an HD Project
11.07 – Add HD Video to a 360/VR Project
12 VIDEO EFFECTS COOKBOOK (TRT: 97 minutes)
12.01 – Overview
12.02 – Effects Basics
12.03 – Reframe High-Resolution Clips
12.04 – Create a Picture-in-Picture Effect
12.05 – The Drop Shadow Effect
12.06 – Text Effects
12.07 – Hide a Face
12.08 – Vignette vs. Spot
12.09 – More Complex Looks
12.10 – Create a "Pleasantville" effect
12.11 – Copy/Paste Attributes or Effects
12.12 – Compound Clip Effects
12.13 – Deinterlace a Clip/li>
12.14 – Export Video with Transparency
12.15 – Modify a Title in Motion
12.16 – Create an Adjustment Layer
13 AUDIO EFFECTS COOKBOOK (TRT: 51 minutes)
13.01 – Overview
13.02 – Inspector Audio Effects
13.03 – Match Audio Between Clips
13.04 – Use Fat EQ to Improve Voice Quality
13.05 – Save and Access Audio Presets
13.06 – Use Channel EQ to Blend Voice and Music
13.07 – Create a Mix with Roles and the Limiter Effect
13.08 – Special Audio Effects
14 THAT'S A WRAP (TRT: 2 minutes)