Manage Media Using Favorites
Create a Favorite Clip or Portion of a Clip
Software: Apple FCP X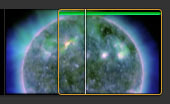 FCP X allows you to display media ranges in your clips in the Browser, which include Favorites, Rejected, Keywords, and Used Media. But how do you make a clip or portion of a clip a Favorite? Here's how:
With a clip or portion of a clip selected in the Browser window, click the green star located in the Toolbar at the bottom of the Browser window (Shortcut: F). You now see a green bar placed over your range selection. This marks a clip or a portion of a clip as a Favorite.
If you wish to de-select the range as a favorite, have the range selected again and click the hollow star in the Toolbar (Shortcut: U).