Trends in Digital Storage
[The following survey is courtesy of Coughlin & Associates, Inc.]
Media doesn't just require storage, it devours it. "Digital storage plays a significant role in the professional media and entertainment industry," starts the 2012 Survey Summary for Storage in Professional Media and Entertainment, published by Coughlin and Associates.
You may remember a couple of months ago, I invited newsletter readers to take a survey on how they use Digital Media. Thanks to your participation, Tom Coughlin has created a report that looks at new trends in our industry. Normally, this report examines larger facilities, but, this year, because of your participation, many smaller firms were also represented.
Here's a breakdown of what respondents worked on.

KEY FINDINGS
Based on the survey, when it comes to capturing media over the last three years, tape is declining, hard disk usage is holding steady and flash memory is exploding.

Also there is no consensus when it comes to archiving projects. In fact, looking over the last few years, it is hard to even spot a trend. (Project archiving is SUCH a mess!!)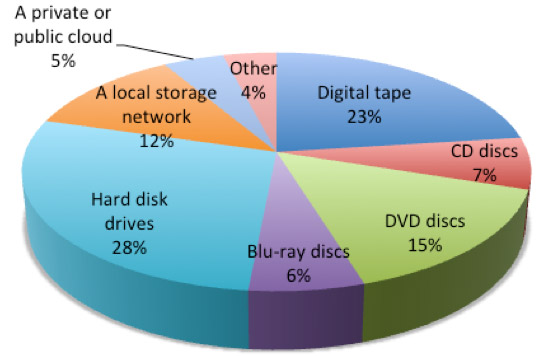 I found this report summary offers a fascinating snap-shot of a media industry in transition. It is well-worth the time to read.
For a free copy of the 12-page summary, click here (5.7 MB – PDF).
Thanks, Tom, for creating this survey, and for sharing the results with all of us.
---
Bookmark the
permalink
.
Larry Recommends
Final Cut Pro X 10.4

Edit smarter with Larry's brand-new webinars, all available in our store.
Access over 1,900 on-demand video editing courses. Become a member of our Video Training Library today!
JOIN NOW
Subscribe to Larry's FREE weekly newsletter and save 10%
on your first purchase.