The New Comparison Viewer in Final Cut Pro X [video]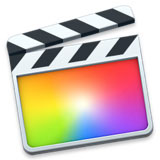 [This is an excerpt from a recent on-line video webinar: "New Features in Apple Final Cut Pro X 10.4.4" which is available as a download in our store, or as part of our Video Training Library.]
SESSION DESCRIPTION
Apple just released updates to Final Cut Pro X, Motion and Compressor. This week, we take a look at what they are and how they work.
Hosted by Larry Jordan, this session covers:
Verify you updated everything you need
Workflow Extensions
Video noise reduction
Comparison Viewer
Floating timecode window
Batch sharing/export
Closed captions
Color grading tools in Motion
and more…
If you are looking to make the most of these new features, this session is a great place to start. In this short video excerpt, Larry illustrates the new Comparison Viewer.
---
The New Comparison Viewer in Apple Final Cut Pro X
TRT: 6:48 — MPEG-4 HD movie
---
Our website offers lots more video training in our store.
---
Bookmark the
permalink
.
Larry Recommends
Final Cut Pro X 10.4

Edit smarter with Larry's brand-new webinars, all available in our store.
Access over 1,900 on-demand video editing courses. Become a member of our Video Training Library today!
JOIN NOW
Subscribe to Larry's FREE weekly newsletter and save 10%
on your first purchase.