Product Review: OWC Envoy Pro FX SSD – One Smokin' Fast Drive

The OWC Envoy Pro FX SSD delivers performance, compatibility and ruggedness. It is also smokin' fast.
EXECUTIVE SUMMARY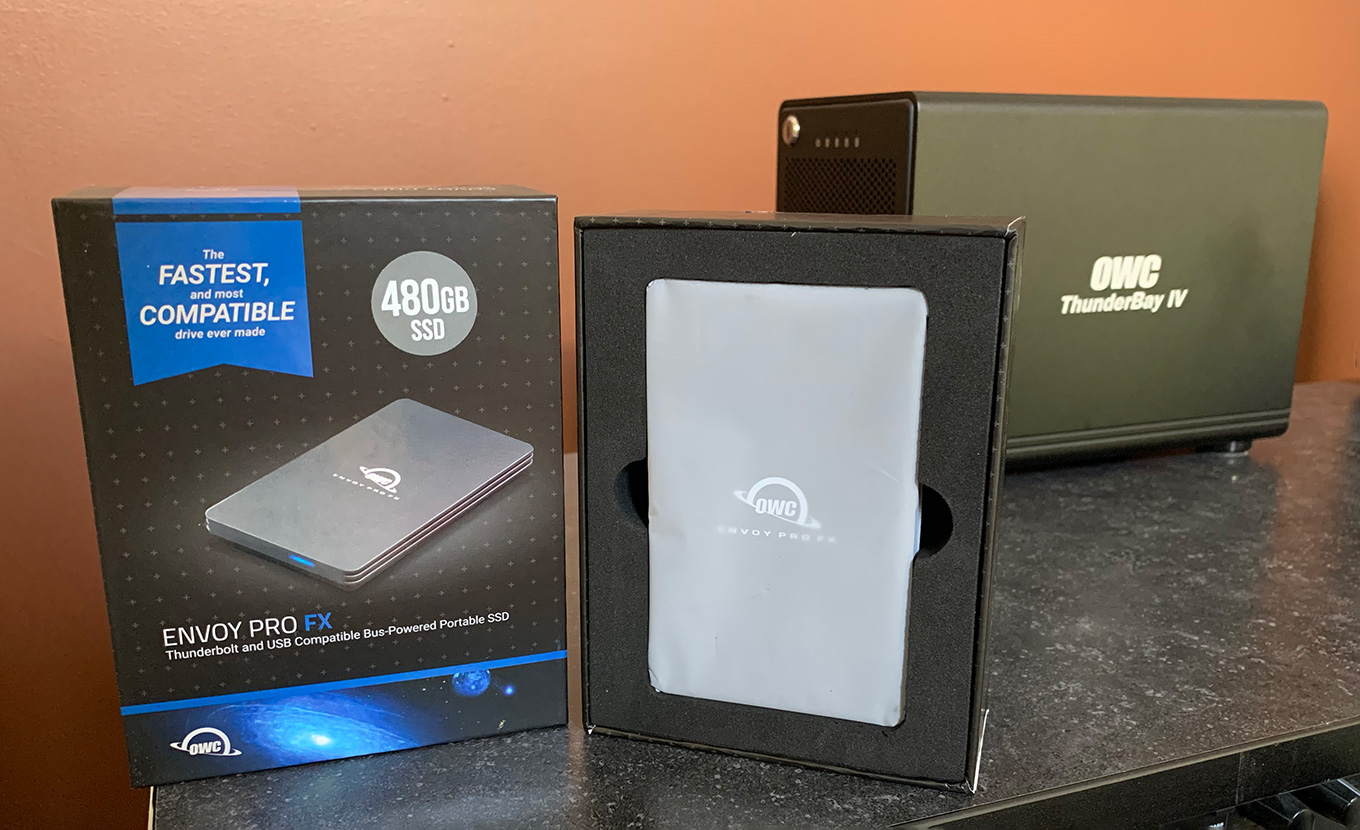 The Envoy Pro FX SSD, from OWC, is "the fastest, most compatible portable drive ever. It's dustproof, crushproof, and waterproof, so it can safely transfer gigabytes of data in seconds – from anywhere." (OWC website)
NOTE: OWC reports that a test unit was dropped over 25 times at every angle from a height of four feet by a third-party testing and certification service. Water resistant for up to 30 minutes at a depth of less than 1 meter. (See my Water Test note below.)
This NVMe SSD puts the fastest flash storage currently available into a heavy steel enclosure about the size of a deck of cards. It can be easily configured to run on Macs, Windows or both. You can stand on the case and not damage the drive. Yes, I tried.
And it is fast! While I couldn't equal the same performance that OWC posted to their website, I regularly measured almost 1.7 GB/second Write and 2.3 GB/second Read from my 2017 27″ iMac running Thunderbolt 3. Translated into the real world, this transferred a 1.34 GB media file from my computer the the drive in about two seconds, then transferred it back to my desktop so quickly that the file transfer window never appeared. Fast.
NOTE: Thunderbolt delivers the fastest performance. However the Envoy Pro FX is designed to run at the fastest speeds supported by USB 2, 3, 3.1, or Thunderbolt, based upon how you have it connected to your device. A USB adapter and Thunderbolt cable are included in the box.
The Envoy Pro FX comes in four sizes:
240 GB
480 GB (the version I tested)
1 TB
2 TB
NOTE: The Envoy Pro FX also bundles the Acronis data transfer program at no additional cost: https://eshop.macsales.com/shop/acronis
The Envoy Pro FX fits in your pocket, survives more than the usual abuse and flies like an arrow at the Olympics. It's a go-to device for high-speed data storage.
Manufacturer: OWC
Model: Envoy Pro FX
Website: https://www.owcdigital.com/products/envoy-pro-fx
Price: $199 (240 GB), $249 (480 GB), $319 (1 TB) and $499 (2 TB)
SETUP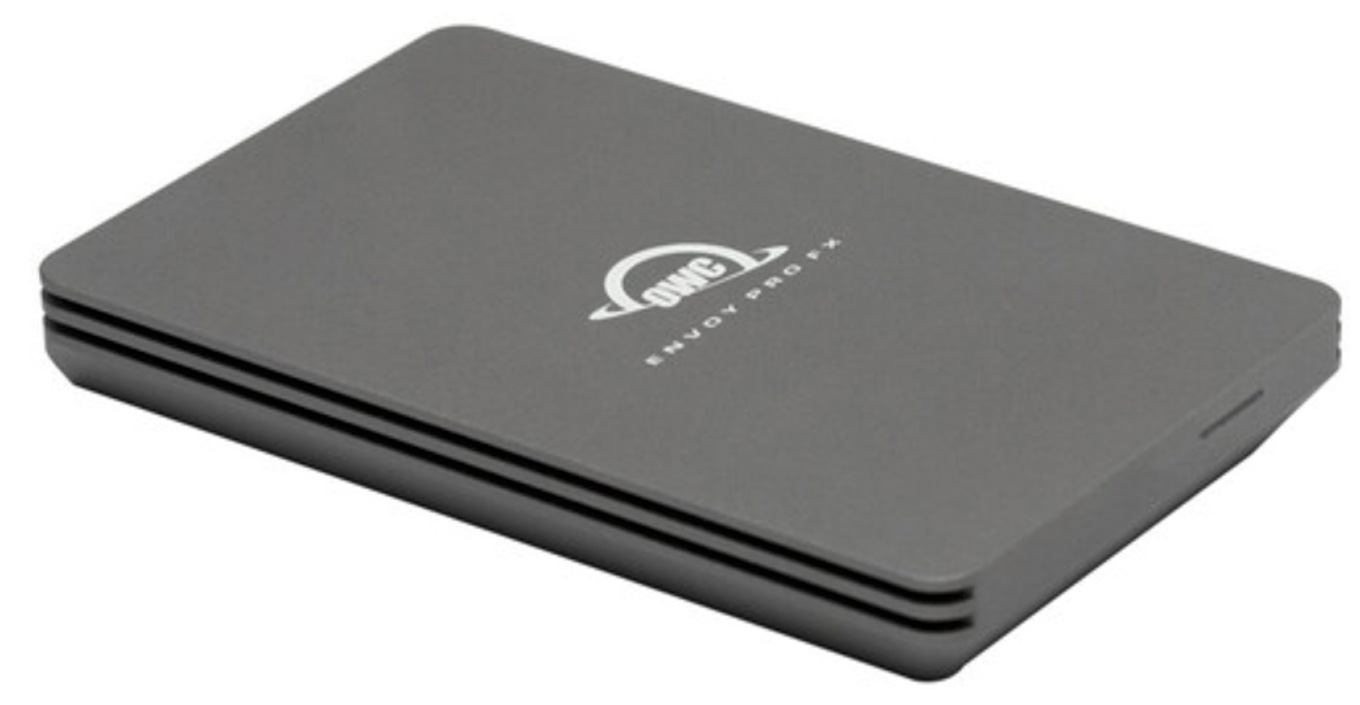 Connect the drive to a Thunderbolt 3 or USB port.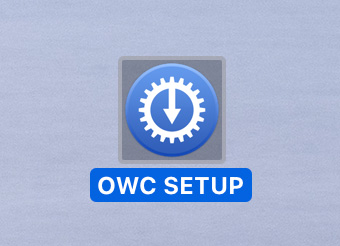 After a few seconds, an icon for the device appears.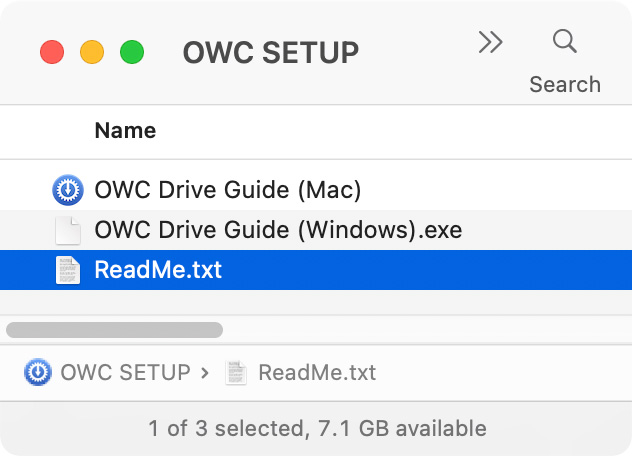 Open it to display the installation software. Run the version for your system: Mac or Windows. The following screens then walk you through the process for a Mac: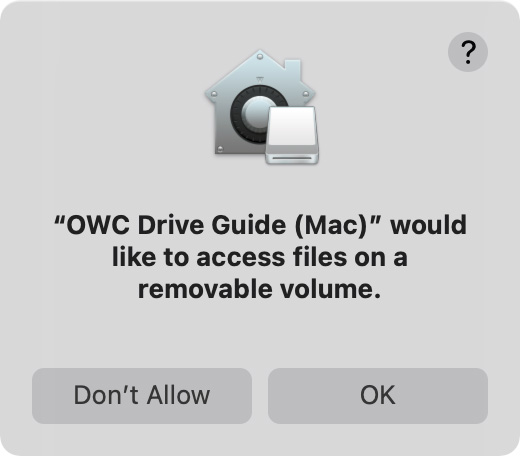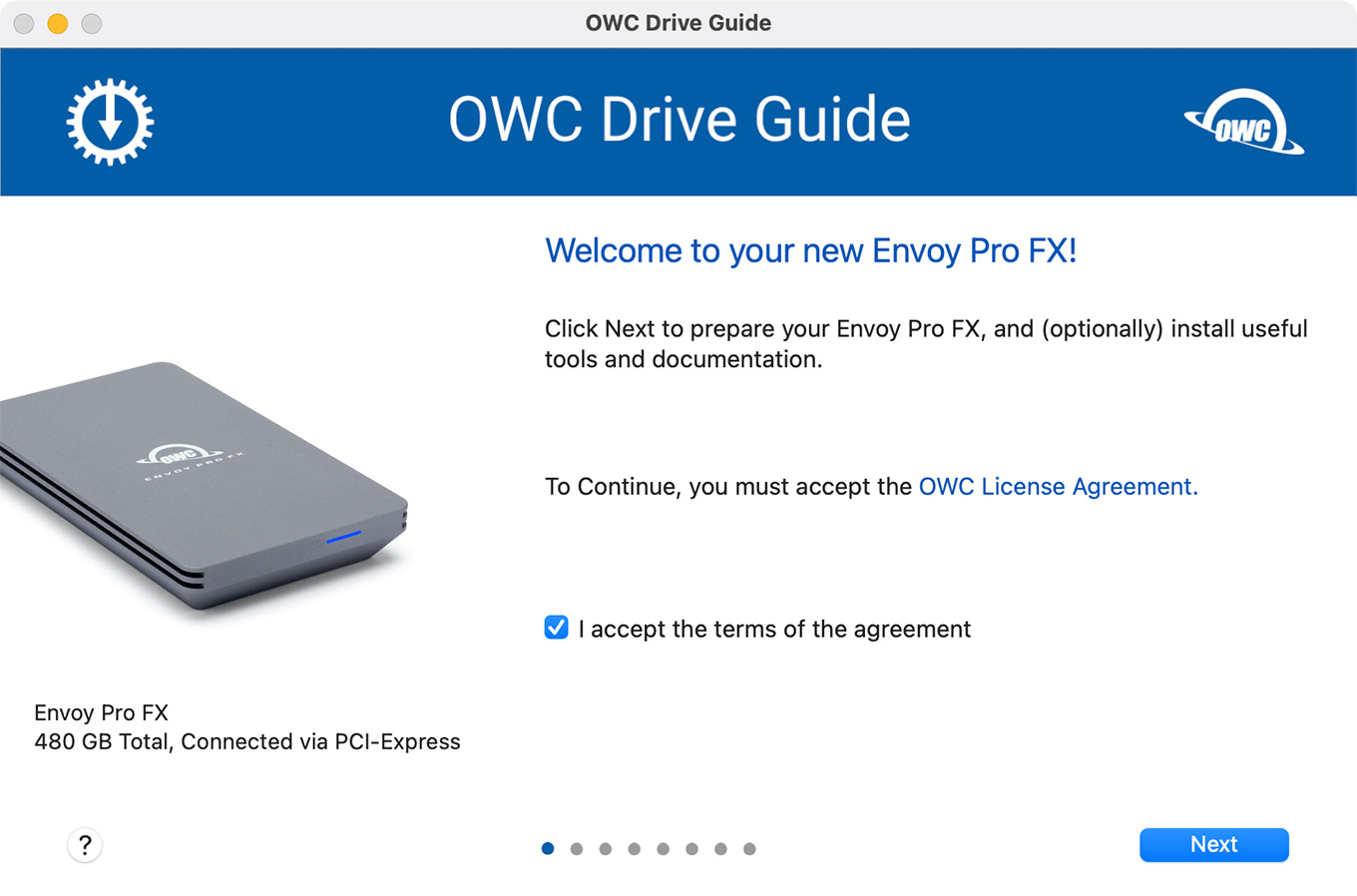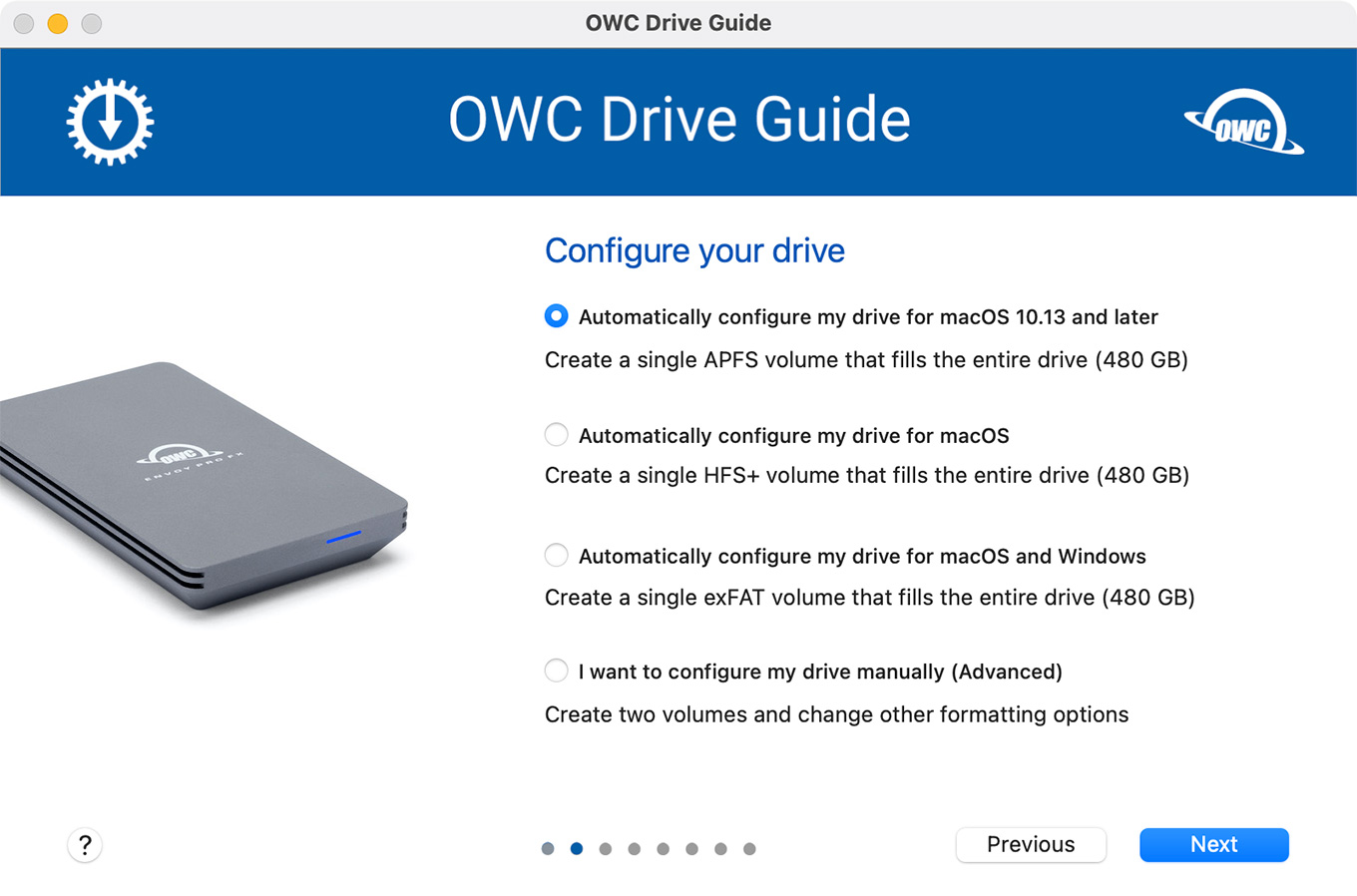 This screen is where you determine whether the drive will run on a Mac, Windows or both.  For most editors, selecting the automatic configuration for their operating system is the best choice.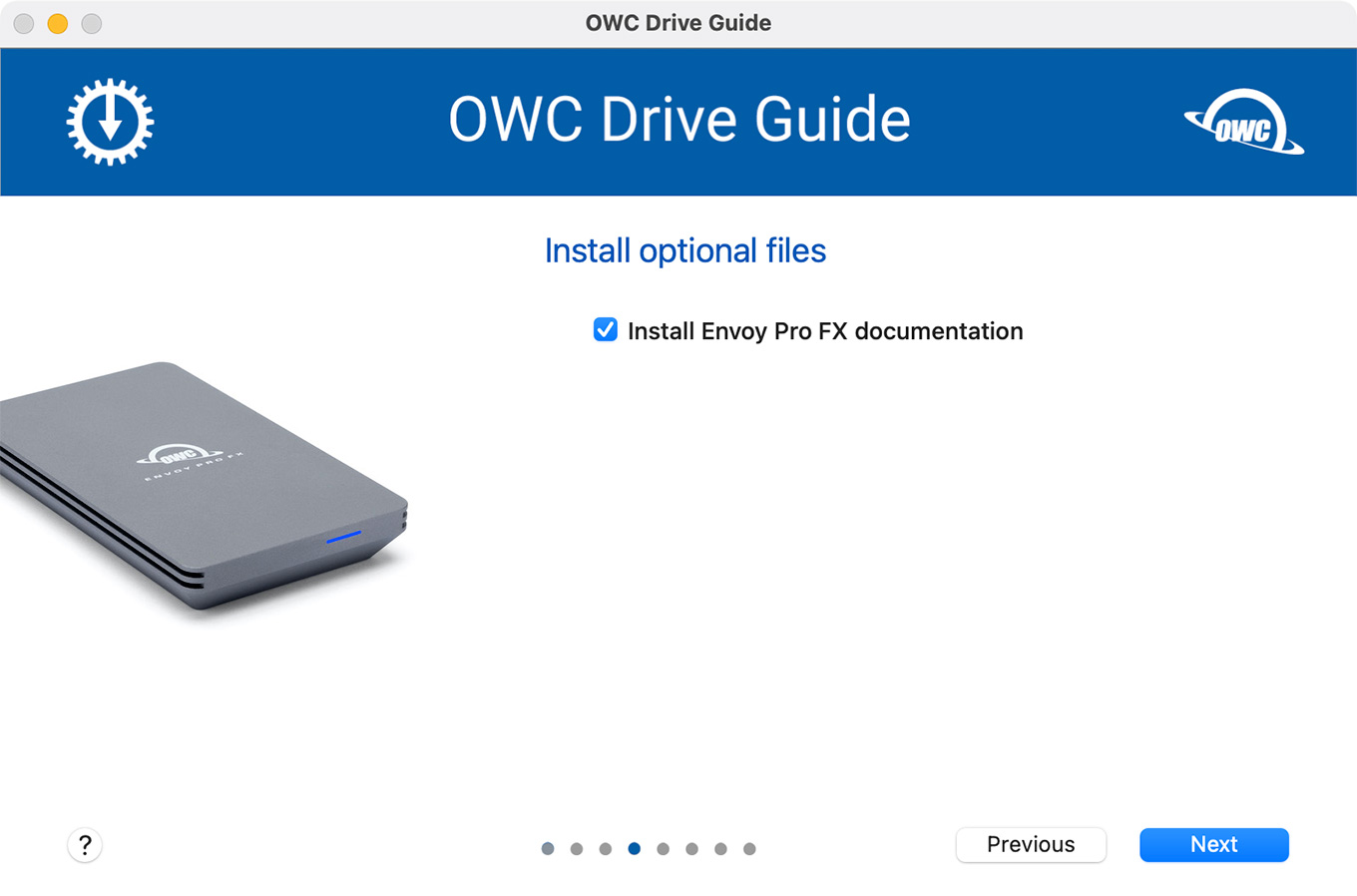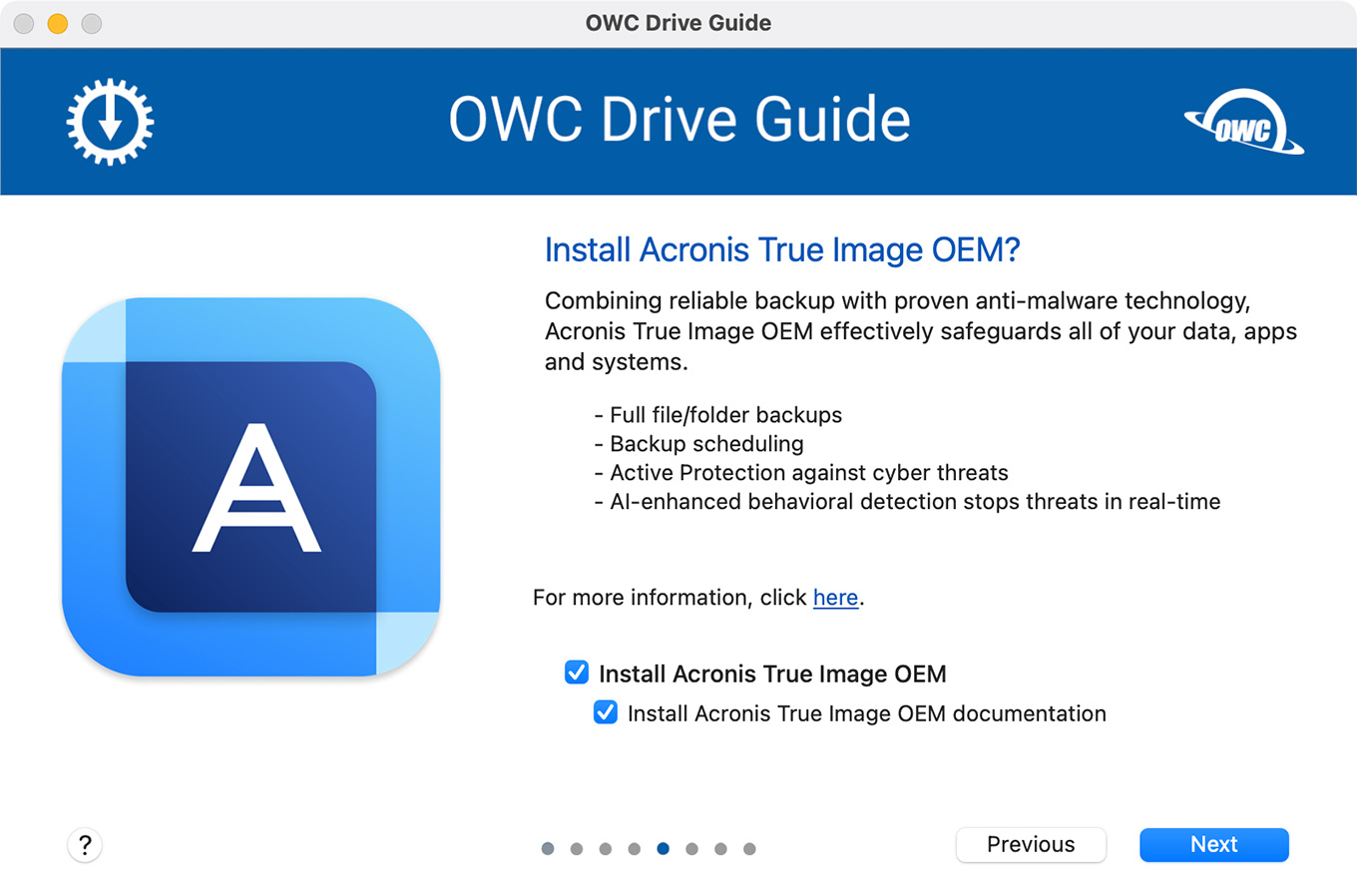 OWC provides a one-year subscription to Acronis. I did not test it as part of this review.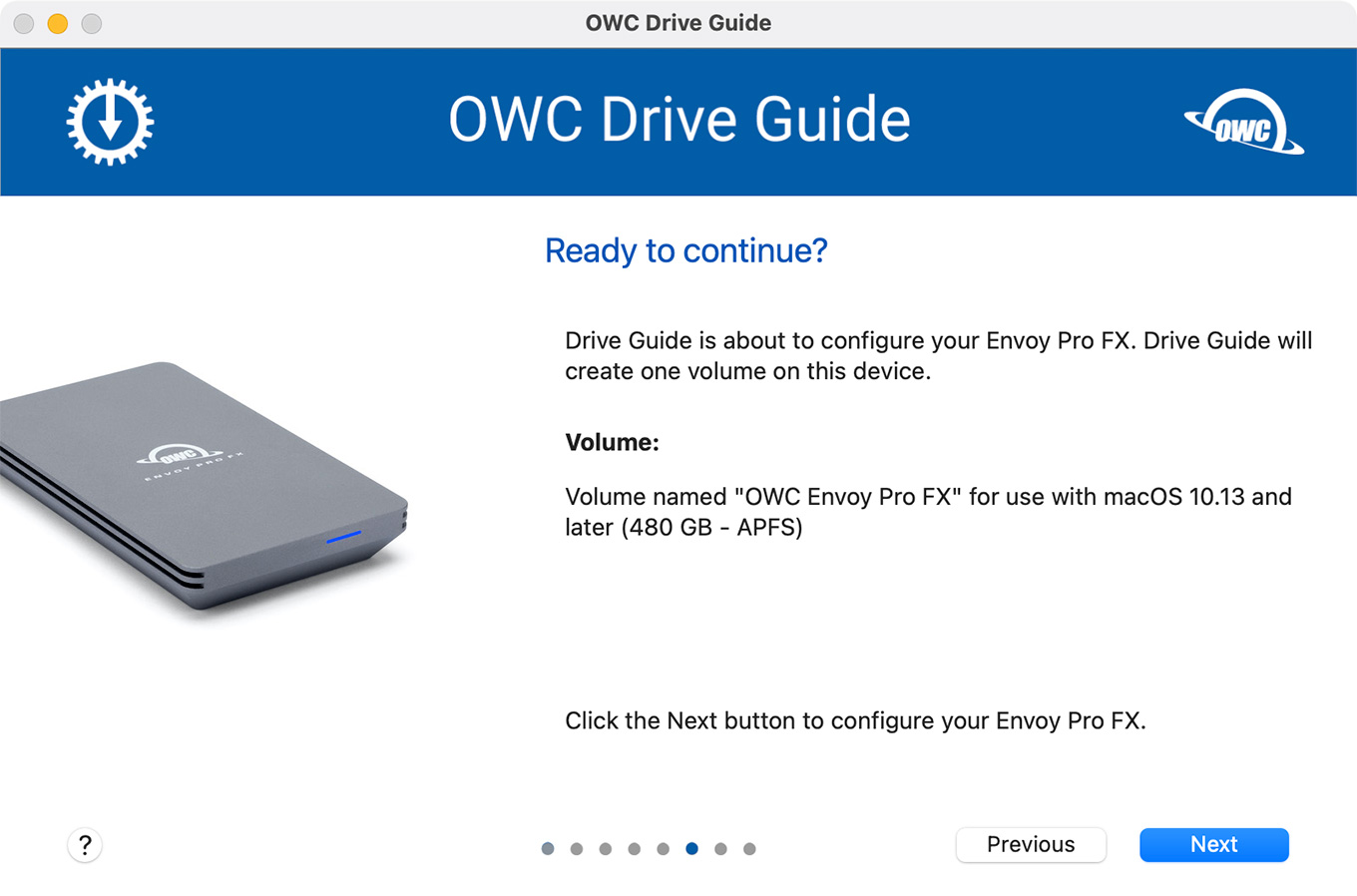 When this screen is finished, the drive is installed and ready to go. The whole setup process took less than three minutes.
SIDE NOTE – ACRONIS
An added feature to this device is access to one year of Acronis. Acronis Cyber Protect Home Office makes setting up and managing protected backups an easy feat. Back up what you want, how you want with tools like full image, file/folder-level backups, active disk cloning, event-based scheduling, and non-stop backups.
Along with robust backup options, your data is protected with integrated real-time protection and signature-based defenses that work together to stop any cyberattack from harming you, even if those threats have never been seen before.
Learn more at: https://eshop.macsales.com/shop/acronis
I did not install or test Acronis as part of this review.
PERFORMANCE – DOWN TO THE BRASS TACKS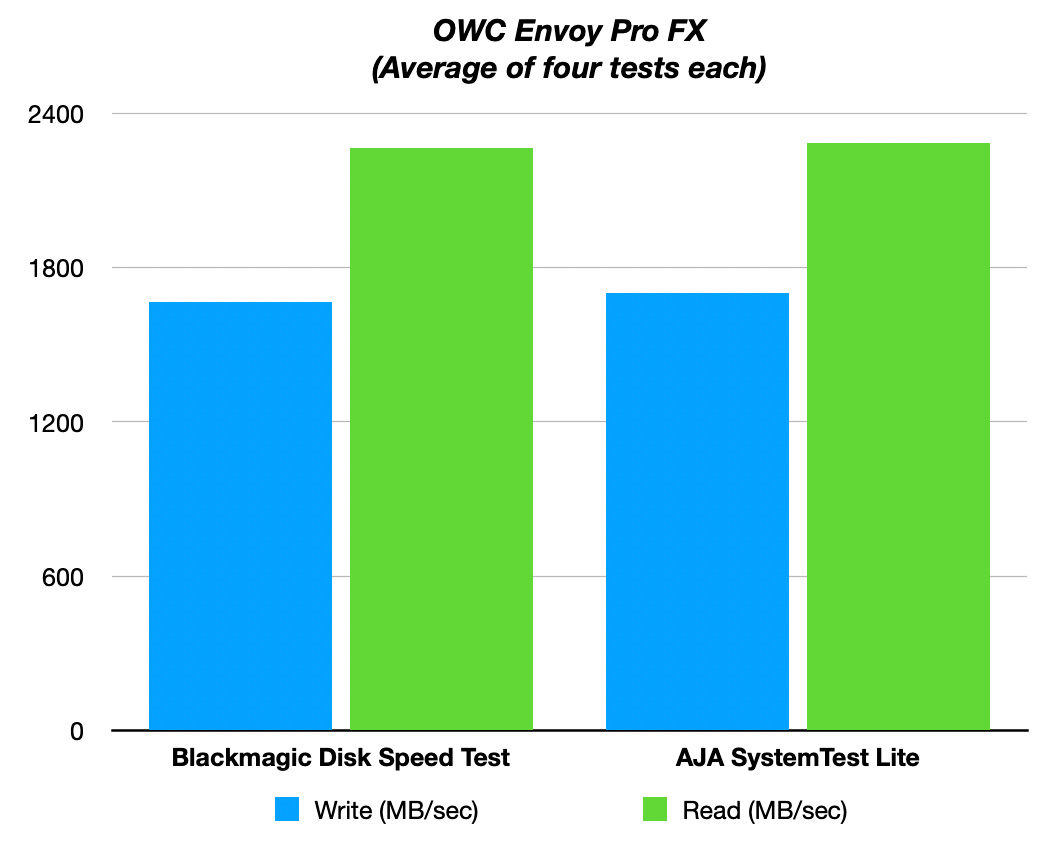 I ran eight speed tests using both Blackmagic Disk Speed Test and AJA System Test Lite. The Envoy Pro FX averaged 1,685 MB/sec Write and 2,276 MB/sec Read.
Look at those numbers again – we're talking GIGABYTES per second! Really, really fast. Transfer speeds may be still faster using a more modern computer – mine is about four years old. (I'm waiting on the next generation of M1 Macs to upgrade my system.)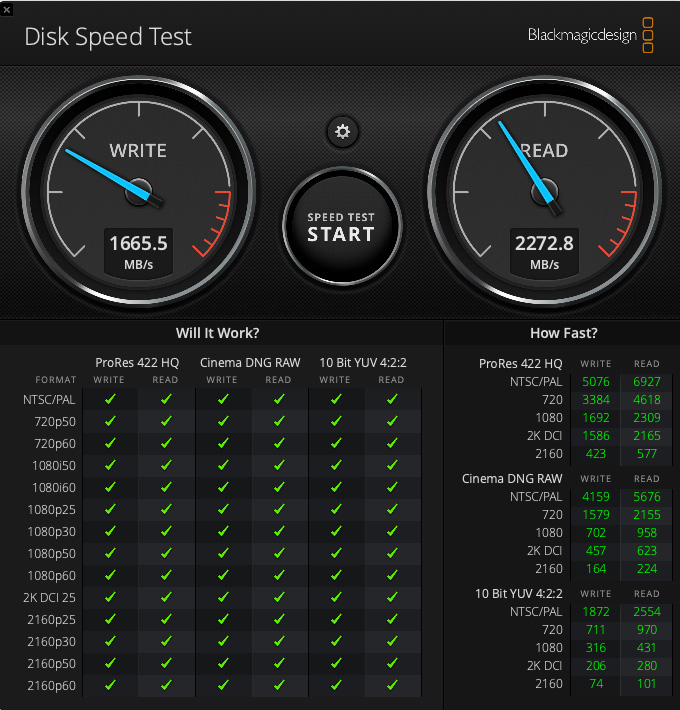 Here's a sample results from one of the eight speed tests I performed. This screen is from the Blackmagic Disk Speed Test software.
LARRY'S WATER TEST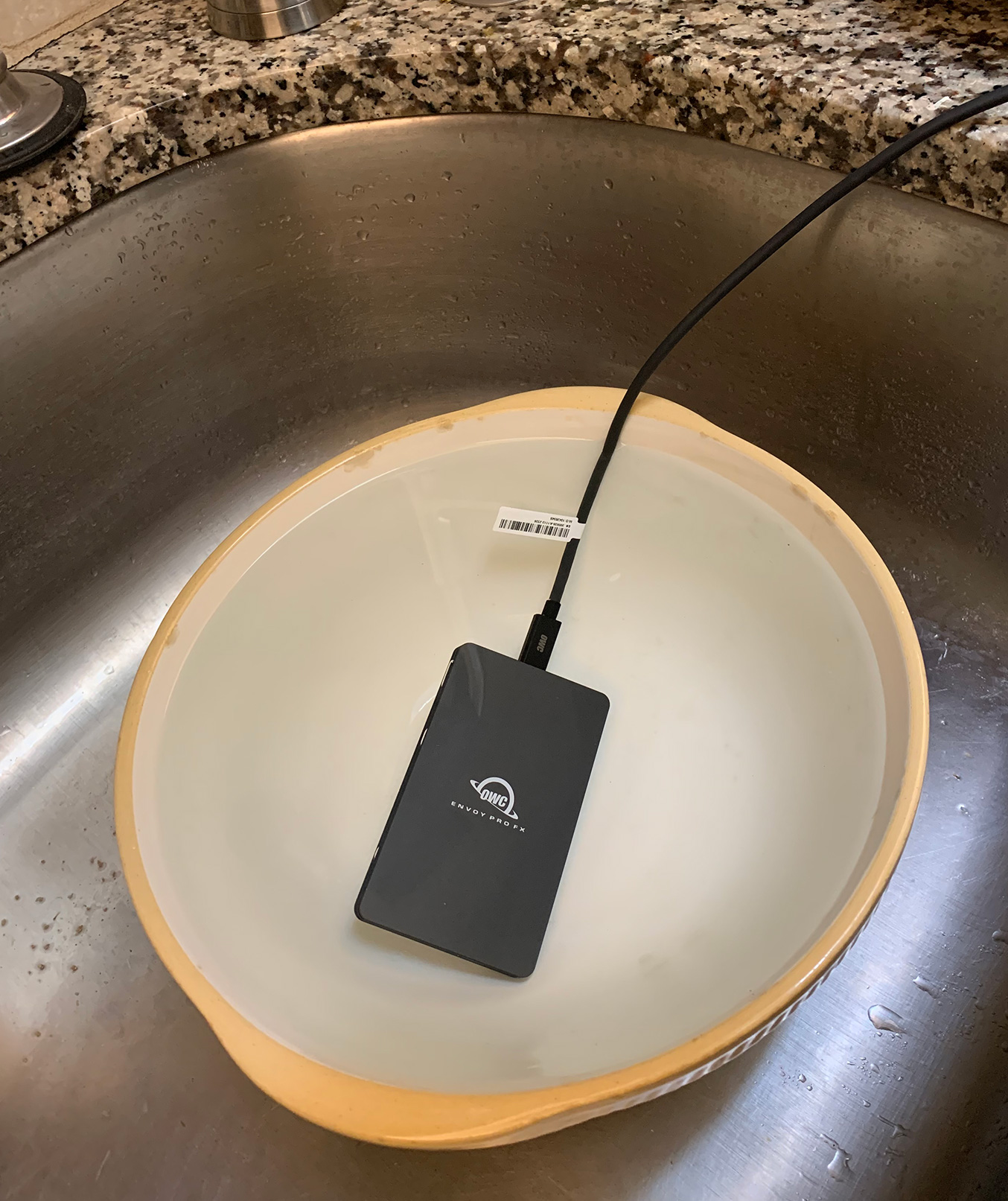 I've never done this with a drive before. But, what the heck, OWC is bragging about it. So, I placed the drive, with the Thunderbolt cable still attached (to prevent water leaking in the Thunderbolt port) gently into a dish filled with about 10″ of water. You know, in case you normally wash dishes with an SSD in your shirt pocket.
There were no bubbles. I kept it there for ten minutes, took it out, dried it and plugged it in. The result? It came back, but NOT immediately.
After I dried the unit off, when I plugged it in, it was dead. However, after blowing all the water out of the Thunderbolt connection and letting the unit and cable air dry for about 12 hours, it came back with all data intact and at full speed (see screen shot below). The  key is to wait for the connection internals to dry fully.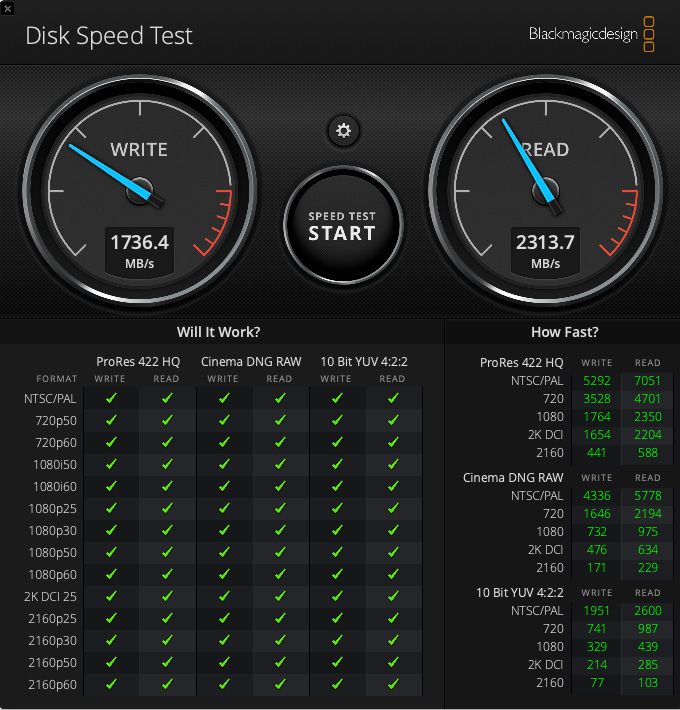 I also learned that I made a mistake in dunking the drive with the Thunderbolt cable attached. When reconnected to my computer, the water in the connecter caused the cable to fail. These electronic circuits are very delicate and any minuscule amount of water on a contact will mess things up. Air drying for several hours solves that problem.
LEARNING MORE
As part of this review, I sent several questions to Larry O'Connor, CEO and founder of OWC, about the Envoy Pro FX.
Larry J: What were your goals in designing the Envoy Pro FX?
Larry O'C: We [wanted to provide] the highest performance, most compatible, and incredibly rugged portable solution on the planet.
Larry J: Many companies make SSDs using standard NVMe components. What makes the Envoy Pro FX special?
Larry O'C: Not all NVMe's are the same and reflected in real-world performance. For the Envoy PRO FX, that is simply the fastest hard drive out there of its kind. But real-world performance and reliability are only a small part of the story. What makes the Envoy FX incredible is that it is plug-and-play with virtually any Mac, PC, Apple iPad, or Tablet/Mobile device that has a USB-C or standard USB connection over the last decade. And whether your device has USB 3 5Gbs, USB 3.1/3.2 10Gb/s, or Thunderbolt 3 (40Gb/s) – the FX will connect and support the highest interface rate that your device is capable of. The broad USB and Thunderbolt compatibility with support for the highest throughputs make this an incredible drive for use between multiple devices and move with you as your own devices change.
Larry J: Media requires creating thousands of work files for each project. All flash-based storage has a finite limit to the number of reads & writes it can support. In heavy use, what's the projected life span of this unit?
Larry O'C: All Envoy Pro FX units include a 3-year warranty and use NVMe with ample over-provisioning to ensure years of write endurance, even for the most demanding applications.
Larry J: What can we do to maintain a high data rate? For example, spinning media benefits from not filling the disk too full and defragmenting files from time to time. Are there similar "tricks" we need to consider optimizing using an SSD?
Larry O'C: Buy the right SSDs with over-provisioning. The right SSDs such that OWC builds at the base level have over-provisioning and drive management, so they can still maintain peak speeds even as they approach 100% full. Hard Drives are a different matter, and there it's a matter of simple physics as you fill a hard drive without partitioning, it fills from the outer tracks to the inner. The outer part of the platter is moving much faster than the inner, which results in a substantially faster track to track access. As the hard drive becomes full, you move through to the slower velocity portion and thus slow down. That's the most significant aspect today. APFS is not recommended for HDD use. It has other performance degrading qualities as files meta spread. These issues don't affect flash drives as there are no physical/mechanical impacts to access across flash.
Larry J: What feature are you proudest of in this product?
Larry O'C: Its universal plug and play compatibility across USB 3 and Thunderbolt 3 devices, along with support for the maximum performance capabilities for the actual interface connected. It's not a USB device compatible with Thunderbolt systems. This is a full-on Thunderbolt and USB interface solution that connects using Thunderbolt or USB protocols dependent on what interface port it is connected to and will give the user the best performance such port can support. All without the need for the user to configure or worry about whether their system will work.
Larry J: If you could write a one-paragraph "commercial" for this product, what would you say?
Larry O'C: The OWC Envoy Pro FX delivers mind-blowing performance for everything from backup to ingest, video-editing, to video effects. Incredibly rugged and universally compatible – use and interchange between nearly any Mac, PC, iPad, or other mobile devices with an available USB or Thunderbolt port. Whatever your system, the FX automatically recognizes the available interface and delivers up to 2800MB/s limited only by the interface available. From the latest systems shipping today to Macs and PCs from a decade ago, the FX connects and delivers the performance and storage you need for now and the future.
SUMMARY
NVMe storage technology is the latest version of solid state storage. It is blindingly fast, extremely rugged and increasingly affordable.
If you are looking for a portable drive to transfer your data quickly, connect to any device supporting USB or Thunderbolt and keep your data safe once it's transferred, the OWC Envoy Pro FX SSD needs to be at or near the top of your list.
---
Bookmark the
permalink
.