Product Review: Image Chest, by Armpit Studios [u]

[Disclosure: I purchased this program for my own use. Updated 12/15/2019, with a comment from the publisher.]
Keeping track of still images is always a bit of a challenge, whether you are editing a video or, in my case, getting ready to write a book.
I have never liked using Photos for professional work. It's fine for friends and family, but for a video project, I need to keep all stills separate, with the ability to add captions and track sources.
As I browsed through the Mac App Store, there were lots of different photo apps, most of which did retouching, or wanted to work with your Photos database.
What I needed was a simple cataloger that would track my images, allow me to organize them as I wanted and find the ones I needed when I needed them.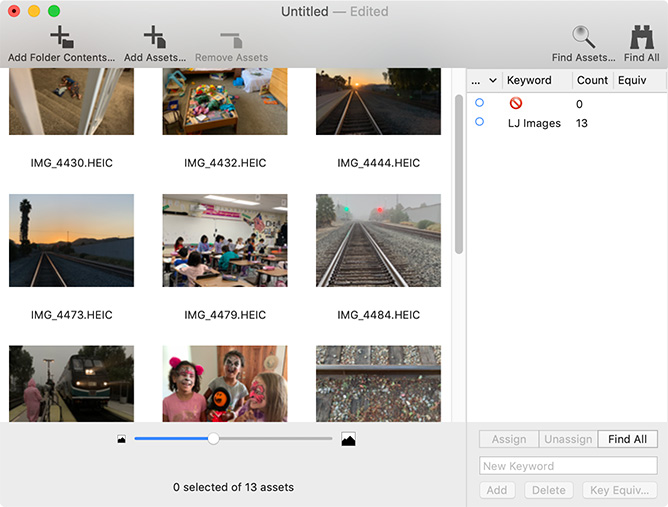 Recently, I discovered Image Chest. Published by Steve Mills and his company Armpit Studios, here's how Steve describes his utility:
If you love to collect images or movies, but hate to organize them, Image Chest might be the answer. Tagging images with keywords is the key to good organization, and Image Chest makes that task easy and quick using the Set Keywords dialog. Adding new ones or assigning existing keywords is as simple as typing and hitting return.
After you've built up a nice set of keywords for a catalog, assign them to new images can be even faster by assigning key equivalents to your keywords. "Summer" could be control-s. "Halloween" could be F10. "Pumpkin" could be shift-F10. As long as the key equivalent is not already used by Image Chest of the OS, you can assign it to a keyword.
Image Chest also offers multiple view modes and sorting options, so you can concentrate on finding the right file. Powerful searches are also handled with ease, from simple file name searches to complex boolean expressions involving names, dates, sizes, types, keywords, notes, and whether or not a file is missing. And those complex search patterns can be saved in each document so you don't waste time building them each time.
Files can also be moved, copied, aliased, renamed, trashed, and QuickLooked right from within Image Chest, so you can spend your time using one application instead of many.
USING THE PROGRAM
The secret to Image Chest is its extensive keywording. You can store images anywhere on your hard disk. Simply drag them into the program – or use the icons in the tool bar at the top of the window – and Image Chest will track them wherever they are stored.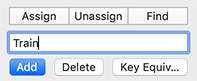 You can create as many keywords as you want using the Manage Keywords panel in the lower right of the interface.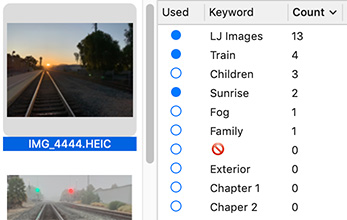 Here, for example, I created eight keywords, with one more ("LJ Images") auto-generated when I dropped a folder containing images into the program. The number on the right indicates the number of images assigned that keyword.
To apply a keyword to one or more images, select the image(s) then double-click the keyword you want to apply from the list on the right. (Or, select the image and the keyword, then click Assign in the lower right.
The filled blue dots, in the screen shot above, show the keywords applied to the selected clip(s)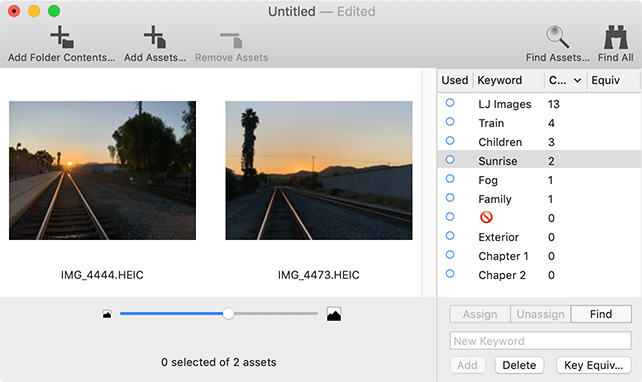 There are two ways to find images: simple and complex.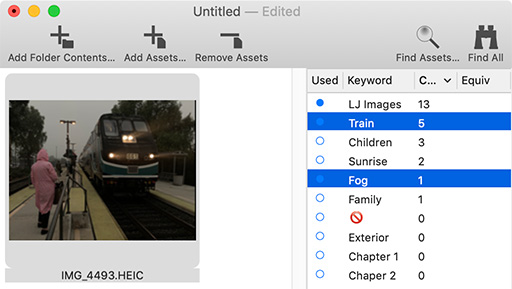 The simple way to find clips by keyword is to select the keyword, then click Find in the lower right. All clips that contain that keyword are displayed on the left. Or, to find using multiple keywords, select them on the right, click Find and only those clips that contain all selected keywords are displayed. (This is the equivalent of a Boolean AND).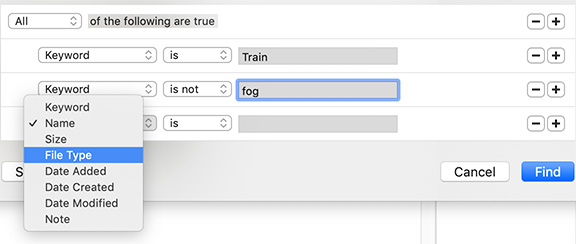 If you need more powerful searches, chose Find > Find (shortcut Cmd + F) and enter as many different criteria as you need. For example, here, I'm looking for all train shots that don't include the keyword "fog".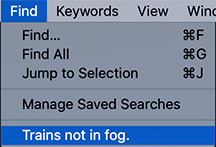 Searches can be saved for future reuse, for example, this is the saved search from my example above.
UPDATE – 12/15/2019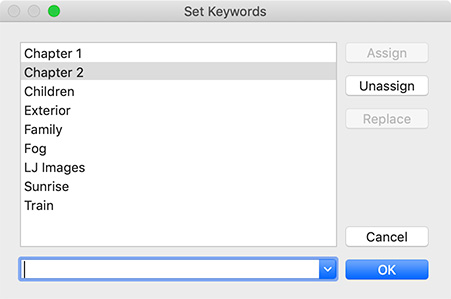 After I published this review, Steve Mills, the author, sent me the following comment:
After reading your explanation of using keywords, in case you aren't using the Catalog->Set Keywords window, it can make entering keywords (new or old) even quicker, if you prefer a keyboard UI over a mouse UI.
It autocompletes as you start typing, so you can type "lts" to add "LJ Images", "Train", and "Sunrise" (given the list of keywords shown in the screenshots). It also supports tabbing between the combo box and list. The list supports arrow keys, and the buttons on the right have key equivalents; Assign – return/enter, Unassign – delete, Replace – Cmd-R. So the entire Set Keywords window can be used mouseless – even the combo box list can be accessed with arrow keys.
OTHER STUFF
Image Chest does not modify, move or store your existing images. All keywords are stored in the program. Catalogs can be duplicated, renamed or moved. Images can be stored locally or on a server.

The key feature, though, that made me buy the program is that I can attach a note to each image; for example, to describe the source of the photo.

Then, switch to the Detail view to see all the notes, as well as other data associated with the program. All this image detail can be exported into a text file.
SOME CAVEATS
I like this program. I've reached out to Steve Mills on several occasions and found him responsive and interested in fixing problems. However, the software is not perfect.
You need to save your work frequently. I've found it can crash if you resize the catalog window or if you try to manipulate assets without first saving the catalog. In talking with Steve, some of this is caused by Apple code that Steve is using in his app.
This can be worked around by saving a catalog as soon as it is created, then saving frequently thereafter.
Notes are not always recorded into the catalog. Make sure to verify the note was saved by switching to Detail view. Double-clicking the Note field to add text in the Detail field is  also inconsistent, where the field does not open to allow text to be added.
THINGS I'D LIKE TO SEE
A larger Notes field, or, at least, an expandable Notes field.
The ability to add more than one note to an image, for example, a caption field and a source field.
The ability to determine which fields get exported into a text file.
The ability to modify shortcuts. For example, the shortcut to open a Note is awkward while the shortcut to switch to Detail view conflicts with my password manager application.
SUMMARY
This utility is focused on doing one job – cataloging and finding still images. I think the current version needs some attention to fix bugs, but overall, this is a worthwhile addition to my toolset. As long as you remember to save frequently.
It is REALLY fast, allows viewing any image simply by pressing the space bar and has a very clean implementation of keywords to locate specific images in a variety of ways.
If you are looking for a simple way to track the images in your projects, Image Chest is worth a good long look.
EXTRA CREDIT
---
Bookmark the
permalink
.