Product Review: Classic Color Meter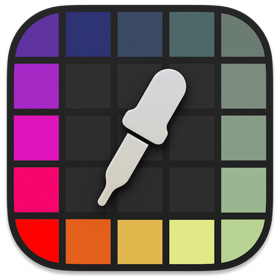 A while ago I reviewed Apple's Digital Color Meter (link), which is stored in the Utilities folder. It works, but it's limited. However, as a reader pointed out, there's something much better: Classic Color Meter.
Classic Color Meter, by Ricci Adams, runs on all current Macs, including Apple silicon. It expands on key Digital Color Meter features in several important ways. Available in the Mac App Store, see details below.
EXECUTIVE SUMMARY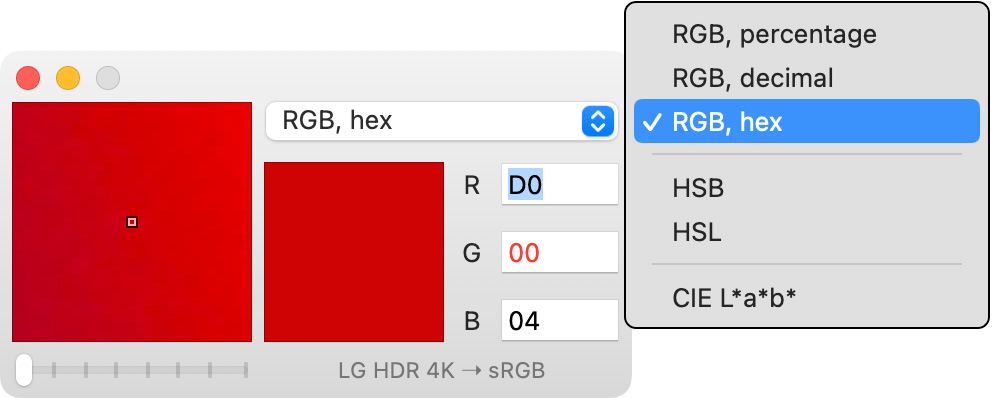 Classic Color Meter is an enhanced color meter that measures and displays color values displayed on a computer monitor in several ways:
RGB (percentage, decimal, hexadecimal)
Hue/Saturation/Brightness (HSB & HSL)
Y'PbPR and Y'CbCr
CIE 1931, 1976, LAB and Tristimulus values
In addition to skimming the mouse around the monitor to locate a color sample, you can:
Hold a color so it doesn't change as you move the cursor
Lock the cursor position
Adjust color magnification
Adjust the size of the color sample, in pixels
Copy and paste color values
A feature that I really like, which Digital Color Meter lacks, is the ability to copy the color values from a sampled color into the Mac color picker. This simplifies, for example, matching text in a video to a color on your display.
If finding, measuring and matching colors are important to you, this tool will become your new best friend.
Developer: Ricci Adams
Mac App Store: https://apps.apple.com/us/app/classic-color-meter/id451640037?mt=12
Price: $2.95 (US)
SETTING PREFERENCES
There are three preference screens that customize the app to your needs.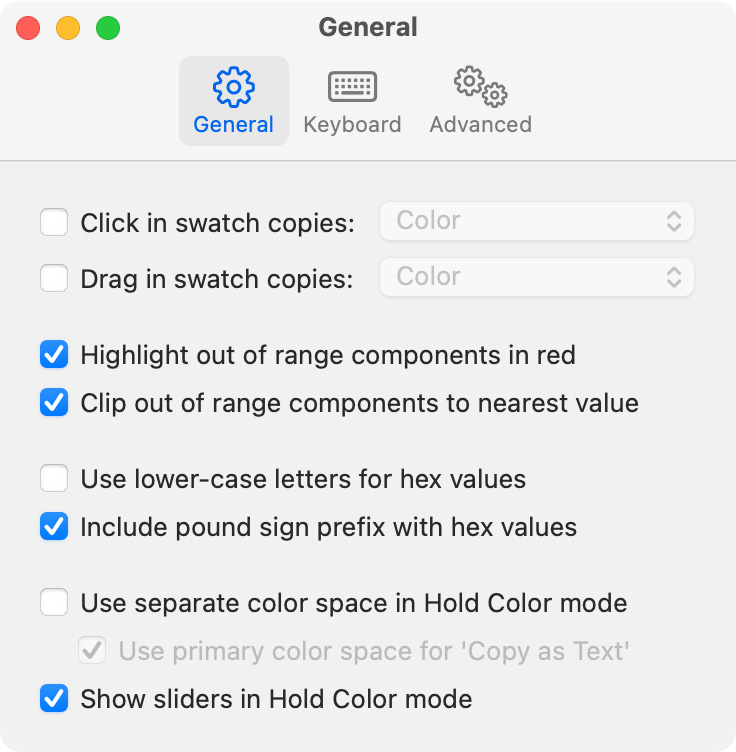 These default settings are fine to get started.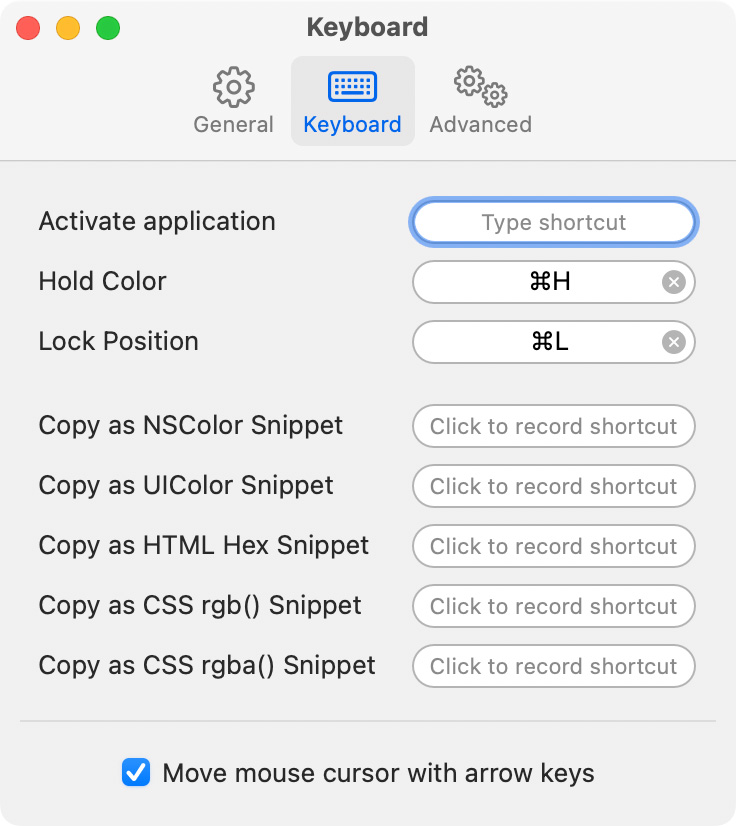 Here, it will help if you create a custom shortcut for Hold Color and Lock Position. You can see the choices I made, but you can select any key combination you prefer.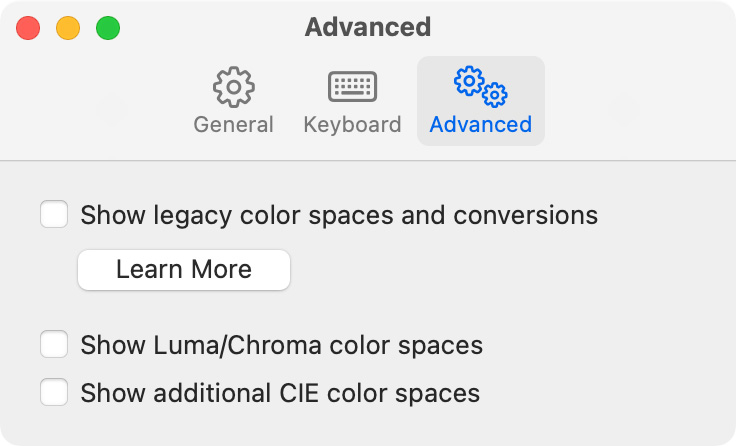 These additional features are off by default, but available should you need them.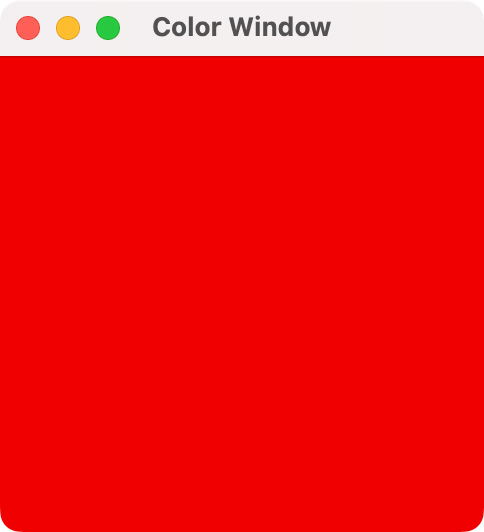 There's also a very large floating color window, to help you see and compare the selected color more easily.
COPYING COLORS
A typical use for this software is matching a color on your display with, say, text in a video. Or a background graphic. Whatever. Assuming you created the two keyboard shortcuts I just illustrated, here's the process.
Open the file containing the color you want to match so you can see it on the desktop.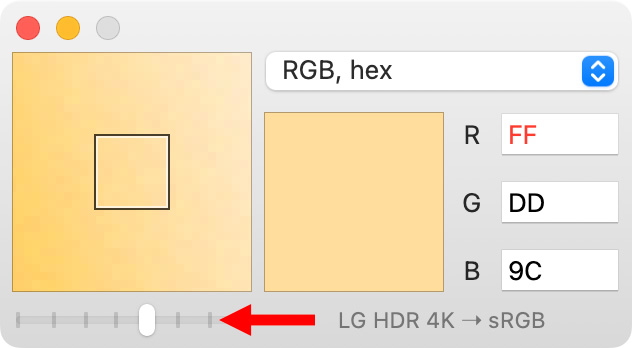 Drag the cursor to select the color you want to match. By default, this measures exactly one pixel. Drag the slider under the larger image (red arrow) to increase the pixel size of the sample.
If you want to see exactly which pixel you picked, press Cmd + L (the shortcut I created). This locks the position of the cursor to prevent accidental movement.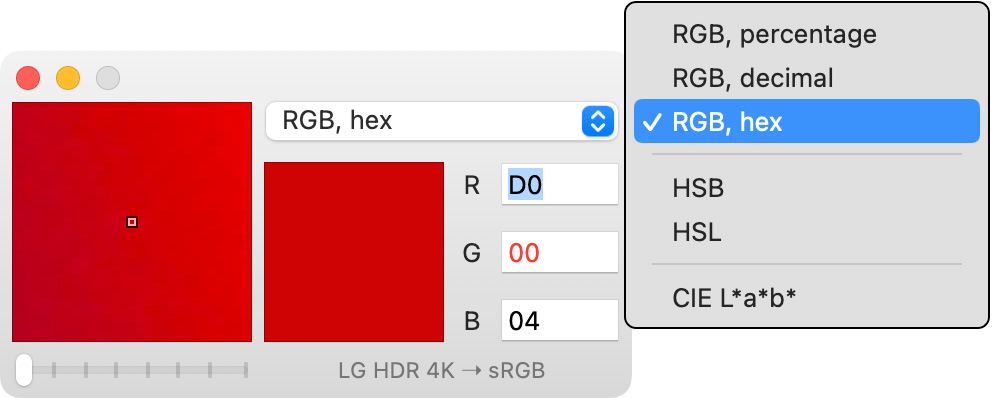 Press Cmd + H (the shortcut I created) to hold (lock) the color into the window. This prevents accidentally changing the color.
Select the values you want to view or copy using this menu.
NOTE: You don't need to lock the cursor position, but holding the color prevents accidental color shifts.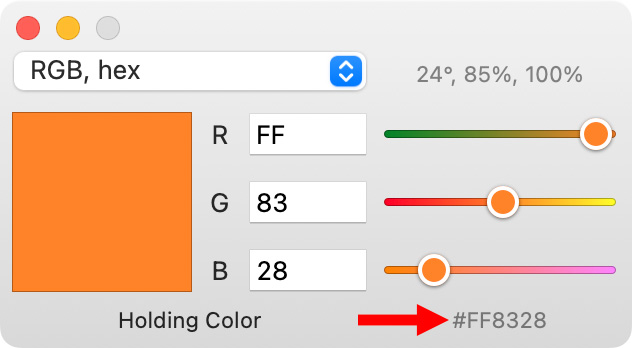 Choose the "hex" menu option and choose Color > Copy Color as Text (shortcut: Shift + Cmd + C). This copies the hex color value to the clipboard.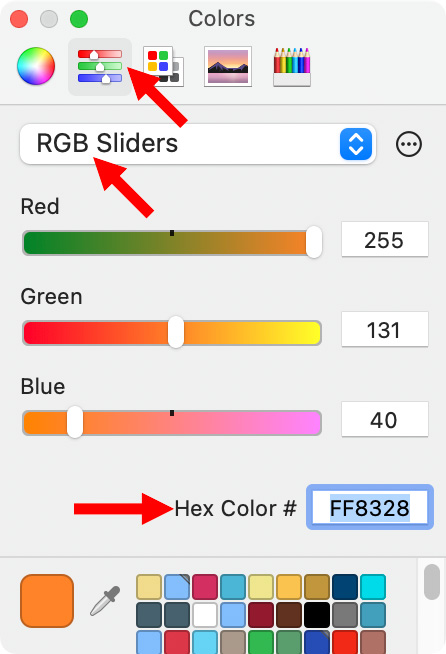 Open the Mac Color Picker and click the color sliders (top arrow)
Make sure RGB sliders are selected
Select the Hex Color value and paste the copied color value. Press Return to accept the value.
Done.
NOTE: This may seem like a lot of steps, but after you do this once, it won't take more than ten seconds the next time you do it.
SUMMARY
What I like about the Classic Color Meter is that it works the way you expect, measures colors six ways from Sunday and allows copying and pasting color values, even color images, from whatever you measured into whatever you need.
This is a very well-thought-out app.
---
Bookmark the
permalink
.