Final Cut Pro X: Tuning for Extreme Performance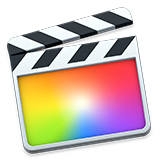 The latest version of Apple Final Cut Pro X (v. 10.4.7) has a new preference allowing you to select the GPU used fo rendering and exporting images:
Render/Share GPU.
But, why?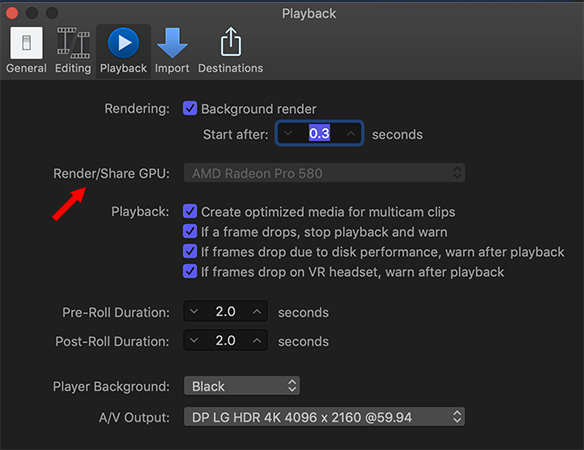 To find this option, choose Preferences > Playback and … there it is!
In my case, I only have one GPU on this iMac. If you are like me, you don't need to care about this new feature. But, if you are thinking about a new Mac Pro – or are using a laptop running an eGPU, you care – a LOT!
NOTE: If you are running a MacBook Pro with an eGPU, be sure to select the eGPU in this menu to maximize the performance your system gets from that external device.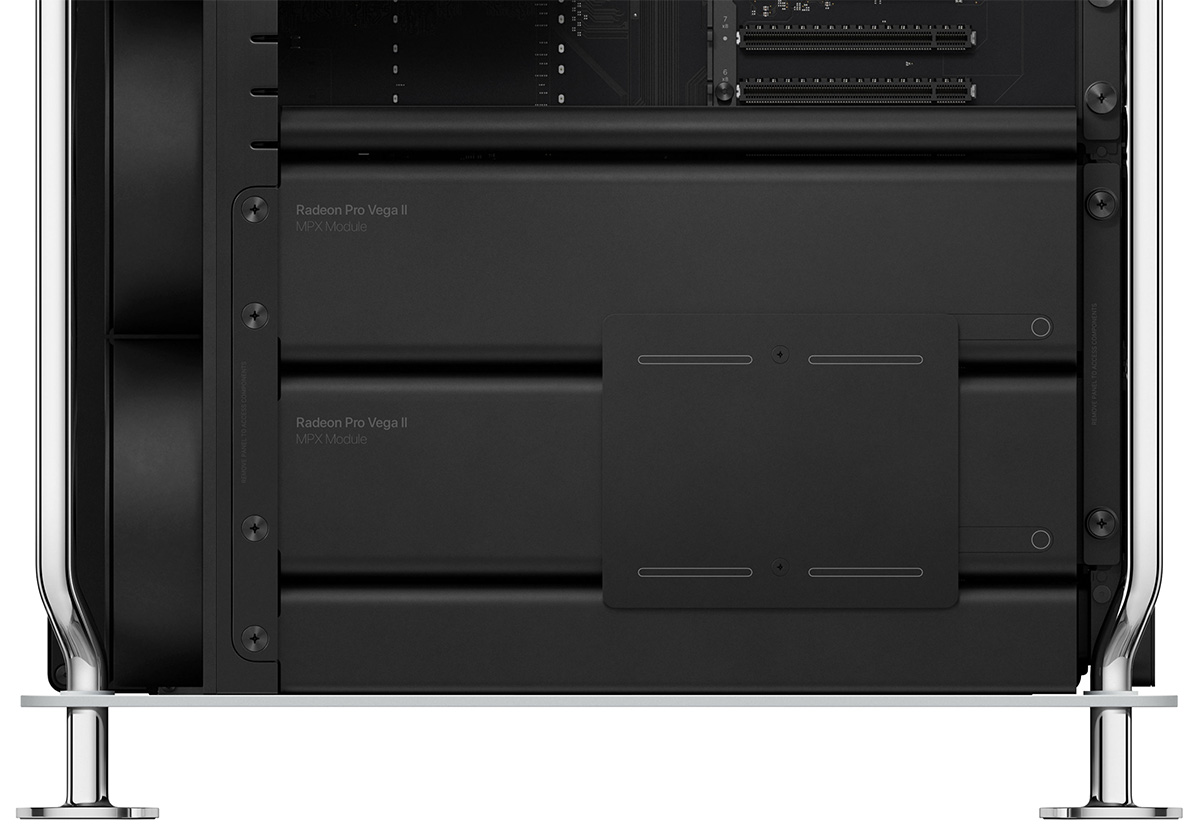 (Click to see a larger image. Image courtesy of Apple Inc.)
The real benefit to this feature, though, is the future. Because, the soon-to-be-released 2019 Mac Pro can have up to FOUR extremely high-speed GPUs!
"For many pros, a high-performance graphics architecture is critical to their workflows. Especially for tasks like animating 3D film assets, compositing 8K scenes, and building lifelike gaming environments. To give them the highest possible performance and take graphics capabilities to a new level, something groundbreaking was required. Introducing the Mac Pro Expansion Module, or MPX Module.
"Radeon Pro Vega II Duo. Power plus power. With up to 14 teraflops of compute performance, 32GB of memory, and 1TB/s of memory bandwidth, the MPX Module with Radeon Pro Vega II is a powerhouse. For more power, two Radeon Pro Vega II GPUs combine to create the Vega II Duo. With double the graphics performance, memory, and memory bandwidth, it's the world's most powerful graphics card. The two GPUs are connected through the Infinity Fabric Link, which allows data transfer up to 5x faster between the GPUs. It's huge for apps that are optimized for multiple GPUs.
"The world's most powerful graphics card. Times two. Taking power one huge step further, the new Mac Pro supports configuration of two Radeon Pro Vega II Duo MPX Modules. The four GPUs combine to add up to 56 teraflops and 128GB of high-bandwidth memory. It's a massive amount of performance built to tackle everything from GPU rendering to machine learning to particle simulations." (Apple Mac Pro website)
The new graphics architecture of the 2019 Mac Pro offers rendering speeds up to ten times faster; albeit at a (most-likely) significant price. (Which, ah, Apple has not yet announced.)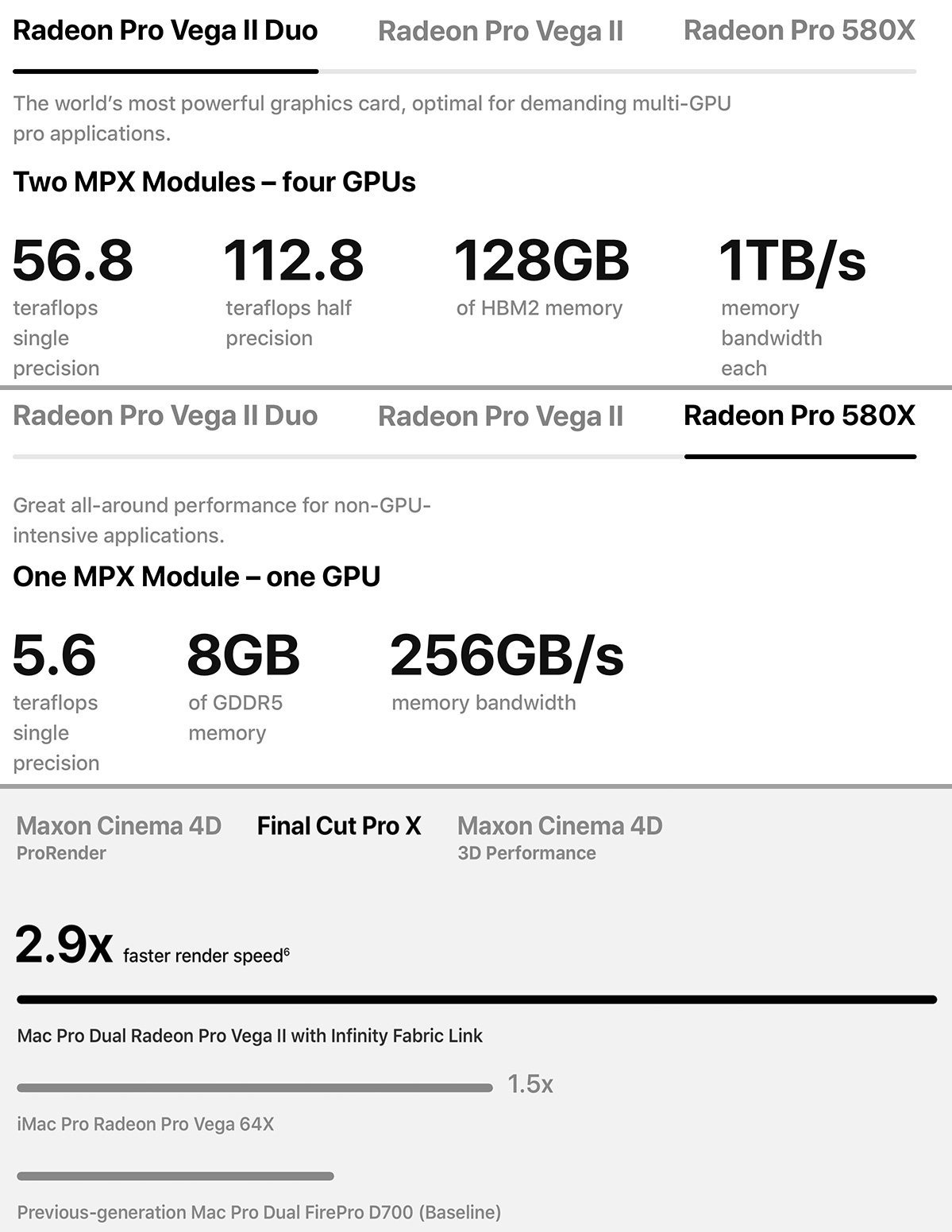 (Click to see a larger image. Research courtesy of Apple Inc.)
If you are wondering about how much speed you can get from this new gear – take a look at the numbers above. There are no words to adequately describe just HOW MUCH faster these multiple GPUs can process even the largest file.
So, if you were concerned about what Apple was doing over the summer, the results are starting to appear: They've been tuning FCP X to take full advantage of the stunning horsepower in the new Mac Pro.
EXTRA CREDIT
By the way, another new feature in FCP X 10.4.7 is full support for multiple CPU cores. The iMac Pro has up to 18. The new Mac Pro has up to 24! In this case, there's nothing to select, FCP X simply scales to take advantage of all the CPU cores that are available.
As always, hardware speed comes with a price. But, if performance is key to meeting deadlines, the latest release of Final Cut Pro X is poised to deliver that in spades.
---
Bookmark the
permalink
.