Final Cut Pro X: Resize Video Without Losing Image Quality [video]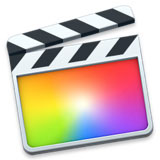 [This is an excerpt from a recent on-line video webinar: "Ask Larry Anything" which is only available as part of our Video Training Library.]
SESSION DESCRIPTION
This free-form discussion covered a wide variety of topics, including:
Selecting the best computer hardware for your projects
Comparing USB to Thunderbolt
Re-scaling images
Correcting color problems inside a clip
Fixing FCP X problems
And much more
In this short video excerpt, Larry Jordan shows how to resize an image without losing image quality in Final Cut Pro X.
---
Resize a Video Clip Without Losing Image Quality
TRT: 6:17 — MPEG-4 HD movie
---
Our website offers lots more video training in our store.
---
Bookmark the
permalink
.
Larry Recommends
Final Cut Pro X 10.4

Edit smarter with Larry's brand-new webinars, all available in our store.
Access over 1,900 on-demand video editing courses. Become a member of our Video Training Library today!
JOIN NOW
Subscribe to Larry's FREE weekly newsletter and save 10%
on your first purchase.