FCP X: Enhancing Audio
[ This article is modified from the bonus material contained in my book: Final Cut Pro X: Making the Transition. Click here to learn more. ]
In addition to over 100 audio effects, Final Cut Pro X ships with some very interesting audio enhancements which can repair bad audio. In this tutorial, I want to illustrate how to work with these enhancement tools.
In spite of the name "enhancements," these three settings are essentially doing audio repair; audio repair that Apple first introduced in Soundtrack Pro.
TWO KEY RULES FOR AUDIO
There are only two essential audio rules to keep in mind:
Audio levels must not, at any time, for any reason, exceed 0 dB. When it comes to levels, don't trust your ears, trust the meters.
If an effect sounds good to you, it is good. If it sounds bad, it is bad. When it comes to effects, trust your ears not numbers.
There are three locations where you can adjust your audio (aside from setting levels in the Timeline):
The Audio tab of the Inspector
The Audio Enhancements Inspector
The Effects Browser
This article looks at adjusting audio in the Inspector.
IMPORT SETTINGS

Unlike the settings for video import, my current recommendation is to check all three audio import settings.
First, turning these on does not significantly increase the amount of background processing time needed to import your files.
Second, any corrections can be easily turned off in the Inspector, should you decide you don't want to apply them.
Third, the default settings FCP X applies to repair clips are pretty good – especially for editors who are not particularly comfortable manipulating audio effects.
THE INSPECTOR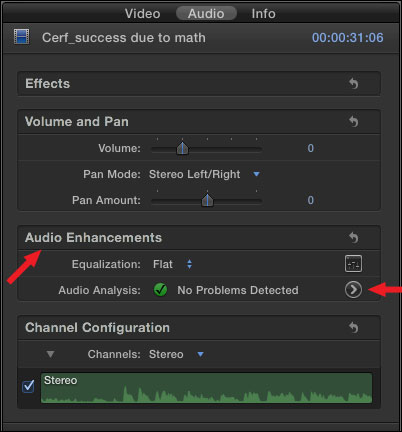 When you select a clip in the Event Browser, or the Timeline, it can be adjusted in the Audio tab of the Inspector. Here you can set volume, pan mode, and, if you set the Pan Mode to "Stereo Left/Right," you can adjust the Pan Amount slider.
The Audio tab in the Inspector also lets you change:
Audio Enhancements. This setting lets you adjust equalization for a clip, as well as access the Audio Enhancements screen.
Channel Configuration. This lets you select which track(s) of a multiple track clip you will hear in the Timeline. Here's an article that talks about this setting.
EQ, or equalization. This lets you adjust some frequencies in the sound without affecting others.
Why Adjust EQ?

Warm up a voice
Improve the intelligibility of dialog
Minimize a low-frequency rumble
Remove a high-frequency screech
Enhance the sound of a particular instrument
ENHANCING AUDIO

Hidden in plain sight is the button to go to the Audio Enhancements panel. Click the right-pointing arrow to the right of Audio Analysis to reveal the Audio Enhancements panel, or press Command+8.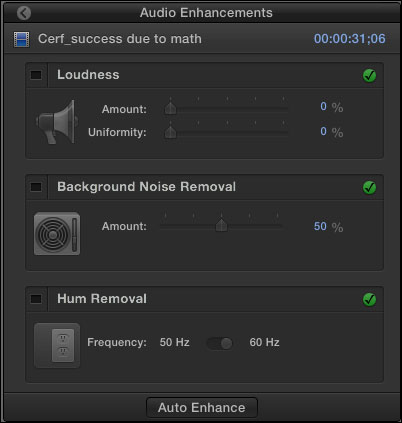 When you analyze a clip, either during import or afterward, FCP looks for problems in loudness, noise, and hum.
Loudness. When audio is either too loud or too soft, FCP attempts to fix the problem. You can decide if you want to change the settings in this screen. This setting also tries to fix distortion problems with audio that was recorded too loud.
Background noise removal. I seem to spend my life interviewing soft-spoken men in front of large air conditioners. Noise reduction can make it possible to hear what they are saying. However, this only reduces the noise; it does not eliminate it. If you need to eliminate noise, you generally need to re-record it.
Hum removal. Sigh. Why do all inexperienced audio helpers insist on running microphone cables next to power cables — for what seems like 600 feet? This filter works magic on AC hum.
If you like the sound of your repaired clip, leave the settings in the Audio Enhancements panel alone. To disable a setting, uncheck the blue checkbox. To adjust a setting, move a slider. Pick the results that sound the best to you.

To return to the Inspector, click the Go Back button in the top left corner.
QUICK FIX OPTION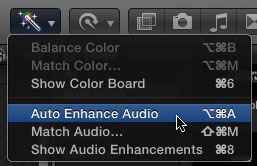 If you want to quickly repair an audio clip, or group of clips, select it in the Timeline and type Option+Command+A, or select Auto Enhance Audio from the Magic Wand pop-up menu in the Toolbar.
SUMMARY
We first saw these audio enhancements in Soundtrack Pro. Apple migrated them to Final Cut Pro X. Not all bad audio can be repaired, but, sometimes, these enhancements can work miracles.
The next time your audio needs help, give these a try.
---
Bookmark the
permalink
.