FCP X: Copy/Paste Attributes [Video]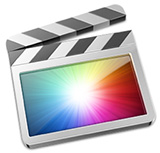 New with the 10.0.6 update to Final Cut Pro X is the ability to copy and paste effects attributes between one clip and another clip, or a group of clips.
In this short, four-minute Final Cut Pro X training video, I'll show you how to use this new feature, including the ability to adjust keyframe timings based upon the difference between clip durations.
NOTE: This is a highlight from my extended training on the latest features in Final Cut Pro X. You can download the complete training or access all my video training via my new subscription membership.
TRT: 3:57 — QuickTime HD movie

---
Bookmark the
permalink
.
Larry Recommends
Final Cut Pro X 10.4

Edit smarter with Larry's brand-new webinars, all available in our store.
Access over 1,900 on-demand video editing courses. Become a member of our Video Training Library today!
JOIN NOW
Subscribe to Larry's FREE weekly newsletter and save 10%
on your first purchase.