FCP X v.10.1: Set Performance and Proxy Preferences
[Updated March 11, 2015, with more information about Better Performance.]
With the release of the 10.1 update to Final Cut Pro X, Apple moved four preference settings out of the Preferences panel. The only problem was that those preferences directly impacted the performance of the software.
This article describes where they went and what they do.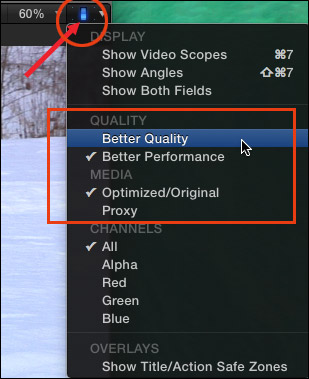 These settings moved to the Switch icon in the top right corner of the Viewer. What these settings determine is where the CPU should spend its time and which media Final Cut should use for the edit.
QUALITY
You can only pick one of these two settings:
When you select Better Quality, the CPU will play every pixel in every frame, yielding the highest playback quality during editing.
When you select Better Performance, which is the default setting, the CPU will play every other pixel in each frame, yielding acceptable playback quality for editing video, but not imported stills. In other words, this option reduces image quality to 25% of the source image, with a resulting boost in performance because the CPU is free to tackle other tasks during playback.
Which should you choose?
Select Better Quality if you are:
Editing images with lots of text created outside of Final Cut; for example Photoshop graphics or Keynote slides
Working with very finely detailed images that you need to see clearly, for instance, Photoshop graphics
Color grading
Taking "one last look" at a finished project
Select Better Performance if you are
Editing with optimized or proxy media
Editing with camera native media, unless you get dropped frame warnings. If so, switch to Better Quality and make sure everything is rendered.
Editing with text created inside Final Cut Pro X
Editing multicam projects (multicam editing is enhanced further by converting your media to proxy media)
The short answer is that Better Performance works fine for most editing situations, except accurately viewing bitmapped images created outside of Final Cut Pro X.
Keep in mind that Final Cut always outputs at the highest quality, regardless of how either of these two options are set.
MEDIA
You can only pick one of these two settings:
Click Optimized/Original if you want to edit using camera native, or ProRes optimized media files. This option provides the highest image quality.
Click Proxy if you want to edit using proxy files. This option provides the fastest performance, but you need to create proxy files either during import or during the edit to use this option.
Here's an article that explains these choices in more detail.
Final Cut will export the media that is selected in this option; specifically, if proxy media is selected, proxy media will be exported. However, the default setting is for optimize/original, which yields the highest image quality.
UPDATE – Mar. 11, 2015
I've done more poking around Apple's website to learn more about these two options.
The Better Performance option in the Viewer is doing more than simply dropping pixels. It is actually scaling the resolution of the clip during playback on the fly, lowering the system load on the computer.
Technically there are two parts to the Better Performance playback process: the first part is the decode where the system will decode fewer pixels and the second part is rendering in the Viewer where the system will make tradeoffs in the rendering of effects during playback so that, for example, motion projects may show softer edges or rougher text.
KEY POINT: This only affects display in the Viewer during editing; not render or output quality.
Better performance always renders in a lightweight fashion irrespective of what's running in the background. For example, if Compressor is running in the background using the processing resources on the machine, Better Performance will make this less of an issue. (Specifically, Compressor will have more system resources available to it than if Final Cut Pro X was running in Better Quality mode allowing Compressor to compress more quickly.)
Better Performance is more about a quality/frame rate tradeoff. The software tolerates some reduction in quality in the Viewer, where required, to achieve improved performance. During video decode that means decoding less pixels and for effects that means draft quality display in the Viewer (the same number of pixels but less detail in the rendering)
Frame rate is always respected, the decoding and effects rendering approaches noted above help ensure smooth playback especially on machines with less processing power.
Better Performance is a playback-only feature, rendering and share/export is always at the highest quality.
---
Bookmark the
permalink
.