FCP X: Export a Project Region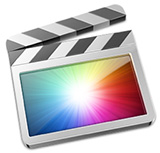 Most of the time, we want to export an entire project from Final Cut Pro X. (And, if that is the situation you find yourself in, here's an article that describes my current recommendations on how to do this.)
However, sometimes we just need to export a portion of a project, called a "region." This ability to export a portion of a project first appeared in the 10.0.6 update to FCPX, so you may not be aware that it exists.
This is simple to do. Here's how.
RULE ONE
The first rule of Final Cut Pro X is: "Select something, then do something to it." (OK, maybe this isn't as deep as "I think, therefore I am," but its still pretty darn helpful.)
So, when we want to export a portion of a project, we need to select what we want to export first.

For example, to only export the range of a single clip, select the clip. Keep in mind that all clips contained within this range – above or below it whether selected or not – will also be exported.
NOTE: If you need to export a single clip, or a range within a single clip, the easiest way is to select the clip in the Event Browser, not the Timeline.

To export a group of clips as a single clip, select the group. This exports them as a single movie.
NOTE: Currently, Final Cut does not allow you to export a selected group of clips as separate clips. If you export a selection of clips as an XML file, all the media files contained in that project will be exported.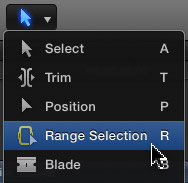 Another option in selecting a region is to select clips using the Range selection tool (type R).

Here, I selected a portion of one clip using the Range selection tool. You can also set a Timeline range using Start / End (In/Out). Use whichever system works the easiest for you.
NOTE: To set an In, place the playhead where you want the region to start and type I. To set an Out, place the playhead where you want the region to end and type O.
EXPORTING
To export, choose File > Share > Master file (most of the time, this is assigned the keyboard shortcut Cmd+E). In this example, all clips on all layers contained within a selection will be exported, not just the selected clips. And, remember, they are exported as a single movie file.
If you want to NOT export a clip, make it invisible or inaudible by selecting it and typing V. To toggle visibility back on, select it and type V, again.
SUMMARY
I find this technique useful when I need to send clips to Motion. If I am sending clips to After Effects, I use Clip Exporter.
---
Bookmark the
permalink
.
Larry Recommends
Final Cut Pro X 10.4

Edit smarter with Larry's brand-new webinars, all available in our store.
Access over 1,900 on-demand video editing courses. Become a member of our Video Training Library today!
JOIN NOW
Subscribe to Larry's FREE weekly newsletter and save 10%
on your first purchase.