Apple Introduces the M2 SoC (and what it means to media creators)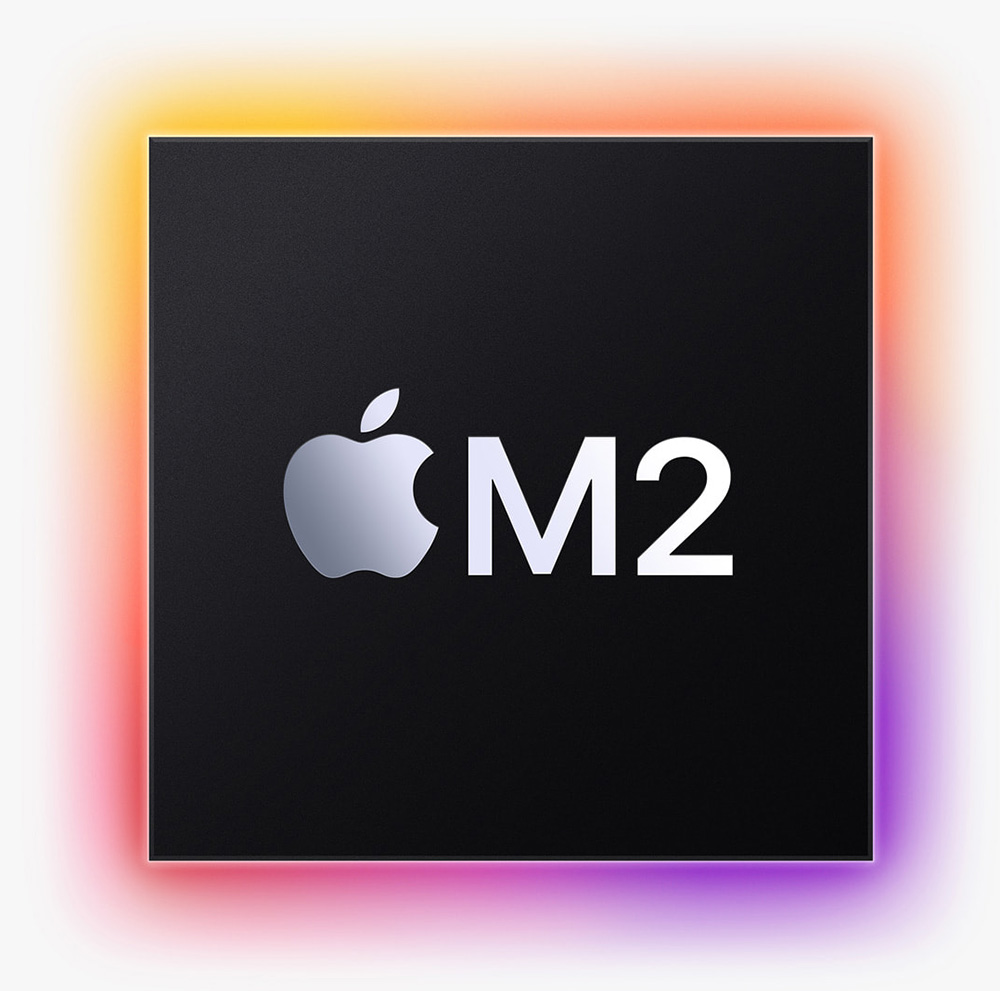 At WWDC 2022, Apple introduced their latest iteration of Apple silicon: the M2. Based on information released by Apple during the event, the M2 is, on average, 10-15% faster than the M1.
Note: That's not a knock on the M2, its a statement about how significantly better the M1 was compared to Intel chips.
Since the M2 has not yet been released, any detailed comparison will need to wait until Apple's newest computers hit the streets. However, based on what I'm reading:
The M1 uses about 7% less energy
The M1 has a higher base CPU clock speed (2.1 vs. 2.0 GHz)
The M2 has a higher Turbo Boost clock speed (3.4 vs. 3.2 GHz)
The M2 supports more RAM; up to 24 MB
The M2 supports potentially faster memory bandwidth
So, is the M2 better? Yes. Is it drop-everything-and-buy-one today better? No.
Note: Here's a PC Magazine review comparing the M2 with the existing family of M1 processors.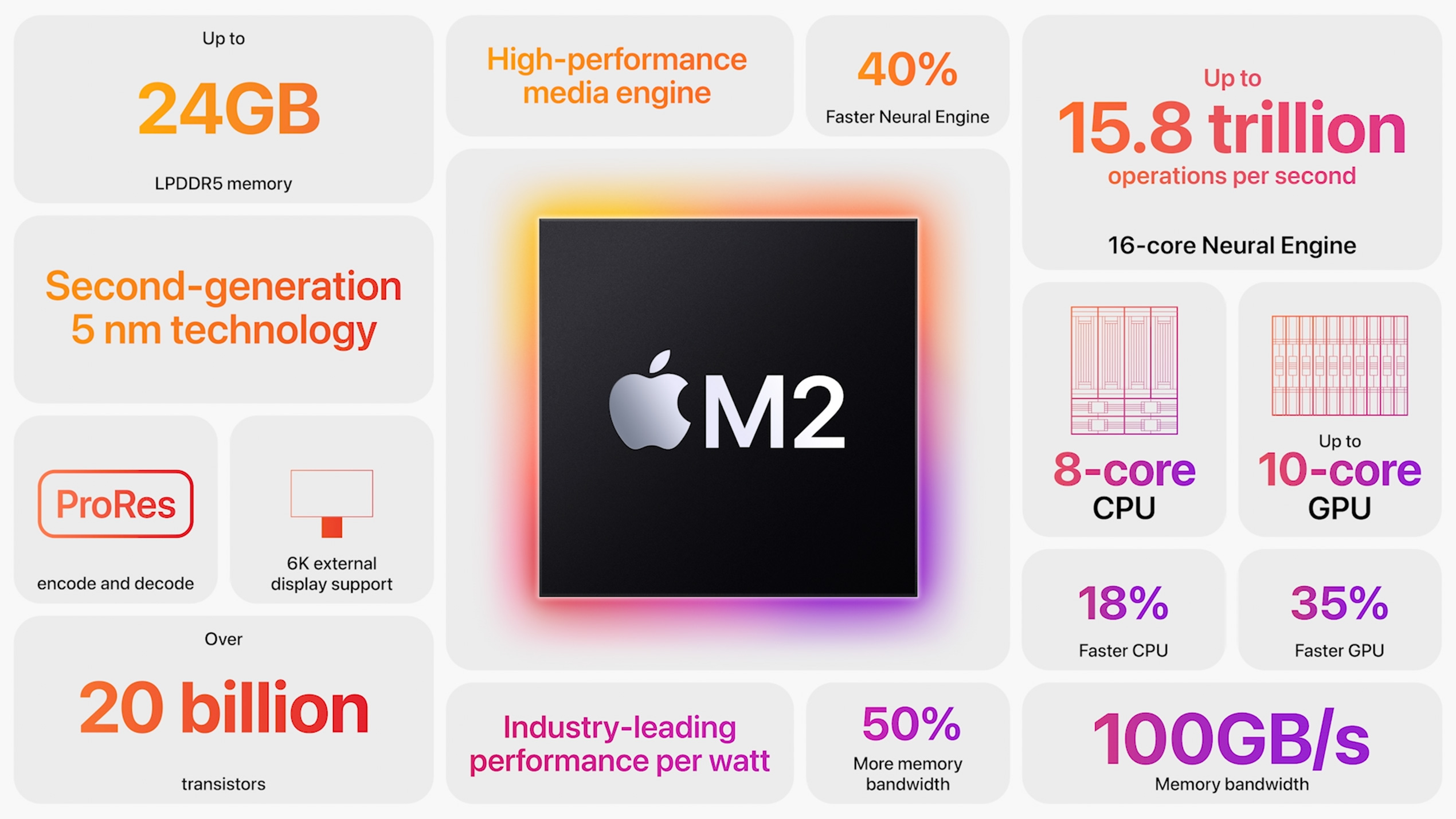 (Image courtesy: Apple Inc. Click to see larger image.)
It should surprise no one that Apple is working on new chips. That's what Apple does. I fully expect that trend to continue long into the future. Chips will always get faster and more capable.
But I think we've reached a point where continued CPU chip advances won't materially change the process of audio or video editing. Any hardware we buy today can easily edit up to 8K media and handle most multicam editing with ease.
Will newer chips get faster? Yes.
Will rendering get faster? Yes.
Will new features, especially those based on AI, continue to arrive? Yes.
Will we be able to create new and more interesting effects? Yes.
Will these new chips deliver higher audio or image quality? No.
Will we need these new chips to tell our stories? Not really.
We need to shift our emphasis from the speed and capability of the CPU to the speed and capacity of our storage. As frame sizes and frame rates increase and multicam becomes more ubiquitous, storage, not the CPU, becomes the gating factor.
I think that's one of the reasons Apple isn't demoing these new chips running Final Cut Pro or Premiere. These new chips may help us get our work done a bit faster, but not better. We are already delivering quality equal to what the best camera can shoot or the best microphone can record with today's hardware.
Smile…. I'm reminded of the song from the Broadway musical "Oklahoma:" "We've gone about as far as we can go." However, they were singing about 1906. I'm not suggesting that computers won't get better. They will. Nor that software won't get better. It will, too.
What I am suggesting, though, is that we already have all the power we need to tell compelling stories with breath-taking visuals. We don't need to wait for the "next big thing" for us to do our work. Currently, the M1 Pro, Max and Ultra chips significantly outperform the M2. And, currently, the entire M1 family provides more than enough power for video editing. Provided your storage is fast enough.
If you are deciding which computer to buy, the 14- and 16-inch MacBook Pros, with M1 Pro or Max chips totally outperform both the MacBook Air or 13-inch MacBook Pro with the M2. And the Mac Studio remains in a class all by itself.
Which is a great feeling. Because now, the burden of story-telling falls on us and our imaginations, not on the limitations of our computer systems.
I'm looking forward to the future with M2 Pro, Max and Ultra. Then the M3 and M4. The future of technology continues to evolve in exciting ways.
But we don't need to wait for the future to do great work today.
EXTRA CREDIT
Here's Apple's press release announcing the M2:
---
Bookmark the
permalink
.